At Montana Angler Fly Fishing we pride ourselves on having the region's hardest working guides. In an area that is as renowned for fishing as ours, great fisherman are easy to find but great guides are a precious commodity. We've been in this business for a long time and have worked with hundreds of guides on rivers throughout the West. We understand that a knowledgeable, patient and enthusiastic guide can make your Montana fishing trip truly unforgettable. Our team is comprised of several of the most respected professionals in the industry - the best of the best. Our guests describe our all-star crew as patient, passionate and fun. We look for guides that are not only superb fisherman, but also great teachers with expert rowing skills. Montana Angler Fly Fishing is one of Montana's only outfitters that offers both traditional drift boat trips and remote canyon floats in fly fishing equipped whitewater rafts. Thanks to our seasoned guides, our ratio of returning clientele is one of the best in the business!

"I have been fly fishing in Montana for a number of years, always had fun, but always felt like something was missing. After fishing with numerous guides, we finally found Montana Angler, and what a difference experience and education make! They took us to places we had never seen before: Bear Trap Canyon float trips, Yankee Jim, the Boulder, Sitz Ranch, Willow Creek wade fishing and more. Every day we saw different water and had a different experience. I learned more about Montana fishing in our first trip with them than I had learned in all the previous years we had come out West. These guys are dedicated, they care, and they will put you on some monster trout. I have the pictures to prove it!"
Bo Kirkpatrick ~ Alabama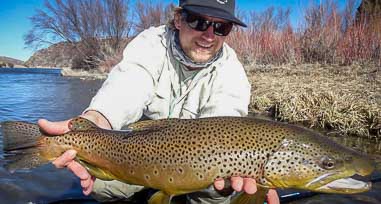 Bill has been guiding fly fishing trips in both Alaska and Montana for over 20 years. He is the consummate professional and never fails to go the extra mile to do whatever it takes to make sure your day exceeds all expectations. He has earned the reputation as being one of the elite superstars of our profession. His fish radar is unparalleled and there is rarely a day on the water when another boat is bending more rods than his. He runs both a top of the line fiberglass skiff and a customized raft which allows him to fish just about every body of water from Billings to Missoula. There is no nook or cranny of Southwestern Montana that he hasn't explored and he loves sharing his favorite off the beaten path gems with our guests. Bill is also a world class skier and in the off season guides heli skiing trips in Alaska. It is hard to find a more genuine or pleasant guide than Billy Buchbauer.
"This is the 6th year we have fished with Billy. We believe he is the best guide ever! He has the experience you want, but he is not fixed to only one way of fishing. He adapts to conditions and never loses patience. Spending a day in the boat with him is a pleasure. He works hard all day and never complains about long hours. We would recommend Billy to anyone with no hesitation!"  -Fred W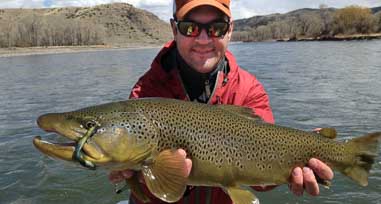 Miles has two decades of guiding experience that includes leading trips on several of the West's premier rivers including multi-day wilderness trips. He has a reputation of doing whatever it takes to show his guests a great time on the river. Miles also has extensive whitewater training allowing him to use both drift boats and rafts in waters that other fishing guides avoid. In the off season, he works as a high school science teacher instructing Biology and Chemistry. In his distinguished tenure as a teacher, he was recognized for a variety of accomplishments including being named a national finalist for the Presidential Math and Science Teaching Award. His penchant for education quickly becomes evident after spending a day with Miles on the river. Miles holds a B.S. in Biology and a B.S. in Science Education from Penn State as well as a M.S. in Science Education and Ed. S in Educational Leadership from Montana State.
"Miles was great, and we'll be using him again!!! He was knowledgeable, had great boat skills, and kept us on the fish. He let us try our flies because we wanted to... Then when it was slow he put on his flies... Fish on!"  -Charlie W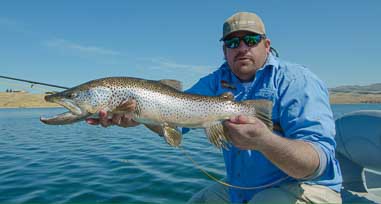 Jared is a native of the Gallatin Valley where he grew up fishing the Madison, Gallatin, Yellowstone and countless smaller waters as his home waters. Jared is a passionate outdoorsman and spends nearly all of his time guiding fishing, fishing on his own, archery hunting or working on a large ranch near Springdale in the offseason. He has a fisheries and wildlife management degree from Montana State University and is eager to share his extensive knowledge of the diverse ecosystems found in our local watersheds with our guests. Jared's confident and easy going personality are traits that are greatly appreciated by his guests. He has a careful eye and knows when to sprinkle in some well timed instruction or back things off a bit if he senses frustration. Few guides will work harder on the water than Jared.
"We had an incredible guided trip with Jared on the Madison. He is hands down the best guide I have ever fished with. The trip 100% met both of our expectations and Jared was awesome in how a spent a lot of one-on-one time teaching us new techniques and putting us on some larger fish."  -C Harris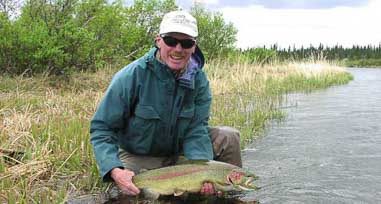 Scott brings over 35 years of guiding experience to the Montana Angler staff. After studying architecture at MSU for five years, he eventually graduated with a degree in fly fishing and went on to start a commercial fly tying company in Costa Rica that employed 23 professional tiers. He eventually became one of the head guides at the Teton Valley Lodge in Idaho where he spent 22 seasons guiding on famous waters such as the South Fork of the Snake and the Henry's Fork. Scott also guided in Alaska and even worked as a risk manager where he visited every fly-out fishing lodge from Anchorage to Kodiak Island. He has spent 22 years ski patrolling Grand Targhee resort in Idaho and is currently on the patrol staff at Bridger Bowl here in Montana. Scott's 35 years of guiding experience, passion for teaching and fabulous stories are always worth the price for admission.
"As a guide myself back home in Wisconsin I am always hyper-vigilant in regards to customer service and making sure that my clients have the best single experience possible. Scott Bohr was personable, knowledgeable and did everything he could to put us on fish. He switched set ups for us multiple times and we were able to hook into and land a lot of really nice fish."  -Shane S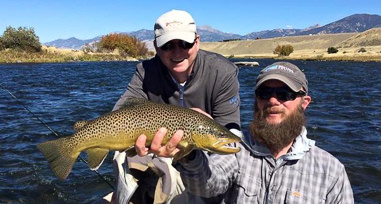 Josh left a career in corporate construction management to pursue his passion for fly fishing and become a guide. By focusing on the teaching aspect of guiding, Josh has something to offer to every level of angler. He puts forth an amazing amount effort each and every day on the water to put his guests into fish and always maintains a calm and supportive attitude along the way. Josh enjoys endurance sports and is the only guide we know who routinely runs 10+ miles after a day on the water. During the off season, you will find Josh pursuing Steelhead with his spey rod.  Josh is a graduate of Parkland College in Illinois and a United States Army veteran.
"My fishing experience was outstanding mainly because of our guide Josh Wheal. His detailed knowledge of the fishing conditions, fish locations and proper set up were outstanding. This led to a wonderful trip on the water. I would unequivocally use Josh again in the future." -Kevin B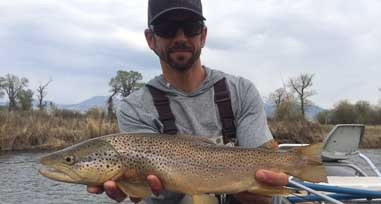 Adam grew up in Minnesota with his twin brother Eric. He moved to Montana in 1995 where he continued to explore his passion for fishing as well as mountaineering. After studying social studies education at Montana State University he became a professional Mountain Guide in 2001. In the off season Adam continues to guide climbing expeditions on some of the world's highest peaks in locations such as Mexico, Peru, Ecuador, Alaska, Russia and Nepal. He helped with the creation of the Khumbu Climbing School in Nepal, a non-profit dedicated to teaching the Sherpas of Nepal critical skills to safely work with Western climbing expeditions. Adam is extremely patient on the water and always keeping a sense of humor while working hard to get the task at hand accomplished, whether it be climbing a summit or finding hungry fish. Adam resides in Bozeman and spends his time off the water raising his young and active son.
"From positioning me in perfect casting distance and providing me constant advice, it was obvious to me that Adam spent the entire time trying to provide me the absolute best opportunity to optimize my fishing experience.  He expertly tailored his advice and timing to my skill level which was greatly appreciated.  I would highly recommend him to any serious angler who is looking for a trip to remember for a lifetime." -Kevin S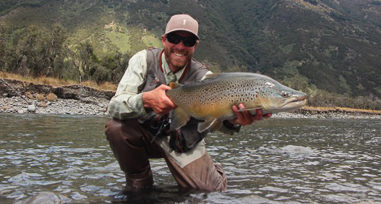 Ben has been guiding trips on some of the best trout fisheries in the world for 15 years. After growing up on a cattle ranch in northern California and attending Chico State University, Ben began guiding professionally and honing his craft on the waters of Montana, Wyoming, New Zealand and Alaska. After exhausting the fishing options around Jackson Hole over his ten years of guiding there, Ben made the move to Bozeman to take advantage of the diverse fishing options southwest Montana has to offer. In a throwback to his days of guiding in New Zealand, Ben still loves to sight fish with dries. When not out fishing, you will find Ben duck hunting, chasing deer and elk with his bow, or exploring local mountains on his skis or snowmobile.
"With only a short time to plan, my guide Ben put me on fish for three solid days and the only thing that kept me from boating more than I did was my own angling shortcomings. In three days of fishing we caught more fish than I'd attempt to count, and caught them every way imaginable. We caught browns, rainbows, brookies, cutthroats, and even the elusive whitefish and caught them on dry flies, nymphs, and streamers. The fish caught was just a bonus to the overall experience. An incredibly knowledgeable guide, outstanding shore lunch, and epic scenery on both public and private water made this for a trip I won't soon forget." -Tom M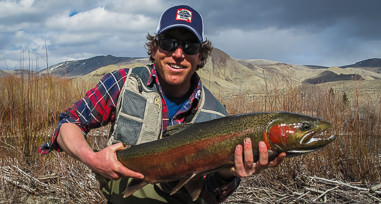 Luke was born in Livingston, Montana to a fly fishing family. Luke's father was among the earliest fly fishing guides in southwest Montana and passed that passion along to his two children. Having spent a lifetime fishing, hiking, skiing, and biking all over Montana and beyond, Luke is eager to share his passion for fishing and the outdoors with his clients. After graduating from Colorado College with a BS in Biology, he returned to Montana and pursued a life outdoors that has included fishing and guiding over much of Southwest Montana, working as a wilderness ranger, fighting fires on a hot shot team, and a working wilderness educator.  During the winter months in Bozeman, Luke is a professional ski patroller at Bridger Bowl ski area.  
"We fished with Luke Rice for two days last week. He was the best, hardest working fishing guide I've ever experienced. Plus, he was fun and an overall great guy. Thanks to Luke for adding to our wonderful experience. I can't say enough good things about Luke." -Reed B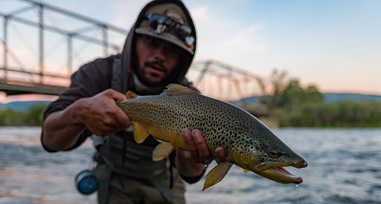 Carter was born and raised in Baltimore, MD and left the metropolis behind soon after to pursue big trout on the rivers of Colorado. After earning degrees in Economics and History from the University of Denver, Carter's passion for fly fishing led him north to the trout waters of Montana. An ideal day of fishing for Carter involves seeking out the least pressured water and sacrificing high catch rates in exchange for netting a couple monsters. Carter stays busy with big game hunting in the fall and working on the slopes of Bridger Bowl ski area in the winter. 
"Our guide Carter was one of the best guides I've ever experienced in the outdoor industry. He was totally relatable, and taught us everything we needed to know about fly fishing. Coming into this trip not knowing anything, he took us under his wing and opened us into the whole world of fly fishing."  -Simon C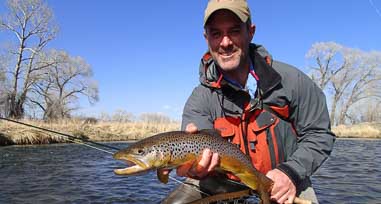 Mike Mansfield has guided everything from small mountain streams to large freestone rivers in Colorado and Montana for nearly two decades. Enjoying nothing more than introducing anglers to the wild and native fish of Montana's world-class waters, he embraces all aspects of guiding - from teaching newcomers the basics of equipment, casting and presentation to stalking selective big fish with dries or streamers on the shoulder of an accomplished angler. Mike graduated from the University of California, Irvine with a degree in Economics and then "got smart" at the University of Illinois where he earned a Master's degree in Sports, Recreation and Tourism Administration (known academically at the time as "Leisure Studies") so when you spend time with Mike you are being guided by a Master of Leisure! In a perfect world every trip would involve strong coffee, skis, mountain bikes and fly rods. More likely, a day on the river in Mike's drift boat or wading a small stream on a private ranch will be an enjoyable day to remember and to be repeated as often as possible.
"Both my daughter and I have nothing but praise for Mike M. He knows guiding backward and foreward and knows how to apply his knowledge and experience. He's certainly one of the best guides I've had in the West ---and I've fished all over Montana and Idaho--and  an interesting conversationalist on many levels  as well.  We hope to be back! "-Jim L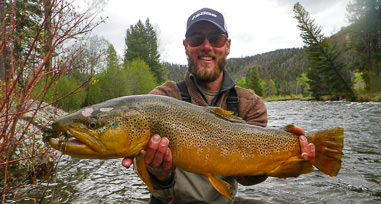 Ben has spent the last decade guiding fly fishing trips on the trout waters of Montana, Colorado, and New Mexico. A native of Pennsylvania, Ben was first introduced to Montana fly fishing during a summer job at a guest ranch on Montana's legendary Rock Creek and found his calling. With a degree in Health and Physical Education from Edinboro University, Ben's passion for teaching and fly fishing is evident through his patience and knack for knowing when to throw in some instruction and when to just let his clients fish. Ben's preferred style of fishing is throwing streamers for big trout. When he is not teaching Health Enhancement at Park High in Livingston, MT or coaching track or wrestling, Ben loves getting out in the mountains with his wife and two dogs.
"Ben worked his tail off on and off the water to ensure we had a great day. Ben's recommendation for fishing the Boulder proved to be a great call. Beautiful water, nearly deserted, and it was just coming into shape for great top water action. Easily one of the top guides I've ever had. Easy going personality made the day a lot of fun, and he was constantly focused on doing whatever it took to put us on the fish." -Patrick K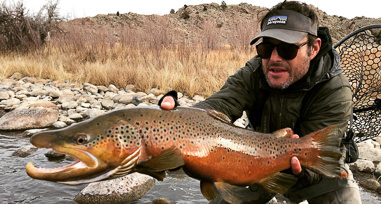 Ryan has 15 years of guiding experience on some of the most legendary fisheries of Colorado, Wyoming, and Montana. Picking up a fly rod at the age of 15, Ryan soon made the move from his native Georgia to guide on the Gunnison River and study business and recreation at Western State College in Gunnison, Colorado. After a stint in the business world back in Atlanta, Ryan made the permanent move west and committed himself to guiding full time on a variety of fisheries in Colorado as well as the North Platte in Wyoming. Ryan and his wife decided to relocate to Livingston, Montana to explore the beautiful places and rivers Montana has to offer while perusing their other passions of climbing and camping. When not guiding freshwater Ryan enjoys chasing permit, tarpon, and bonefish in Mexico and Central America. Ryan's clients enjoy his laid back teaching style and knack for knowing when and how to offer instruction. Ryan always seems to be enjoying himself on the river with some laughs and a lot of bent rods.   

"The lodge was great but the best part of our trip was having Ryan Nixon as our guide. Thoroughly professional, personable, exacting, helpful and engaging. I've been fishing for over 60 years all over the world and Ryan is one of the best guides I've ever fished with." - Brian C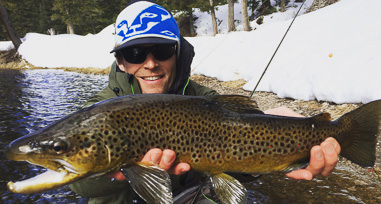 Rob's resume tends to evoke envy among even the most seasoned outdoor adventurers. Rob holds a BA in Wilderness Leadership and over the years has worked as a trekking guide in Switzerland, white water raft guide in Colorado, Utah and Alaska, and a heli-ski guide in California, Chile, Alaska and Kashmir. In addition to Rob's many other talents he is also an exceptional fly fishing guide and these days splits his time between Montana summers guiding anglers and Alaska winters guiding heli-ski clients. Rob brings a great blend of passion and patience to the river each and every day.
"Rob was great. He was highly knowledgeable, prompt, and was an all around excellent guide. He catered to our skill levels very well and kept us on fish all day. He even managed to get us back to the hotel at the exact time we'd talked about being back." -Seth S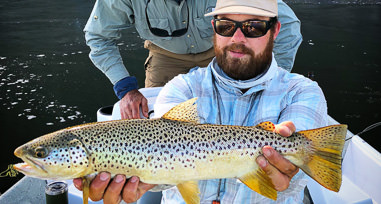 Matt developed his love of fishing as a youngster growing up in Maine, chasing striped bass on the salt water and native brook trout on local creeks. After earning a degree in architecture in 2010, Matt decided the office life wasn't for him and devoted himself to all things fly fishing. After working on the Kenai river in Alaska, Matt guided for several seasons out of Missoula before making the permanent move to Bozeman. Matt loves dry fly fishing and takes great pleasure in getting his clients on fish by throwing dries to rising trout. In the winter Matt spends his time as a commercial fly tyer, hand tying thousands of flies each season. If you fish with Matt, you'll have the chance to fish Matt's tried and true patterns that he has been developing for years and can't be bought in a shop.  
"Our trip with Matt exceeded all expectations that I had. Matt was an amazing guide and made the day a blast. We will definitely be back to fish with Matt again! "-Clint L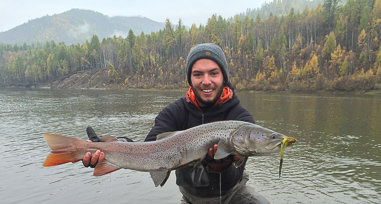 Neil has never worked a day in his life. After learning to fly fish at 10 years of age and ski as soon as he could walk, Neil's passion for the two sports have shaped his life. Neil started guiding at the age of 18 and has been guiding fishing trips and working in fly shops ever since. Neil has dedicated his free time to learning the local waters of southwest Montana and is always searching for a bigger fish than the last. He is as fishy as they get while still being incredibly patient, teaching fly fishing skills to all levels of anglers. A graduate of Montana State University with a degree in Geographical Snow Science and an EMT license, Neil spends the winters on the pro patrol staff at Big Sky Resort. There are very few days you will not see Neil on the river or on the slopes. Hence why he has never sat at a desk or, in his opinion, "worked" a day in his life.
"Neil is really a great guide with a really nice style. He is patient and works hard to get you into fish. Really an enjoyable guy to spend the day with." -Eddie M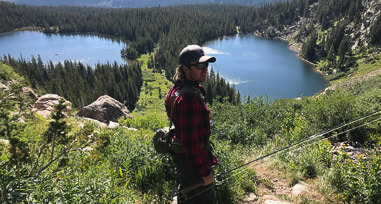 Though Bozeman is a long way from Tim's native New Jersey, he feels right at home with a rod in hand on the local waters of southwest Montana. After growing up chasing striped bass and fishing the Great Lakes' tributaries, Tim broke in to the guiding profession on the waters in and around Colorado's Rocky Mountain National Park. Several seasons and many trout later, Tim made the move to Bozeman to take his guiding and recreational fishing to the next level. Tim's enthusiasm for teaching newcomers the sport is infectious and his breadth of knowledge has something to offer to novice and experienced anglers alike. When Tim is not on the water or defending his Jersey accent, you will find him chasing elk with his bow or waterfowl with his dog. 
"My wife and I were visiting Montana for the first time celebrating our 10 year anniversary and this was one of the best trips we have ever experienced. Our wonderful time is in large part due to how great our guide Tim was. He provided a wealth of information prior to us getting on the river and was extremely patient throughout the day. We all had fun while at the same time we were catching trout! Couldn't ask for more. My wife and I have never really fly fished before and I must say with the help of Tim's knowledge of the river and fishing, he turned us into pros! "-Chad R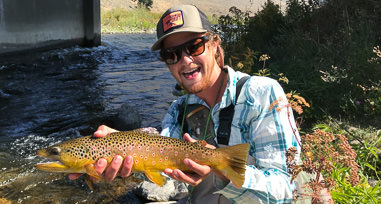 Tom's passion for fly fishing is palpable and any day spent on the water with Tom is sure to be a memorable one. A native of New Hampshire, Tom earned a degree in Economics from UNH before making the move out west. As with many of our guides, Tom realized his desire to share his passion for fly fishing with others was not achievable from behind a desk, so he dedicated himself to a career in guiding. Tom spends a lot of time fishing the Gallatin, and loves throwing dry flies on the seemingly infinite small streams in the area. When not skiing, Tom spends the winter laying down fresh corduroy on local cross country ski trails.
"Our guide, Tom, was amazing. He took two people from Indiana with very little fishing experience and we not only had a great time and learned a lot, but we actually caught fish too! He was amazingly knowledgeable of the area and rivers. He couldn't have provided us with a better experience." -Matthew W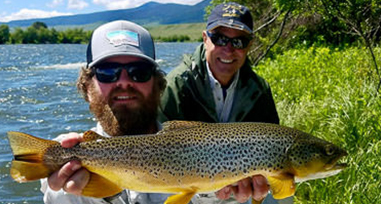 Michael honed is fly fishing skills while working as a packer in Montana's Bob Marshal Wilderness along the South Fork of the Flathead River. Michael's well rounded guiding background is a result of his time throwing dry flies on one of the world's premier native cutthroat trout fisheries, sight fishing the gin clear water of New Zealand, and years of bird and big game hunting when not guiding fly fishing trips. Eventually settling down in Bozeman, Mike works hard each and every day to get his clients on great fish, enjoy some laughs on the river, and produce memorable days on the water.
"I had an awesome time on the water with Mike.  He is an awesome guide, knows so much about the fish and the water and he was awesome to hang with. It was hoppers all day. I will definitely be back and would love to continue to go out on the water with him." -Matthew K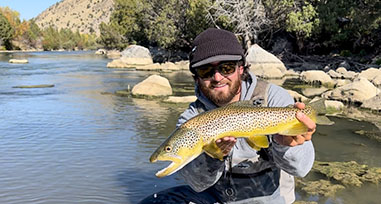 Angus comes from a fishing family where he was raised chasing musky and walleye on the lakes of Minnesota and Wisconsin. An outdoor enthusiast, Angus spent two years at Montana State University (AKA "Trout U"), before furthering his outdoor education while climbing and mountaineering throughout the US and Ecuador with Outward Bound. Whether hiking to remote alpine lakes to throw dry flies to big cutthroat or fishing technical small streams for spooky trout, Angus just loves to fish and he loves to  share his passion for fishing with his guests. Though thoroughly immersed in fly fishing culture, Angus occasionally takes some time off the water to rock climb around the US and pack up his rig for extended road trips in the off season.  
"Angus is an amazing guide. He doesn't just take you how to fish, he teaches you how to fish and everything that goes along with that experience. We did more than just catch fish with Angus; we learned a ton about fishing and I have personally been doing it for 40 years. I have no doubt this is how Angus approaches every trip he is scheduled to guide and it shows in his professionalism and attitude.  "  - Jeremy G.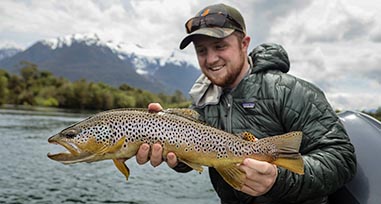 Charlie has fly fished far and wide and brings a wealth of knowledge and experience to the Montana Angler guide staff. Originally from Connecticut where he grew up fishing for stripers and tuna, Charlie moved to Fort Collins, Co where he obsessively fly fished and earned a degree in Natural Resources Management and Fisheries Sciences in his spare time. He then began guiding full time in various locations such as Colorado, Alaska, Patagonia, and Montana. Charlie loves throwing streamers for big fish and, when not fishing, enjoys hunting, hiking, and skiing the mountains of Montana. 
"I've been all over the west on guided trips and Charlie is by far the best guide I have fished with. He worked really hard getting us on fish and made this trip epic." - Jimmy P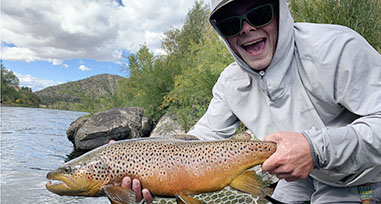 Owen's Passion for fly fishing and the outdoors began at the age of seven when his grandfather, a lifelong fisherman, gave him his first rod and taught him how to cast on the rivers of Colorado. After spending countless school breaks and summers learning from his grandfather and some of the best guides in Crested Butte and Vail Valley, Owen attended the University of Denver while continuing to pursue his dream of becoming a fishing guide. After several years of guiding on Colorado rivers, Owen moved to Bozeman and continued to hone is craft on the waters of southwest Montana. Owen's professionalism, patience, and ability to connect with clients of all ages and abilities allows him to share his passion for the sport while producing some very memorable days on the water. When not guiding you will probably see Owen floating a local river with his brother, at his vice tying flies, or hanging with his best buddy Decker, a giant Bernese Mountain dog.
"Owen was immediately reassuring, informative, and full of positive energy. Owen would come to prove that he is an expert on the oars; he moves us around the river deftly and and got us into perfect position all day. I tried my best to irritate him with tangled rigs, terrible casting, missed seams, etc. Nothing worked. His patience, positive attitude, and experience won the day with plenty of fish to the net." Paul M.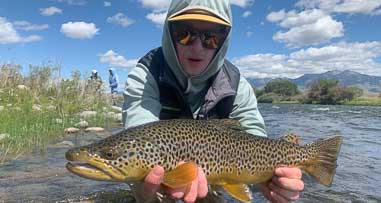 Morgan has had a rod in hand since he learned how to walk. A Wisconsin native, Morgan has been fishing the waters of southwest Montana for the last decade since completing coursework at the renowned Sweetwater Guide School. Morgan is a graduate of Northern Arizona University with a degree in Environmental Biology and enjoys immersing his clients in the natural wonders of Montana while throwing dry flies to wild trout. Whether it is a bug lesson in the midst of a blanket hatch or a casting refresher at the boat ramp, Morgan enjoys teaching as much as he enjoys catching. Morgan's skills as an oarsman, EMT certification, and swift water rescue training ensure a safe, educational, and enjoyable day on the water. Morgan spends the off season skiing, hunting birds over his griff, and travelling internationally with his wife.
"I had an outstanding and memorable experience. Morgan went above and beyond to make sure we fished great water of all types. His knowledge-base is outstanding and I learned so much from him. Beyond that he is a great human being and clearly has a passion for guiding and fishing in general. This enthusiasm is infectious and led to further enhancing my love for this sport." -Blair J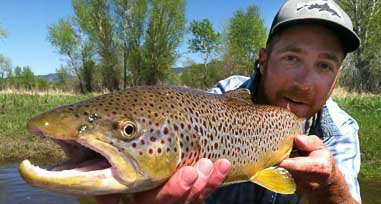 Don't let Red Beard's easy going demeanor fool you, his passion for fly fishing and commitment to doing whatever it takes to put fish in the net quickly become apparent after a day on the water with him. Red is a veteran on our local waters and seems to know each rock, bend and drop off on hundreds of miles of water in Southwest Montana. After earning a B.S. in environmental science and winning a National Championship playing soccer for Bethany College, he moved to Montana to pursue his love for hunting and fly fishing. He has been a fixture guiding Montana rivers for over 15 years and also guides big game hunting in the fall.
"I really enjoyed fishing with Red. He is a cool, relaxed guy and fun to spend a day with. He knows a ton about the river, the fish, the tactics. He kept me in prime position to fish all day and had the utmost patience for fly changes, and keeping the fly dressed. He works the oars expertly. He also has a nice knack for coaching and positive reinforcement." -Rob M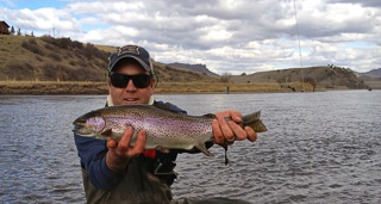 Jeff was given his first fly rod at the age of twelve and never looked back. He has been perfecting his Montana fly-fishing knowledge for over 20 years on local rivers, streams and lakes. He is also an award winning science teacher at Belgrade Middle School. He holds a B.S. in Business Management from Central Connecticut State University as well as a B.S. in Elementary Ed. and a M.S. degree in Science Education from Montana State University. When not guiding or teaching, Jeff enjoys spending time outdoors with his three kids.
"Jeff Grom was fantastic. He did everything in his power to make sure we had every possible opportunity to catch fish. We still laugh about how he jumped into to chest deep water just to hold the boat so we could throw a few extra casts on a hole. Aside from being a river guru, he was very professional, great conversationalist and definitely made our trip down the Madison River one to remember." -Nikos L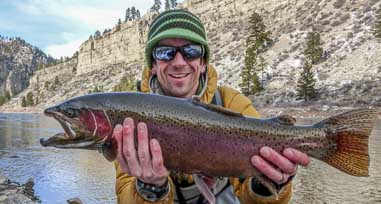 Eric Knoff grew up fishing walleye, pike and bass in Minnesota. He moved to Bozeman Montana in 1994 and immediately got hooked on fly fishing. In between fishing and climbing trips, Eric attained a bachelors degree in physical geography from Montana State University. After college,  Eric continued to follow his passion for climbing and fishing to the mountains and rivers around the world. After eight years of guiding for Exum Mountain guides in the Tetons of Wyoming, Eric has turned his focus to teaching the art fly fishing. Eric is an enthusiastic teacher and will go the extra mile to make sure your fishing technique is ready for an exciting day on the river. Whether it is casting dry flies on the Gallatin or chasing big trout on the Yellowstone or Madison, Eric is committed to making sure your fishing trip will be fun, safe and memorable.    
"I thoroughly enjoyed Eric Knoff. He is instructive and taught me a lot despite my many years of fly fishing; I always want to learn from the guides and Eric was very good in teaching me things. He is a personable young man, knows fishing and knows how to relate to people, and he cares about his clients having a great day on the water. He is thoughtful and patient, knows the river (we fished the Madison), and he knows how to handle a boat. He is an all-around great guy!! I would certainly ask for him on a future trip I want to make back out there." -David N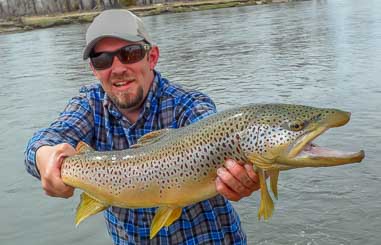 After growing up on a ranch in rural California, Nathan's career in the world of culinary arts lead him to Yellowstone National Park where he served as executive chef at the renowned Snow Lodge. Finding himself surrounded by pristine trout water fueled his existing passion for fly fishing and Nathan began guiding full time in the greater Yellowstone region. Nathan now has over a decade of guide seasons under his belt within Yellowstone Park and the various blue ribbon trout rivers of southwest Montana. Nathan loves sharing his extensive knowledge of the region with guests that come to Montana to chase trout. From technical angling on spring creeks to classic drift boat floats on the Yellowstone River, Nathan's guidance and expertise on the water is sure to improve the skills of any angler, regardless of experience level. 
"My wife and I previously hadn't fished a Montana spring creek. Nathan Guffey, our guide from Montana Angler, met us at DePuy Spring Creek in the Paradise Valley in mid-May. Nathan was very knowledgeable and professional. He put Lynn into some very nice fish early on and rekindled both of our instincts to mend line after a cast. He knew the water, where fish would be holding and what flies would entice them to strike. He was also just an all-around good guy. It wasn't easy fishing, but the fish were large and beautiful. It was a nice experience all around." -Hugh L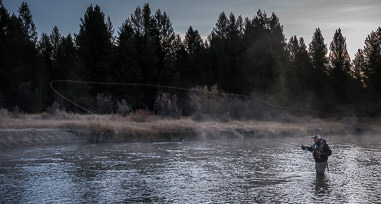 Matt's passion for fly fishing and animated sense of humor make a day on the water with him full of big laughs and bigger fish. A native of Massachusetts, Matt grew up fly fishing for smallmouth bass, trout, and Atlantic salmon on New England and Quebec's large rivers. Matt treats each day on the water as an opportunity to teach clients entomology, fish habitat, conservation, and local history. Matt completed his PhD at Penn State University and moved to Montana to pursue his academic career at Montana State University. Now he mostly chases rising trout on Montana's rivers, lakes, and streams. In the off season when he is not fishing, skiing, or tying flies, Matt serves as a Research Fellow at MSU and works as a research scientist for a local research and evaluation firm in Bozeman. 
"We loved Matt Filteau. He was helpful, witty, kind and interesting. He made sure we caught fish, especially helping me regain some abilities I had lost after a long hiatus from fishing. He was patient and explained techniques well and answered my questions without making me feel like I was bothering him. He worked very hard, positioning the boat, fighting the wind and the weather and always seemed to be having just as much fun as we were. We will definitely want him as our guide again wherever we decide to fish next."  -Pamela H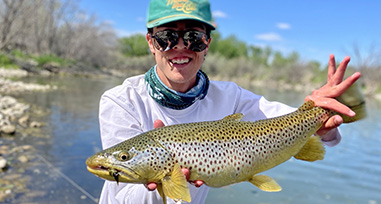 Max hails from the front range of Colorado where he began tying flies and throwing a fly line when he was 12 years old. Growing up fishing the South Platte, Blue, and Eagle rivers, fly fishing became his main passion; to the extent that fly fishing drove him to abandon his pursuit of a degree at Cal Poly, move to Bozeman, and learn the local waters of southwest Montana while earning a degree in business management from MSU on the side. Max loves technical nymphing and will fish an indicator from time to time, but his favorite way to fish is with anything big an furry to entice the larger trout in the river.  
"Max made our day. He was personable, passionate about fly fishing, knew where the fish would be, and articulate in explaining to us novices what to do. He worked hard all day. As an added bonus, he gave us two excellent restaurant recommendations in Bozeman." - Mark C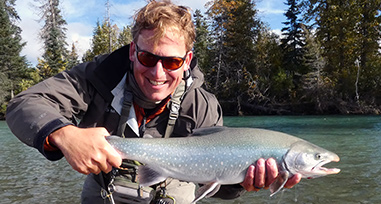 Walter began fly fishing at the age of seven in the Missouri Ozarks. His Montana guiding career began as a "fun job" for the 2001 season. One season has stretched a bit; 2020 will mark his twentieth season guiding or outfitting in Montana and Yellowstone Park. While Walter will use whatever flies the fish demand, he prefers running "dry or die" if it's feasible, both when he's fishing on his own and while he's guiding. While Walter mostly guides float trips on the Yellowstone, Boulder and Stillwater rivers, he has some secret spots up his sleeve for guests who would like to hike and fish in Yellowstone Park. When he isn't guiding, Walter works as a commercial fly tier and fly designer and as a freelance writer. He holds master's degrees in English and Information Science, yet somehow doesn't have any student loans. He has written three books on fly fishing and one of these days he'll actually finish a novel. Walter lives in Livingston with his wife Jani, and spends as much time in the winter snowboarding as he can. 
"Walt was fantastic. A last minute change in our travel plans meant we could drift down the Yellowstone. Two words - DO IT! It is a good as the books, DVDs and magazines say it is - but if you do it - go with Walt. The second guide I have been with in 20 years of fly fishing and the experience I gained was awesome. He consistently put us on fish, knew the water like the back of his hand, and was a great bloke." -Alex and Sharelle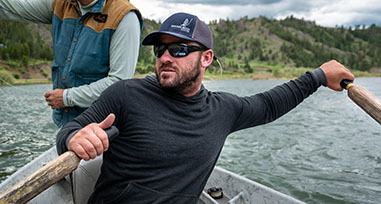 Stephen is a Montana native born and raised in Helena. He cut his teeth as a grade schooler fishing on the Missouri River which he still considers as his home waters. As a licensed Montana fly fishing outfitter, Stephen runs the fishing program for our Missouri Cliffs Lodge. Stephen's passion for fly fishing and guiding quickly becomes evident as soon as you step in the boat with him. He thrives on sharing his passion for the sport with our guests and especially enjoys teaching youngsters and novice anglers the nuances of the sport. His energy and stoke level is always high, whether it is rowing a drift boat, golfing with buddies, or spending time outdoors with his wife and two kids.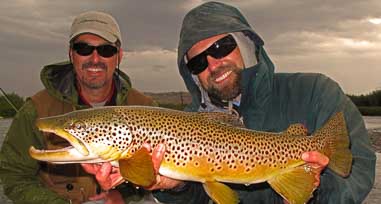 Outfitter and owner Brian McGeehan grew up fishing the limestone streams of Pennsylvania as a youth. His passion for fly fishing brought him to the West where he started his guiding career in the mid 90's in Colorado. In addition to guiding he spent several years teaching middle and high school science before devoting his full attention to Montana Angler. As an educator he started a successful youth fly fishing club as well as a rigorous science fair program where he still volunteers to mentor students. Brian also oversees our destination angling program and hosts several international trips each "off season". He and his wife Ann (also our business manager) are parents to four energetic children. He holds a B.S. in geosciences from Penn State, a M.S. in civil engineering from U.C. Berkeley and a M.S. in science education from Duquesne University.