Montana Angler is a family run business that works with Montana's best fly fishing guides and lodges to offer trips to Montana's legendary trout fisheries as well as numerous international fly fishing destinations. We also have an extensive portfolio of exclusive private ranch leases our guests can enjoy. We have assembled some of the finest guides in the West because we understand that terrific guides make for unforgettable fishing trips. In addition to the region's top guides, Montana Angler has also partnered with several of the regions finest lodge's, private ranches, hotels, and vacation rentals for guests that want the perfect combination of world class dining and accommodations in a sublime western setting. We also run a series of deluxe camps for both river camping and alpine horse pack fishing.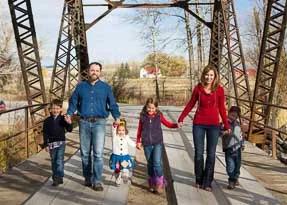 Brian and Ann started Montana Angler to share their passion for fishing and the outdoors with others. When away from the fishing business their time is fully absorbed with raising four very active children. Brian has been guiding fly fishing and rafting trips in Montana, Colorado, Pennsylvania, West Virginia, and Wyoming for over two decades. He also hosts international trips to destinations such as the Bahamas, Chile, Argentina and Alaska in the off season. Ann is Montana Angler's business manager and oversees the all important back end logistics in the office. She also hosts international fly fishing trips to the Bahamas and Chile.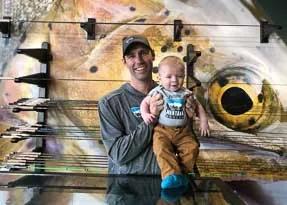 Zach oversees our daily outfitting operations including scheduling trips, hosting international expeditions, and coordinating logistics for our various fishing programs. A transplant from Crested Butte, Colorado, Zach made the move to Bozeman in 2004 to study at Montana State University and explore the mountains and rivers of southwest Montana. After graduating with a degree in secondary education, Zach spent five years as a teacher at Bozeman High School while running our overnight river camping program in the summers before joining the Montana Angler team full time. When not overseeing daily operations or running camps on the Smith River, Zach stays busy snowboarding the local mountains and raising his three young sons.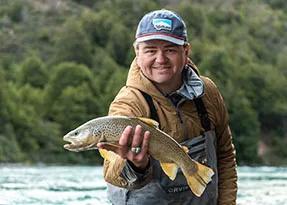 Jimmy brings over 20 years of experience in fly fishing retail and outfitting to Montana Angler. Jimmy's duties are extensive including managing back of the house retail responsibilities, organizing education and outreach efforts, assisting with trip sales, and even getting out to guide fly fishing trips once in a while. Jimmy's fly fishing career began in Santa Fe, New Mexico as a teenager and brought him to southwest Montana at 19 years of age. Jimmy is a graduate of Montana State University in Bozeman with a degree in psychology and spends his free time fishing local waters, playing with his wife and daughter, tying flies, and exploring new waters.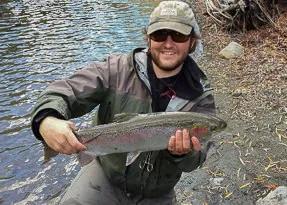 If you've had a chance to drop by the Montana Angler fly shop, chances are you have had the opportunity to chat with Tanner and glean some fly fishing tips he has accumulated in over a decade of working in the outdoor industry. Tanner started his career guiding on private waters of New Mexico before operating a retail paddlesports and kayak fishing outfitting service in Oregon. Through his experience as a guide, retail manager, and manufacturer rep, Tanner can outfit any client for any trip. When not in the shop Tanner can be found exploring new waters and hunting. Whether you want to discuss catching carp on the fly or just need a recommendation of where to grab a brew, stop by and chat with Tanner.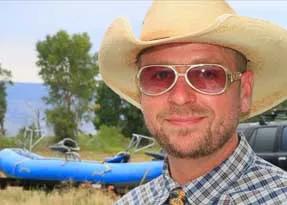 Simon hosts and cooks for several of our all inclusive lodge programs but spends a majority of his time at the Boulder River Outpost. His paella is legendary and he works hard to not only feed our guests but to also take the time to share his depth of knowledge about the region. Simon is also an accomplished skier and photographer with his work frequently featured in numerous local and national publications. He is especially noted for his work in backcountry ski photography. When Simon isn't hosting guests at the Outpost he enjoys travelling, mountain biking, and overnight river trips on the Smith River and Grand Canyon.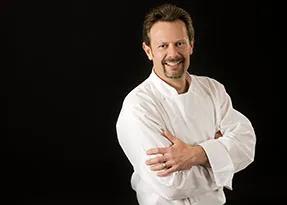 Scott brings over 25 years of culinary experience to the Madison River Lodge team. He is a Le Cordon Bleu and The Culinary Institute of America at Greystone professionally trained chef with a focused career in the southwest Montana hospitality industry. Scott enjoys sourcing regional ingredients to produce an authentic lodge cuisine to compliment your days on the river. Scott resides in Ennis, MT with his wife and two dogs. In his free time he enjoys skiing, fishing, gardening, and exploring the mountains and rivers of southwest Montana.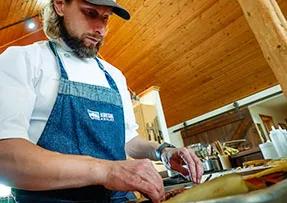 RJ grew up in Massachusetts and boasts an impressive resume as a sous chef, chef de cuisine, and executive chef at several notable establishments including the five-star rated Little Nell hotel in Aspen, CO and The Farm Table in western Massachusetts. In 2021, RJ traveled in his converted van to all of the lower 48 states, visiting national parks and ski resorts along the way. What was supposed to be one winter season of skiing post-college has turned into a 15 year career in the culinary industry. RJ has a business degree from Lees-McRae college in Banner Elk, North Carolina, and continues to ski all winter. RJ also enjoys traveling, mountain biking, golf, reading, 90s cars, and now fly fishing.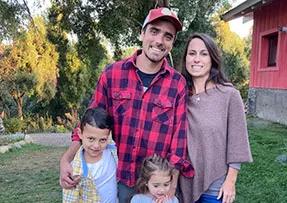 Patricia and Guillermo hail from San Martin de los Andes in the Patagonian region of Argentina. Patrica was born and raised in Oyster Bay, NY on the Long Island Sound. After attending Phillips Academy, Andover boarding school on the east coast and a few years at CU Boulder, Patricia decided to travel down to Patagonia where her Argentine father was raised and Patricia's love of mountains, rivers, and lakes developed early on. There she met Guillermo, born and raised in San Martin de los Andes. Guillermo has 14 years of experience working at one of Ted Turner's fly fishing lodges in Patagonia, where Patricia joined him shortly after getting married. Together they have decades of fly fishing lodge hospitality experience and currently work summer seasons in both hemispheres. Patricia and Guillermo both enjoy gardening, cooking, and spending time with their two children.  
Montana Angler Guide Staff
At our core we are focused first and foremost on great fishing. We take great pride in the amazing team of guides that we are lucky to work with at Montana Angler. We look for guides that are not only some of the most talented anglers on the planet, but also patient instructors. We work hard to make sure our guests not only catch fish but also become better anglers throughout the course of their trip. Our guide staff is also extremely experienced which is critically important when fishing the water of southwest Montana. With years of guiding experience and thousands of river miles under their belts our guides have a penchant for being at the right place at the right time.  

"I have been fly fishing in Montana for a number of years, always had fun, but always felt like something was missing. After fishing with numerous guides, we finally found Montana Angler, and what a difference experience and education make! Every day we saw different water and had a different experience. I learned more about Montana fishing in our first trip with them than I had learned in all the previous years we had come out West. These guys are dedicated, they care, and they will put you on some monster trout. I have the pictures to prove it!"
Bo Kirkpatrick ~ Alabama