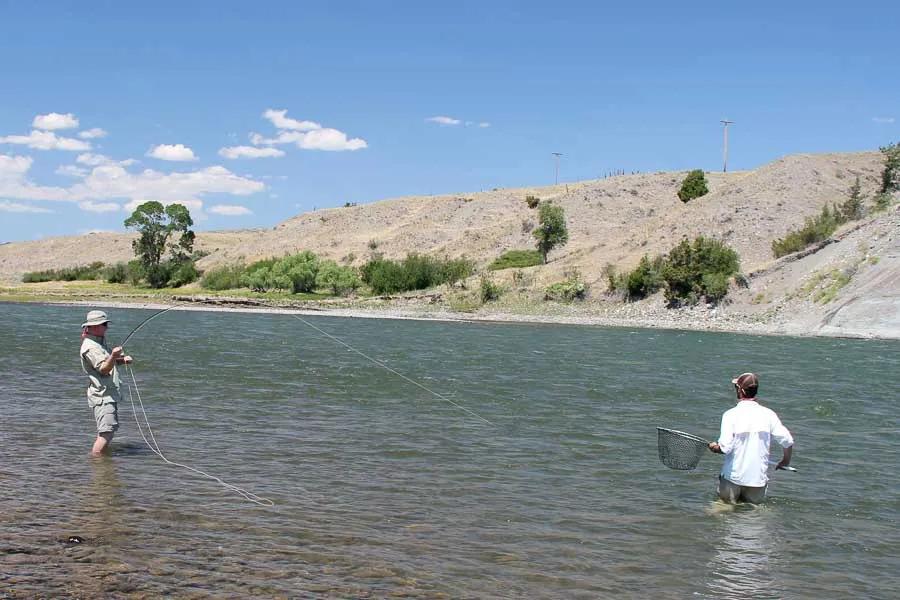 Montana fly fishing has deservedly gained a reputation for offering some of the world's finest angling for wild trout. Visiting anglers come to Montana in search of pristine waters, large trout, great hatches and unparalleled scenery. Carp fishing on Montana fishing trips is not usually what most fisherman envision when they travel to the Big Sky state, but visiting anglers that give it a try are rarely disappointed.

Although the headwaters of most of the famous trout rivers in the state are too cold for carp, several reservoirs and a few of the larger rivers such as the Missouri hold them in abundance. The Upper Missouri river between Three Forks and Canyon Ferry Reservoir has been gaining notoriety amongst local fisherman as a must fish destination during the summer. On a float trip on the Upper 'Mo it is common to see hundreds of carp during the course of the day, each between 5 and 15 pounds. Carp fishing with a fly rod is almost entirely done by site fishing to shallow cruising fish. The experience of hunting carp with the eye and then making a quick accurate cast to the surprisingly spooky golden ghosts, followed by a hookup on a monstrous hard charging fish is one that becomes addictive to almost every fly fisherman that tries it. The allure of catching 15-pound fish on hoppers in August is so addictive that several local guides and outfitters completely forego chasing trout on their days off during the peak of the summer in order to go "carping".

Carp fishing is best done on hot summer days when the fish are more active. Sunny days are best because in order to catch carp you must see them before they see you. Cloudy days produce a glare on the water that makes visibility much more difficult. Some Montana fishing guides that are addicted to carping build special decks on their drift boats that help to elevate the anglers position in order to aid spotting fish. While floating in drift boats, the oarsman lines the boat up to pass by shallow slow water flats on the edges of gravel bars. The casters fire flies to spotted fish. The best flies for carp are often medium brown colored patterns resembling crayfish and sculpins. Saltwater bonefish patterns like Crazy Charlies are also very effective. It helps to have a weighted head on the flies to help them sink fast and to keep the flies right on the bottom. Casts should be made about five feet upstream of the fish so that the fly has time to sink and drift into position. Once the fly is close to the fish a slow strip retrieve frequently produces a follow and strike. Setting the hook is best done with a strop set similar to that used when fishing for bonefish and redfish on saltwater flats. Once hooked, carp always make a long powerful run so be ready to let the fish take some line. 

Dry fly fishing for carp is one of the great thrills in freshwater fly fishing. Carp are generally thought of as bottom feeders, but they readily and frequently feed off of the surface when the opportunity arises. Carp are especially found of rising in giant foam eddies that occur on the Missouri river. These large eddies collect debris that is in the water and a rich foam of organic material develops on the surface. Trapped within this foam is often a slurry of mayflies, caddis flies, grasshoppers, ants and other insects. Large schools of up to 50 carp at a time will congregate in these eddies while feeding aggressively at the surface. Fooling these "gulpers" is harder than it looks. The fish are incredibly spooky, and all it takes is setting off one fish for the whole pod to go down. Carp can also be caught during hopper season when they take up feeding stations along the banks of the river. A properly presented hopper cast just upstream of the spotted carp will often produce a strike.

Montana's carp are large fish, and the traditional trout fishing tackle are generally too light. Saltwater rods suited for bonefish and redfish are perfect for carp. An stout 7 wt or 8wt is the preferred rod of choice for many local anglers and guides. The heavier rods are useful when fighting the strong muscular fish. Leaders should also be stout, there is really no need to fish anything below 3X, with 2X the most common tippet strength. Flourcarbon is probably not needed, but most of our guides use it just in case when sight casting to the spooky fish in clear water. Flourcarbon should only be used on subsurface presentations and not for dry flies.

Carp have not achieved the celebrity status that trout have claimed in Montana, but they are certainly a worthy game fish. Many of the guests that we fish with at Montana Angler each year have come in search of terrific trout fishing on legendary rivers like the Madison and Yellowstone. Occasionally we are able to convince folks to take a shot at the golden ghost. Every client that we have ever guided on a carp fishing trip has requested to do it again on future trips! 
Receive fresh articles via email!