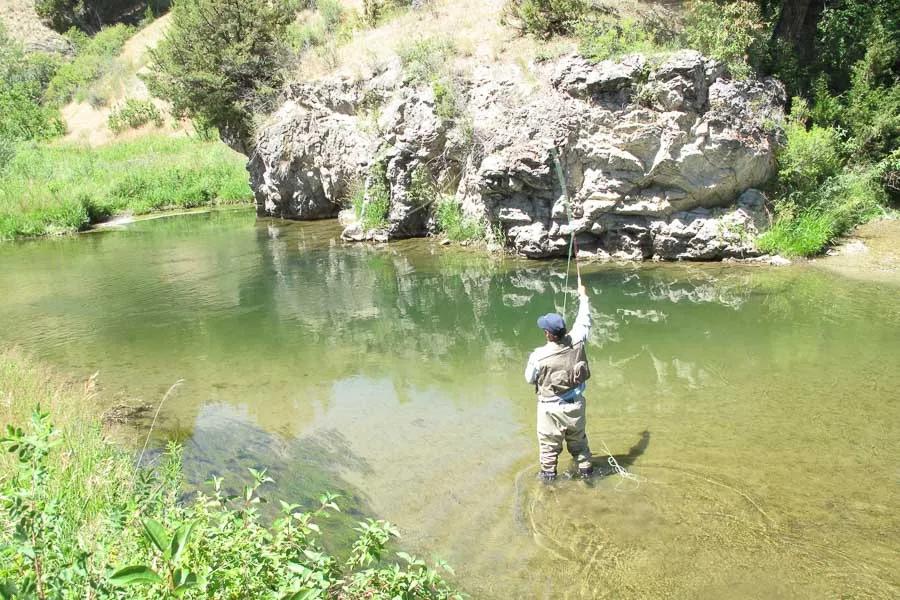 It is hard to pull a fly fishing magazine off of a shelf and not find an article or photo of Montana. The shear number and density of world class trout rivers in the state rivals any other location in the world. Rivers like the Madison, Yellowstone, Bighorn, Missouri, Gallatin, Big Hole, and Jefferson have long been on the short list of passionate fly fisherman from around the world. 

The quality, fame and number of productive fly fishing rivers in Montana also attract some of the fly fishing industries best guides, outfitters, writers and photographers. Montana is a sparsley populated state with an overall population that is less than 1 million people and a population density of 6 people per square mile. Despite the rural environment and low population, the annual influx of fisherman from around the world brings moderate pressure to many of the most famous rivers. Although never crowded when compared to rivers in the Eastern U.S. or Southern Rockies, the angling pressure still comes into play for our guides when fishing rivers like the Yellowstone, Gallatin and Madison. Trout that were aggressively pounding hopper imitations in late July become a little more wary by the end of August after seeing several versions of foam hoppers float by. On popular floats on the Madison or Yellowstone that are frequented by the regions fly fishing guides, aggressive smashing takes become subtle delicate grabs later in the season.

One of the strategies that our Montana fishing guides use on local waters is to take advantage of the terrific fly fishing that can be found off of the proverbial beaten path. There is nothing more satisfying than working harder than the next guide to help our guests access unpressured fishing to eager and willing wild Montana trout. Our guides focus on four strategies for accessing fishing that most guides, outfitters and visiting anglers bypass: using whitewater rafting techniques, gaining permission on private ranches, using specialty boats to access difficult to reach floats without boat ramps and finally being willing to hike or row harder than others to get into great fishing.

One of our favorite ways to get off of the beaten path is to leave our drift boats at home and opt for rafts and whitewater trained guides to float fish reaches of rivers with whitewater. The majority of Montana guides only use fiberglass drift boats. Even mild whitewater is enough to keep the majority of guides restricted to "hard" boats out. The low fishing pressure on these canyon reaches, combined with impressive scenery, great trout habitat and aggressive trout make these floats a hit with may of our guests. Because these trout just haven't seen many flies, they usually aggressively take our imitations and produce a terrific fight.

Another terrific way to access gullible, unsuspecting trout is to gain permission on private ranches that limit access to the angling public. Several of the ranches in our region have phenomenal fishing opportunities ranging from small canyon streams, productive spring creeks and trophy wild trout reservoirs. Some of these ranches allow fishing based on a rod fee system that ranges from $40-$100 per rod. Other ranches allow us free access with advanced notice. 

Montana fishing is famous for its floating large rivers like the Yellowstone and Madison. The vast majority of anglers floating these blue ribbon rivers are using the services of the regions many fly fishing guides and outfitters. The popularity of float fishing in the Northern Rockies has spawned terrific advances in the production of fiberglass drift boats. These boats are made for one purpose, fly fishing on large rivers and they are a joy to use. The downside of these boats is that they weigh just under three hundred pounds and must be towed into and out of rivers via boat ramps. Although our guides all have drift boats for fly fishing trips on the classic floats, we also use small lightweight rafts with custom fishing frames that allow us to access some of the smaller rivers that lack boat ramps. Fishing these untapped resources often produces fast action without another fisherman for miles. 
Receive fresh articles via email!