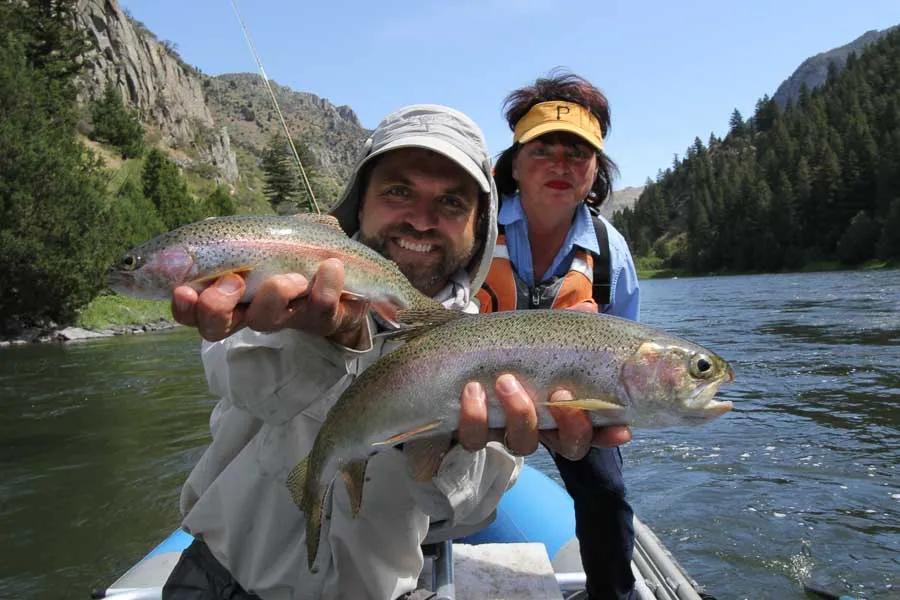 We recently partnered with fellow outfitter Joe Sowerby to offer Smith River fly fishing trips.  The Smith is one of Montana's great trout rivers and is unique because of the very limited access.  There is over 100 miles of river to fish below the put in at Camp Baker requiring the trip to take place over multiple days.  Generally 5 or 6 days is required to float the Smith and its combination of great fishing, outstanding scenery and amazing wildlife make it one of the North America's legendary overnight river trips. 
For much of the river corridor, the Smith flows below a mixture of towering limestone cliffs and dense fir and pine forests.  The campsites are wild and spectacular and the canyon is filled with wildlife.  It is not uncommon to view moose, deer, bear and eagles when floating this river.  The entire stretch of the float is on either National Forest land or on large untracked ranches.  Only a few cabins midway break up the wilderness feel of the trip.  The Smith became has become so popular with floaters and anglers alike that Montana Fish Wildlife and Parks has restricted the number of users with a lottery system.  A few commercial outfitters like Joe have a restricted number of highly coveted launch dates for operating commercial trips.  Fly fishing can be very good on the Smith and it holds a healthy population of large wild trout with browns over 20" caught with good frequency.  Because of the restricted nature of the float the fish see limited pressure and never really get very smart (always a good thing!).  On our Smith trips Joe has a crew of camp guides that run ahead of the fly fishing guides to set up an elaborate camp complete with wall tents, tarps, chairs, tables, etc.  After a long day of fishing and staring at spectacular scenery it is nice to float into a well equipped camp with some cold beverages and tasty appetizers awaiting!
Receive fresh articles via email!