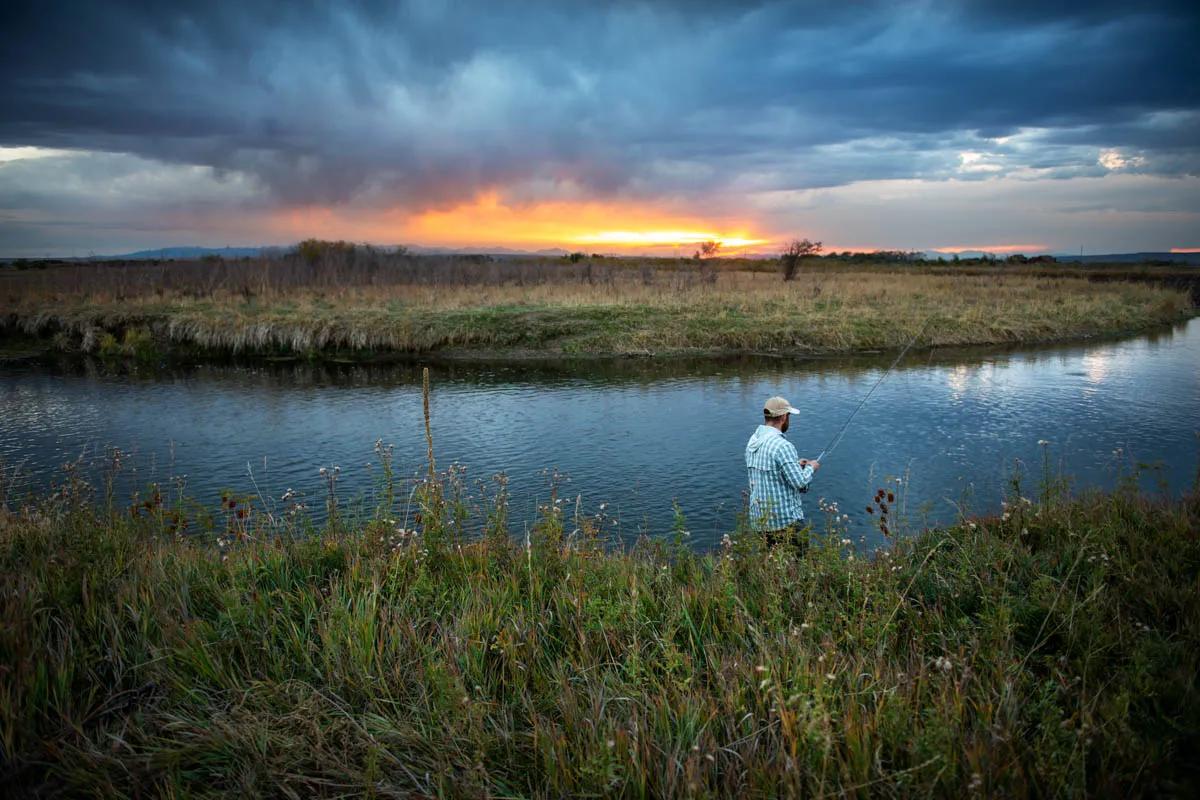 July weather, stream flows, and summary
With stream flows dropping drastically throughout July, the East Gallatin River becomes one of the best options for anglers willing to cover some ground on foot—with flows around, and below, 150 cubic feet per second (cfs) on July 1 but dropping to around 50 cfs by the end of July. By late July the low stream flows often combined with high air temperatures mean warm water, which means less active trout. 
Because the weather in July is the warmest of the year, the low stream flows coupled with high air temperatures make the East Gallatin River a good option early in July but a less desirable option by the latter part of the month. Early July sees average daily high air temperatures in the high 70 degrees F, while by month's end the average daily high temperatures rise to almost 85 degrees F. Measurable precipitation is only likely to fall on less than five days throughout the month. July is hot and dry on the East Gallatin River and the habits of trout reflect that. 
Fishing from a boat is difficult on the East due to it smaller volume and it is best suited for walking-and-wading anglers. Additionally, because most of the East Gallatin River flows through private property wading anglers need to know the Montana Stream Access Law and strictly adhere to it. Landowners on the East Gallatin covet their private property rights and may confront anglers if they are not following the rules. Simply put: do not trespass. 
Access to the East Gallatin is primarily from public bridges throughout Gallatin Valley. There is also an FAS location (Cherry River) in Bozeman as well as the Glenn Lake Rotary Park where you can gain access. Anglers need to be prepared to walk a good bit to avoid fishing the highly pressured areas near the respective access points. 
July fishing: what to expect
July on the East Gallatin is tailor-made for a variety of great fly fishing…but it must all be done on foot. A typical day on the East Gallatin in July is going to look and feel different than many other Montana rivers. Because the river flows through the heart of Gallatin Valley, the feel in parts of the river are urban—the river begins in Bozeman's north-side industrial district where Rocky Creek and Bridger Creek join. A few miles downstream the river feels surprisingly remote for being so close to Bozeman. 
Anglers in July can expect to have decent tandem nymph-rig action, consistent fishing with streamers, good prospecting with dry-dropper rigs, and opportunities to head-hunt for rising trout. 
Hatches of Pale Morning Dun (PMDs) mayflies and caddis can be strong in early July. By month's end tricos and terrestrials dominate the dry fly charts but water temperatures in the high 60 degrees F often mean most trout cease feeding. Because the East Gallatin River is home to Yellow Sally stoneflies, midges, mayfly, and caddis species, these aquatic insects are active subsurface and if water temperatures remain below 65 degrees F anglers can find actively feeding trout. However, by mid-July this is the exception rather than the norm. 
Anglers choosing to fish a two-fly weighted nymph rig will find some success. Choose any combination of the following: stonefly nymphs in sizes 10 and 12, mayfly nymphs in sizes 14 through 20 or caddis pupae in sizes 14 through 18. 
If water temperatures stay in the low 60 degrees F look for hatches of PMDs, caddis, and tricos. A few late hatching stoneflies may occur, but they will be seen early in the morning. Terrestrials may be abundant as well. 
For PMDs choose mayfly dries or emergers in sizes 12 through 16. For PMD nymphs choose beadhead Pheasant Tails in size 12 through 18. For caddis, choose dry flies in sizes 12 through 18 and nymphs in sizes 12 through 18 as well. Most caddis adults will be tan or brown in color and size 16. 
Streamer anglers may find aggressive trout in July, particularly in the lowlight conditions of early morning or late evening. Choose white, black, or black/brown sparsely dressed patterns in sizes 6 through 10. 
Where to find July trout on the East Gallatin River
With an abundance of caddis, Pale Morning Dun (PMDs) mayflies, and tricos hatching on the East Gallatin in July, anglers have plenty of hatches to fish. Terrestrials also begin to show up in good numbers by the end of the month. Because hatches are strong and terrestrials are abundant, trout on the East Gallatin River can be found in a variety of places. 
If fishing nymphs or dry flies, look for trout throughout all possible feeding lies—near bankside structure, seam lines between slow and fast water, shallow flats, riffle corners, and the heads of deep pools. 
For fishing streamers on the East Gallatin River in July target the typical predator-prey hangouts. Large brown trout often lie in deeper holes, along undercut banks, or the tailouts of longer runs. Because most days in July consist of bright sunshine, most brown trout on the East Gallatin River are found early or late in the day or in deeper water. 
During July on the East Gallatin River trout are most often found along the bank, in riffles, shelfs, the heads of runs, and the tail outs of runs. These habitats all offer the primary needs for trout: available food source, cover from predators, cover from strong currents, and flowing water for oxygen. 
Important July hatches
Because the East Gallatin River's stream flows drop considerably throughout the month—starting the month around 150 cubic feet per second (cfs) and ending the month around 50 cfs— hatches vary greatly from early to late in the month. Throughout the month, caddis and Pale Morning Dun (PMDs) mayflies make up the bulk of July hatches on the East Gallatin River, with terrestrials showing up mid-month and lasting throughout the month. 
A variety of caddis species ranging in size from 10 to 20 live in the East Gallatin River and hatch throughout the month, occurring at various times throughout the day. PMD hatches typically begin mid-morning and last for several hours. Insects range in sizes from 14 to 18, with most being size 16. As a mayfly, it is important to understand trout may feed on emerging PMDs and not exclusively on fully hatched adults. 
Terrestrials—insects that live the entirety of their life on land—provide a large portion of a East Gallatin River trout's diet in late July. Grasshoppers, crickets, ants, beetles, spiders, and any other land-dwelling insect that my inadvertently find its way onto the surface will be targets of trout as well. 
Trico mayflies hatch in July on the East Gallatin River as well. These small mayflies—sizes 18 through 22—hatch in the early morning hours. Trout rarely feed on trico nymphs but will often rise to adults floating on the surface or "spent" adults—insects that have mated and are now dead. 
Rounding out the hatch chart for the East Gallatin River in July are hatches of Yellow Sally stoneflies. Trout rarely feed on Yellow Sally adults due to the insects erratic flying behavior, but fish will feed on the abundant size 10 to 12 stonefly nymphs. 
East Gallatin River fly box for July
Caddis pupae size 12 to 18
Caddis CDC emergers size 12 to 18
Caddis dry flies with tan or brown bodies in size 12 to 18
PMD dry flies size 14 to 18
PMD emergers size 14 to 18
PMD nymphs size 14 to 18
Stonefly nymphs in brown and black in sizes 10 through 12
Sculpin patterns in sizes 2 to 6
Crayfish patterns in sizes 6 to 10
Streamers in white, yellow, black or brown in sizes 2 to 6
Grasshoppers, ants, beetles, and crickets in sizes 6 to 10.
Trico mayfly adults and spinners in sizes 18 through 22