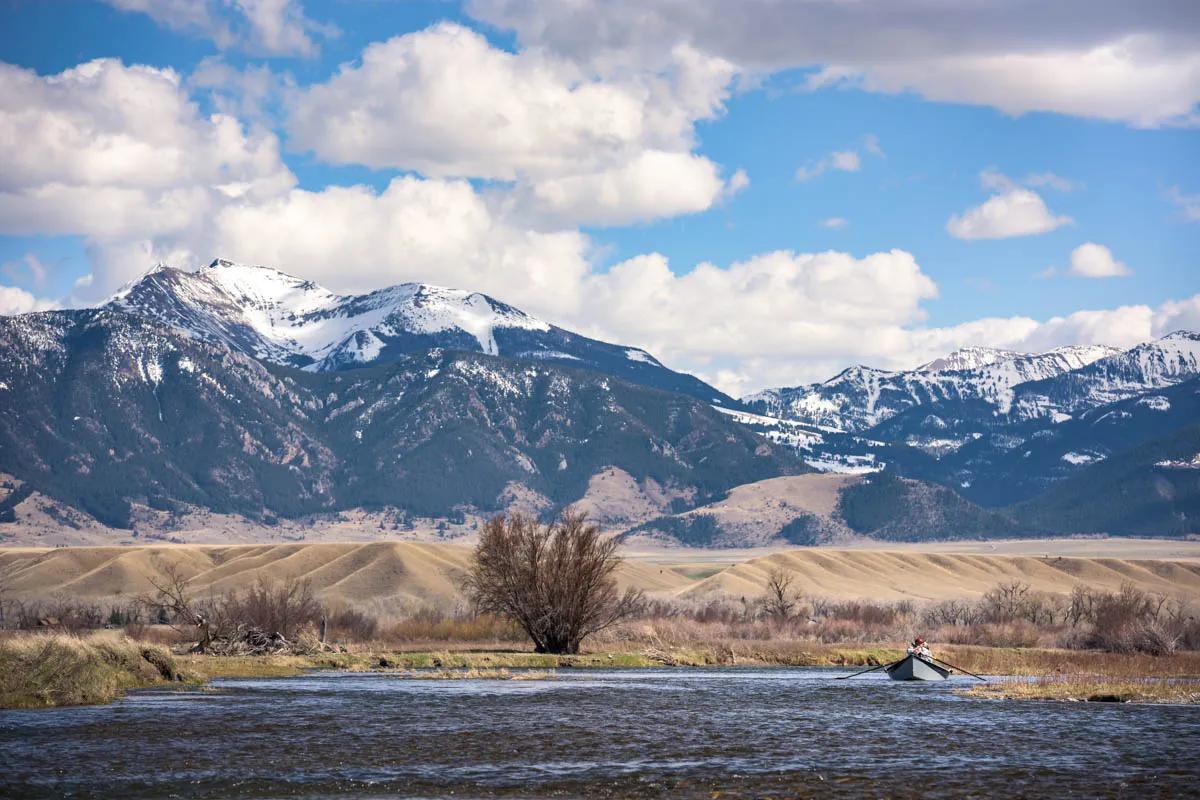 April weather, stream flows, and summary
Fly fishing the Madison River in April is defined by transition. As Montana glides out of winter and slips into spring, the fishing on the Madison follows suit. From April 1 through April 30, we see an increase of almost 10 degrees F in our daily high temperature. This translates into a variety of fishing options on the Madison throughout the month of April. 
Weather in April can be a variety of snow showers, sunshine, and rain showers—and all can occur in the same day. Preparation, good gear, flexibility, and a good attitude are key components to getting the most out of the Madison River in April. 
Because the river has two dams, flows on the Madison River in April are often consistent. Unlike nearby freestone rivers that can become high and muddy due to snowmelt runoff, the Madison River typically flows clear and predictable. 
April fly fishing on the Madison, and the month-long progression of its fishing action, means that this is the month fishing on the Madison kicks into gear. From the river outside of Bozeman and then south towards Yellowstone National Park, anglers desiring consistent nymph fishing, matching-the-hatch opportunities, and the potential for big fish on streamers can find success in April. 
April fishing: what to expect
A typical day fly fishing the Madison in April begins with nymph fishing double-nymph rigs below a strike indicator. Various mayfly and stonefly nymphs dead-drifted or slowly swung often pick-up most fish. Anglers committed to slowly stripping or dragging streamer patterns can also find some success, and potentially hook a trophy trout. As conditions change related to changes in weather—more or less sunshine, overcast or rainy, etc.—hatches of Blue Winged Olives (BWOs) or March Browns may begin around mid-day, especially towards the latter half of the month. This is the time to take off the strike indicator and weighted nymphs and fish the appropriate dry fly. For both BWOs in a size 16 or March Browns in a size 10 or 12, parachute patterns are ideal, and for a caddis hatch, choose a favorite darker bodied caddis pattern in sizes 12-16.
Trout will still be opportunistic when there is not a hatch. When nymphing try a fly rigged with a larger pattern that will move bigger trout, then use a second fly of a smaller pattern such as a BWO nymph. On the Lower Madison below Ennis Lake anglers may have success with crayfish, sculpins or worm patterns as the lead nymph. On the upper river try a larger stonefly nymph, sculpin or worm pattern as the lead fly. Early in the month of April there are still a lot of trout eggs in the system and anglers may also find success with smaller egg patterns.
Where to find April trout on the Madison
For most of April, water temperatures are still cold and trout are not willing to fight stronger currents. Focus on slower currents and "softer water" such as the inside of river bends, seams behind rocks and slower runs below riffles. Rainbow trout may still be spawning in early April and may be found on their redds on shallow gravel bars. Please avoid targeting spawning trout early in the month when they are encountered.
Important April hatches
Hatches of Blue Winged Olives (BWOs) and March Browns can be a daily occurrence. On sunny days these mayfly species will just trickle off and may not bring trout to the surface. On cloudy days expect more intense hatches and look for rising trout in slower water.  On warmer days caddis begin to show up on the Lower Madison by late April, although they become more prevalent in May. Early season stoneflies—skwala, capnia, and pnemora—may also hatch, so anglers fond of large dry flies can enjoy some action if in the right place at the right time. 
Madison River fly box for April
BWO dry flies size 16
BWO emergers size 16
BWO nymphs size 16
March brown dry flies size 16
Dark bodied caddis dry fly size 14
Caddis pupae size 14
Skwala dry fly (dark olive stonefly) size 12
Stonefly nymphs in brown and black sizes 10, 8 and 6
Sculpin patterns sizes 6 and 4
San Juan worms or similar pattern size 8 and 6
Egg patterns size 12
Dark (black and olive) streamers sizes 6, 4 and 2