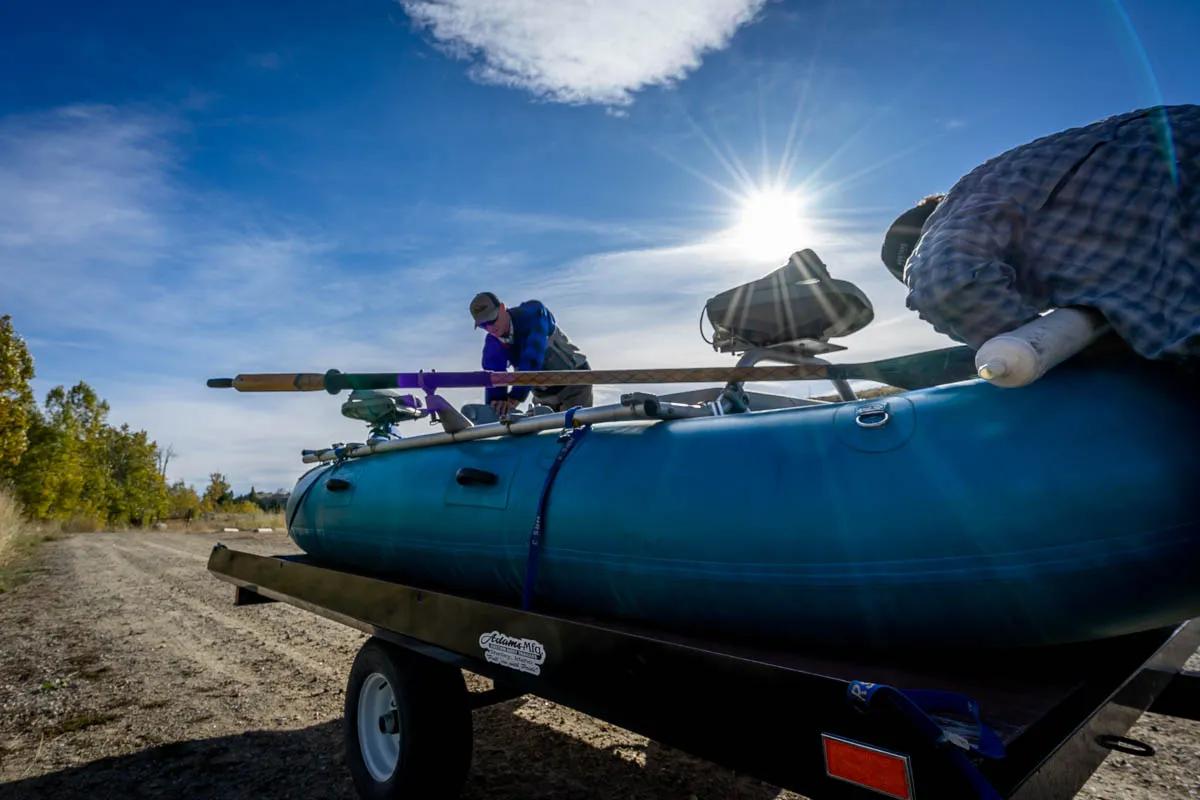 April weather, stream flows, and summary
Legend has it the Stillwater River was named by a fur trapper and trader who had a good sense of humor—the river's currents are anything but still. From its source high in the wilderness of the Beartooth Mountains outside of Yellowstone National Park to where it meets the Yellowstone River near Columbus, the Stillwater River in April can fish very well and it can also be cold, windy, and stuck in winter mode. 
The river flows for over 60 miles and is home to wild rainbow, brown, brook, and native Yellowstone cutthroat trout as well as mountain whitefish. With hatches of Blue Winged Olive (BWOs), caddis, some early season stoneflies, and few March Browns, the Stillwater River in April is a legitimate option if winter weather gives way to spring-like weather before snowmelt runoff commences. 
Weather throughout April on the Stillwater River can be a variety of snow showers, sunshine, and rain showers—and all can occur on the same day. The river near Nye may feel more like winter until the middle of the month, while the river downstream of Absarokee may feature hints of spring—buds on the cottonwoods, a sporadic hatch of skwala stoneflies, strong emergences of Blue Winged Olive (BWOs) mayflies, and some early Mother's Day caddis. Armed with quality gear to protect from the weather, anglers fishing the Stillwater River in April could experience some of the best fishing of the year. 
April on the Stillwater River is one of the wetter months of the year, with an average of 9 days of measure-able rain or snow. The average daily high temperature is 55 degrees F, but this varies from the beginning of the month to the end of the month, as the end of April can see an average daily high temperature in the mid degrees F. 
While early April on the Stillwater River can feel more like winter than spring, fishing can occur. For fly fishing the river in April, the best action will occur in the second half of the month. The ideal scenarios to maintain consistently good fishing on the Stillwater River in the second half of April are daytime highs not above seventy degrees and nighttime lows not above freezing. If this weather pattern holds for several days, anglers can experience some exceptional fishing opportunities, including some hatches of BWOs and possibly the start of the well-known Mother's Day caddis hatch. 
April fishing: what to expect
Fly fishing the Stillwater River in April is an exercise in split personalities. Because the river flows for nearly 60 miles and begins high in the backcountry of the Absaroka-Beartooth Wilderness, throughout its course it transforms from a high elevation small mountain freestone to a low elevation valley river. In April this is amplified even more because in its upper reaches the river will still be in its winter mode—few hatches, very cold water, and possibly even snow-covered—while its lower reaches will surely be in spring-mode—hatches of Blue Winged Olive (BWOs) mayflies and possibly Mother's Day caddis. 
While most fishing on the Stillwater River is done using specially designed rafts, walking-and-wading anglers will find ample public access sites. The streambed is made up of large boulders and the current is swift and quick, which is very different from its namesake. Walking-and-wade is difficult so most anglers opt to float and fish. 
Unless a strong hatch of BWOs or caddis occurs, April on the Stillwater River is best fished with two-fly nymph rigs. Because mayfly, caddis, and stonefly nymphs are active year-round on the Stillwater River, trout do most of their feeding subsurface on nymphs. Choose beadhead or weighted nymphs that imitate mayflies, caddis, or stoneflies. 
Fishing streamers on the Stillwater River in April can be productive, but two-fly nymph rigs and hoping for a hatch, then fishing it, are the primary methods in April. Anglers desiring to fish streamers should fish a slowly stripped or lightly drug streamer in slower, deeper water and hope for the best. 
If hatches of Blue Winged Olives (BWOs), March Browns, or caddis are to occur, they will emerge around mid-day. BWOs will hatch on a cloudy, overcast or rainy day. March Browns, sporadic at best, may hatch midday as well. Because hatches of BWOs, March Browns, or caddis are possible in April, it is wise to carry a variety of dry fly patterns. BWOs in size 16 or 18, March Browns in size 16, and caddis in size 14 or 16. 
For two-fly nymph rigs choose a stonefly pattern for one of the flies and then a smaller nymph such as a Pheasant Tail or Prince Nymph as the second. A size 8 or 10 is best for the stonefly nymph and the size 12 or 14 is the best for the second fly. For streamers, black and olive are the go-to color choices and choose sizes 4 through 8. The Stillwater River is home to plenty of trout, but on average they run smaller than other rivers checking in at around 10" to 14". The exception can be some of the deeper holes closer to the towns of Absarokee and Columbus, as large brown trout may migrate upriver from the Yellowstone River. 
On the Stillwater River in April, sun, rain, and snow can all happen in the same day. And many days the worst weather creates the best fishing conditions so be prepared to be flexible and fish in a variety of changing weather conditions. As the saying goes, there is never bad weather, only bad gear.
Where to find April trout on the Stillwater
Because river conditions and hatches vary due to changing weather patterns, April on the Stillwater River has its trout holding and feeding in a variety of habitats. If a hatch of mayflies or caddis occurs, trout will follow the food. For the first half of April water temperatures are often cold—rarely rising above 50 degrees before runoff commences. Because of the predominance of cold water, Stillwater River trout will most often be found in more winter-like lies until mid-April. 
During this time, focus on the rivers' slower and deeper waters—drop-offs near shelfs, deep pools or runs, inside bends, eddy-lines and foam seams around large rocks or other structure. These "softer" waters allow for trout to expend very little energy while having access to available food. 
Later in April as hatches become more frequent, look for trout to move into feeding lies. In April, hatches of Blue Winged Olive (BWOs) mayflies will most likely make up the bulk of the hatches. If a strong hatch of BWOs occurs, target slower water near bankside structure or the tailouts of longer, slower runs. By late April if caddis hatches occur and the river remains clear enough to fish, trout may move to faster water, but because the water temperatures are still cold, expect to find most fish still in the slower water. 
Rainbow trout and some Yellowstone cutthroat trout may be spawning on the Stillwater River in April, so avoid targeting spawning trout or disrupting their spawning areas.
Important April hatches
April hatches on the Stillwater River always occur, but their size and frequency are entirely dependent on weather conditions. Snowmelt runoff can occur by late April, but in some years it is delayed until early or mid-May.
Hatches of Blue Winged Olive (BWOs) mayflies and March Browns can be very thick if the river remains clear before snowmelt runoff commences. Along with BWOs and March Browns, a few early season stoneflies hatch as well. March browns on the Stillwater River are not as prolific as BW0s, but the larger size 12 to 14 mayfly can entice bigger trout to the surface even during a sporadic hatch. Like BWOs, March browns will hatch in higher numbers during overcast skies. BWOs can hatch on sunny and cloudy days, but a cloudy, slightly rainy day can create a large emergence.
The Mother's Day caddis hatch may begin at the very end of the month, but this can also coincide with snowmelt runoff. As the month progresses and local weather becomes more spring-like than winter-like, caddis can hatch in prolific numbers. Most caddis will be size 14 and 16 and are dark bodied. However, as the warmer weather ensues and month's end nears, the risk of off-colored water and rising flows increases, thus decreasing the clarity of the water and onset of spring runoff.  
Stillwater River fly box for April
BWO dry flies size 16 and 18
BWO emergers size 16 and 18
BWO nymphs size 16 and 18
March brown dry flies size 12 to 16
Tan or gray bodied caddis dry flies size 14 and 16
Caddis pupae size 14 and 16
Skwala dry flies (dark olive stonefly) size 10 and 12
Stonefly nymphs in brown and black sizes 10, 8 and 6
Sculpin and streamer patterns—black, olive, or brown—sizes 6, 4 and 2
Egg patterns size 12
Black or brown or olive woolly buggers sizes 6, 4 and 2