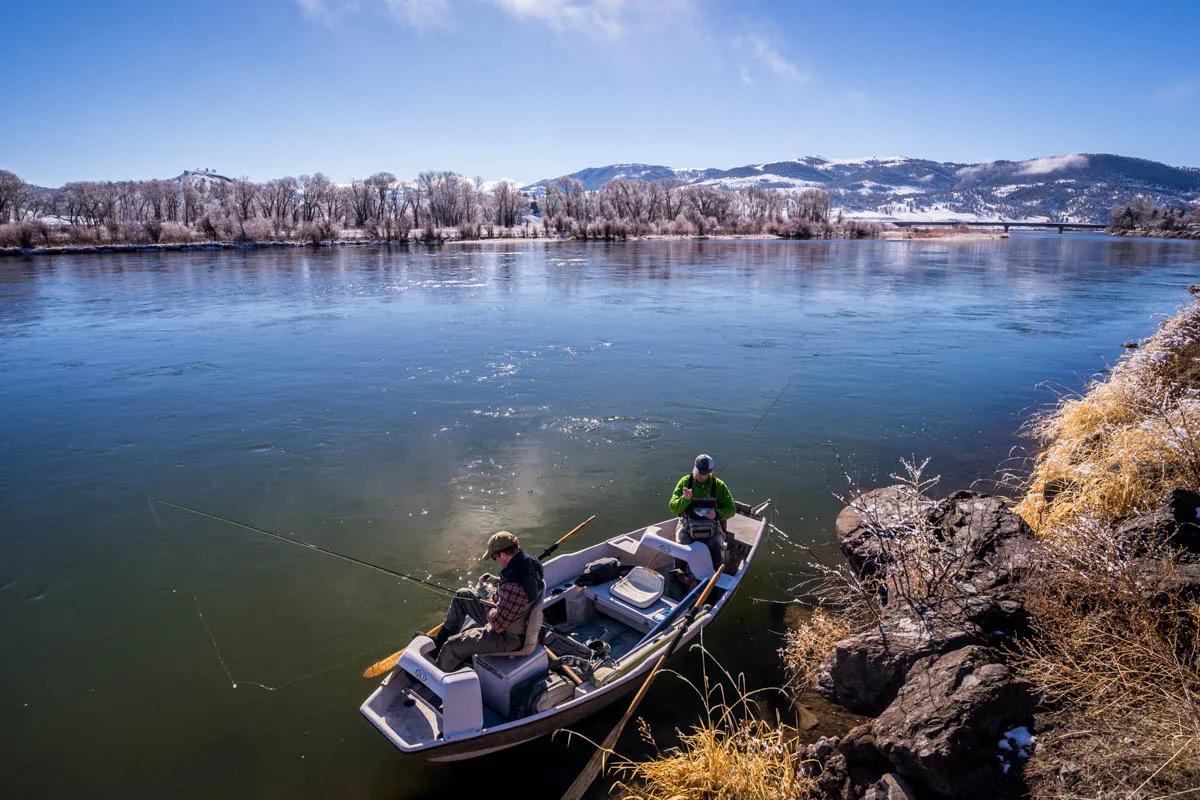 April weather, stream flows, and summary
When March fades and spring comes to the Missouri River, activity on the Missouri River's tailwater fishery gains momentum. With consistent hatches of Blue Winged Olives and the potential for caddis and skwalas, the Missouri River from Holter Dam to Cascade serves up opportunities for matching the hatch and number-stacking sub-surface tandem nymph fishing. With average fish counts of over 4,000 fish per mile and the potential for strong hatches, the month of April brings excitement to many anglers. 
As one of the larger rivers in Montana and with ample public access, the Missouri River is a fishery well-suited for a variety of angler interests. A myriad of boat ramps and walk-in access points allow anglers to disperse. Because April is the unofficial kick-off to the angling season on the Missouri River and the potential for great days a-stream is high, the plethora of public access on the Missouri River only enhances the fishing action on a river coming out of winter-mode and into full-blown angling mode. 
Weather in April is a mix of all four seasons—sunshine and bluebird days, rain and drizzly days, and snow and blizzard-like conditions. And, the potential exists for all of these to occur on the same day. Daily average high temperatures increase throughout the month, with early April seeing daytime highs in the low 50 degrees F and by month's end the mercury rising to average in the low 60s degrees F. Less than 1.5" of measurable precipitation falls in April, with less than .03" of that falling as snow. Armed with quality gear to protect from the weather, anglers fishing the Missouri River in April could experience some of the best fishing of the year despite variable weather conditions.
Streamflows on the Missouri River near Wolf Creek and Craig remain relatively consistent throughout April. Because the Missouri River's flows are carefully managed by several dams, the Missouri River is a tailwater fishery. Two distinct sections of the Missouri River are important for anglers to consider. The main fishery is fifty miles downstream of Holter Dam to the north of Cascade. The second is the six miles downstream of Hauser Dam to the mouth of Beaver Creek. This short tailwater section is appropriately named Land of the Giants because of the preponderance of trophy-sized trout. 
Because streamflows in April often remain below 6,000 cubic feet per second (cfs) wading or floating anglers have a variety of options for access. Most floating anglers access the river between Holter Dam and Cascade, with most floats occurring in the vicinity of Craig. Wading anglers can find plenty of access points from Holter Dam to south of Cascade. 
April fishing: what to expect
April on the Missouri River experiences a river transitioning from winter-mode to full-blown fishing nirvana. The kicker is being patient enough for water temperatures to rise and weather patterns to stabilize. Because stream flows are dependent on outflows from the cold water of Holter Dam, water temperatures can remain in the 40 degrees F for most of the first half of April. 
Even in this cold water, anglers willing to fish two-fly weighted nymph rigs, swing or drag streamers, or trout-spey in many of the Missouri River's long runs can find trout. In early April most of the Missouri River's trout remain in slow, deeper runs. For weighted nymph rigs choose size 12 to 20 weighted scuds, sowbugs, midge, or mayfly patterns. For streamers choose weighted flies in sizes 2 to 6 and drag or slowly strip these submerged flies on sinking or sink-tip lines through currents with medium to slow speed. 
Despite the cold water of early April, the potential for dry fly fishing is evident every day. Home to very healthy populations of Blue Winged Olives, any day in April can bring trout to the surface. Overcast and cloudy days will see the strongest emergence and most adults will emerge on the surface between 1 PM and 4 PM. It is important on the Missouri River to be acutely aware of a Blue Winged Olive hatch. Blue Winged Olive nymphs are active every day in April so fishing subsurface with Pheasant Tails, Lightning Bugs, Little Green Machines, and other mayfly nymphs can be very productive despite a lack of surfacing hatching adults. 
Hatches of skwala stoneflies and March Browns, although sporadic, also occur in April on the Missouri River. Anglers committed to fishing a skwala or a March Brown dry fly will find some fish, but the time lapse between dry fly eats is much longer than the consistency of hits while fishing a weighted two-fly nymph rig on the Missouri River in April. 
April sees many of the Missouri River's rainbow trout still spawning or recovering from spawning. To ensure the long-term health of the river's rainbow trout population do not target actively spawning trout. Also do not cast on or near any redds. Additionally, if a spawning or spawned-out trout—skinny, dark in color and has the appearance of just looking beat-up and tired— is caught, please release as quickly as possible. 
Where to find April trout on the Missouri River
For most of April, water temperatures are cold and trout are not willing to fight stronger currents, plus most of the available food is in deeper, slower water. Focus on slower currents and "softer water" such as the inside of river bends, seams behind rocks, and slower runs below riffles.
As the month progresses and hatches of Blue Winged Olives and March Browns grow in frequency, trout will follow the food source. They begin to migrate from slower, deeper pools and can be found in a variety of habitats. As each day can bring unique weather, the fishing action on a day-to-day basis is unique as well. Before noon most fish will be found in slower, deeper water and then as a hatch begins the fish will adjust their locations based on the available insects. During a hatch of Blue Winged Olives target slower currents, eddy lines, and seams behind rocks. For March Browns, focus on slower runs and soft water downstream of structure.
After a few days of warm weather and consistent hatches of Blue Winged Olives, many of the Missouri River's trout move to large seams and foamlines created by structure. Large protruding rocks are prominent on the Missouri River and these large rocks create large seams—places where several currents join. By mid-April trout begin to use these slower, mixing currents, as both holding and feeding lies. Two-fly subsurface nymph rigs can rack up trout numbers in these current seams. However, dry fly anglers must be patient because Missouri River trout often require a thick hatch to surface-feed in these heavy seams.  
Important April hatches
April hatches on the Missouri River are entirely dependent on the temperature of the water being released from Holter Dam. If water temperatures are sustained in the high 40 degrees F, hatches of Blue Winged Olives (BWOs) and March Browns can be a daily occurrence. On sunny days these mayfly species will trickle off and may not bring trout to the surface. On cloudy days expect more intense hatches and look for rising trout in slower water.  
Although very sporadic and difficult to anticipate, early season stoneflies—skwala, capnia, and pnemora—may also hatch, so anglers fond of large dry flies can enjoy some action if in the right place at the right time. Trout eating stonefly dry flies is rare on the Missouri River but for anglers who desire a dry fly eat over an indicator plop, the Missouri River does offer that opportunity. 
Midges are active year-round on the Missouri River and make-up a massive chunk of a Missouri River trout's diet. Fishing midge patterns is best done subsurface as part of a weighted two fly rig. 
Although not a hatch in the proverbial way anglers think of hatches, scuds and sowbugs are prolific in the Missouri River. Oftentimes thought of as the same insects, a scud resembles a freshwater shrimp and a sowbug looks like a "rollie-pollie" bug. Even if they are different, a trout on the Missouri River in April often gobbles-up a well-presented scud or sowbug. 
Missouri River fly box for April
BWO dry flies size 14 to 18
BWO emergers size 16
BWO nymphs size 16
March Brown dry flies size 14 to 16
Skwala stonefly dry flies in size 8 and 10
Scuds in sizes 10 through 20
Sowbugs in sizes 10 through 20
Midges, especially Zebra midges in black and olive, in sizes 16 through 22
Stonefly nymphs in brown and black in sizes 10, 8 and 6
Sculpin patterns in sizes 2 to 6
Streamers in olive, black or brown in sizes 2 to 6