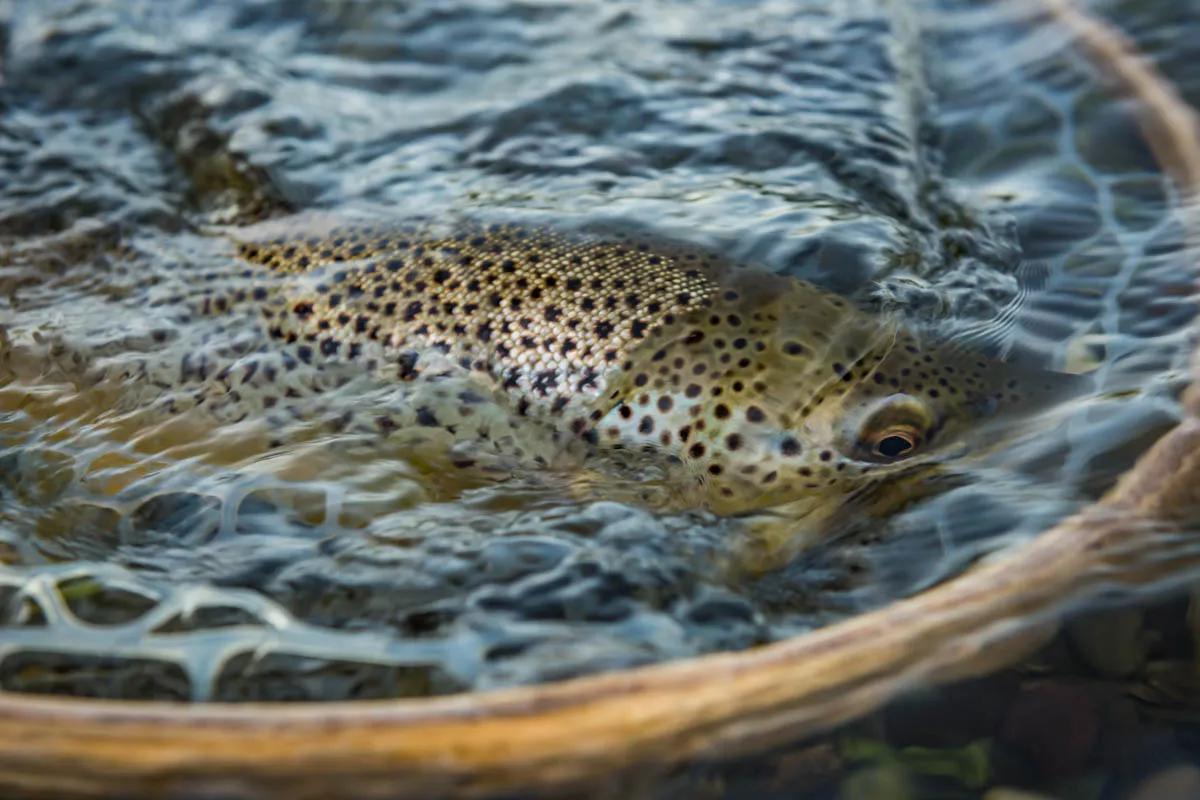 October weather, streamflow's, and summary
As fall becomes the predominant season on the Missouri River, gone are the summertime crowds, casual anglers, and pleasure boaters. October is a month on the Missouri River for anglers who appreciate the process and the surroundings, as much as the result. This is the month of Blue Winged Olives and big trout chasing streamers. The long, sunny days of summer, busy boat ramps, and numbers-hungry anglers are absent and all that remains are anglers desiring to experience one of the world's great trout rivers without all the fluff of summertime angling. 
The water below Hauser Dam—aptly named The Land of the Giants—has a loyal following of hopeful anglers. These anglers are pursuing trophy-sized brown trout that migrate up from Holter Lake to begin to spawn. With the low streamflows common in October, wading anglers target large brown trout before these trout shift into spawning mode. 
For floating anglers and anglers desiring the potential for the last few weeks of the year's most consistent hatches, the forty-plus miles of water below Holter Dam near Wolf Creek and Craig provide a broad array of angling opportunities. 
The weather in October can feature a little summer, a little winter, but a lot of fall. With average daily high temperatures around 65 degrees F in early October to below 55 degrees F by month's end, anglers need to be prepared for sunshine, rain, and snow. Measurable precipitation accumulates at around 1.5". It is highly like the season's first snowfall will occur in October and in shady, north facing areas the snow may last until spring. A passing cold front can spur a strong hatch of Blue Winged Olive (BWOs) but once the cold front passes, mild weather typically returns until the next cold front comes.  
During October streamflows are consistent below both Hauser and Holter Dams and water temperatures tend to decrease throughout the month. However, unless a frigid cold front passes through and remains longer than a week, water temperatures remain in the high 40 to low 50 degrees F during most of October, creating that sweet spot in which any given day can bring strong emergence of BWOs.
October fishing: what to expect
A typical day fly fishing the Missouri River in October often begins at a reasonable hour. Because the primary hatch of October—Blue Winged Olive (BWOs) mayflies—begins around mid-morning, trout often do not actively begin feeding until BWO nymphs become active. There are exceptions to this as some big brown trout can be caught on streamers during the low-light hours of morning. 
Sun, rain, and snow can all happen in the same day. And many days the worst weather creates the best fishing conditions. BWOs tend to hatch in rainy or snowy weather. Brown trout, especially large brown trout, are inherently more sensitive to bright sunshine in the fall. Fishing in cold, rainy, or snowy weather may not be what you find as enjoyable but armed with quality gear and a good attitude it just might pay dividends. 
Streamflows typically range between 3,000 and 4,500 cubic feet per second (cfs), which means ideal flows for targeting the "pods" of rising trout, prospecting for large browns with streamers, or spey casting and swinging flies in riffles and long runs. 
BWOs are the primary hatch on the Missouri River during October. A few October caddis are spotted but they are not consistent and emerge in small numbers, usually one or two at a time compared to the thousands of insects during a BWO hatch. A cool, overcast day is perfectly suited for strong emergence of BWOs. For Blue Winged Olive dry flies, choose high-floating patterns in size 16 or 18 and for tandem nymph rigs fish a size 14 to 18 beadhead mayfly nymph.
On the Missouri River, planning to fish an October caddis hatch is more speculative than expectation. Similar to being able to fish terrestrials in October, October caddis will be most active when air temperatures are above 60 degrees F. Choose dry flies in sizes 8 and 10 and commit to fishing the large dry fly for a long duration before getting a few strikes. 
For tandem nymph rigs, choose size 16 to 18 mayfly nymph patterns such as Pheasant Tails or Little Green Machines and size 18 to 20 midge larvae patterns such as Zebra Midges or WD40s. Because brown trout can be aggressive in October choosing a large streamer as one of the two flies is a good idea as well. Olive, black or brown streamers are the go-to choices for trophy-sized trout on the Missouri River in October. Favorite tactics include dead-drifting a large streamer below a strike indicator or dragging a large streamer off the bank.
Where to find October trout on the Missouri River
Mayfly and caddis nymphs, midges, scuds, and sowbugs are active in the Missouri River year-round. Compared to spring and summer, finding trout in October on the Missouri River can take some extra effort. Hatches are less thick than in summer and many of the river's brown trout have begun to spawn. 
Because Blue Winged Olive (BWOs) mayflies make up the main hatch on the Missouri River in October, trout may feed in a shorter duration throughout the day. This paired with lowering water temperatures means trout begin to spend more time in holding lies than feeding lies. 
If a hatch of BWOs isn't occurring, consider fishing tandem nymph rigs. When fishing tandem nymph rigs, focus on the deeper water just downstream of shallow water, behind or in front of structure, or any place that can provide cover from predators or fast currents. They begin in September, but October is when hatches of BWOs mayflies make-up a large portion of a Missouri River trout's diet. In October BWOs can hatch on sunny days, but an overcast, slightly rainy or snow day brings out the most bugs. When a strong hatch occurs, look for trout in slower currents and "softer water" such as the inside of river bends, seams behind rocks, and slower runs below riffles. 
Trout eating midge larvae will most likely be found on the slower sections of deeper runs or the heavy seams sliding out from the many protruding rocks on the Missouri River. For the first fifteen to twenty miles downstream of Holter Dam, look to target water flowing at a walking pace and between four and six feet deep. This type of water is ideal holding water for trout eating midges or mayfly nymphs. 
If the sunshine pops and the air temperature hovers near 60 degrees F or higher, consider fishing terrestrials or an October caddis. Trout will expend vital energy and take the risk from deep cover because a morsel as large as a grasshopper, ant, or beetle may not pass by again that day. 
If streamer fishing for a big brown trout is the desired method, focus on the usual predator hangouts—deeper water near shallow water, hiding near structure, or along a cut bank. Many brown trout will begin to spawn in October. These spawning fish may be found on their redds on shallow gravel bars. Please avoid targeting spawning trout when they are encountered.
Important October hatches
October on the Missouri River sees hatches of Blue Winged Olive (BWOs) mayflies, sporadic hatches of October caddis, and the beginning of thick midge hatches. 
The October emergence of BWOs on the Missouri River has been bringing anglers to the tailwater section near Wolf Creek and Craig for decades. These small mayflies can hatch on any day during October. Overcast, rainy or snowy days see the strongest emergence. These mayflies are slightly smaller than their spring season cousins. Ranging in size from 16 to 22, these insects will emerge by late-morning or early afternoon and provide a few to several hours of dry fly fishing opportunities.
October caddis also hatch on the Missouri River. These bugs may be large in size—about size 8—but their hatch is sporadic. In a day of angling only a few October caddis may actually be seen fluttering in the air but committing to a large dry fly can bring the occasional opportunistic trout to the surface. 
Midges, whose larvae make up a large portion of a Missouri River trout's diet begin to hatch in abundance in late October. Fishing midge dry flies on the Missouri River has a small, but devoted following. Hatches occur mid-day and can be thick but understanding—and fishing—midge larvae is important to catch more fish on the Missouri River in October. Zebra midges, WD40s, Tung Teasers, and the Red-and-Black Midge, in sizes 18 to 22 are all good patterns best fished subsurface as part of a two-fly nymph rig. 
Missouri River fly box for October
BWO dry flies sizes 16 to 22
BWO emergers sizes 16 to 20
BWO nymphs sizes 16 to 20
October caddis in sizes 8 to 12
Scuds in sizes 10 through 20
Sowbugs in sizes 10 through 20
Midge larvae, especially Zebra midges in black and olive, in sizes 16 through 22
Midge dry flies in sizes 18 to 22
Caddis pupae size 14 to 18
Caddis CDC emergers size 14 to 18
Caddis dry flies with dark grey, black or brown bodies in size 14 to 18;
Grasshoppers, ants, and beetles in various sizes
Sculpin patterns in sizes 2 to 6
Streamers in olive, black or brown in sizes 2 to 6