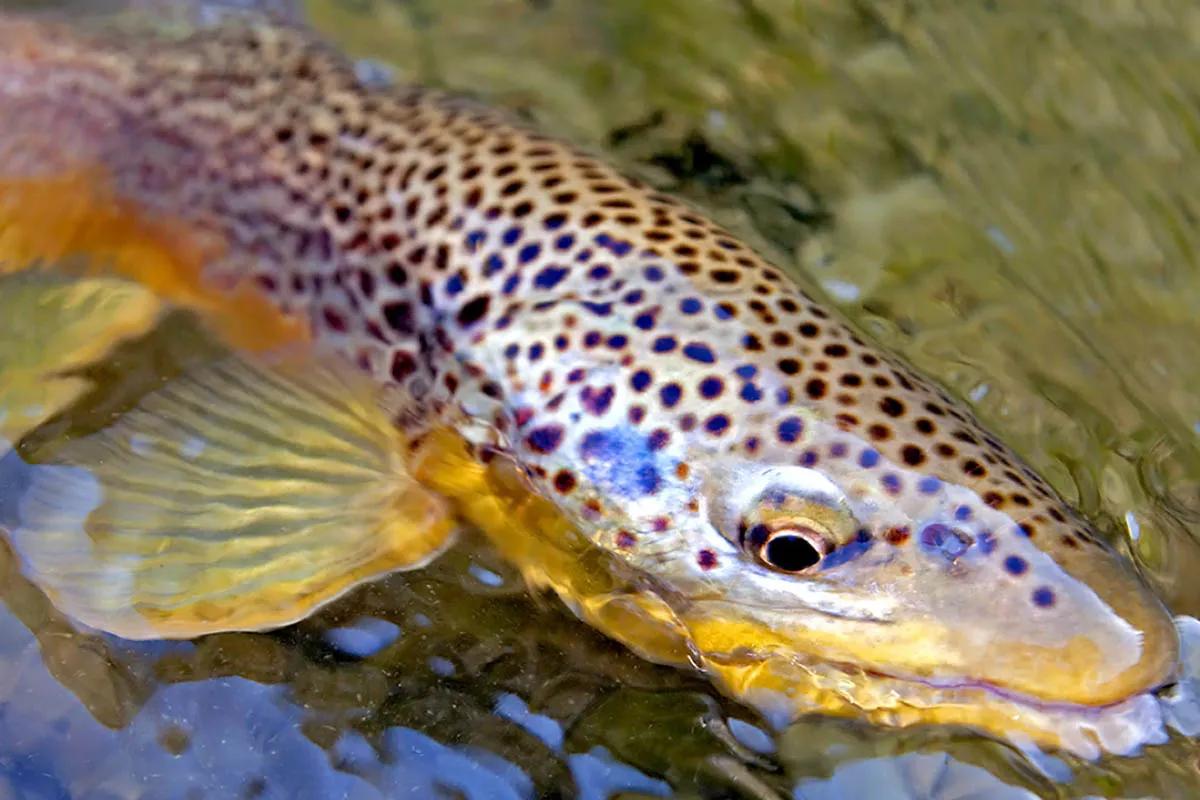 May weather, streamflows, and summary
May on Montana's remote Smith River is a month of variety of fishing action, weather, and streamflows. Featuring a range of daily high temperatures, fishing conditions follow suit and change rapidly. For many Smith River veteran anglers, May is the favorite month of the angling season. Salmonflies, caddis, Drakes, and Blue Winged Olive mayflies can hatch in May. However, if snowmelt runoff commences or large amounts of precipitation fall, casing a rapidly rising river, it may be a few days before the trout adjust and resume prolific feeding habits, but that doesn't mean they cease feeding—Smith River trout continue to feed in conditions deemed unfishable on many other rivers. 
Because nearly all fishing trips on the Smith River require multiple overnight stays—the main access points are 60 miles apart and anglers must apply for a permit to float and camp on the river. Any fly- fishing trip on the Smith River requires careful planning and a thorough understanding of river conditions and weather patterns. 
The Smith River flows through a remote, backcountry canyon. Weather in the canyon is unique compared to the wider, larger valleys throughout Montana. In May it is not uncommon for a storm system to sit in the canyon for a few days. Rain is more common than snow in May, with up to nine days of measurable precipitation occurring throughout the month. Average daily high temperatures in early May rarely rise above 60 degrees F but later in May average in the low 70 degrees F.
The Smith River is the only river in Montana that requires a permit for all outfitted guests and private users. There are only a few outfitters that are permitted to operate on the Smith River. Private users can apply for launch via a lottery system operated by Montana Fish, Wildlife and Parks. For launches in May, anglers must apply in February. Information can be found online at Montana's Smith River State Park.   
Most anglers spend no less than three and not more than five nights on the river. To ensure safety and enjoyment, proper planning is crucial. This includes the following: having the necessary gear, knowing how to prep and prepare meals, some rowing experience, and a knowledge of individual group dynamics. These things are crucial to getting the most out of a Smith River fly fishing trip.
May fishing: what to expect
Because the Smith River is primarily fished from boats, knowledge of streamflows and river-camping is crucial. By May as air temperatures warm and streamflow levels rise, flows for floating become favorable. Throughout the year, but especially in May, the clarity of the Smith River is more muddy than comparable rivers. However, rarely does it have so much sediment that it is unfishable. 
The toughest conditions in May occur when the river is rising rapidly, due to hot weather or heavy rains producing rapid snowmelt. Throughout the month of May moderate increases in river flows occur regularly and are generally tolerated well by the trout. When the river is rising fast and gaining hundreds of cubic feet per second of added discharge from one day to the next, trout are forced to adjust their feeding lies and they become harder to find. However, because Smith River trout feed in muddy water, persistent anglers can still find fish. After a warming event or rising in flows, as streamflows drop and stabilize, fishing quickly improves as Smith River trout adapt well to changing conditions. 
The Smith River is home to healthy populations of stoneflies, caddis, Drakes, and mayflies. In May stonefly nymphs are very active. Fish a stonefly nymph as part of a two-fly weighted subsurface nymph rig or as the dropper on a dry fly-dropper nymph rig. Choose stonefly nymphs in sizes 8 or 10 and mayfly or caddis nymphs in sizes 10 to 16. 
Salmonflies can hatch in May on the Smith River. It is always a good idea to be prepared for a salmonfly hatch, however if flows are rising steadily, trout may struggle to hold in traditional dry fly lies but weighted two-fly nymph rigs produce. Additionally, because brown trout predominate in the Smith River, streamer anglers can enjoy some solid action for trout up to 23-inches, with trout from 14 to 16 inches being the most common. 
Streamer anglers should choose streamers in sizes 4 to 8 and in olive, black, brown, or black-olive combinations. Casting to structure and stripping back to the boat or casting behind the boat and letting the fly drift past structure are time-tested methods to entice a predatory brown trout into striking at a streamer. 
Where to find May trout on the Smith River
Finding trout on the Smith River in May depends on the condition of the river. Because Smith River trout feed in muddy water, rarely does a day exist in which trout cannot be found. The towering limestone cliffs that define the Smith River canyon provide ideal habitat for trout. During May these cliffs can be a focus of trout anglers or they should be ignored. Large brown trout can be caught fishing the currents along these canyon walls and they should be fished, but during the higher—and often rising flows—of May, most of the of the Smith River's trout prefer the slower water downstream of a canyon wall or the soft inside bend across the river from the faster current along the wall.
If hatches of salmonflies, Drakes, or caddis occur trout can be found near bank-side structure and foam lines created by mixing currents or other structures. In these slower waters look for rising trout. During a hatch of caddis or Drakes target slower currents, eddy lines, and seams behind rocks. For salmonflies, focus on bank-side structure, willows, eddylines, and foamlines. 
If a hatch doesn't occur and the river has rising flows and muddy water, target slow eddys, foam lines, and any soft water near structure with subsurface nymphs. Trout will be in lies where they can enjoy access to food floating by without spending too much energy swimming in heavy, rapidly rising streamflows. 
Important May hatches
Anglers on the Smith River in May hope to find hatches of salmonflies and caddis. The famous salmonfly hatch happens earlier on the Smith than on other Montana waters, with the peak of the emergence in mid May. Dry-fly fishing over the salmonfly hatch depends on the stability of the flows, though. Oftentimes, the water temps that coincide with the hatch sync with rising flows, so trout are usually targeting the large nymphs. On days where the weather is cool but stable and still warm enough to keep the hatch going, lucky anglers can experience some amazing dry-fly fishing by casting huge foam patterns along the cliff walls.
Early in May the Mother's Day caddis hatch can occur in the same timeframe as its namesake. Unless above average temperatures or above average rain occurs, the Mother's Day caddis hatch is a reliable early May hatch. 
In addition to salmonflies and caddis, May hatches on the Smith River include Golden stoneflies, Yellow Sally stoneflies, a few Blue Winged Olive mayflies, and Brown and Green Drakes. 
Smith River fly box for May
Stonefly nymphs in brown and black in sizes 8 through 10
Salmonfly dry flies in sizes 4 to 8
Golden stonefly dry flies in sizes 6 to 10
Yellow Sally stonefly dry flies in sizes 10 and 12
Sculpin patterns in sizes 2 to 6
Streamers in olive, black or brown in sizes 2 to 6
Caddis pupae size 12 to 16
Caddis CDC emergers size 12 to 16
Caddis dry flies with dark grey, black or brown bodies in size 12 to 16; 
Grey and Brown Drake dry flies in sizes 10 to 16
Grey and Brown Drake nymphs in sizes 10 to 16
Grey and Brown Drake emergers in sizes 10 to 16
BWO dry flies size 14 to 18
BWO emergers size 16
BWO nymphs size 16
March Brown dry flies size 14 to 16