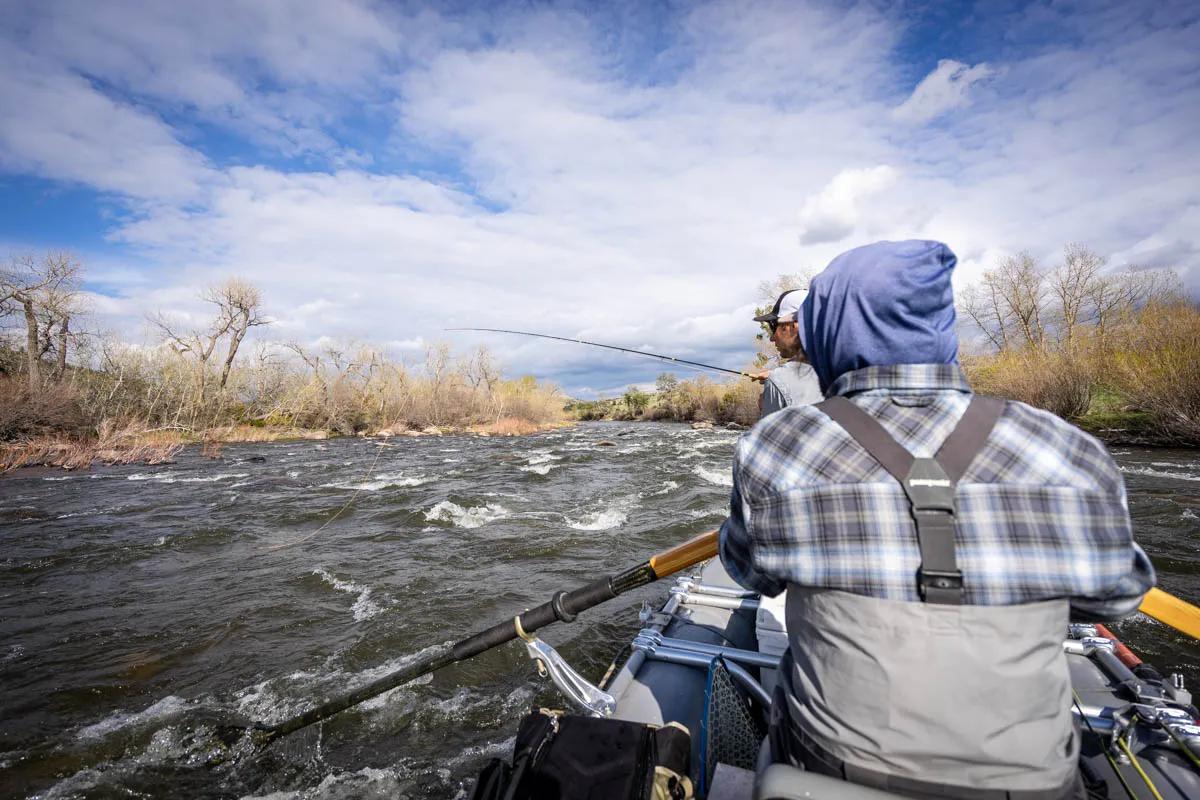 April weather, stream flows, and summary
The Boulder River starts in the Beartooth Mountains near Yellowstone National Park. Flowing north from the 10,000-feet high plateau for nearly 80 miles to meet the Yellowstone River near Big Timber, the Boulder River is a beautiful freestone river. Fly fishing the Boulder River in April is a lesser-known option than the Yellowstone or Madison Rivers. Because April on the Boulder River can be varied—from low, clear and cold stream flows to the start of snowmelt runoff—the ability to fly fishing the Boulder River in April is one of chance rather than consistency. 
For most of April the Boulder River is best suited for wading anglers, as low stream flows make floating difficult or even impossible. If snowmelt runoff commences but daytime high temperatures remain in the high 60s, snowmelt runoff may be gradual enough to increase stream flows creating a small window of a week or so of float-able conditions. This is rare but can occur. 
April on the Boulder River is one of the wetter months of the year, with an average of 8 days of measure-able rain or snow. The average daily high temperature is around 55 degrees F, but this varies from the beginning of the month to the end of the month, as the end of April can see average daily high temperatures in the high 60s degrees F. 
For wading anglers the first two weeks of April can present consistently good subsurface fishing and the opportunity for some Blue Winged Olive mayfly hatches. For floating anglers, the ideal scenarios to create float fishing opportunities on the Boulder River in the second half of April are daytime highs not above seventy degrees and nighttime lows not above freezing. If this weather pattern holds for several days, floating anglers can experience some exceptional fishing opportunities. The Boulder River has some very technical whitewater sections so only experienced boaters equipped with whitewater-ready rafts should float the Boulder River.   
During April the two sections of the Boulder River—above and below Natural Bridge—experience different conditions. Above Natural Bridge the fast pocket water sections are exclusive to wading anglers and water temperatures will remain cold. Below Natural Bridge, the opportunity to float fish may present itself and the rivers riffles, runs, and pools may offer some hatches of Blue Winged Olives and possibly caddis later in the April. 
April fishing: what to expect
Because winter is long and cold in much of the Boulder River drainage, anglers will need to wait for the ice to release and the water temperatures to increase before angling can begin. During this time the Boulder River is best fished by wading anglers, although the large boulder sized substrate makes wading farther than a few hundred yards from the limited public access points a challenge. Sometimes in late April once snowmelt runoff begins, river levels rise to floatable levels just before runoff begins in full force.
April on the Boulder River is best fished with two-fly nymph rigs. Because nymphs are active year-round on the Boulder River, and in April water temperatures are typically on the rise more than on the drop, nymphs become that much more active. Choose beadhead or weighted nymphs that imitate mayflies, caddis, or stoneflies. 
For two-fly nymph rigs choose a stonefly pattern for one of the flies and then a smaller nymph such as a Pheasant Tail or Prince Nymph as the second. A size 8 or 10 is best for the stonefly nymph and size 12 or 14 is the best for the second fly. Because hatches of Blue Winged Olives, March Browns, or caddis are possible in April, it is wise to carry a variety of dry fly patterns. For streamers, black and olive are the go-to color choices and most anglers fish a smaller size compared to choices for the Yellowstone or Madison Rivers. The Boulder River is home to plenty of trout, but on average they run smaller than other rivers. The exception can be some of the deeper runs of the river once it enters Boulder Valley—here some true lunkers lurk. 
Anglers desiring to fish streamers on the Boulder River in April will find some opportunity, but the Boulder River in April is best fished with subsurface nymphs. A slowly stripped or lightly drug streamer may entice some fish in slower, deeper water. 
If hatches of Blue Winged Olives (BWOs), March Browns, or caddis are to occur, they will emerge around mid-day. BWOs will hatch on a cloudy, overcast or rainy day. March Browns, sporadic at best on the Boulder River in April, may hatch midday as well. 
There is no need for early starts on the Boulder River in April. Trout will become active as the water temperatures warm up. On the Boulder River in April sun, rain, and snow can all happen in the same day. And many days the worst weather creates the best fishing conditions so be prepared to be flexible and fish in a variety of changing weather conditions. Wade safely in the Boulder River's difficult environment and in April's inclement weather fishing with a companion is encouraged. 
Where to find April trout on the Boulder River
Even during times of low stream flows—such as most of April—the Boulder River is a fast-flowing river filled with large boulders, creating a massive amount of pocket water. With pocket water dominating most of the trout habitat, the obvious places to find trout on the Boulder River are in-front of rocks, behind rocks, and any bit of slower or softer water created by any sort of structure. 
However, if a hatch is prevalent, trout will follow the food. However, water temperatures are still cold—rarely rising above 48 degrees before runoff commences. Because of the predominance of cold water, Boulder River trout will most often be found in winter-like lies. 
For winter-like trout lies, focus on the rivers' few slower and deeper waters—drop-offs near shelfs, places like inside bends, eddy-lines and foam seams around large rocks or other structure. These "softer" waters allow for trout to expend very little energy while having access to available food. Because these softer waters are often spaced out amongst many of the Boulder River's long sections of pocket water, wading anglers need to be prepared to cover a lot of ground. 
If hatch a occurs, look for trout to move into feeding lies. In April, hatches of BWOs will most likely make up the bulk of the hatches. Target slower water near bankside structure or the tailouts of longer, slower runs. If caddis hatch later in April, fish may move to some faster water, but because the water temperatures are still cold, expect to find fish in slower water. 
Rainbow trout and some rainbow-Westslope cutthroat trout hybrids may still be spawning on the Boulder River in April, so avoid targeting spawning trout or disrupting their spawning areas.
The Boulder River also receives a few extra rainbows moving in from the Yellowstone River on its lower reaches in April, so be on the lookout for a few larger trout holding in softer water or on shallow flats. 
Important April hatches
On the Boulder River in April, hatches of Blue Winged Olive (BWOs) mayflies, March Browns, and early season stoneflies are the most prevalent and consistent. However, because the river drains the high plateau of the Beartooth Mountains and much of the water flowing was snow a few hours ago, hatches in April are sporadic. 
The Mother's Day caddis can start to appear at the very end of the month, but this can also coincide with snowmelt runoff. BWOs can hatch on sunny and cloudy days, but a cloudy, slightly rainy day can create a large emergence. March browns are not as prolific as BW0s, but the larger size 10-12 mayflies can entice bigger trout to the surface even during a sporadic hatch. 
Like BWOs, March browns will hatch in greater abundance with overcast skies. As the month progresses and local weather becomes more spring-like than winter-like, caddis can hatch in prolific numbers. Most caddis will be size 14 and 16 and are dark bodied. However, as the warmer weather ensues and month's end nears, the risk of off-colored water and rising flows increases, thus decreasing the clarity of the water and onset of spring runoff.  
Boulder River fly box for April
BWO dry flies size 16 and 18
BWO emergers size 16 and 18
BWO nymphs size 16 and 18
March brown dry flies size 12 to 16
Dark bodied caddis dry flies size 14 and 16
Caddis pupae size 14 and 16
Stonefly nymphs in brown and black sizes 10, 8 and 6
Sculpin and streamer patterns—white and black—sizes 6, 4 and 2
Egg patterns size 12
Olive, black, and brown/yellow woolly buggers sizes 6, 4 and 2