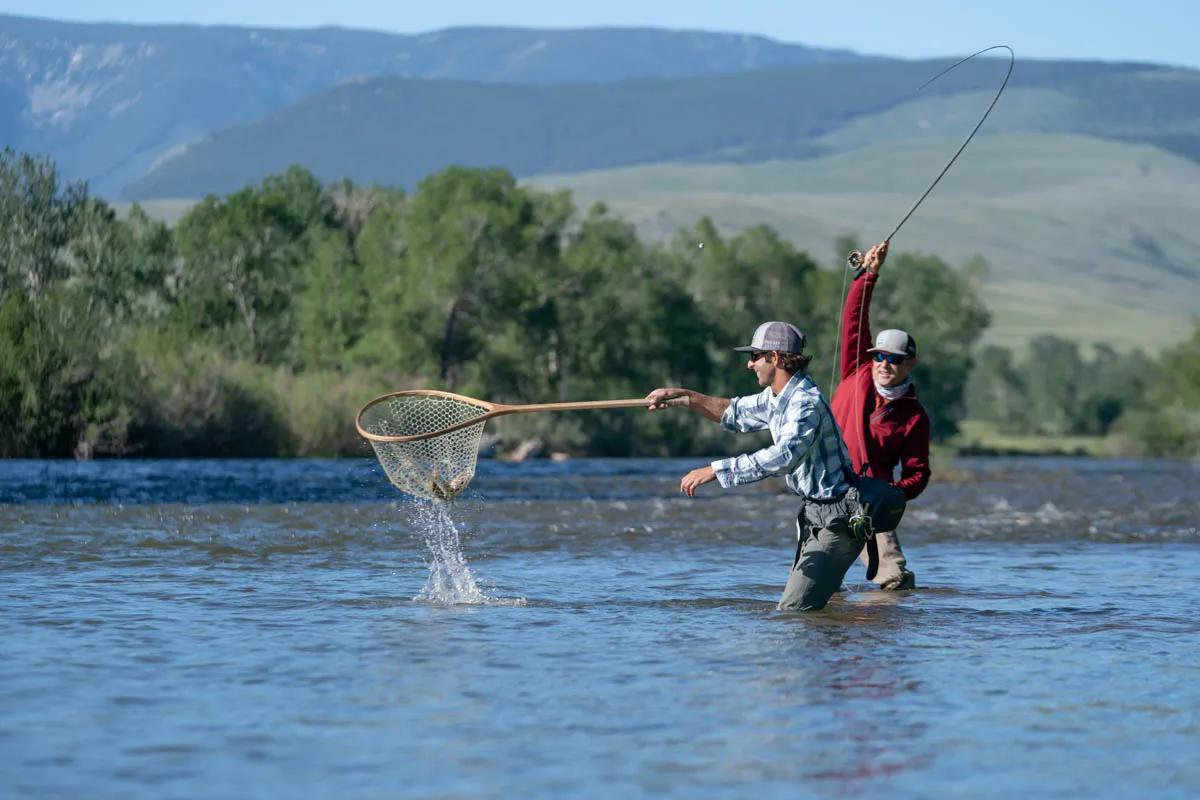 July weather, stream flows, and summary
The source of the Boulder River lies high in the wilderness of Yellowstone National Park. As if created for those anglers passionate about wild trout, and plenty of them, the Boulder River in July is a Montana freestone river perfectly suited for anglers desiring a mix of angling adventure and fishing action. Home to abundant populations of wild rainbow and brown trout, native Yellowstone cutthroat trout and mountain whitefish, fly fishing the Boulder River in July is a special experience. 
However, the Boulder River in July is best fished by experienced boaters or those with previous walk-and-wade angling skills. The river's fast currents, sections of whitewater, and limited public access demands anglers be experienced boaters or fish with experienced guides; or, if walking-and-wading have realistic expectations about their own fishing, wading, and physical stamina—the Boulder River is riddled with miles of large boulders and uneven rocks making walk-and-wade angling challenging. 
Additionally, because boat ramps at public access points are primitive, drift boats cannot be used, and with the river's abundance of whitewater and technical rowing, only skilled boaters utilizing specially designed rafts should float and fish the Boulder River. Very few anglers float and fish the Boulder River on their own, rather they hire an experienced guide with a specially designed raft. 
In most years, snowmelt runoff is complete by the first week of July and stream flows drop and clear more and more each day. If June receives above average precipitation or is colder than average, snowmelt runoff on the Boulder River may continue through the first week of July, but those years are rare. Anglers fishing with experienced guides or oarsmen can enjoy the Boulder River in its ideal window of strong hatches and float-friendly stream flows. 
Angling days in July are long, averaging just over 15 hours of daylight a day. The average daily high temperature of 80 degrees F reflects the long days of sunshine. Nightly lows often dip well below 45 degrees F, causing water temperatures on the Boulder River to remain cool. Around 1.5" of accumulated precipitation falls in July, making it one of the driest months of the year. With these long, warm days, yet cool nights, the fishing action on the Boulder River often doesn't get going until mid-morning as the cool water temperatures need some time to warm. 
By early June snowpack data can paint a detailed picture to help forecast when the Boulder River may crest and begin to drop. Because the average annual peak streamflow occurs around June 20, by July the Boulder River is in prime shape and an exciting option for very experienced floaters or anglers fishing with guides. Wading anglers can also enjoy the beauty and challenge of fly fishing the Boulder River in July as the river's dropping stream flows allow wading anglers more opportunity to cover water. 
The river is best described in two sections—the Upper and Lower—sections. The upper section above Natural Bridge is characterized by fast pocket water. Getting around this section by boat can be challenging unless you're an expert whitewater kayaker. Small, yet aggressive trout inhabit the upper section and the Boulder River Road accompanies the river in much of this section and only on USDA Forest Service land is access available.  
The lower section begins downstream of Natural Bridge and is most often surrounded by hay pastures and cottonwoods. The river gets its name from this section because of the consistent riffles tumbling aggressively over boulders followed by short deep aquarium-like pools. On the bottom of many of these pools are large boulders. Almost 100% of the land bordering the lower Boulder is private property making access very difficult. 
July fishing: what to expect
The Boulder River in July is an exciting fishery. Tumbling out of the Beartooth Mountains and flowing through sparsely populated rural agricultural land, fishing on the Boulder River lives up to the expectations—for those anglers who understand and accept the unique nature of the fishery. 
Floating anglers can expect to catch plenty of 10- to 12-inch wild trout. Wading anglers can expect the same but must also prepare to cover a lot of water, but must expect to climb and crawl over boulders, wading deep to avoid trespassing, and constantly walking and standing on the river's uneven boulder-filled streambed. 
Whether floating or wading, the preferred method for catching plenty of trout on the Boulder River in July is a 7.5- or 9-foot 2X leader with a size 8 to 10 dry fly fished with two feet of 4X dropper tippet with a size 14 or 16 beadhead nymph. For dry flies, high floating Chubby Chernobyls or foam-bodied attractors are best for the river's fast and rough currents. For nymphs, beadhead mayfly or caddis imitations are ideal. 
A typical day fishing the Boulder River in July doesn't need to start early—water temperatures remain in the high 40s until mid- or late-morning. As the month progresses and water temperatures slightly rise and stream flows lower, anglers can find more actively feeding trout early in the day and again in the early evening. 
For walking-and-wading anglers the Boulder River has plenty of access, however nearly all of the public access lies within Custer-Gallatin National Forest. Anglers who can walk-and-wade on a variety of sizes of rocks and are willing to cover some ground can find plenty of enjoyment on the upper sections in the national forest. 
Throughout most of the Boulder River's length—it flows for over 60 miles—the fish rarely see enough flies to become too educated and fishing large attractor dries through most of the day is the norm rather than the exception. From Golden stoneflies in early July to PMDs and caddis on any day to spruce moths and grasshoppers at the end of the month, expectations for fly fishing the Boulder River in July can be high. 
Where to find July trout on the Boulder River
In most years opportunities to float and fish the Boulder River in July wane as the month progresses. In years with above average mountain snowpack, stream flows may remain above 600 cubic feet per (cfs) second past the second week of July, creating a lasting opportunity to float the river. However, even at flows below 1,000 cfs floating should be reserved for expert boaters only.
The Boulder River's opportunistic trout hold in very predictable places. With an abundance of hatches in July, trout on the Boulder River have ample opportunity to feed. Pair the hatches with fast-flowing water and plenty of food, Boulder River trout hold and feed in typical fast-water/pocket-water lies. These are: in-front of and behind boulders or any other structure; along bank-side seams and soft currents near faster currents; drop-offs below shelfs; and around submerged structure in the many pools below a run of whitewater or large run of rapids. 
Trout on the Boulder River can be found in many places, but because the river is a fast-flowing, boulder-filled river with several sections of whitewater combined with stream flows and public access points that are few and far between, the biggest challenges to finding trout on the Boulder River are legally gaining access, safely floating the rivers rapids and rock gardens, and walking-and-wading the river. 
Important July hatches
Hatches on the Boulder River in July are straight-forward: a few Golden stoneflies may still be bumping around, Yellow Sally stoneflies can be thick, Pale Morning Duns are consistent, and caddis in the evenings are strong. Add terrestrials and spruce moths to the list and the Boulder River in July offers anglers a diverse population of plenty of food for wild trout. 
Anglers may see a few golden stoneflies still flying in the air, but in most years, Golden stoneflies and salmonflies have dwindled compared to late June. Yellow Sally stoneflies are abundant on the Boulder River in July. However, because these size 10 to 12 stoneflies have erratic flying behaviors, most trout ignore hatching adults and feed almost exclusively on their nymphs. 
Caddis are thick on the Boulder River in July. Most of the Boulder River's caddis species in July hatch in the afternoon with the strongest emergence occurring in the evenings. Most Boulder River caddis range in size 12 to 16 and olive and tan. 
PMD hatches typically begin mid-morning and last for several hours. Insects range in sizes from 12 to 18, with most being size 16. As a mayfly, it is important to understand trout may feed on emerging PMDs and not exclusively on fully hatched adults. 
Terrestrials—insects that live the entirety of their life on land—can provide a large portion of a Boulder River trout's diet in July. Spruce moths, grasshoppers, crickets, ants, beetles, spiders, and any other land-dwelling insect that may inadvertently find its way onto the surface is likely to be eaten by a hungry trout on the Boulder River in July.
By the last week of July trico mayflies may hatch on the Boulder River. These small black-bodied and white-winged mayflies are tiny, ranging in size from 18 to 22. Tricos are a hatch best reserved for anglers desiring small-fly, sight-fishing opportunities. 
Boulder River fly box for July
Stonefly nymphs in brown and black in sizes 4 to 10
Golden stonefly dry flies in sizes 8 and 10
Yellow Sally nymphs in sizes 10 to 16
Yellow Sally dry flies in sizes 10 to 16
PMD nymphs sizes 12 to 18
PMD emergers sizes 12 to 18
PMD dry flies sizes 12 to 16
Caddis pupae sizes 12 to 16
Caddis CDC emergers sizes 12 to 16
Caddis dry flies with dark grey, black or brown bodies in sizes 12 to 18; 
Grasshoppers in sizes 4 to 12
Ants and beetles in sizes 12 to 18
Spruce moths in sizes 12 to 16
Trico nymphs size 18 to 22
Trico emergers sizes 18 to 22
Trico dry flies sizes 18 to 22
Crayfish patterns in sizes 2 to 8
Sculpin patterns in sizes 2 to 6
Streamers in olive, black or brown in sizes 2 to 6