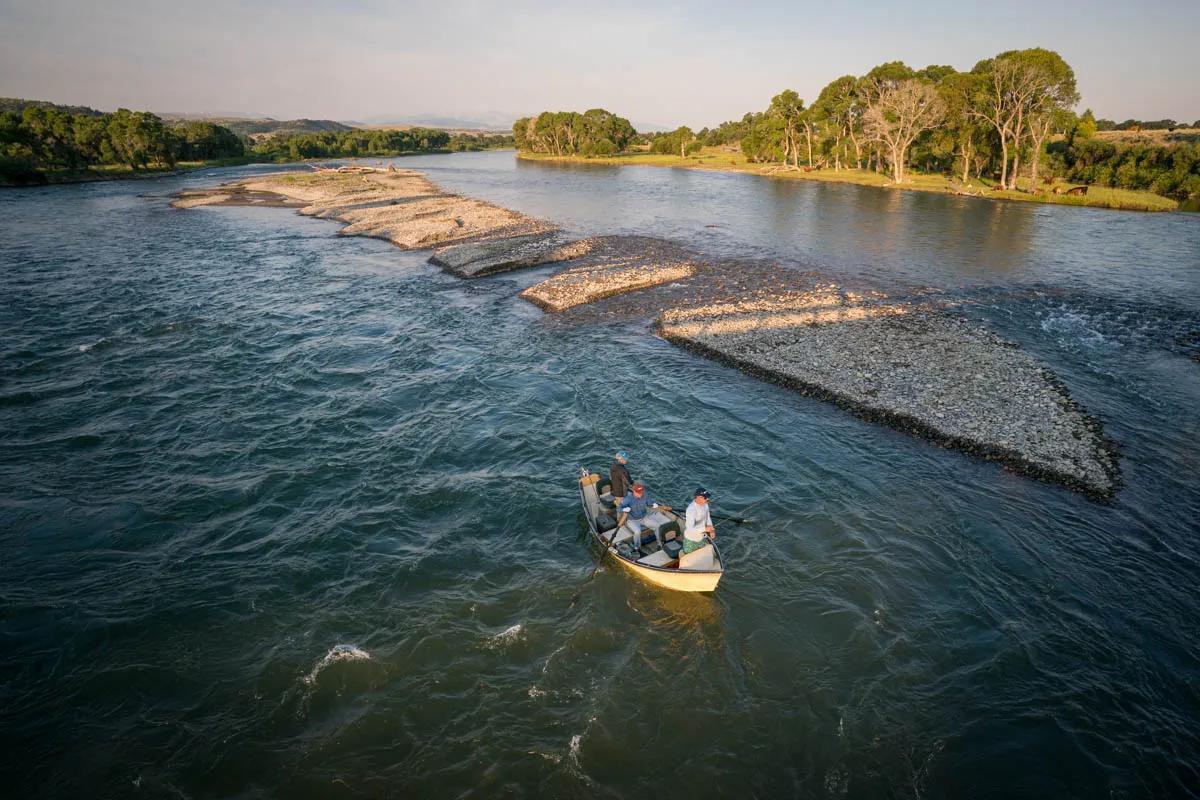 June weather, stream flows, and summary
Fishing on the Yellowstone River in June is entirely dependent on environmental factors, varying greatly from year to year. In some years the Yellowstone River is fishable in June and other years it is not. The yeah or nay is dependent on when snowmelt runoff terminates and the Yellowstone River's stream flows fall to a level that is safe and conducive for fishing. As the longest, undammed free flowing river in the lower 48, the Yellowstone River endures the longest snowmelt runoff of any river in Montana. The catchment basin for the Yellowstone River watershed is massive as it spans several mountain ranges and most of Yellowstone National Park. Because of the sheer size of the drainage area, runoff typically begins in May and lasts well into June, forcing anglers to wait nearly two months for mountain snowpack to melt.
The river is mostly dependent on snowmelt runoff for it's streamflow. The duration of snowmelt runoff is related to how much snow fell throughout the winter. By the first weeks of June the remaining snowpack in the mountain basins draining into the Yellowstone River provide insight into when in June, or possibly July, the river will be fishable. In most years, it is very rare the Yellowstone River has stream flows and clarity conducive to fishing before June 20.
The weather in June is varied. Early June sees average daily high temperatures hover around 70 degrees F while later in the month average daily high temps tick close to 80 degrees F. Later in the month the prevalence of sunny days far out-weigh overcast days. Because the weather is varied in June, so is the river's condition. If the first half of June is cold and rainy, snowmelt runoff is delayed, forcing anglers to wait until later in June or early July for a fishable river. If the first half of June is warm and dry, snowmelt runoff may happen sooner, creating the possibility for the river to be in prime shape by June 25.
If the river is fishable in late June, hatches of salmonflies, Golden stoneflies, and Yellow Sally stoneflies dominate. If fishable by June 25th the salmonfly hatch dominates the psyche of most anglers. These aquatic insects are the largest hatch of the year and during a strong hatch the river's largest trout often seek out these large dry flies.
During the years the Yellowstone River is fishable in late June, salmonflies are not the only insects pursued by trout. Golden stoneflies are an important hatch occurring shortly after the salmonflies. Pale Morning Duns (PMDs), Yellow Sally stoneflies all debut in June as well and various caddis species have strong emergence in June. With a diverse and abundant cornucopia of hatching insects, June fly fishing on the Yellowstone River can be consistent and action-packed, but it can also be non-existent if the snowpack in the Yellowstone River's large watershed has yet to melt.
June fishing: what to expect
In most years, June fly fishing on the Yellowstone River is a variable proposition. During the first two to three weeks of June, the river is still in the heart of its snowmelt runoff mode. In early June the river's stream flows are the highest of the year, often peaking well above 20,000 cubic feet per second (cfs), nearly twice the flow needed for floating and fishing to be safe and reasonable. Do not expect to fish the Yellowstone until flows drop below 10,000 cfs.
Using easily attainable data to learn the amount of remaining mountain snowpack, anglers can begin to guess when in late June or early July, the Yellowstone River might drop and clear, coming into form. Some years the river is fishable around June 25th and some years the river isn't fishable until early July. Prior to mid-June, predicting exactly when the Yellowstone River will come into fishable form is futile. Remaining snowpack and daily weather patterns are all factors. When the river does drop to 10,000 cfs, salmonflies often hatch, creating exciting dry fly fishing to start the summer season on the Yellowstone River.
A typical day on the Yellowstone River in late June begins with managing expectations. Because the river is often high and fast with stream flows ranging from 6,000 cfs to 10,000 cfs nearly all fishing is done from boats. Leaders are short and stout—it is common to fish 7-foot 0X leaders with short tippets. For stonefly nymphs choose large black or brown patterns in sizes 2 to 8. For streamers, choose a tippet no less than 13-pound breaking test. A popular tactic for fishing streamers on the Yellowstone River in late June is to drag the streamer along the bank. For dry fly fishing, choose large dry flies in sizes 4 to 8. Be sure to fish a very stout tippet as well, nothing less than 12-pound test. 
If the river drops and clears and becomes fishable by the last week of June, two-fly weighted nymph rigs will produce fish as the river transitions to clearer water. Because water clarity is rarely more than 12 inches in late June, fish strong tippets and expect to lose plenty of flies to submerged structure. As hatches of salmonflies give way to Golden stoneflies and caddis, dry flies will be successful. Choose large stonefly and attractor patterns in sizes 4 to 10.
Where to find June trout on the Yellowstone
Yellowstone River trout during June are found mostly along the banks or in very soft water in- and around structure. Because early June sees the river's highest flows and most muddy water of the year, finding trout in early June is very tough and limited to the mouths of small tributary streams.
In some years by late June, typically not before June 25th, streamflows may drop below 10,000 cfs and clarity will improve enough that the river becomes fishable. If this occurs, salmonflies and Golden stoneflies can hatch in abundance. Because salmonflies and stoneflies require structure from which to hatch, trout will be found near willows, submerged rocks and branches, and other structures. Stoneflies hatch by clinging to structure and then emerging from an exoskeleton, trout follow the insects and become opportunistic feeders as the current washes away the structure-clinging nymphs. The fast and high flows in late June force trout to hang near structure and in slow water. Eddy-lines, foam-lines created by eddies, and any slow water are places to find trout on the Yellowstone River in June.
Important June hatches
The salmonfly hatch takes center stage in June on the Yellowstone River. However, whether river conditions allow for fishing changes from year to year. In some years the river is below 10,000 cfs and has enough clarity anglers can effectively fish the salmonfly hatch. In other years the river is too high and too muddy and the fishing begins in July.
After salmonflies hatch, Golden stoneflies, Yellow Sally stoneflies, and caddis dominate. These three species of stoneflies hatch in abundance on the Yellowstone River in June…the excitement comes in watching and waiting for river conditions. If the river does drop and clear to become fishable, anglers and trout delight in the abundance of available hatches.
Yellowstone River fly box for June
Stonefly nymphs in brown and black in sizes 6 through 10
Salmonfly dry flies in sizes 4 to 8
Golden stonefly dry flies in sizes 6 to 10
Yellow Sally stonefly dry flies in sizes 10 and 12
Sculpin patterns in sizes 2 to 6
Streamers in olive, black or brown in sizes 2 to 6