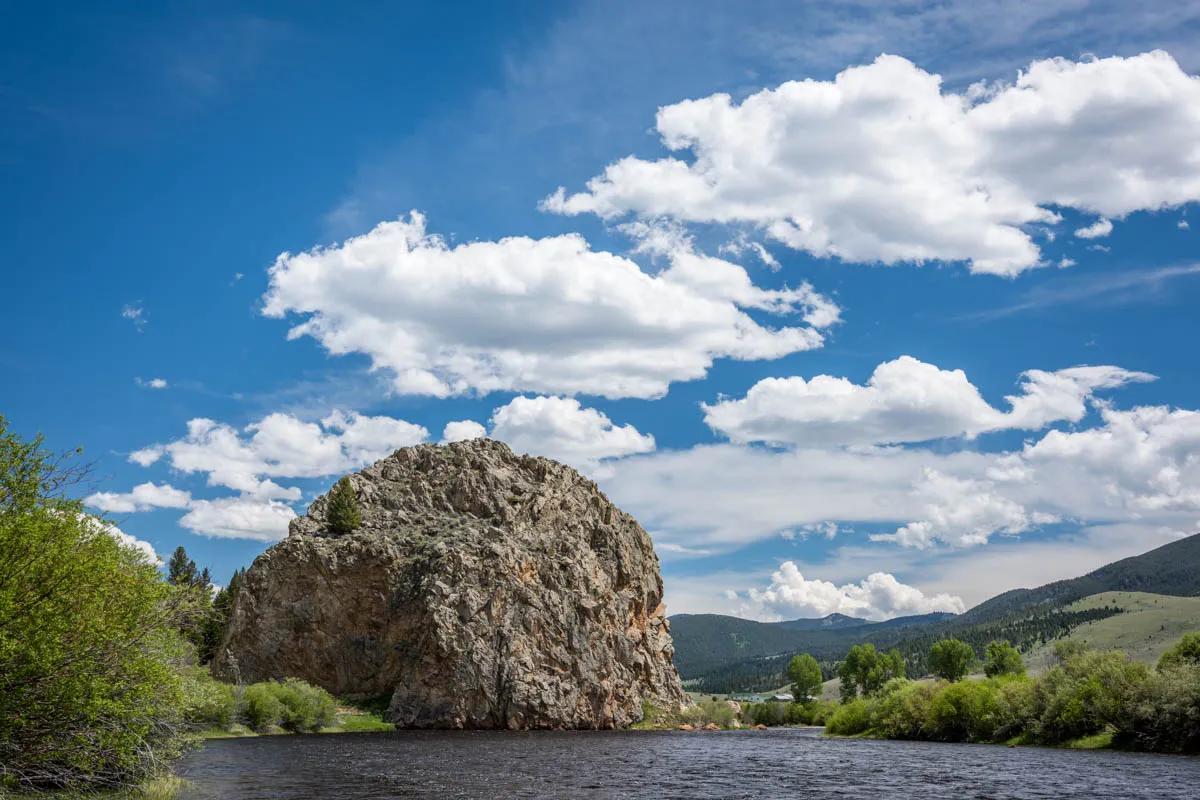 July weather, stream flows, and summary
Prolific hatches, wade and float fishing options, and plenty of wild trout make the Big Hole River in July a must-fish for any Montana fly fishing outing. From its headwaters near Wisdom and flowing for nearly 150 miles, the Big Hole River is truly a gem during July…but in some years low stream flows and high air temperatures can cause water temps to be too high for actively feeding trout. July sees hatches of stoneflies, caddis, and mayflies. 
For anglers wanting to experience a variety of water, they can find it somewhere on the Big Hole River in July. For fishing in July, the Big Hole River is best described by the river's various sections. In the headwaters section downstream to the North Fork, the river flows by hay fields and has commanding views of mountain peaks. This section offers small stream fishing for rainbows, brook trout, and the native grayling and cutthroat. Dry fly fishing for smaller fish in the 10"-14" range can be exceptional in the upper reaches.
From North Fork to Dewey in July the caddis hatches can be very strong. Roughly two thirds of the way through this section the Wise River joins the Big Hole giving it a breath of cold clear water from the south. During July this can rejuvenate this section of river because of the addition of the colder mountain stream flows. This section offers all aspects of water types and technique. Hatches can be prolific and trout numbers and size are as healthy as anywhere in Montana.
As the river enters the canyon sections downstream of Dewey, great pocket water exists as well as long classic runs. These canyon sections maintain the most suitable habitat for both trout and aquatic insects. Some of the heaviest hatches are found in this reach of the Big Hole as well as the highest concentration of trout which is upwards of 3000 fish per mile. 
The lower reaches of the river—from Melrose downstream to the confluence with the Beaverhead River near Twin Bridges—are best fished with some local knowledge. Early July in this section can fish well with hatches of caddis, Pale Morning Dun mayflies, and terrestrials. However, by the second half of the month stream flows can be so low, that combined with the common high air temperatures of late July, water temperatures can be well above 68 degrees F making trout less apt to actively feed. 
In July angling days are long, averaging just over 15 hours of daylight a day. The average daily high temperature of 80 degrees F reflects the long days of sunshine. Around an inch of accumulated precipitation falls in July, making it one of the driest months of the year. With these long, warm days fishing the Big Hole River can be good throughout the day, including early morning and late evening; however, if all of the high mountain snowpack melts in June, late July on the Big Hole can see water temperatures too high for reasonably good fishing. It is always best to inquire locally for current conditions.  
With its wide array of hatches and variety of types of water, the Big Hole River in July has something for every angler. Weather, stream flows, and hatches are often consistent and predictable, except for years that low stream flows and high air temperatures cause late July to pale in comparison to early July. 
July fishing: what to expect
The Big Hole River in July features all the best attributes of Montana fly fishing. There are opportunities for catching fish using a variety of methods. From casting big dry flies to structure or dragging streamers through deep runs or dead-drifting two-fly weighted nymph rigs, something exists for all anglers to enjoy a river in its prime summer-time mode. 
The angling month on the Big Hole is pretty straight-forward: early July is prime time but late July is entirely dependent on weather and stream flows. Simply put: if stream flows are low and air temperatures are high, warm water occurs. Throughout July stream flows often drop from near 2,000 cubic feet per second (cfs) on July 1 to below 500 cfs by July 31. This is mostly due to local ranchers using water from the river to irrigate hay fields for the feeding of livestock. 
Fishing in July on the Big Hole River is consistent, but it also varies throughout the month. A typical day in early July might look different than a typical day later in the month. In early July as caddis, Pale Morning Dun Mayflies (PMDs), Yellow Sally stoneflies, tricos, and few Golden stoneflies dominate the hatch charts, fishing dry flies may be the best way to catch fish. Because the available hatches may run the gamut, having PMDs, caddis, and stonefly dry flies is a must. 
As the second week of July comes and stream flows continue to drop—and the potential for warm water increases—hatches of caddis and PMDs decrease in frequency, so fishing a two-fly weighted nymph rig tied with a size 12 or 14 Pheasant Tail or caddis pupae works well. 
Nocturnal stoneflies are prevalent on the Big Hole River as well. On the Big Hole River these stoneflies range in size from 6 to 8. It is rare these stoneflies are witnessed hatching because they lack the ability to fly, but because the nymphs are active at all hours of the day, fishing a size 8 attractor dry fly early or late in the day can entice a strike and it is always a good idea to have a size 6 or 8 stonefly nymph as part of any subsurface two-fly nymph rig. 
Because July sees long, sunny days, it is important to know when to fish as much as it is where to fish. If large fish are desired, the lowlight hours of early morning and evening are often best for targeting large fish with streamers or dry flies. Even in the bright sun smaller fish may rise to a well-presented dry fly. Later in the month when grasshoppers begin to show up in streamside grasses, midday and late afternoon are ideal for prospecting with a terrestrial. Dry fly anglers can find surface action even in the bright sun of midday and afternoon on the Big Hole River. 
Hoppers, ants, and spruce moths can find their way on the Big Hole River in July. Because the Big Hole River flows through miles of hayfields, terrestrials in July are a given. Spruce moths are generally found only along the sections of river where conifer trees are concentrated. When the spruce moth emergence is thick, Big Hole River trout feed voraciously and a well-presented spruce moth should work. 
Where to find July trout on the Big Hole River
Trout will follow the hatches as stream flows drop throughout the month. In early June when most of the trout are found near bank-side structure, most trout in July on the Big Hole River are found throughout a variety of habitats. Additionally, as stream flows drop and water temperatures warm by the middle of the month many trout will move to deep water or undercut and shady banks in search of cold water. 
After Golden stoneflies wane in early July, hatches of Pale Morning Dun mayflies (PMDs), caddis, and terrestrials provide the bulk of a trout's diet. These hatches paired with stream flows being lower than earlier in the month, cause Big Hole River trout to migrate during a hatch to various feeding and holding lies in riffle corners, shelfs, drop-offs, and pocket water. And when the hatch subsides, trout migrate back to cold water—deep runs, undercut banks, and shaded waters. 
The Big Hole River has an abundance of aquatic insect life. Because food is prevalent in many habitats, trout inhabit many places, but they are most often found along the bank, in riffles, shelfs, the heads of runs, and the tail outs of runs. These habitats all offer the primary needs for trout: available food source, cover from predators, cover from strong currents, and flowing water for oxygen. 
In July on the Big Hole River, as long as stream flows remain above 500 cubic feet per seconds (cfs) and water temps are below 65 degrees F, anglers typically rejoice because the trout tend to be hungry and happy and in the right spots.
Important July hatches
July on the Big Hole River experiences the most diverse line-up of hatches of the angling season. Hatches of caddis, Yellow Sally stoneflies, and Pale Morning Dun (PMDs) mayflies are very strong. Stoneflies, caddis, and PMDs can hatch at subsequent times as well. A variety of caddis species ranging in size from 10 to 20 live in the Big Hole River and hatch throughout the month, occurring at various times throughout the day. 
PMD hatches typically begin mid-morning and last for several hours. Insects range in sizes from 12 to 18, with most being size 16. As a mayfly, it is important to understand trout may feed on emerging PMDs and not exclusively on fully hatched adults. 
Terrestrials—insects that live the entirety of their life on land—provide a large portion of a Big Hole River trout's diet in July. Spruce moths, grasshoppers, crickets, ants, beetles, spiders, and any other land-dwelling insect that may inadvertently find its way onto the surface is likely to be eaten by a hungry trout. 
By the last week of July trico mayflies may hatch on the Big Hole River. These small black-bodied and white-winged mayflies are tiny, ranging in size from 18 to 22. Tricos are a hatch best reserved for anglers desiring small-fly, sight-fishing opportunities. 
An interesting aquatic insect on the Big Hole River is the prevalence of nocturnal stoneflies. Nocturnal stones which are often overlooked should not be forgotten. These stoneflies tend to hatch at night and can sometimes be seen skating on the water's surface early in the mornings. They have stubby wings therefore cannot fly. The nocturnal stones are best fished in the low light and cool temps of the morning and seem to always be thickest around the full moons.
Big Hole River fly box for July
Stonefly nymphs in brown and black in sizes 4 to 10
Golden stonefly dry flies in sizes 8 and 10
Yellow Sally nymphs in sizes 10 to 16
Yellow Sally dry flies in sizes 10 to 16
PMD nymphs sizes 12 to 18
PMD emergers sizes 12 to 18
PMD dry flies sizes 12 to 16
Caddis pupae sizes 12 to 16
Caddis CDC emergers sizes 12 to 16
Caddis dry flies with dark grey, black or brown bodies in sizes 12 to 18; 
Grasshoppers in sizes 4 to 12
Ants and beetles in sizes 12 to 18
Spruce moths in sizes 12 to 16
Trico nymphs size 18 to 22
Trico emergers sizes 18 to 22
Trico dry flies sizes 18 to 22
Crayfish patterns in sizes 2 to 8
Sculpin patterns in sizes 2 to 6
Streamers in olive, black or brown in sizes 2 to 6