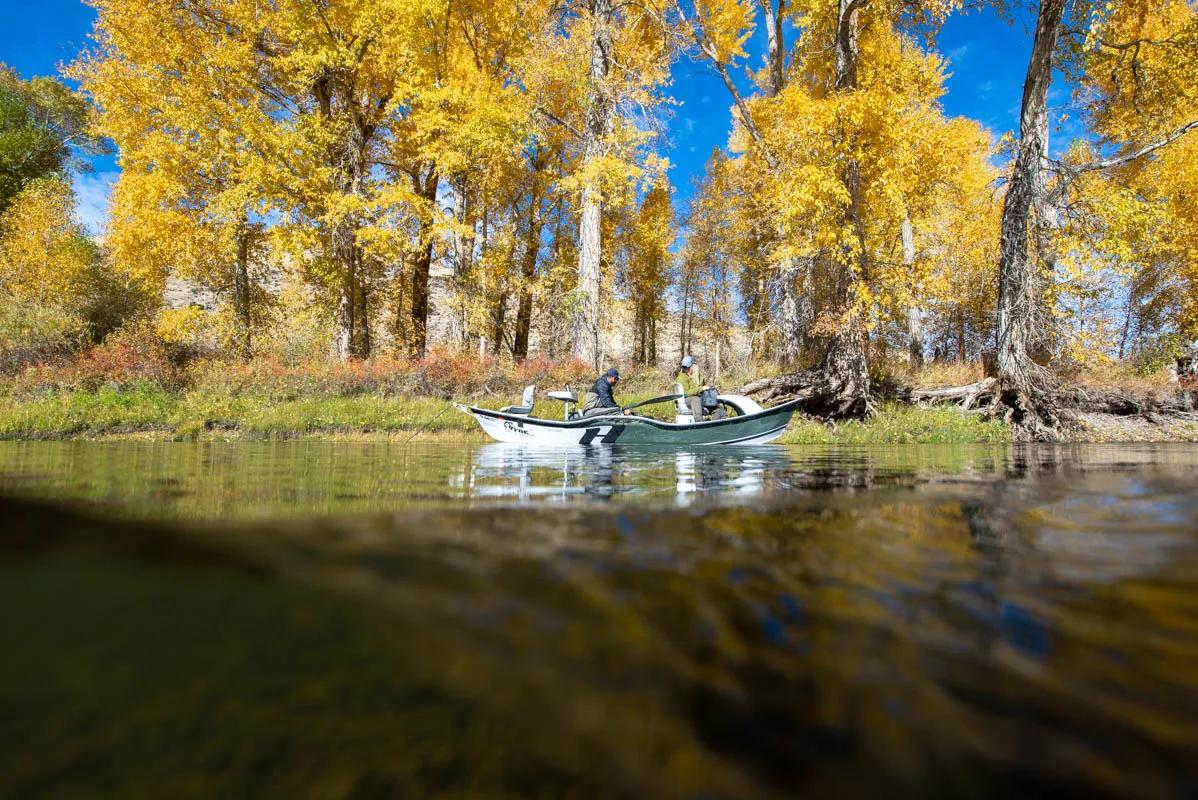 October weather, stream flows, and summary
October on the Big Hole River is the month of Blue Winged Olives, big trout chasing streamers, and a slight possibility of October caddis. During this final month of the angling calendar, anglers can experience some exceptional dry fly fishing—with small and large flies. Additionally, long-time Big Hole River loyalists are eager for October because many of the river's largest trout come to hand in October. 
The hot days of summer are gone. Stream flows remain consistent hovering around 500 cfs throughout the entire month. And water temperatures rarely top 60 degrees F. Busy boat ramps and numbers-hungry anglers are also most likely absent, making October on the Big Hole River an ideal month for anglers who appreciate fishing a river back-dropped by fall colors, opportunities to sight cast small dry flies to rising trout, or chase big brown trout with large streamers. 
October weather is diverse with days of bright sunshine, showers, and possible snow. With highs in the 60s to blizzards and highs in the teens, anglers fishing the Big Hole River in October should prepare for all four seasons on any given day. The average daily high temperature hovers around 58 degrees F. There is slightly less rain in October than September with an average of 1" and the possibility of snow increases with an average of 0.2" inches. Quality fishing opportunities can occur in these variable weather conditions, and often the lousiest weather produces the best October fly fishing. On the Big Hole River in October the saying "there's no such thing as bad weather only bad gear" rings very true. 
The Big Hole River is home to five species of desirable gamefish: rainbow, brook, and brown trout and native grayling and cutthroat trout. In October the pursuit of brown trout brings most anglers to the river, but these aggressive brown trout are not the only reason to fish the Big Hole River in October.   
In October hatches of Blue Winged Olives (BWOs) can be thick on the Big Hole River. With an abundance of quality habitat for BWOs, the Big Hole River provides dry fly anglers plenty of opportunities. A few October caddis are also spotted but they are not consistent and emerge in small numbers, usually one or two at a time compared to the thousands of insects during a BWO hatch. 
October caddis on the Big Hole are sporadic and rarely hatch in large numbers. However, on a sunny and warm day—daytime highs in the 60 degrees F—prospecting with an October caddis can entice a few fish to strike. 
October on the Big Hole River has a dedicated following of local and traveling anglers. With less crowds, cooler water temperatures, aggressive brown trout, and the prospect for strong hatches of BWOs, the Big Hole River in October is a quiet fishery yet full of exciting opportunities. 
October fishing: what to expect
Similar to late September, sun, rain, and snow can all happen on the same day. Because the Big Hole River drops almost 2,000 feet in elevation from the most upstream fishable sections to its confluence with the Beaverhead River near Twin Bridges, the various sections have different moods. 
From the headwaters area to the North Fork, the river will feel the effects of fall sooner than the lower sections. Rainbow, brook, and cutthroat trout dominate here. Native grayling are also found in this section. Hatches of Blue Winged Olive (BWOs) mayflies can be thick here as well. Large brown trout typically do not migrate this far upstream, so in October this section sees very little angling pressure. In this section it is good to always have several patterns of size 16 mayfly dry flies, with a Purple Haze being a local favorite.  
Downstream of the North Fork confluence to Dewey, the prospect of large brown trout increases. Trout numbers in this section are some of the highest in the river. Hatches of BWOs can be thick here. Because Blue Winged Olives and brown trout are both in high quantities in this section, anglers need to plan for dry fly fishing as well as streamer fishing. For this section be sure to have a favorite size 16 mayfly dry such as a parachute Adams plus several size 4 or 6 yellow, brown, or olive streamer patterns. 
As the river leaves Dewey it drops into two canyon sections. In these canyon sections lie some of the best habitat in Montana for large brown trout. With drop-offs and plenty of submerged structure, predatory brown trout lurk here. In October streamer anglers target this section with large articulated streamer patterns in size 4 and 6. Tandem nymph rigs with size 16 and 18 beadhead mayfly and caddis nymph patterns can also produce fish. 
From Melrose downstream to the river's confluence with the Beaverhead near Twin Bridges, the river corridor changes from a mountain valley river to a broad cottonwood lined river bottom. The pace of the river slows again creating classic freestone riffles and runs as the river meanders its way south and then eventually east before heading back to the north in its final reaches. This is big brown trout country. 
On any section of the river, a typical day fly fishing the Big Hole River in October begins in the mid-morning. If Blue Winged Olives hatch they will begin around mid-morning or late afternoon. For streamer anglers, large brown trout may be active early, but the sun rises between 7 and 8 AM most mornings in October so early starts are not crucial. 
Yellow, brown, and olive streamers are the color choices for October trophy-sized trout. Most large fish are caught while dead-drifting a large streamer below a strike indicator or dragging a large streamer off the bank. Many anglers will also trail a smaller nymph such as a size 16 or 18 mayfly nymph, creating a two-fly rig designed to entice a big brown trout or catch a selective rainbow or brown trout.
Dry fly anglers can also delight as hatches of Blue Winged Olives are a common occurrence. When conditions line-up appropriately, typically a forecast for light rain or snow flurries coupled with low winds, a strong BWO hatch may occur. 
Where to find October trout on the Big Hole
Big Hole River trout in October can be found in a variety of locations from the headwaters section downstream to Twin Bridges. Until a hatch occurs, fishing tandem nymph rigs is the most common way to catch fish. Focus on deep water near shallow water, behind or in front of structure, or any place that can provide cover from predators or fast currents. 
Nymphs—mayfly, caddis, and stonefly nymphs—are active in the Big Hole River year-round. Unless there is a strong emergence of Blue Winged Olive mayflies, trout will be found in subsurface holding lies.  
Brown trout can be found in the usual predator hangouts—deeper water near shallow water, hiding near structure, or along a cut bank. On the river downstream of Dewey to Melrose, brown trout are most fond of lying in places of ambush—near structure, undercut banks, or along canyon walls. Downstream of Melrose they disperse but can still be found in the usual predator hangouts. 
Many brown trout will begin to spawn in October. These spawning fish may be found on their redds on shallow gravel bars. Please avoid targeting spawning trout when they are encountered.
Later in October hatches of BWO mayflies increase and trout can be seen taking dry flies. When a strong hatch occurs, look for trout in slower currents and "softer water" such as the inside of river bends, seams behind rocks, and slower runs below riffles. 
If sunshine is abundant and the air temperature hovers near 60 degrees F or higher, the slight possibility exists for a few trout to still target terrestrials. Trout will expend vital energy and take the risk from deep cover for a morsel as large a grasshopper, ant, or beetle. These large offerings may not pass by again that day. Fishing grasshoppers in October is a rarity but it does happen. 
Although rare, October caddis can be seen hatching downstream of Melrose, with the water around Glen being the most likely place to see a few fluttering adults.  
Important October hatches
Blue Winged Olive (BWOs) mayflies are the main event for October hatches on the Big Hole River. If conditions are perfect, these emergences can be quite strong. Overcast, rainy or snowy days see the strongest emergence. An overcast day with light winds can mean the dry fly fishing on the Big Hole River can be quite reliable, bringing plenty of fish to the surface to feed. 
Fall season BWO mayflies are slightly smaller than their spring season cousins. Ranging in size from 16 to 22, these insects will emerge by late-morning or early afternoon and provide a few to several hours of dry fly fishing opportunities.
Even if BWOs are not hatching, the Big Hole River is home to a healthy population of stoneflies, mayflies, and caddis whose nymphs are active year-round. These nymphs are available to feeding trout and best fished with two-fly weighted nymph rigs.  
October caddis also hatch on the Big Hole River. These bugs may be large in size—about size 8—but their hatch is sporadic. It is a rare event to see an October caddis hatch on the Big Hole River, but on a sunny day it is not too rare to have a few trout smash a size 8 or 10 October caddis dry fly. 
Big Hole River fly box for October
BWO dry flies sizes 16 to 22
BWO emergers sizes 16 to 20
BWO nymphs sizes 16 to 20
October caddis size 8
Crayfish patterns sizes 2 to 8
Sculpin patterns sizes 2 to 6
Streamers in yellow, brown, olive or black in sizes 2 to 6