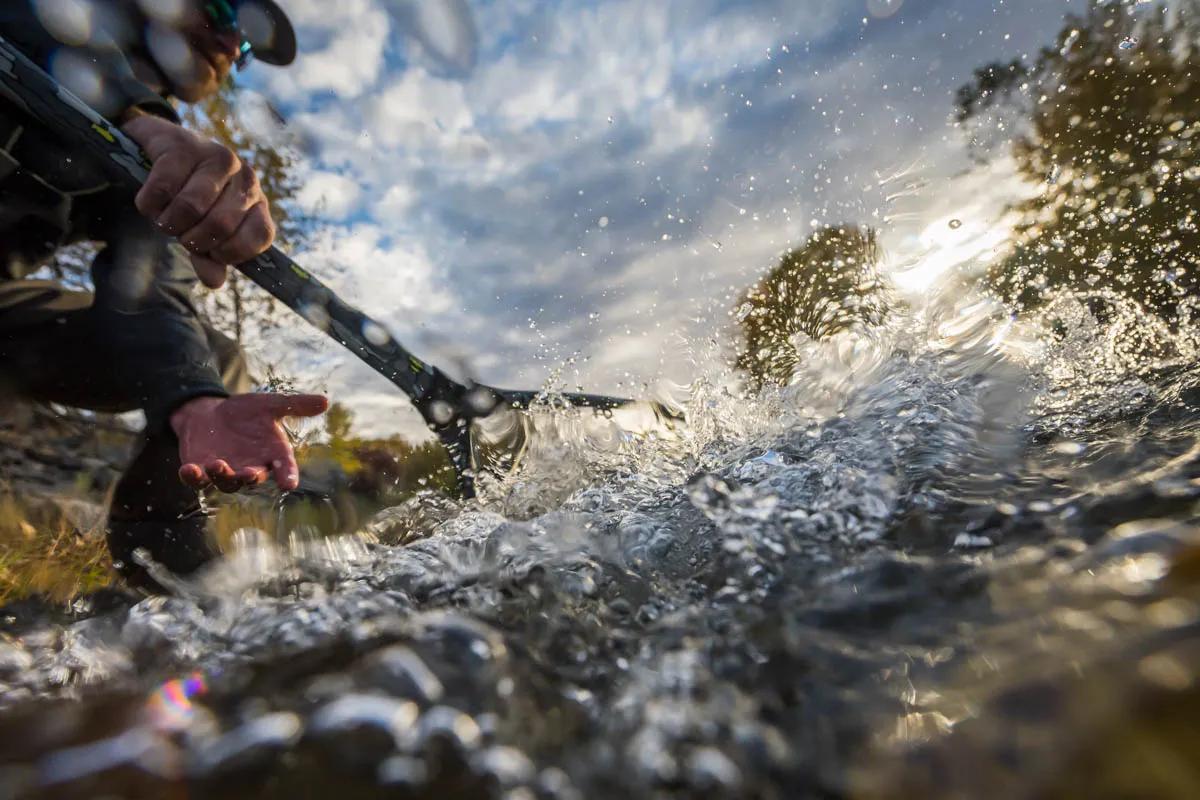 August weather, stream flows, and summary
The available opportunities and subsequent action for fly fishing the Big Hole River in August are entirely dependent on weather and stream flows. Flowing for nearly 150 miles, the river has an abundance of habitat for trout in August, but because the river's stream flows are related to mountain snow pack—and how much of it remains at high elevations in August—fly fishing the Big Hole River in August is best enjoyed by anglers who embrace flexibility and enjoy fishing in early mornings or late evenings. 
Because the Big Hole River is a freestone river dependent entirely on snowmelt runoff, stream flows gradually decrease throughout the month. In many years the stream flow on August 1 can be double the streamflow on August 31, averaging around 600 cubic feet per second (cfs) on August 1 and around 300 cfs on August 31st. Fishing the Big Hole River in August requires an understanding of how water temperatures affect hatches and the habits of feeding fish. 
During August there are less than five days with measurable precipitation, averaging slightly less precipitation than July. Because the Big Hole River flows for 150 miles and drops in elevation from 6,000 feet near Wisdom to 4,600 feet near Twin Bridges, weather can vary. However, on average temperatures during the first two weeks of August are well above 80 degrees F dropping to 75 degrees F by month's end. 
Early August features long, sun-filled days. As peak daily water temperatures climb past 65 degrees, the majority of the Big Hole River's hatches subside. With the lack of a prolific hatch, trout on the Big Hole River become more opportunistic, focusing on terrestrials—grasshoppers, spruce moths, ants, beetles, and crickets—for the bulk of their diet. 
Overlooked by many anglers are the last two weeks of August. During these two weeks, the nightly low temperatures are almost five degrees F cooler than earlier in the month. By the end of the third week of August, usually around August 25th, there is one less hour of daylight compared to earlier in the month. These longer, cooler nights result in lower daily high temperatures which mean lower average daily high water temperatures—typically around 60 degrees F. Many anglers think late-August is a time to forego fishing the Big Hole River altogether, however these slight changes can make a big difference resulting in actively feeding trout.
Whether it is nymphing with two-fly weighted flies or searching for trout sipping on trico mayflies or prospecting with hoppers in the midday sunshine or targeting spruce moth hatches, August on the Big Hole River is surprisingly diverse.
August fishing: what to expect
The Big Hole River flows for nearly 150 miles from elevations above 6,000 feet to 4,600 feet. Because of this, anglers can expect a variety of fishing opportunities. Best broken down into sections, fly fishing the Big Hole River in August should be approached with a flexible attitude. The Big Hole River's stream flows are entirely dependent on the amount of remaining snowpack in the headwater's basins. 
From the headwaters downstream to its confluence with the Beaverhead River near Twin Bridges, a typical day in August usually begins early, often before daybreak. After committing to an early start, each section may feature different attributes. 
From the headwaters to the confluence with the North Fork, the river winds through hay fields and features willow lined banks. Fish here include small rainbows, brook trout, and native grayling and cutthroat trout. Hatches are minimal in August yet most fish may still rise for a well-presented size 12 to 16 attractor dry fly or a size 14 or 16 beadhead fished as a dropper below a size 10 or 12 attractor dry fly. 
From the North Fork to Dewey the river gains the cool water of the Wise River. Here, hatches of spruce moths can be thick in August from Dewey to Divide. Caddis and Pale Morning Dun (PMDs) mayflies can hatch in this section, but most dry fly fishing will be reserved for terrestrials. Two-fly tandem nymph rigs with size 16 and 18 beadheads fished through riffle corners and pocket water can produce fish. 
From Dewey downstream to Melrose, the river enters the canyon sections and can contain some of the coolest water during August. Here fish may be the most active, feeding on terrestrials, stonefly, caddis, and mayfly nymphs. A few trico hatches may sporadically hatch as well. Flowing through sections of pine trees, this section of the river also contains large populations of spruce moths. 
As the river leaves Melrose, stream flows often are lower due to ranchers using river water to irrigate hay fields for livestock feed. Because stream flows are less, this section almost always experiences warmer afternoon water temperatures than the upstream sections. 
Stonefly, PMD, and caddis nymphs are active year-round, so a stonefly nymph and a mayfly or caddis nymph are the go-to choices for prospecting with a two-fly weighted nymph rig in August. Because grasshoppers, spruce moths, crickets, ants, and beetles become active later in the day, beginning the day with a two-fly weighted nymph rig makes the most sense. As the sun gets higher on the horizon and air temperatures rise, terrestrials become more active. 
These terrestrials are the reason many anglers fish the Big Hole River in August. Flanked by acres of farms and grasslands, ample habitat exists for grasshoppers, crickets, ants, and beetles; plus in the canyon sections ample riverside pine trees exist creating habitat for spruce moths. These terrestrials provide plenty of food for hungry trout and a wide range of opportunities for anglers committed to fishing dry flies. A tactic gaining popularity in recent years is to fish two dry flies simultaneously. Choose a grasshopper in size 8 to 12 and an ant or beetle in size 14 to 18. Similar to fishing a two-fly weighted nymph rig, fishing two dry flies increases the chances for success. 
Where to find August trout on the Big Hole
Finding trout on the Big Hole River in August is about fishing during periods of cool water. Most trout on the Big Hole River remain active if water temperatures are below 68 degrees F. Once the water temperature rises beyond 68 degrees F trout will slow their feeding and seek refuge in deeper, cooler water. With nearly 150 miles of trout habitat ranging from pocket waters to shady banks to deep runs, trout can be found where cool water is also found. 
Terrestrials make up a large portion of a Big Hole River trout's diet during August. Grasshoppers, ants, spruce moths, beetles, and crickets can all be blown into the river. To fish terrestrials on the Big Hole River target the usual holding lies—soft water near fast water, the drop off below a shelf, undercut or shade-covered banks, near the bottom of a deep run, or slow water behind structure. Trout will move out of a holding lie to gobble-up a well-presented terrestrial pattern. 
Caddis, stonefly, and mayfly nymphs are active year-round on the Big Hole River, but because hatches are less consistent in August than in July, finding trout on the Big Hole River in August is about finding the food and cold water. Unless a strong hatch of caddis, Pale Morning Dun (PMDs), or spruce moths occurs, trout can be found in classic subsurface lies: deeper water near shallow water, behind or in front of structure, or any place that provides cover from predators or bright sunlight. 
Important August hatches
Trico mayflies will emerge in the early morning hours, followed by sporadic hatches of PMD mayflies. Caddis can hatch throughout the day, with most strong emergences occurring in the evening hours. Tricos and caddis can hatch in abundance in many of the Big Hole River's long riffles or seams along bank-side structure. 
But in August, emergences of the many species of terrestrials are the focus of anglers and trout on the Big Hole River. Terrestrials—insects that live the entirety of their life on land—provide a large portion of a Big Hole River trout's diet in August. Grasshoppers, spruce moths, crickets, ants, beetles, spiders, and any other land-dwelling insect that may inadvertently find its way onto the surface. 
A few nocturnal stoneflies can also hatch in August. These stoneflies cannot fly—their wings are too short and stubby for flight—but trout may still rise to a size 10 or 12 stonefly dry fly. Whether fishing nymphs or dry flies, the nocturnal stones are best fished in the low light and cool temps of the morning and seem to always be thickest around the full moons.
Big Hole River fly box for August
Grasshoppers in sizes 4 to 16
Spruce moths in sizes 12 to 16
Ants; black, brown, or cinnamon in sizes 12 to 18
Beetles in sizes 10 to 18
Crickets in sizes 4 to 16
PMD nymphs sizes 12 to 18
PMD emergers sizes 12 to 18
PMD dry flies sizes 12 to 16
Caddis pupae sizes 12 to 16
Caddis CDC emergers sizes 12 to 16
Caddis dry flies with dark grey, black or brown bodies in sizes 12 to 18
Trico dry flies in sizes 18 to 22
Stonefly nymps in sizes 8 to 12
Stonefly dry flies—particularly olive or peacock to imitate flightless nocturnal stoneflies—in sizes 10 or 12
Crayfish patterns in sizes 2 to 8
Sculpin patterns in sizes 2 to 6
Streamers in olive, black or brown in sizes 2 to 6