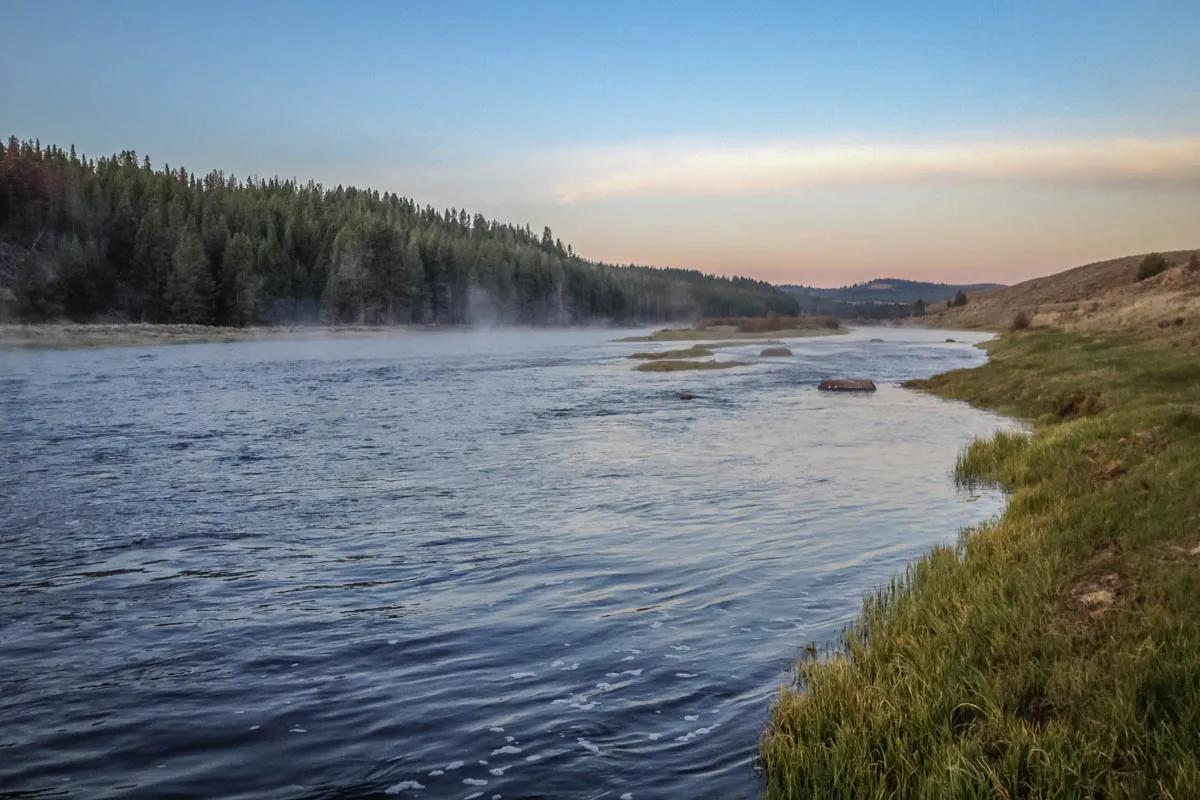 April weather, stream flows, and summary
Beginning high in the mountains of southwest Montana, the Big Hole River flows for nearly 150 miles, unimpeded by any dams. This free flowing fishery is a diverse river home to five species of game fish: wild brown, rainbow, cutthroat, and brook trout and a very healthy population of arctic grayling. With a variety of sections, the Big Hole River features high country meadows, canyons, and cottonwood lined valley floors. 
The river is home to a large population of aquatic insect species; some of the most prolific hatches including salmonflies, Mother's Day and summer caddis, Blue Winged Olive and Pale Morning Dun mayflies, tricos, and an abundance of terrestrials.
Anglers on the Big Hole River will find pocket water, riffles, pools, shallow flats and shelves, deep runs and pools, and plenty of undercut banks. With some of the best trout habitat of any of Montana's great fly fishing rivers, the Big Hole River has a long and loyal following for all the right reasons. Add that to the mix of geography and scenery and the Big Hole River is as good as they come. 
Anglers can enjoy a mix of floating and walk-and-wade fishing on the Big Hole River in April. During April floating can be more effective as anglers can cover more ground. But ample public access also ensures walking-and-wading anglers have the ability to fish a variety of water.
Weather on the Big Hole River in April covers a broad range of conditions. Early in April the average daily high temperature rarely tops 50 degrees F, but by the end of the month the average daily high temperature rises to almost 60 degrees F. April receives an average of 1.2 inches of measurable precipitation, with half of that falling as snow and half falling as rain. The upper sections of the Big Hole River are above 5,000 feet, meaning fly fishing in April is entirely dependent on the short-term weather. Once the river drops out of its two canyons, the fishing in April is a little more consistent. 
Stream flows in April can be relatively unpredictable due to the possibility of changing weather conditions. For the first part of the month, if cold weather persists, the majority of the high mountain snowpack remains frozen. Because of the snowpack staying frozen, the first half of April in the Big Hole River rarely sees the river become muddy or too high from snow melt runoff. 
However, the second half of April can be a wildcard should warm weather or rain persist. If daytime high temperatures rise above 70 degrees F and nighttime lows stay above 32 degrees F for more than a few days, snow melt runoff commences on the Big Hole River. When this occurs it is time to forego fishing until runoff subsides in early June. 
April fishing: what to expect
Because the Big Hole River flows for nearly 150 miles, a wide range of fishing conditions exist in April. Even with the river's diverse insect populations, April fly fishing on the Big Hole is day-to-day and specific to each section of the river. 
The Big Hole River is home to healthy populations of stoneflies, caddis, and mayflies. In April early season skwala stonefly nymphs are very active and it is a good idea to fish a stonefly nymph as part of a two-fly weighted subsurface nymph rig or as the dropper on a dry fly-dropper nymph rig. Choose stonefly nymphs in sizes 8 or 10 and mayfly or caddis nymphs in sizes 10 to 16. 
Streamer anglers should choose streamers in sizes 4 to 8 and in olive, black, brown, or black-olive combinations. Casting to structure and stripping back to the boat or casting behind the boat and letting the fly drift past structure are time-tested methods to entice a predatory brown trout into striking at a streamer. 
In April the various sections of the Big Hole River have different moods. The uppermost sections of the river—Headwaters to the North Fork and North Fork to Dewey—often remain in winter-mode throughout the month. Expect to fish two-fly subsurface nymph rigs. Choose a small stonefly imitation in a size 10 and a beadhead mayfly or caddis pattern in a size 16. 
As the river enters into its canyon sections downstream of Dewey, anglers can find a few early season skwala stoneflies and the potential for strong Blue Winged Olive (BWOs) mayfly hatches. BWOs typically hatch on overcast or rainy days, but on a sunny day expect the canyon walls to warm in the direct sunshine. This warms the water that flows along the limestone cliffs, creating just enough of a temperature swing to spring a strong BWO emergence.
With the most suitable habitat for trout of the entire river, fly fishing the Big Hole River anywhere from Dewey to Melrose in April is a good bet for big fish. Many local anglers swear that this is the time and place to have a shot at some of the largest fish in the river.
The lower river from Melrose to its confluence with the Beaverhead River near Twin Bridges features long riffles, runs, and towering cottonwoods. The river tumbles out of the mountains and becomes a valley river. In April hatches of BWOs in this section can be very strong and anglers committing to fishing streamers can find some large brown trout. 
Where to find April trout on the Big Hole River
April on the Big Hole River is best fished during the pre-runoff window. Once snowmelt runoff commences, typically later in the month or early in May, fishing becomes challenging. However, prior to snowmelt runoff, spring hatches of skwala, stoneflies, Blue Winged Olive (BWOs), and Mother's Day caddis can provide plenty of action. 
Because water temperatures are still cold—rarely rising above 50 degrees before runoff commences—trout will be found in slower currents. Focus on the rivers slower and deeper waters—places like inside bends, long runs, eddy-lines and foam seams around large rocks or other structure. These "softer" waters allow for trout to expend very little energy while having access to available food. 
If hatch a occurs, look for trout to move into feeding lies. In April, hatches of BWOs will most likely make up the bulk of the hatches. For BWOs target slower water near bankside structure or the tailouts of longer, slower runs. If caddis or skwala stoneflies hatch, fish may move to faster water, but because the water temperatures are still cold, even during a strong hatch expect to find fish in slower water.
Fly fishing for big fish in April on the Big Hole River has a loyal following of local anglers. If anglers want to hunt for big fish with streamers they should fish over-sized flies and understand that quality over quantity rings very true on the Big Hole River in April. If this sounds like more cherish than chore and up your alley, choose white, yellow, or olive streamers in sizes 2 to 6. Lately articulated patterns have ruled the roost. 
Cutthroat trout, rainbow trout and some rainbow-Westslope cutthroat trout hybrid fish may still be spawning on the Big Hole River in April, so avoid targeting spawning trout or disrupting their spawning areas.
Important April hatches
Hatches of Blue Winged Olive (BWOs) mayflies, skwala stoneflies, Mother's Day caddis, and March Browns are the most prevalent and consistent. March Browns and skwala stoneflies are sporadic but prospecting with a March Brown or a skwala pattern can entice a fish to rise. BWOs can hatch on sunny and cloudy days, but a cloudy, slightly rainy day can create a large emergence. 
March browns are not as prolific as BW0s, but the larger size 10-12 mayfly can entice bigger trout to the surface even during a sporadic hatch. Like BWOs, March browns will hatch in greater abundance with overcast skies. 
As the month progresses and local weather becomes more spring-like than winter-like, caddis can hatch in prolific numbers. Most caddis will be size 14 and 16 and are dark bodied. However, as the warmer weather ensues and month's end nears, the risk of off-colored water and rising flows increases, thus decreasing the clarity of the water and onset of spring runoff.  
Big Hole River fly box for April
Caddis pupae size 12 to 16
Caddis CDC emergers size 12 to 16
Caddis dry flies with dark grey, black or brown bodies in size 12 to 16; 
BWO dry flies size 14 to 18
BWO emergers size 16
BWO nymphs size 16
March Brown dry flies size 14 to 16
Skwala stonefly dry flies in size 8 and 10
Stonefly nymphs in brown and black in sizes 10, 8 and 6
Sculpin patterns in sizes 2 to 6
Streamers in white, yellow, or olive in sizes 2 to 6