We have partnered with El Encuentro Fly fishing to arrange customize fly fishing itineraries in the Chubut province of Argentina. Benjamin Beale and his family have over 30 years experience operating fly fishing programs in the region. In addition to their home lodge on banks of the Futaleufu which is on their families estancia, El Encuentro has a network of several camps and lodges in the southern region of the Patagonian trout fishing zone. The region is rich in variety and anglers can expect to fish new waters every day of the trip. The variety is awesome and includes site casting to huge trout on lakes, floating various sized rivers, and wade fishing on numerous private estancias. In a week with El Encuentro anglers generally move with the guides and spend time at two different lodges to see more water. On longer trips guests may blend 3 or 4 lodges and camps into one program (but all with the same team of experienced guides). 
Recent Trip Reports to El Encuentro:
2022 February Argentina Fishing Trip Report - El Encuentro and Brook Trout Basecamp
2018 December Argentina Fishing Trip Report - El Encuentro and Estancia Tekka
Rates
Fishing
Lodge Options
Rates
7 night/6 day fishing program = $6,300 per person*
 
(call for rates on customized 10 and 11 night programs)
*Additional costs applied for single occupancy or to fish as a single angler
Included:
Accommodations and meals at the lodge(s)
Beverages including beer, wine, and alcohol at the lodge(s)
Fully guided fishing
Non-angling activities
Transfers to/from Esquel airport and the lodge(s)
Leaders and tippet
Laundry service (except when staying at Tres Valles Lodge and Brook Trout Basecamp)
Not Included:
International and domestic airfare
Transfers, hotels and meals in Buenos Aires
Special transfers to/from Bariloche
Gratuities for guides and lodge staff
Fishing equipment (flies provided, rods and waders available at rental cost)
Fishing license
Fishing
El Encuentro offers one of South America's most diverse fishing programs. With numerous lodges to base out of Benjamin Beale and his team can customize trips to cater to each groups preferences. The ability to blend different regional bases into a trip also ensures that anglers will be on new waters every day of the trip. The Patagonian trout fishing season is about 6 months long and as the season extends and conditions change the guides target different fisheries. The Beale family has extensive relationships in the region a as a result anglers can expect to enjoy significant private access on numerous waters in the area. Fishing options include floating large rivers such as the Rivadavia, Rio Grande, Carrileufu and several others. There are also several spring creeks in the area that offer technical fishing to huge brown trout. Small freestone mountain wade streams with productive dry fly fishing are in abundance. One of the unique aspects of fishing in this region is the world class lake fishing for very large trout - this can be a fun day to compliment the plethora of wade and float fishing waters in the region.
Lodge Options
The Beale family owns and operates El Encuentro Lodge as well as the Brook Trout Basecamp. In addition to their family run programs, El Encuentro also partners with several other lodges in the region to add variety. A customized fishing program involves at least two lodging locations. Lodge locations are based on where the best fishing is at a specific time of the season.
El Encuentro Lodge: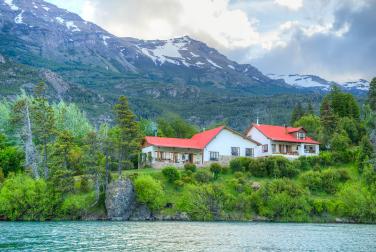 The "home lodge" is owned by the Beale family and sits on the banks of the famous Futaleufu River. The Fataleufu is a large tailwater system with emerald green waters similar in size to Montana's Missouri River. In addition to multiple beats on the Futaleufu anglers can also access several private wade fishing streams and spring creeks with large trout. The southern end of Los Alerces National Park is also accessed out of El Encuentro lodge to fish waters such as the Rio Frey. El Encuentro lodge can comfortably accommodate up to 8 guests.
Brook Trout Basecamp: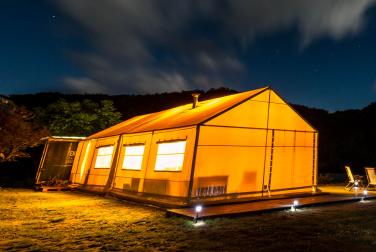 For a truly unique fishing and lodging experience in Patagonia, we hope you will join us at El Encuentro's Brook Trout Base Camp. The Camp is strategically set on a private estancia, right on the banks of the Rio Corcovado. By staying at the Camp, you will have unparalleled access to remote and excellent fishing areas in this region, while being more than comfortable and well-fed when back at Camp. The Camp can take up to eight anglers, housed in four double-occupancy Safari-style wall tents imported from South Africa. Each spacious tent is equipped with two comfortable beds with linens, electric lights, screened and shaded windows, places to hang clothes, and a propane heater for colder weather. There are two separate bath facilities set just behind the tents. Each has a sink and shower with very hot water, and a flush toilet. The small building is kept toasty warm with a wood stove. There is a very comfortable dining and living room tent with deck overlooking the river.
Tecka Lodge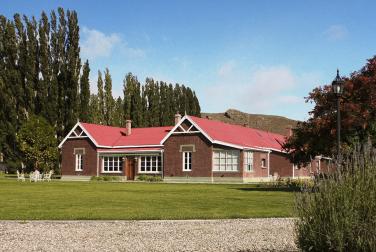 Tecka lodge is located on the expansive Estancia Tecka. The ranch is is over 400,000 acres and offers anglers incredible access to several different float sections of the Corcovado River was well as approximately 20 miles of the world class Tecka spring creek. The only way to access these lightly fished waters is to stay on the Estancia. The Beales were the original fly fishing guides at the Estancia and are the only outside guides and outfitters that have access to fishing on the ranch.
Caridad Lodge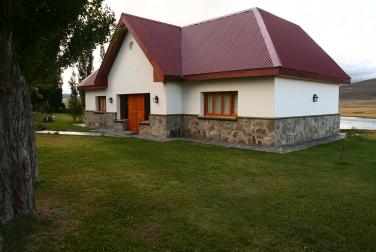 Caridad Lodge is one of the two fishing lodges, set strategically on the historic and beautiful Estancia Tecka.  The lodge was originally the main house of an older ranch called Estancia Caridad (now part of Estancia Tecka). Surrounded by over 435,000 acres of working sheep and cattle ranch known as Estancia Tecka, anglers get to experience the varied waters of the Rio Corcovado and Rio Tecka, fished exclusively  by Estancia guests.
Laguna Larga

Laguna Larga Lodge is set right on the shore of Laguna Larga, adjacent to the Los Alerces National Park. This is a good base for exploring the southern waters of Los Alerces National Park which include several spectacular river systems and numerous lakes that hold big trout. The lodge can accommodate 8 guests.
Carrileufu River Lodge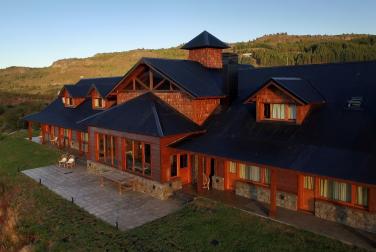 Carrileufu River Lodge sits just north of Los Alerces National Park, about a 10 minute drive from the Rio Carrileufu. We often book guests directly with Carrileufu lodge for a full week trip or in combination with Chubut river float trips. When fishing with El Encuentro the lodge is often included as part of a weeklong trip to target the northern waters of Los Alerces National Park including the famous Rio Rivadavia. The Carrileufu River near the lodge is also a fantastic fishery.
Los Pampas Lodge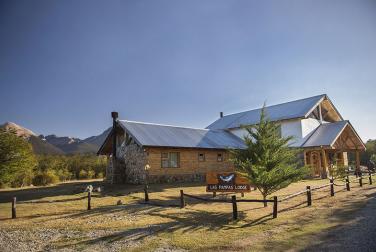 Los Pampas Lodge is in the Rio Pico region of Patagonia. It is about 4 hours south of the home lodge and offers another set of rivers and lakes. The lakes in the region are famous for huge trout. There are a few floats on the Rio Pico as well as numerous wade fishing options. The lodge has some private access to a spring creek system that his home to some large brown trout.
Tres Valles Lodge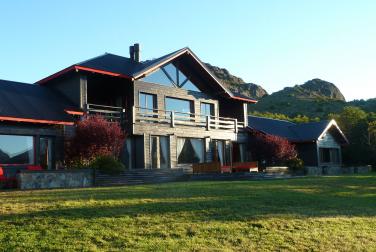 Tres Valles is another lodging option in the Rio Pico area. The lodge sits on a private lake with incredible mountain views. This region offers some lightly fished small streams, medium float rivers and several lakes with huge trout.