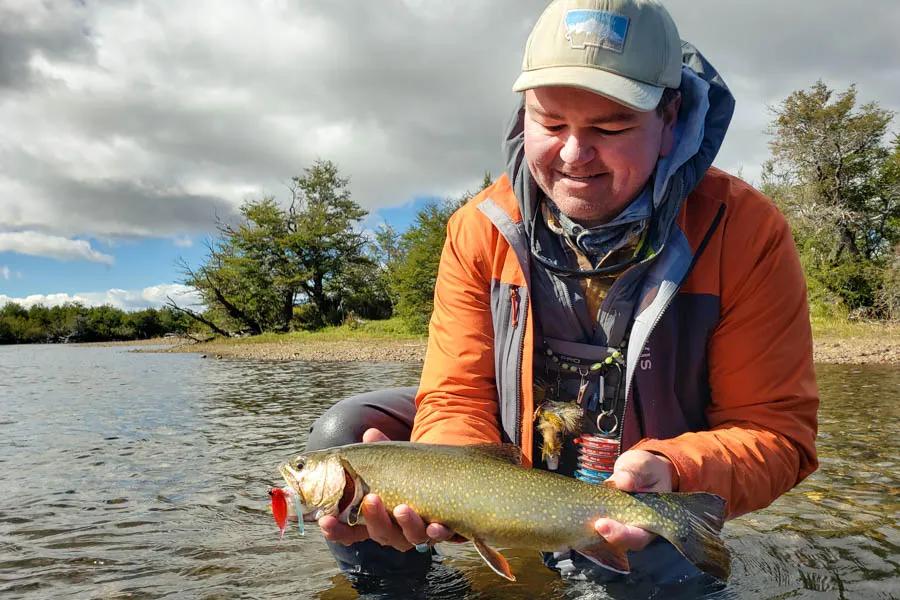 As I was preparing to host Montana Angler's 2022 trip to El Encuentro Lodge and Brook Trout Basecamp in Patagonia, the mercury plunged in Montana. The bitter cold outside made the anticipation of casting dry flies to rising trout in Argentina so much greater. 
Preparation for this year's trip to Patagonia was made more complicated than usual due to additional COVID-19 related requirements. Concern that a member of the trip would test positive just before our flights or at some point during the trip weighed on our minds as our departure date approached. Unfortunately one of the guests did test positive and had to cancel. Several others had to cancel within days of the trip for a variety of other reasons. 
Philip, Chris, Corey — all return guests of Montana Angler — were able to make the journey. During our trip we made lots of new friends, caught several fish of a lifetime, ate delicious food and drank incredible wine. 
Getting There
To get to Patagonia most of us took a red-eye flight from Houston to Buenos Aires. Corey and I arrived a day before our final flight to Esquel, which isthen just a short drive to El Encuentro Lodge. Corey and I organized a taxi to our hotel, Louis Suites, located in the Recoleta district of Buenos Aires. We checked in early to freshen up after a long night of flying and then took  a short walk over to La Biela, a traditional Argentine cafe and restaurant where we were able to sit in the shade of a giant rubber tree. La Biela specializes in coffee, sandwiches, salads and traditional Argentine dishes.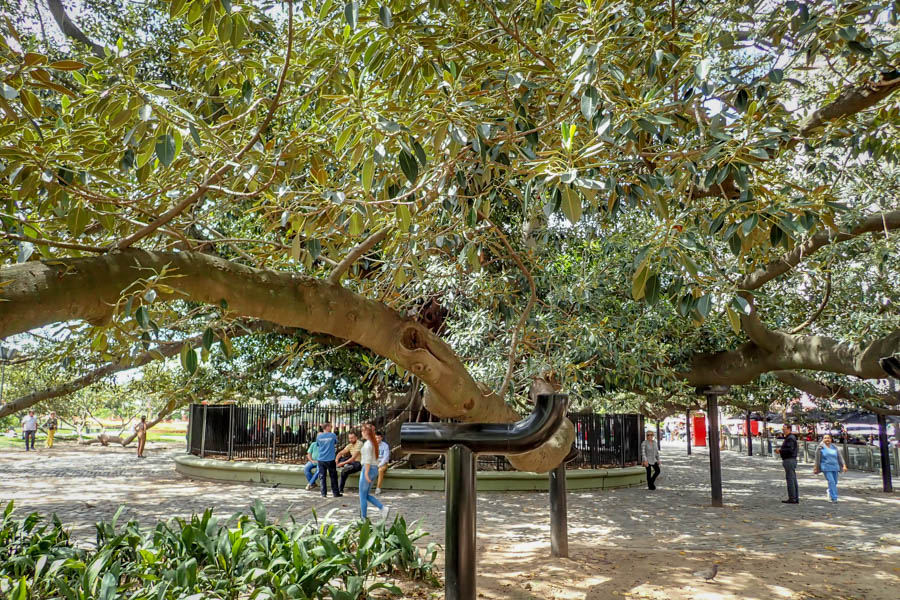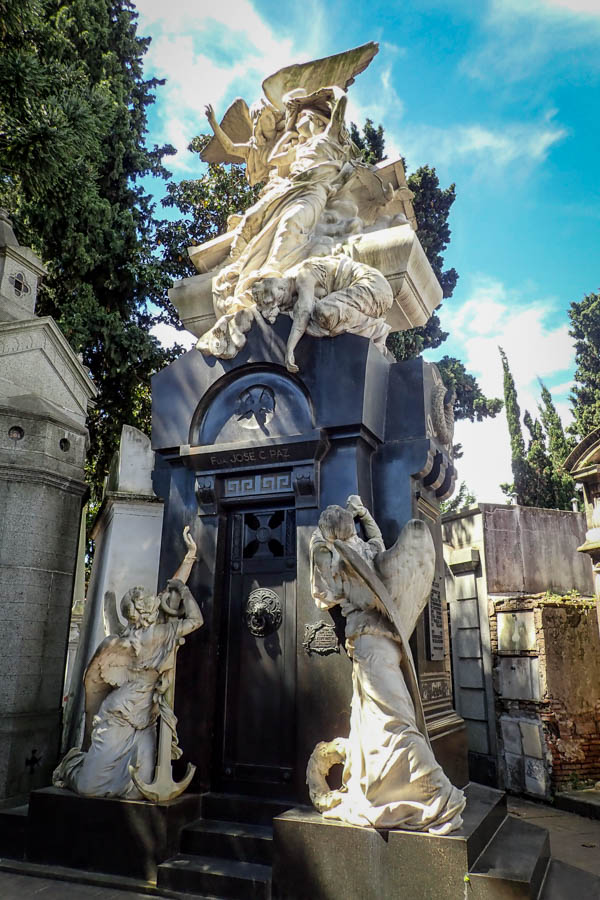 After our first, of what would be many large Argentine meals, we walked across the street to the Recoleta Cemetery, the final resting place for dozens of historical figures — one of the most notable interments being Eva Peron. Recoleta is considered one of the most beautiful cemeteries in the world and is a must see for those with any interest in the history and culture of Argentina. 
Later that evening we had a late dinner at Fervor, an Argentine steakhouse located a 20-minute walk from the hotel. We sat upstairs where we had a great view of most of the restaurant, which was great for a couple of people watchers such as ourselves. There were lots of delicious options to choose from including many cuts of steak, several seafood options, ravioli and more. 
Dinner is an event at Fervor, so expect to be there for a couple of hours from start to finish. Don't forget to cap off the evening with a dessert and coffee. Buenos Aires being the home of tango, you may want to check out the scene after dinner. I enjoyed getting to know Corey. He had fished and stayed with us once before in Montana and this trip was a gift from his wife. This was his first international fly-fishing trip. 
The next morning we enjoyed a delicious complimentary breakfast at the hotel, which featured an abundance of fruit, pastries and traditional American favorites like eggs, bacon and potatoes. Breakfast was served in a beautiful space full of trees and plants flooded with natural light. After breakfast we caught our scheduled shuttle to the domestic airport to catch our regional flight to Esquel and from there the final 45-minute drive to El Encuentro Lodge. The flight to Esquel is about two-and-a-half hours and takes travelers 1,100 miles south into Patagonia. 
The Esquel airport is so tiny that our plane parked right in front of the rear entrance.  We disembarked into a room not much bigger than your grandma's livingroom where a small luggage carousel was located. Once Corey and I grabbed our bags, we were greeted by our fishing guide Marcello (aka Marce) and a couple of other guides from the lodge.
Getting Acquainted 
On the drive to El Encuentro Lodge I was immediately reassured that we were in great hands. Marce was obviously passionate about fly fishing and his work. He possessed a high level of knowledge and spoke excellent English. As someone who has worked in the fly fishing industry for well over 20 years, it is not often that I'm impressed by another's knowledge and passion. Marce was an exception. Since this was my first time at the lodge, I had lots of questions about the week, how the fishing had been, etc. Marce answered all of our questions thoroughly and with grace. As we drove from the airport to the lodge we went from what felt like an arid, high desert climate to a wetter, mountainous one closer to the Andes and the Futaleufu River.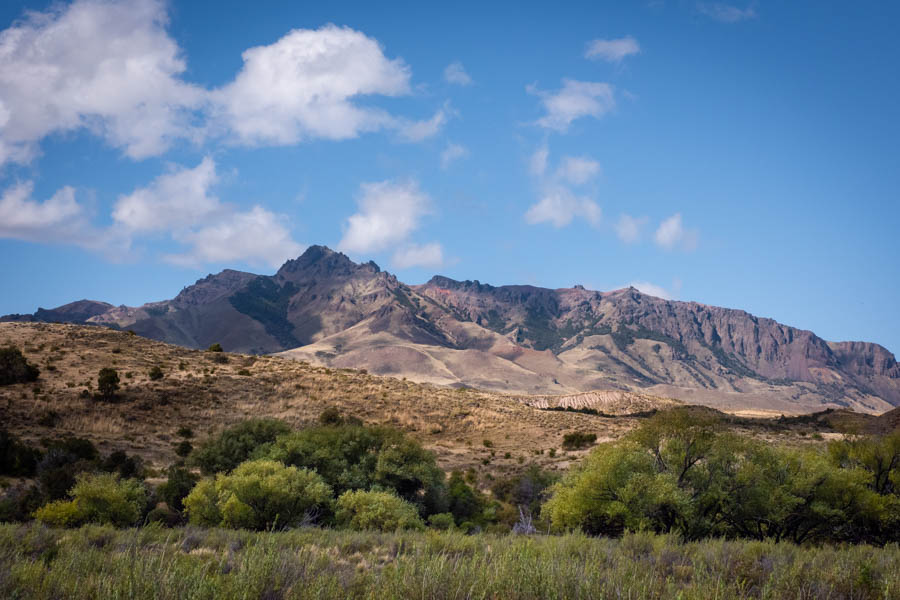 This trip took place late in the austral summer, but Marce mentioned that fall-like weather was moving in a little early. We could see some snow in the Andes from a distance.  When at the lodge we were surrounded by mountains, fruit trees, a green landscape and a crystal clear river that flowed through it all. At the lodge we were immediately greeted with a smile by the lodge host, Josefina, who immediately showed us to our rooms to get settled in. Although I was in a new place, El Encuentro Lodge felt similar to visiting my grandmother's home when I was a youngster. 
After unpacking I headed to the central part of the lodge, a large room that serves as both the dining room and place for guests, guides and staff to lounge and socialize. The room has an amazing view that overlooks the Futaleufu River and provides views of the Andes. There is a deck on the riverside with an additional seating area and a place to hang your waders. There was a small fire always crackling in the open fireplace to warm our bones. This space was large enough to fit several of us, but small enough that our conversations included everyone in the room. Throughout our stay this is where we chatted about the weather forecast, fishing options for the days ahead. It's where we learned about each other, where we've fished in the past, etc.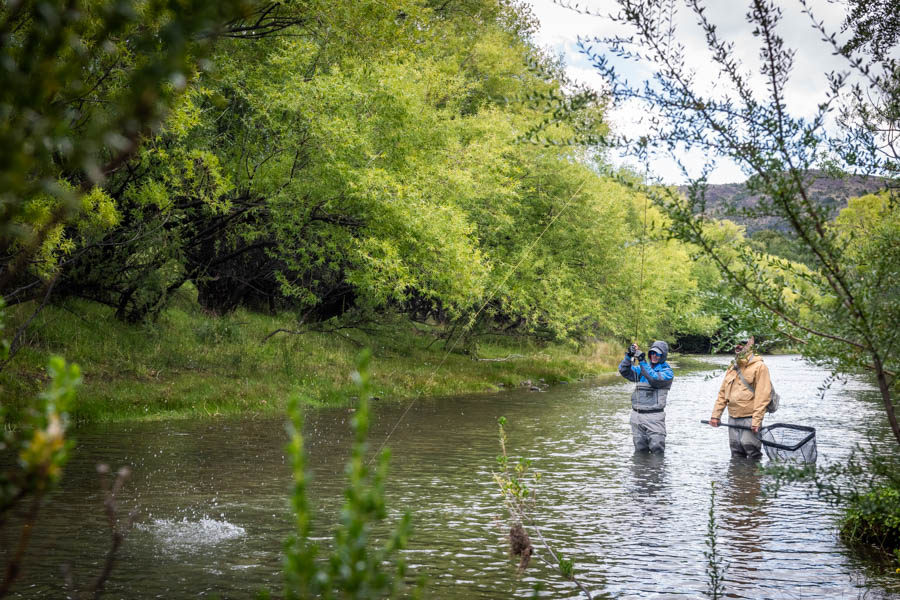 The first evening we met a couple that were to share the lodge with until we moved on to Brook Trout Basecamp, and Cecilia (aka Ceci) who is one of the lodge managers and is married to Marce. Josefina was quick to bring out hor d'oeuvres and get our drink orders. There was a never-ending bottle of wine that continually made its way through the room, a healthy supply of liquors and mixers for a variety of cocktails and some local beers. Marce and Ceci joined us for dinner each night while at the lodge, which usually started between 7:00pm and 9:00pm depending on when everyone returned from fishing. Every dinner was amazing and always included freshly baked bread, a salad, a main course and desert. Every evening someone would comment on how amazing the food was. More than once it was said that the food was some of the best ever from a fishing lodge. After dinner every night it was time for bed and maybe a quick call or text to family back home if Wi-Fi and WhatsApp were cooperative. 
One piece of advice I can give anyone traveling to a foreign country is to enable an international plan on your cell phone and download WhatsApp. Whatsapp will allow you to call and text easily as long as you have a Wi-Fi connection and does not require a cell connection. The Wi-Fi at El Encuentro Lodge and Brook Trout Basecamp was intermittent and cell coverage is minimal in this relatively remote part of the world. 
Rio Corinto
Prior to our departure, I checked the weather forecast in and around the lodge to get a sense of what to expect. The day I first checked the weather, sometime in mid-February, I saw the high was forecasted to be in the 80s in Esquel. That had me a little concerned, but the 10-day forecast was showing more moderate weather with some moisture thrown in. By the time I was ready to pack for the trip I was prepping the rest of the crew for cold, wet days with the chance of significant rain and even some snow. The first night at the lodge was cool, windy and overcast, but I was awakened in the middle of the night to the sound of rainwater gushing through a gutter just outside my bedroom window. Although I was prepared I'd be lying if I wasn't a little nervous about what we would wake up to in the morning. 
When I went out to join everyone for breakfast and coffee, I could see the trees swaying in the wind and rain spraying the river and windows. I could sense some reluctance amongst the other guests and when our guides came in to join us they had trouble maintaining a poker face while checking the weather apps on their phones. There was mention of hurricane force winds at one point even. Marce mentioned taking a bit of a drive to the Rio Corinto, a small river nestled in the mountains that was typically sheltered from the wind. The idea of avoiding gale-force winds and spending a little more time in the car on what was looking like a challenging weather day sounded like a great idea to Corey and I, so off we went. At the truck we met Ezequiel (aka Zeke) who was Marce's guide helper. He was already wadered up in his oversized Simms waders, tattered boots, face mask, sunglasses and hat. I sensed he was also nervous about the weather. 
On the drive over we witnessed a gaucho on horseback with his dock and flock of sheep. 
The Rio Corinto where we fished was a small stream that averaged 15- to 20-feet wide. It was lined by willow trees that are not native to this Argentina. The stream reminded me of many small mountain streams in southwest Montana, but with a slower gradient. It appeared low and had a little color to it. I was surprised by some holes that seemed to be six feet deep and dropped off immediately from the bank. We were pleasantly surprised that we, at least temporarily, had escaped the heavy wind and rain. It was cool enough to still need our layers, but after a short walk downstream I was already stripping off my puffy jacket.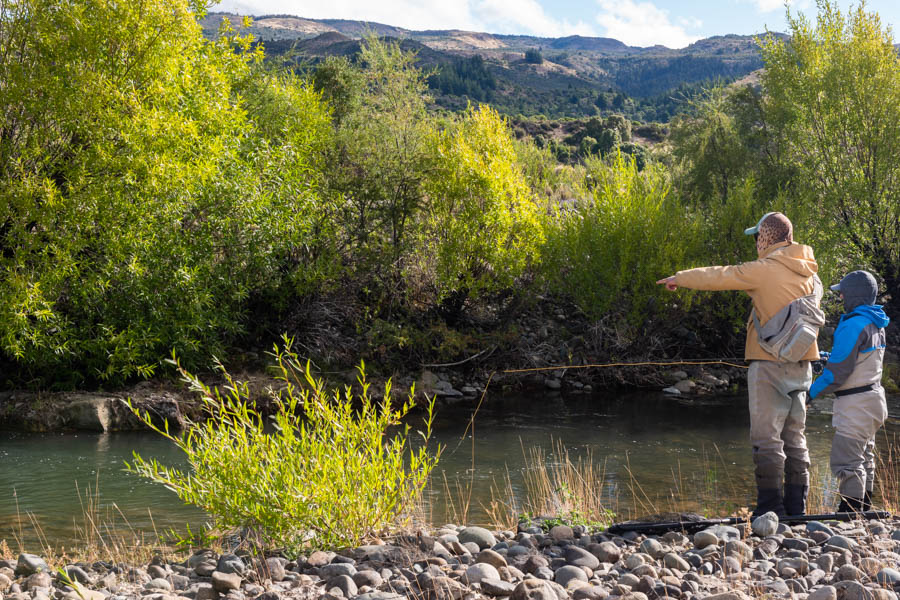 Marce and Zeke decided it would be best if we split up, so Zeke and I headed downstream and Marce and Corey headed up. When we got to the point where we would start fishing Zeke suggested we tie on a dry-dropper rig, so we tied on a Fat Albert with a Perdigon, which I later realized were likely the favorite dry and nymph patterns amongst our guides. The Fat Albert floats very well and pushes quite a bit of water when twitched, stripped or skated across the surface. Perdigons are European-style nymphs tied with heavy tungsten heads and sleek bodies coated in resin that helps them sink quickly. Perdigons are tied on sharp, barbless hooks. They can be tied in a wide variety of colors and sizes and don't imitate any one insect exactly, but look close enough to just about any nymph in the right size and color combinations. 
It felt good to be throwing dry-dropper rigs in a small mountain stream, especially knowing that if I were home I'd probably be picking ice off my guides on the Gallatin River or cutting a hole through 16 inches of ice on Hyalite Reservoir. It didn't take long before I had little brown and rainbow trout rising excitedly to the Fat Albert and readily eating my dropper. After a few erratic rises without any hook-ups, I suggested we downsize the fly to see if we could get some fish hooked on the dry. I tied on one of my favorites, the Bloom's Parachute Caddis, and sure enough it did the trick. Soon I was getting 50/50 strikes and hook-ups on both the dry and dropper. It wasn't fast and furious by any means, but it was consistent enough to keep us smiling and it made the days of travel to get to this point all worthwhile. We bounced upstream from pool to pool bushwhacking through willows and calafate shrubs. 
The calafate shrub, also known as box-leaved barberry or magellan barberry, is a native evergreen shrub that bears edible fruit and is full of spines that will train your guide to tell you to watch your backcast everytime they are within casting range. Zeke earned his wage just by retrieving my flies out of the calafate that I often caught on my backcast. He was always professional, but he cussed more than once after getting pricked by those unforgiving spines. 
Most of the pools and runs we fished were two- to three-feet deep at most, but eventually we walked up on a pool that was nothing like I had ever seen before on such a small stream. It was like someone took a backhoe to it and dug a hole that was about 15 feet wide, but seemed to be as deep as I was tall. It also dropped straight down on the bank we were on, so stepping into it was not an option. It was situated under an old willow tree. 
Zeke suggested we consider some small leeches with enough weight to get down. The wind was picking up and the cast was made additionally challenging by the low hanging tree branches. After a few clunky attempts, Zeke asked me to quarter downstream to the far bank, allowing my fly to sink for about 10 seconds, then retrieving my fly slowly. After a couple strips I felt a thump at the end of my line and it was on. After catching fish mostly in the eight- to 10-inch range I knew this fish was in another class. The brown trout taped in at just over 16 inches, which was a welcome sight. I felt like I wasn't getting to the bottom of this run, so I decided to put on a heavier leech and cast upstream, which would allow my fly to sink more effectively. After a couple of casts I had a big hit and suddenly a huge rainbow erupted on the surface. The fight was over as quickly as it began. You know how that story goes, about the one that got away. It was a surprisingly large fish for this size stream. 
After that fish it was time to head back to the truck to catch up with Marce and Corey for lunch. We were late. When we arrived at the truck we found Marce and Corey sitting at a roll-a-table, set up with a red and white gingham tablecloth, camp chairs, a charcuterie board with meats, cheeses, bread and green olives, a bottle of wine and stemless wine glasses. The day before Josefina asked us about our preferred drinks for the day, which were available as well. We snacked on charcuterie and sipped on wine while we caught up on how the first half of the day went. I figured lunch was over when that was all gone, which would have been plenty. Little did I know, that was just the appetizer. Out came the salad and the main course. We even got homemade desserts including cookies, cheesecake, tiramisu and tres leches. 
With bellies full, we cleaned up a little and decided to head upstream where we would play leap frog for the remainder of the day. I decided to take some time to shoot photos of Corey. Early in the afternoon, Corey and Marce found a long run that had a few fish sipping caddis. They made their way slowly upstream picking away one by one at rising fish.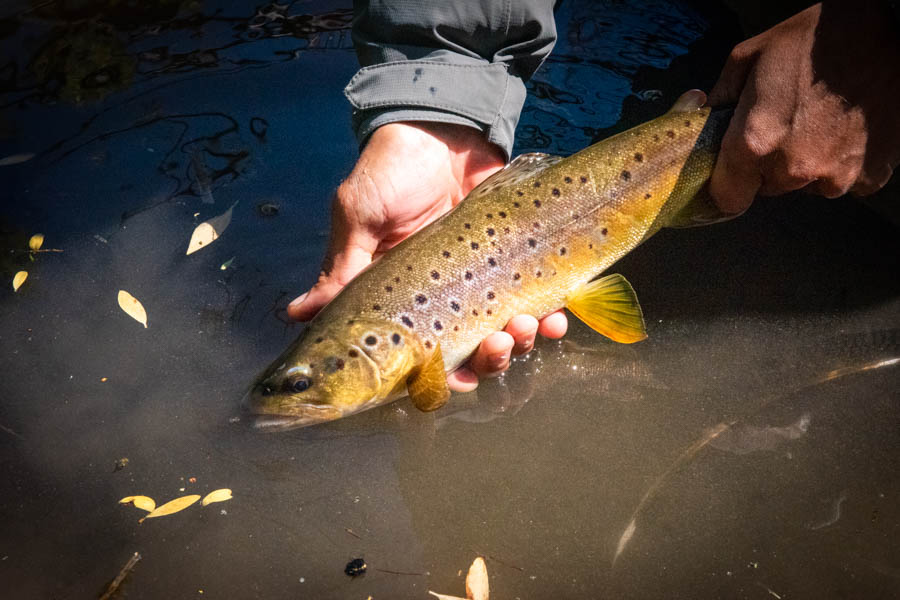 Zeke and I decided to hoof upstream a little ways where I went back to the Fat Albert. We found one deep run along the far bank just above a fallen tree where I made a cast and was twitching the fly back toward me at the end of the run and just as I was about to pick up and recast all hell broke loose. A small rainbow came flying out of the water toward me, grabbing my Fat Albert followed aggressively by a significantly larger brown that was also leaping out of the water, but it wasn't after my fly. The rainbow landed in the shallows just a couple of feet away from me and came undone and the larger brown disappeared quickly. I was laughing hysterically, but also had the composure to immediately throw my fly back in. I looked toward Zeke to tell him the brown wasn't going to eat my fly when all of the sudden my line went tight and the brown trout leapt out of the water. We couldn't believe it. The fish was landed and my day was made. In my experience you rarely get a second chance at a big brown and they almost never hook themselves. It was a lucky fish that I will never forget. 
After a fun day of fishing, void of rain and hurricane force winds, we headed back to the lodge. When we returned we learned that Philip and Chris had landed in Esquel and were on their way. They shortened their trip by a day as they had work and family obligations to navigate. They were able to cut their travel time by a day by flying into Buenos Aires in the morning, taxiing over to Jorge Newberry and flying to Esquel that afternoon. It was a big push, but worth it to have more time at home. Phil and Chris have taken several trips with Montana Angler, so it was great to spend some time with them and learn more about their experiences in Montana and abroad. 
Rio Futaleufu 
Day two it was decided we would float the Futaleufu (aka the Futa), which flows in front of El Encuentro Lodge. Because we were moving to Brook Trout Basecamp the next day, this was going to be our last and best opportunity to float the Futa. It was decided that we would put in a few miles upstream and float to the lodge. The weather was still a bit questionable, but the wind and rain forecast was much better than the day before. On this day, I think we only went through two or three gates to get our launch spot. Every fishing destination for the rest of the week would be measured by the number of gates that would need to be opened. We often relied on private access for our fishing destinations, so gates were used to keep livestock contained and in some cases to keep people out. On this day Philip, Chris and their guide Roberto were to join us.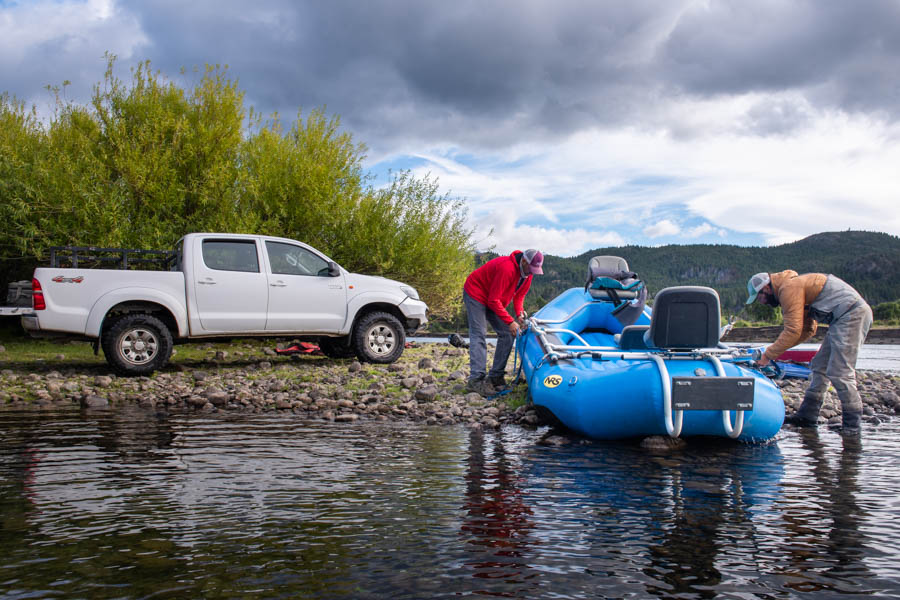 In the western U.S. guides primarily use trailers to transport their rafts and drift boats, but in Argentine Patagonia guides travel miles of rough dirt roads that require specially built trucks that are designed to handle harsh off-road conditions that are not conducive for trailer towing. So instead guides haul 13-foot whitewater rafts that they inflate and deflate each time they need them in the back of their trucks. The frames attach to custom ladder racks that allow them to store the rest of the gear in the bed. They use giant dry bags to store items that need to stay clean and dry. Setting up the rafts is where the guide helpers really come into play. The guide helpers are not only in charge of opening and closing the numerous gates we have to drive through each day, but as soon as we get the truck parked they go into high gear unpacking the trucks, inflating and setting up the rafts for the day. Each raft is equipped with a small outboard motor that allows the guides to push up rivers and across lakes, which opens up a plethora of new opportunities. The guide helpers also stay behind for the day when boats are in use and serve as shuttle drivers when applicable. 
The Futa is a large tailwater that reminds me of the North Fork of the Flathead, which borders Glacier National Park in northern Montana. Both rivers have deep, slow moving emerald green water. Both river are framed by an amazing mountain range with glaciers in the distance. 
After the boats were ready and loaded and our rods were rigged we were off. Marce decided we would start the day throwing streamers with sinking lines. The goal was to quarter downstream and cast as far as possible, allowing the line and flies to sink for a few seconds and stripping back. Marce knew just how long he wanted us to allow the lines to sink, so he would tell us to wait until he gave us the queue to start stripping. We were primarily throwing 6-weight rods with fairly aggressive sinking lines and heavily weighted flies, so casting was a challenge and was made more challenging by gusty winds. 
It wasn't long before we had a couple of smaller rainbows on the end of the line. As we moved downstream we continued to cast, sink and strip and occasionally Marce would anchor up on a run he wanted us to work more thoroughly. Although we started pretty strong I could tell Marce was not impressed with the rate we were hooking fish and the casting and line control was getting pretty challenging with the wind. 
After a few hours and a handful of fish it was time to try something different, so we anchored up and switched to our 5 weights with Fat Alberts and Perdigons dropped about 24 inches below. I remember pulling up to a piece of slow moving water that had a long weed bed along the bank that stretched for about 60 yards. Marce directed us to cast just to the edge of the weed bed and it wasn't long before Corey's Fat Albert stopped moving downstream. He set the hook and it was obvious by the bend in his rod he wasn't hooked up with your standard trout. After a good tussle Marce scooped up Corey's football of a rainbow that probably taped over 18 inches. We rowed back upstream a couple of times to keep working the weed bed and hooked or landed a couple of fish with every pass. Each of the fish we caught was a large, healthy rainbow that fought hard. 
Further downstream we rowed into what the guides called the "garbage hole." It was a very large recirculating eddy that Marce explained sometimes has some garbage floating on the surface giving it its less than flattering name. On this day there wasn't any trash, but there were a couple of rising trout and several cruisers right under the surface. The other guide boat joined us in this large eddy and we spent our time hunting for feeding fish and doing our best to get our flies in front of them.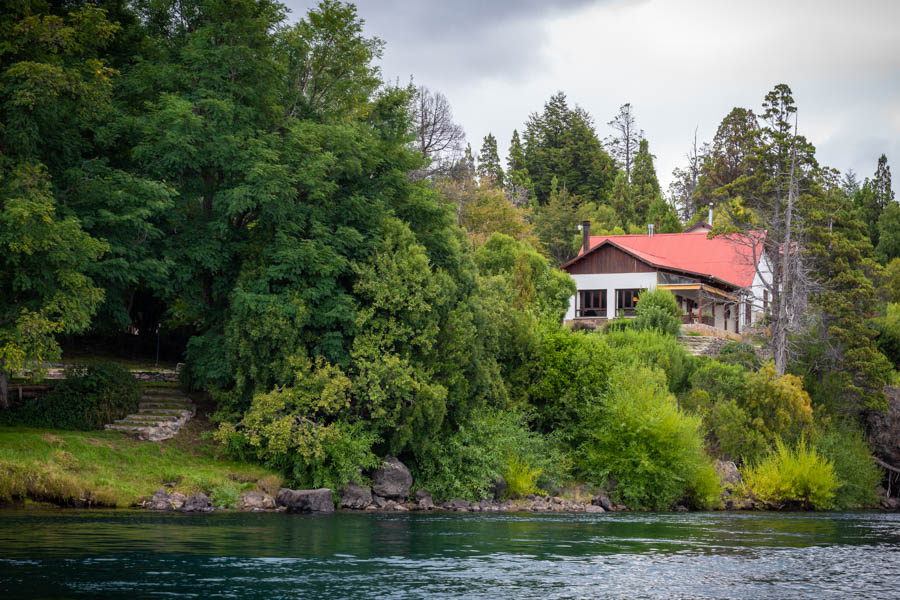 Because the currents were flowing several directions it was best that only one person fish at a time, to avoid tangles. Corey was able to pull a handful of fish out of the garbage hole, some of which were on the dry, but mostly on the nymph. After a few fish it was time for lunch, so we put away our rods and Marce cruised over to the far bank. With the Andes Mountains in the background, we set up next to a large willow tree. Chris, Phil and Roberto motored downstream of the lodge where they would have lunch and Chris would spend the rest of his day chasing the trout of his dreams. Roberto and Phil would continue their day floating downstream from the lodge. After lunch, the fishing slowed. At the end of the day Marce was able to anchor the boat right at the foot of some stone steps that led up to the lodge. That evening, El Encuentro brought in a private masseuse for any of the guests who were interested in a massage before dinner.
At the end of the day, I could tell Marce and Roberto were both disappointed that we did not have more hook-ups, but they can't all be fast and furious. We had a beautiful day and saw some really quality fish that were larger than average for a typical fishing day in the States. 
Lago Engano 
On the third day of the trip we had an early breakfast, as we had a drive ahead of us to fish Lago Engano and reach Brook Trout Basecamp. Lago Engano is located in a wildlife preserve of sorts that has a fishing season This was the last day of the season before it was to close for the brook trout spawning season. From what we understood this lake was full of trophy-size brookies and the guides didn't want to miss out on one more shot to fish it before the end of the season. Once again, after passing through multiple gates and a couple of hours of windshield time over mostly dirt roads, we arrived at Lago Engano.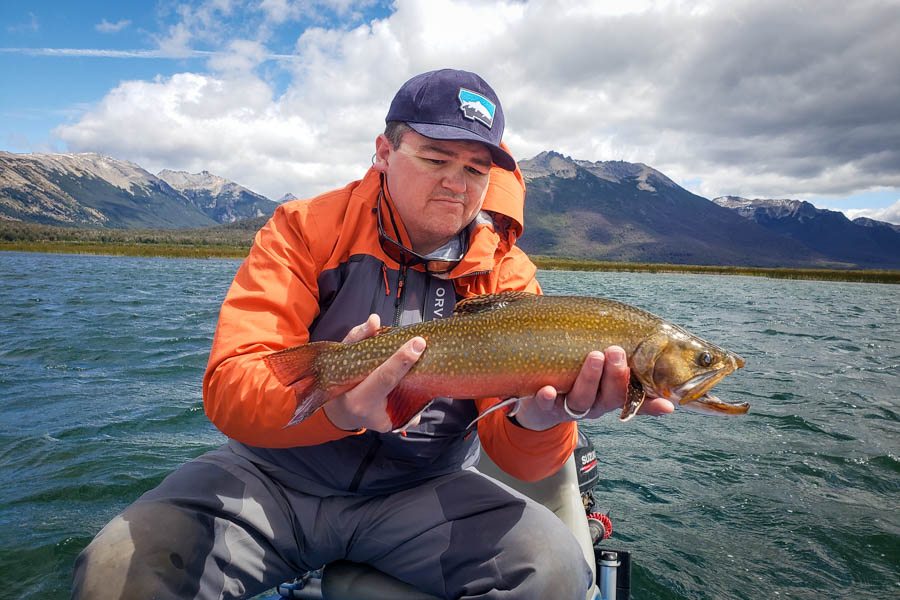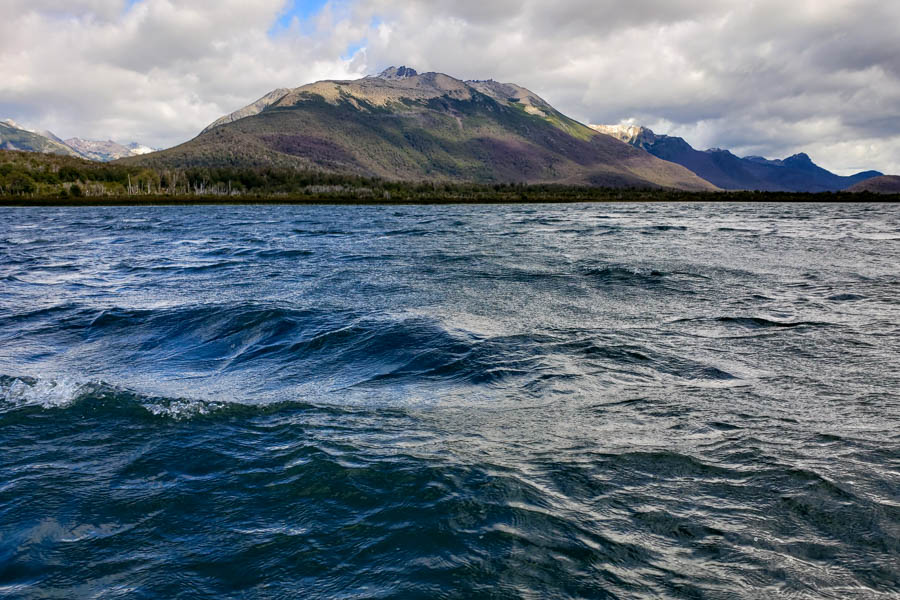 Engano, when translated into English from Spanish, means cheating. Roberto explained to us that years ago there was a gaucho that lived nearby and he would travel to this lake to cheat on his wife with a lover. As the guides and guide helpers worked hard to get the boats ready, I couldn't help but think that the sandy beach we were setting up on was the exact location where this infidelity took place. I have to admit, it was a pretty romantic setting. 
Per usual, it was another windy day. The guides had a destination in mind across the lake. Because the wind was in our face, we prepared to get wet from splashing waves by tightening down our raincoats as much as we could. After 15 minutes, we anchored up about 70 yards off shore. I couldn't see any definition in this part of the lake, but Marce assured us that there was a dropoff in front of us and an underwater spring where fish congregate. In these conditions, I personally would have never chosen this exact piece of water as there was no obvious character. We picked up the 6 weights again with sinking lines and started out with one of Marce's conehead sculpin patterns and one of my Sparkle Minnows. 
Similar to streamer fishing on the Futa, Marce directed us to cast as far as possible, quartering downwind and allowing the line and flies to sink, this time for 15- to 20-seconds. Corey was fishing a 140 grain sinking line and I had one that was closer to 180, so on average he was allowing his rig to sink a few seconds longer than I was. The casting was challenging, especially in the back seat as there are lots of things to catch your line on mid cast, making it hard to shoot line consistently. 
It didn't take long before "hot hands" Corey had a fish tugging at the end of his line. Corey is from Maine, which is known for its brook trout. Corey knew there was a good chance of catching the biggest brook trout of his life on this trip, but found that idea a bit ironic coming from Maine. I think Corey knew that he was playing tug of war with the biggest brook trout of his life at that moment, so when it came unbuttoned his disappointment was palpable. He quickly asked what he could have done better, to which Marce quickly explained that it is just part of the game, but suggested setting the hook harder and keeping a deeper bend in the rod to ensure a better connection.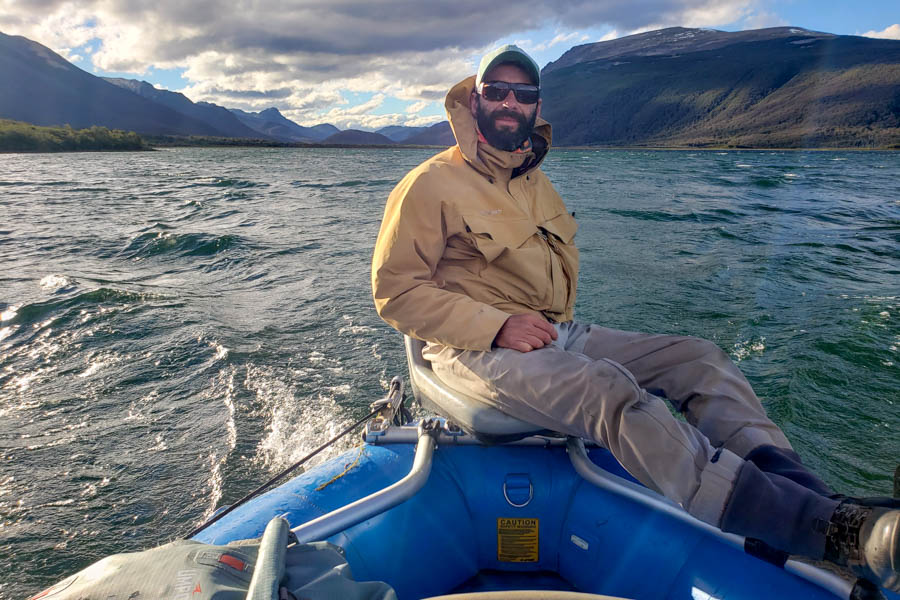 Corey and I each had a couple of hits and a couple of fish that were temporarily hooked. I could sense a bit of panic in Corey about not being able to connect, but finally it happened. Corey hooked and landed the biggest brook trout of his life. It was an honor to witness it and was a huge relief for all to get one to the net. Not long after that I also hooked and landed the biggest brook trout of my life. Life was good!
Brook trout are from the salmonid family and are not actually trout, but rather char. Brook trout are arguably some of the most aesthetically appealing salmonids with their spectacular paint jobs and diverse color palettes. 
We didn't arrive at the lake until late in the morning, so after a few fish it was time for us to head to shore for lunch. It was a pretty gusty day, so the guides had to put some extra thought into where to set up. It didn't take long for them to track down a little nook that was well sheltered with high shrubs. 
After lunch we returned to the same spot, but with limited success. Marce decided it was time to try something completely different. Earlier in the week, Zeke mentioned something to me about jigging in deeper water. I couldn't picture exactly what he was referring to, but it was time to learn. We rowed the boat towards some cattails and into some weed beds. Marce explained that we were not going to cast a long distance, but instead we were to have about a rod length or so of leader and fly line out and we would place our flies into deep buckets alongside the weed beds. I had never heard of such a technique before and didn't have much faith that this technique was going to be very successful. 
We kept on the same heavy streamers that we had on before, which would allow our flies to sink' quickly. Marce started with Corey and talked us through what he wanted us to do. Although we were anchored the raft was always moving due to the wind, so the target was constantly moving as well. Marce stood next to Corey and would point to an opening and tell him to throw it there, then would repeat "let it sink, let it sink," then jig when the flies had sunk to the bottom. The twitch was a quick up and down motion where the tip of our rods only moved  a few inches. I don't think Corey was fishing for five minutes when all of the sudden the surface of the water exploded with a giant brook trout. I started laughing excitedly. I became a believer. This was one of the coolest things I had seen done with a fly rod in a long time.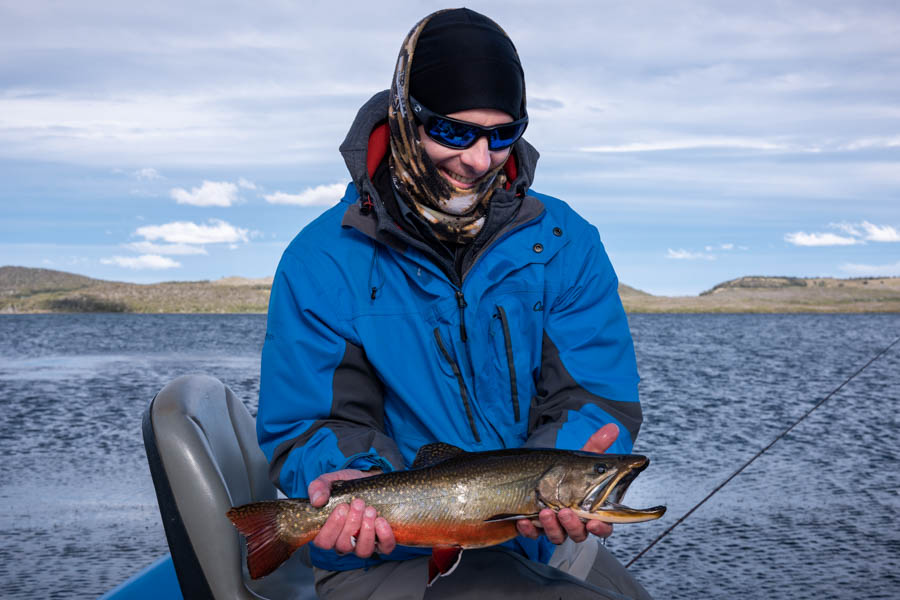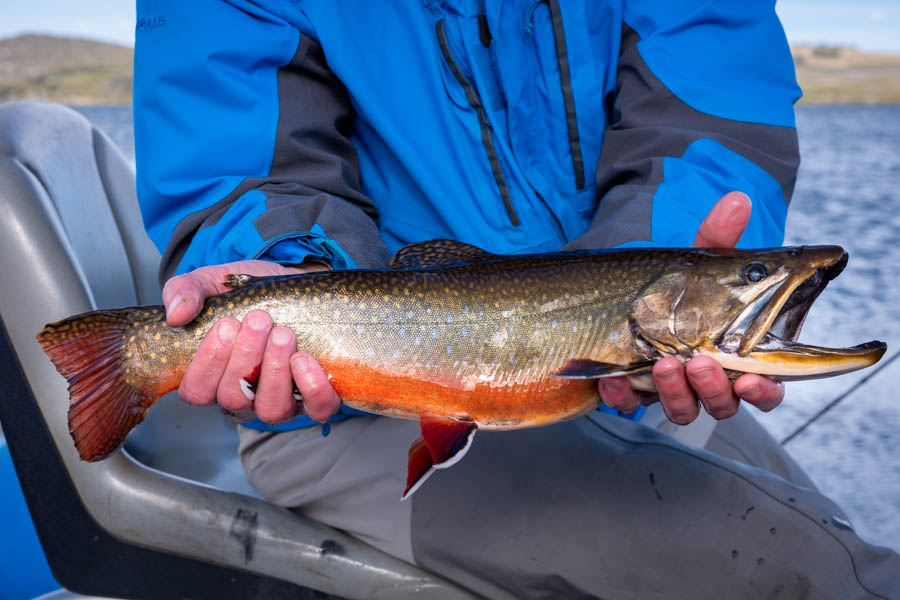 I recently took up ice fishing in Montana and couldn't help but draw parallels to those techniques. But in this case you are not limited to a six-inch stationary hole. Marce gave me permission to give it a shot now that we both understood the game. It wasn't long before I was hooked up as well. Corey and I went back and forth hooking fish and maybe even had a double at one point. We lost probably half of these fish as they would quickly dart into the weed beds, but it didn't matter. When the lighting was just right we were sometimes able to see the fish we were casting to. I clearly recall tossing my fly to a visibly cruising fish, watching my fly drop to the bottom and gobble my fly. This single fishing experience I would compare to the most memorable dry fly days of my life. The brook trout we landed this day were all over 20 inches with the biggest on taping in at 23 inches. 
After a long day it was time to motor back and head to Brook Trout Basecamp. I don't recall exact times anymore, but we probably fished until 7:00p.m., arrived at Brook Trout Basecamp closer to 9:00p.m. and probably didn't finish dinner until 11:00p.m. These guides work hard, enjoy what they do and make sure that their guests get the most out of their trips. 
Immediately after arrival we were greeted by the Basecamp host, who coincidentally was also named Josefina, who escorted us to our wall tents. I had no expectations about the wall tents going into the trip, but was pleasantly surprised to find a cozy bed with an abundance of covers, fur skin rugs, a covered "porch" with camp chairs and an attached bathroom with a wood stove that was keeping the wall tent toasty, a sink and a shower. Everything a person needs and more. There were also a couple of electrical outlets to plug in phones, etc.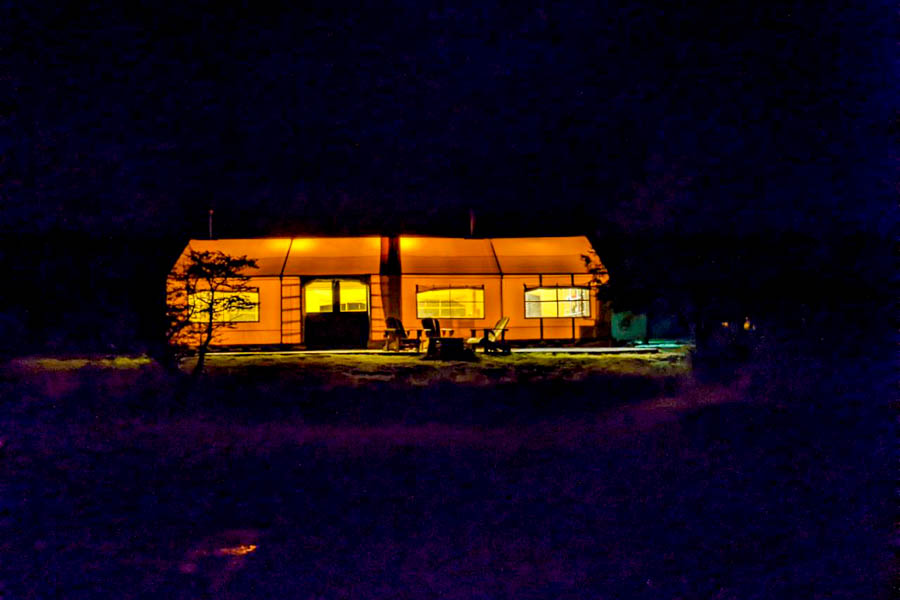 About 50 yards away from the sleeping tents there was a much larger wall tent where we would meet for meals. We changed quickly and headed to the wall tent for some dinner and drinks. The main wall tent was very spacious and included a large dining table, a wood stove at each end of the wall tent, a seating area next to one of the fireplaces and a bar. We were quickly greeted with drinks and appetizers. The overall quality of food and service was equal to that of the lodge, just in a much different setting. The next morning I discovered that the Rio Corcovado was running directly in front of the wall tents, which was flowing slowly and quietly this time of year.
Rio Pico and Rio Pampas
Probably the nicest weather day of the week was upon us. No real chance of moisture and a relatively calm day. The guides sensed an interest in some small river fishing, so they took us to a private ranch where the Rio Pico and Rio Pampas come together. There is still some confusion as to the names of the two creeks we fished, but one was a larger stream that was more akin to a freestone and averaged 15- to 30-feet across, had a fair amount of structure and was crystal clear and another, which I would compare to a spring creek, but with silty water. My best guess is that the larger freestone-like creek was the Rio Pampas and the smaller spring-like creek was the Rio Pico.
We started the day below the confluence of the two, which we'll also refer to as Rio Pampas, which averaged about 30- to 50-feet across and had fairly deep sections making it challenging to wade in spots. When we arrived I was excited to see dozens of hoppers actively jumping in the grass. As a dry-fly lover, I had a good feeling. Zeke and I headed downstream and started our day with a hopper-dropper rig. It was a slow start to the day with our first fish caught about 45 minutes in on the dropper. We eventually made it back up to the trucks and found a large run that had a riffle drop off at the head of it. I decided this was a good spot to chuck a streamer. I only had the 5 weight with a floating line with me, so I tied on a streamer that would sink quickly. I cast into the drop off and allowed my fly to sink for a bit before stripping it back. When I was about to recast, I saw a flash of a fish that followed my fly, but rejected it at the very end.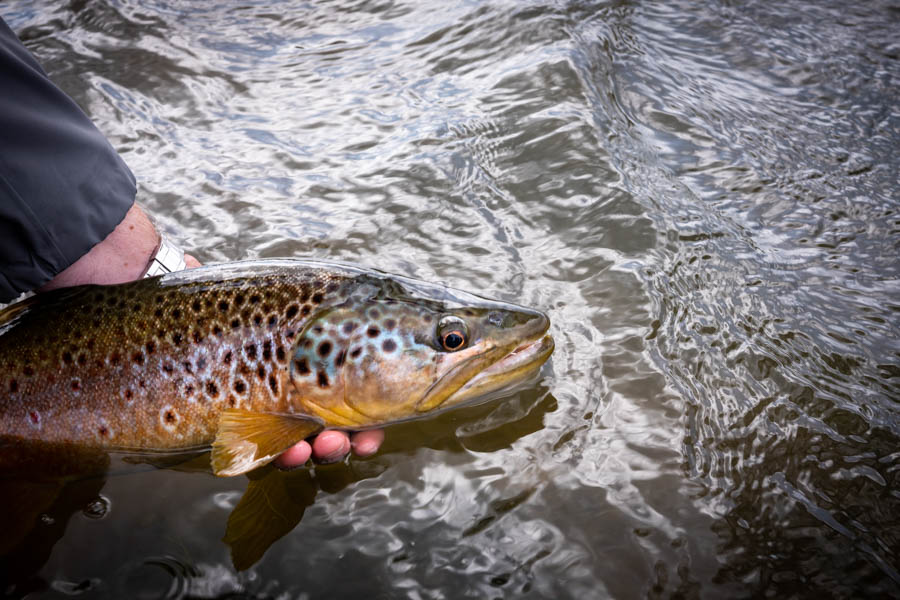 After a couple more rejections I decided to switch flies and modify my technique. I tied on a Kreelex and cast it upstream into relatively shallow water. I allowed it to sink for a few seconds and started to strip as it dropped off into the run. Fish on! I caught a few more fish in a relatively short amount of time repeating this technique in this run. The fish weren't especially big, but we were onto something. 
After lunch the guides drove us up to the confluence of the Rio Pampas and Rio Pico. The group split up between the two with Marce and Roberto focusing more on the Rio Pico, and Zeke and I focusing on the Rio Pampas. Before Zeke and I got to the river we heard Roberto yelling in the distance. He was standing next to Phil and I could tell Phil had a fish on that was worth running for. I'm not a runner. As we approached Roberto and Phil, Roberto successfully netted the fish and he lifted it out of the water quickly for us to see. I could see a massive tail. Roberto let out a hoot. I quickly grabbed the camera and did my best to snap a few photos so we could quickly and safely release this massive brown trout that taped in at 23 inches. After releasing the fish Phil admitted that it was his personal best brown trout and had landed it on a hopper pattern. It was a happy moment for all.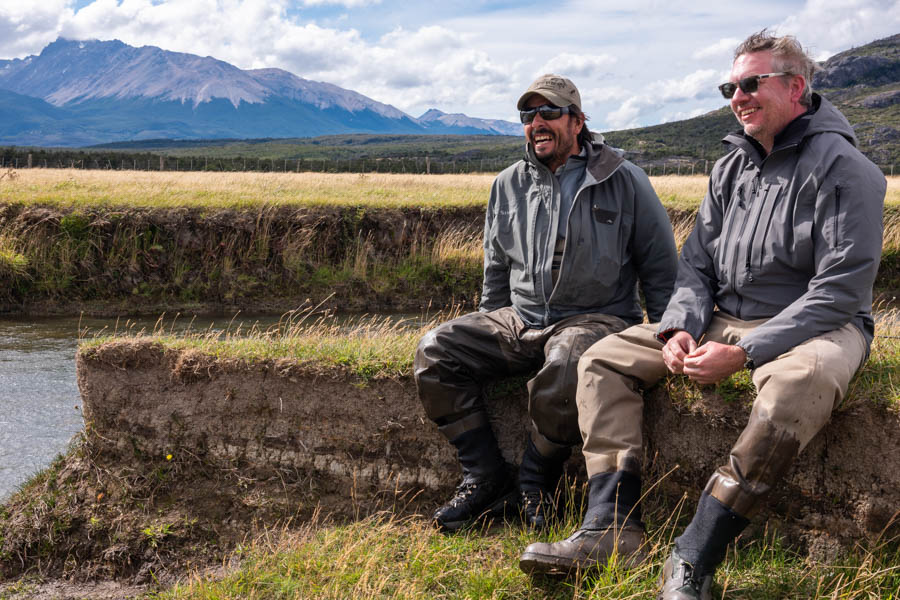 Zeke and I continued back to the upper Rio Pampas upstream of the confluence. Zeke spotted a brown trout sipping something on the far bank. It was a tough downstream cast with calafate in my backcast and a fast current between me and the rising fish. I was able to make a couple of casts that floated the fly over the fish, but the drifts were imperfect and rejected by this fish. I made one cast about four feet out from where the fish was. I was sure the fish wasn't going to have any interest, so I started looking for my next move when Zeke yelled at me to set the hook. The fish had moved four feet out of its lane to smash my fly and I missed it. You gotta have faith. 
Suddenly we both hear a commotion in the water behind a bush next to us and start to look around to see what it could be. At that moment, a large brown trout came into view that was chasing another smaller trout about six inches long and was racing through the shallows with its back out of the water. It ended up directly at my feet, completely unfazed. I attempted to cast my hopper right in front of me, when it finally spooked and darted away. Zeke and I both laughed out loud. It was becoming obvious that fish were feeding, but they weren't going to come easy. 
We continued to work our way upstream and eventually we came into a long stretch with a nice undercut bank. The preferred method to fish this by our guides was to cast quartering downstream and to the far bank, while twitching the fly as it swung across the current with the tip of the rod. Using this technique I got a few strikes, but was having trouble hooking up. I decided to attempt a dead-drift approach with my leader and fly line landing upstream of the fly. This cast required a significant hook cast and aggressive mending to keep the fly floating naturally, but almost immediately it started producing strikes and more hook ups. The next hour or more I had some of the most productive dry-fly fishing of the entire trip. The fish were keyed into the hopper on this piece of water and we found a technique that they were happy with. This was some of the best hopper fishing I had experienced in years. Although it didn't last too long before it was time to pack up and head back, this was one of my most enjoyable fishing experiences of the trip. 
Lago Dos 
There was much discussion the night before about our options for the next day. When describing Lago Dos the guides said this place will make you a hero, just as easily as a zero. They talked about fish that could reach 20 pounds or more. The weather forecast wasn't looking easy either, with high winds and the potential for snow forecasted. They warned us that it could be a tough day. Chris mentioned that his preference was to stay close to the lodge and fish leisurely on the Rio Corcovado. He admitted he wasn't a huge fan of lake fishing and preferred nymphing small- to medium-sized rivers. He also found the long casts with streamers in windy conditions unenjoyable. The rest of the crew liked the idea of taking our chances for the potential fish of a lifetime. I was game for either, but eventually the guides decided that Zeke would stay behind with Chris and the rest of us would head up to Lago Dos. 
The drive to Lago Dos was a rough one over rocky, winding roads. It was a gray, windy day with low clouds. When we arrived at the lake I was surprised to see a good number of other anglers already on the lake. There was a group of what I assumed to be locals out in U-boats using flippers to troll the water in front of the parking area, which was more sheltered from the wind than the rest of the lake. Almost every other destination we had fished at this point was either completely void of other anglers or maybe had a couple guides from other lodges out and about. This was also the first day we had moisture hitting the ground in an area we were fishing. We loaded up, bundled up and headed out.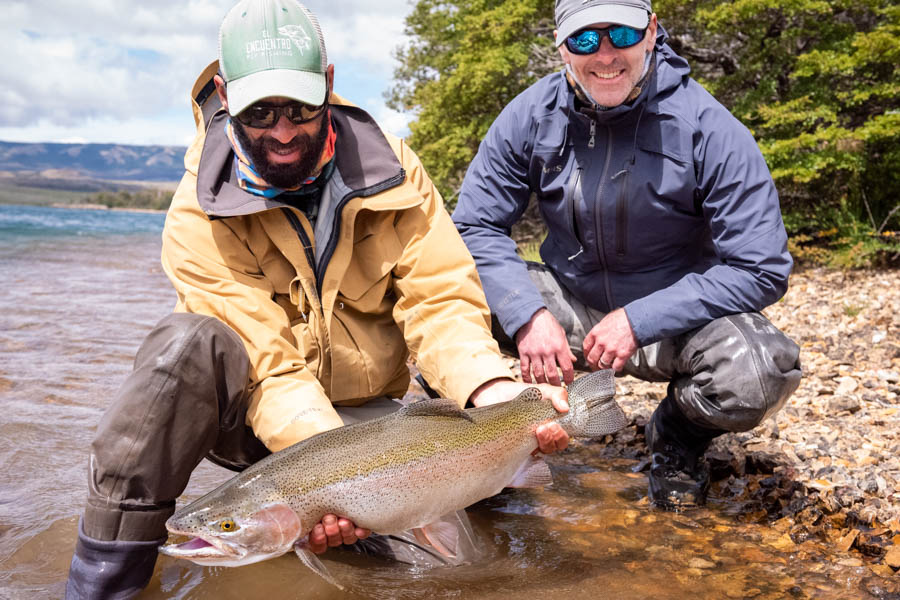 few minutes we were out of sight of the u-boaters and on our own again. Today, I was paired with Roberto and Phil for the first half of the day. The second half of the day, Phil and I would rejoin Marce and Corey. Since there were only three anglers, this allowed both Corey and Phil to each have a guide of their own for half of the day. 
Roberto found a spot he wanted us to try. We pulled out our rods and on my first cast I heard a snap. Half of my rod was in my lap. Over the week I had hit my rod more than once with heavy streamers, so I must have nicked it and it finally cracked under the pressure. I had my 5 weight with me, so as quickly as I could I switched the reel and line from the 6 weight to the 5 weight. I was in for a challenge with this heavy sinking line. 
The first spot was a bust, so we motored on to the next where there was an island not too far from the shore. At this point the rain started to let up a little making it feel a little warmer, but the wind was still significant, though we were mostly finding spots that were partially sheltered. Roberto pushed downwind, so each cast we made we were covering new water. We had a couple of bumps near the island, but we kept moving with the wind. Eventually we got our backs to the wind, but it was pushing us along a long shore with good structure, so it felt like fishing downstream on a bank of a river in Class 3 rapids. 
I recall stripping my fly just short of the boat and seeing one of the biggest trout I've ever laid my eyes on slowly following my fly to the surface. At the moment I saw it, it also saw us and lowered its ginormous body back into the abyss. Within a few minutes of seeing that fish Phil was hooked up. It was a wild ride as the waves were crashing both into the boat and into the shore at this point. Once Phil got his eyes on the fish, he was sure it was one of the biggest trout of his life. Roberto safely and calmly got us to shore where we could net this beautiful specimen of a brook trout, which taped in at 24 inches. It was a beast and at this point both Phil and I were satiated. I went into this day preparing myself for a skunk and I had already seen two trophy fish. We had more action along this bank, but were unable to keep fish buttoned. It was time to move on to a new spot. 
We motored over to an area where we could see Marce and Corey in the distance. Marce and Roberto would radio each other occasionally to get a report. Marce and Roberto referred to each other as monkey, or "monke" as they pronounced it, which I found oddly endearing. When one would get on the radio they'd start of with "Monke, Monke, Monke", to get each others attention. 
After making a few casts we could hear Marce shouting in the distance. It was a happy shout, so we knew something good was happening. Marce radioed over to Roberto and said it might be a good idea for us to motor over with the Nikon for some pics. We put our rods away and I jumped in the rowers seat, so Roberto could hop on the motor. We were a few hundred yards away, so I took that time to pull out the camera and get it ready. I'm not a skilled photographer, so I shot a few test pics on the way over to get things dialed in. As soon as we hit shore I leapt out of the boat to get into position quickly so we could let the fish back to its home quickly. It was a magnificent rainbow that taped in at 26 inches and had an impressive girth to match. We snapped some pics and it slithered away back into the depths of this huge lake. Before lunch both Corey and Phil had each landed a personal-best fish. It was a good stopping point to find a lunch spot. We found a  nice gravel beach next to a small cliff face that had a fire ring at its base. It was a beautiful spot and the weather had improved significantly. 
While snacking on charcuterie we were visited by a yellow jacket. The guides were prepared to send it to yellow jacket heaven, but it must have sensed that if it landed on Phil or Corey's plate it would be allowed to live on. Phil figured the yellow jacket would find a small crumb and fly off, but Phil observed more closely and watched this thing chew a small chunk of meat off that was almost equal to its body size and finally lifted off with it. It was like watching a helicopter lift off in high winds with a heavy load attached. It took it a few seconds to get headed in the right direction, but it eventually disappeared into the trees. This yellow jacket returned a couple more times to collect food that we assume it delivered to its hive. We all commented on how much we underestimate small creatures, such as this one.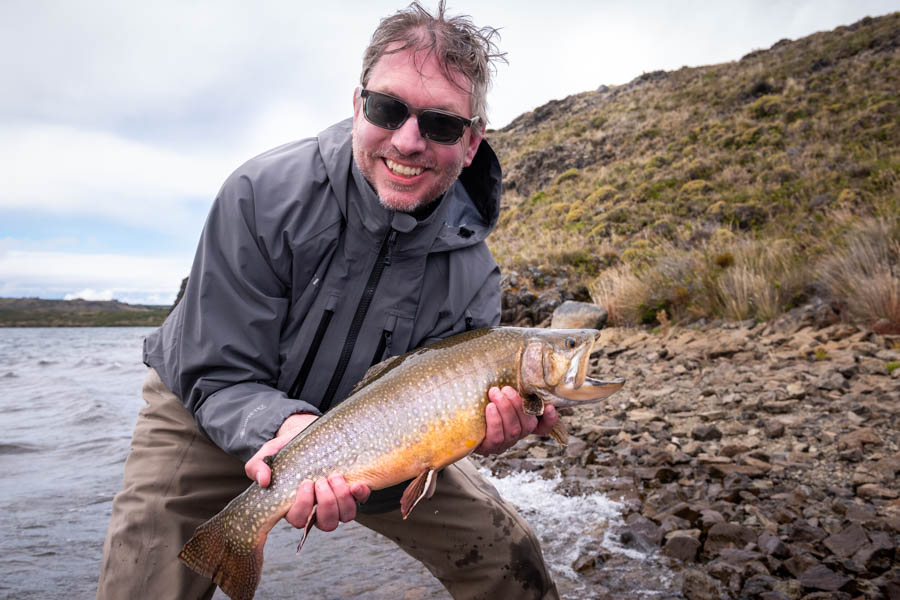 After lunch we cleaned up and I started collecting my fishing stuff to prepare for the afternoon. I didn't find my rod in the boat, which was the most logical place I would have left it, so I looked along the shrubs near the boats where I thought I could have leaned it. Again, not there. I started to get concerned, so I asked the others if they had any idea where my rod was. Everyone pitched in and started looking around and asking questions. It didn't take me long to realize that it had probably slid off the raft when we motored over to take photos of Corey's fish. Marce wanted to make sure we exhausted all options, so we motored over to where Corey's fish was landed. No go. I had not only broken one of the two rods I had taken on this trip, but I had just lost my second one along with one of Marce's reels and sinking line. This was a hard loss for me, but I knew that it was gone forever in the depths of Lago Dos. I'd be lying if I said I wasn't distracted for the remainder of the day, but Roberto loaned me one of his rods and we moved on. I jumped in with Corey and Marce for the rest of the day. 
The afternoon proved to be less productive than the morning. Corey landed at least one more brook trout, but it was clear to me that this wasn't going to be my day to shine. I fully expected to get skunked on this particular day and was completely prepared to swallow that pill, but I'm still saddened by the loss of my fly rod, which was my go-to for most outings at home. I just hope that in some way my bad luck that day was somehow an offering to the Lago Dos gods that contributed to both Corey's and Phil's fish that day. It helps me sleep at night anyways. This evening we split off from Roberto and I was left in charge of closing gates on the way home, since Zeke was back at the lodge with Chris. 
Rio Corcovado 
This was it, our last full day of fishing before making the trip home. Fishing the Rio Corcovado was an easy choice as it was flowing right outside our front doors and it was the perfect river for wading. The Corcovado is comparable in size to the Rio Pampas below its confluence with the Rio Pico. The resident fish are fairly small rainbows and brook trout. We could see them rising across the river from the main wall tent. What we were after were the larger migratory brook trout that were said to be moving downstream from Lago Vinter in preparation for their spawning season, which was quickly approaching. 
The first run we fished, I started at the top end and Corey towards the middle. I started with a Fat Albert, sans dropper, while Corey fished a streamer. I had a couple of fish come up to the Fat Albert, but wasn't able to hook up. Corey was the first to hook up successfully on the streamer. The dry-fly bite seemed slow enough that we quickly changed my rig to the streamer. We spent the rest of the morning fishing similar runs in the same fashion. We mostly caught medium-sized brook trout and occasionally hooked into a larger one. Knowing this was our last full day, I spent as much energy chatting with Zeke as I did on the fishing, took some time to smell the flowers and soak in some of the last hours of this trip. I really enjoyed Zeke's company and am excited for his future. I believe he is in line to be promoted to a fishing guide for the lodge at some point, and I have no doubt that he will be successful.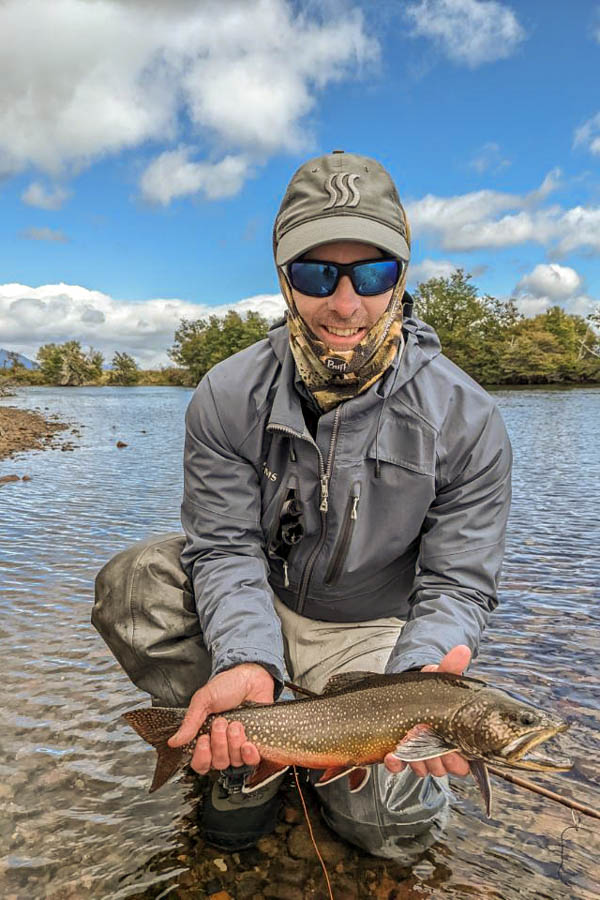 Just before lunch, in the middle of trying to make a longer than average cast for this river, I broke one of Marce's rods. Admittedly, I've broken and lost a few rods in my lifetime, but this was a pretty significant body count for a single trip. What made it more frustrating wasn't that I lost or broke my own gear, but that I had lost one of Marce's reels and broke one of his rods. Acquiring gear is very easy in the U.S., but not true in Argentina. And when they do get gear shipped they are taxed through the teeth. Marce didn't hesitate to grab another rod for me to borrow. It was a 4-weight glass rod and we were throwing heavy streamers on sinking lines. I was ready for the challenge, but didn't have high expectations. I was pleasantly surprised how well that soft rod performed with such a heavy rig. If I slowed my cast down enough I was able to get a similar distance. Don't recall if I landed a fish with that rod, but it was fun nonetheless. 
This was our last night at Brook Trout Basecamp. That evening was a bit emotional as we were to say goodbye to our guides and the guide helpers. It would be our last dinner together. It had been a great week with these guys and it felt like we were saying goodbye to old friends. I hope I get the opportunity to fish with this great group of guides and guests again. 
The next morning we had the option to fish for a couple of hours on the Corcovado before it was time to head back to town for COVID-19 tests and our flights to Buenos Aires. Chris and Corey decided they'd prefer to take that time to pack, while Phil and I wanted one more shot. We had a couple of new guides assigned to us that drove over that morning to fish with us and eventually drive us to Esquel where we would fly out. Phil and I agreed that we'd call it quits after catching a fish or at 11:00am, whichever came first. I started again with a Fat Albert and had several missed strikes right out of the gate. It wasn't long before Phil had one netted and he called it a day. He went back to the lodge with one of the guides to prepare for our departure. I decided to stay a little longer in hopes of landing one. Eventually I got my streamer stuck in a bush on the far side of the river in an area that was too deep to cross. We pulled the line tight, breaking the fly off. I decided it was a good time to call it.  
We were a couple of hours from the airport, so we loaded up and hit the road. We spent the time getting to know the new guides and guide helpers, as well as enjoying the scenery along the way. Corey, Phil and Chris were all flying out of Buenos Aires later that night on a red-eye, but I wasn't able to get a well-timed connecting flight out until the following night. Once we landed in Buenos Aires we said our goodbyes and they caught a shuttle for the airport. I hired a taxi to take me north to a suburb of Buenos Aires called San Isidro, where I organized a day trip to chase golden dorado the next day.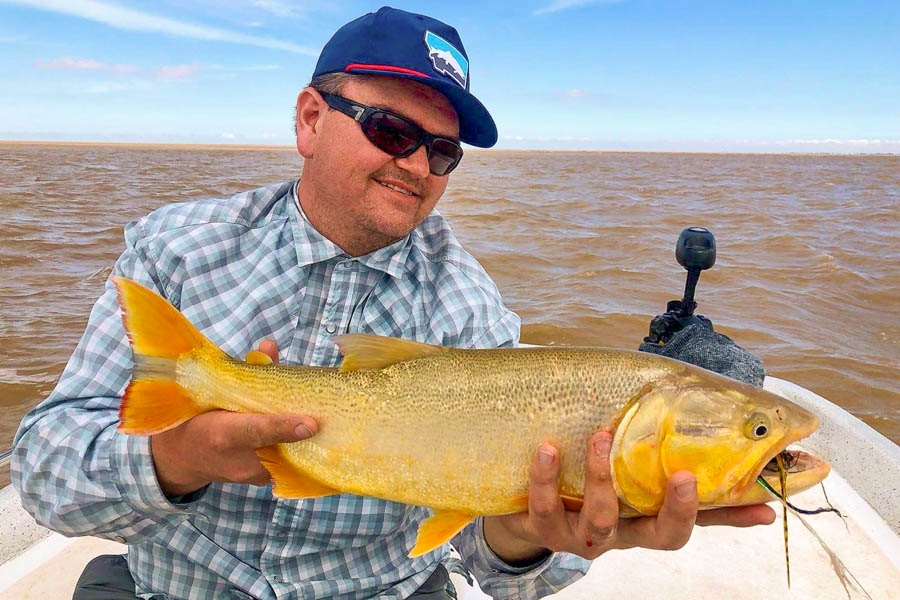 Golden Dorado in Buenos Aires 
My friend knew golden dorado were on my bucket list, so when he learned I was going to be in Buenos Aires he suggested I reach out to Urban Dorado Anglers who specialize in fishing the Rio de la Plata delta that also serves as the border between Argentina and Uruguay. The next morning, I was picked up at my hotel by Hernan who would be my guide for the day. Hernan is a young guide, but with years of experience. He also spoke excellent English. We drove to the marina where his boat was stored. We arrived at a fenced property. When I looked inside I realized that they had boats stored one above the other in multiple levels and they used a specially designed forklift to grab the appropriate boat and lower it to a device that then dropped the boat into the water. This was an impressive system that was unlike anything I had ever seen before. 
Within 20 minutes, the boat was in the water and it was time to head out. Hernan mentioned that we had some water to cover and that we would eventually get to the Uruguay side of the delta where he expected clearer water. The river had a max of four inches of visibility. He said it was due to the recent rains in the mountains, but was also dirtier than usual due to drought-like conditions further upstream. I didn't know what to expect, so I asked how the fishing had been lately and how many fish one could expect on a good day. He said the water clarity had made for tougher fishing conditions and a good day of fishing might produce six fish to the net. Similar to our day on Lago Dos I was prepared to be skunked and was OK with that.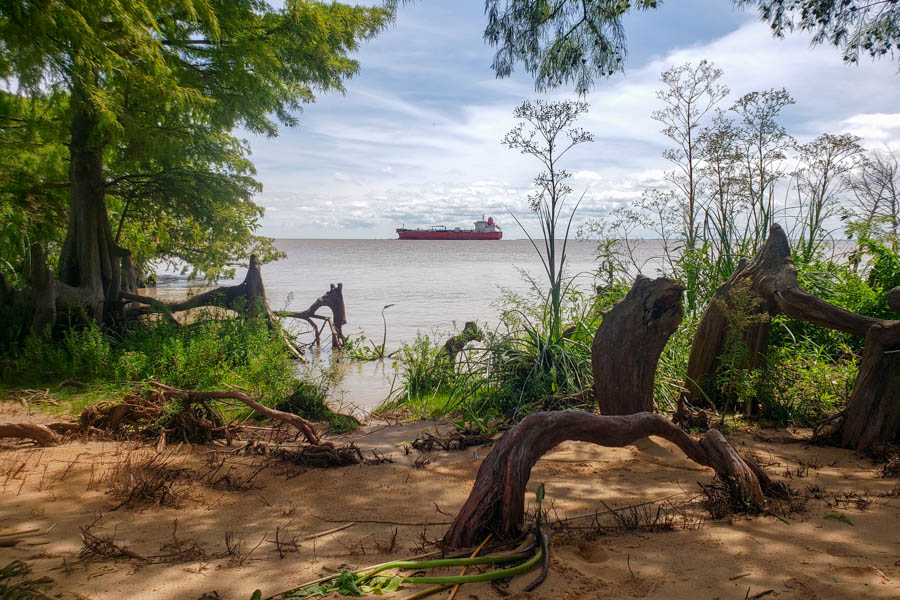 On the ride out we passed working ships, abandoned ships, row boaters, jet skiers, an amusement park and lots of buildings in various states of repair. We weaved through channels that separated smaller islands. About 30 minutes in, Hernan turned off the motor and said we were going to throw a few casts towards the bank under several old, large willow trees. He warned me that there were lots of submerged branches and roots to get caught up on so I shouldn't allow my fly to sink for too long. He had me throwing a 9-weight rod with an aggressive floating line. The steamer he tied on was beautifully tied by him and was about seven-inches long. I was surprised to learn that both the flies and lines were unweighted. We covered some water with 30-40 casts with no success. In addition to a large outboard motor this boat was also equipped with a trolling motor that Hernan controlled with a remote. While fishing, Hernan is constantly moving the boat strategically to cover water. 
We were now in an area where all you could see was open water and land with trees on it. Occasionally we would see someone's private residence or an old, abandoned structure. But at one point I could see a very large building several miles away with white smoke coming out of it. It was a paper factory in Uruguay. At this point I realized I was going to be able to check another country off the list, which was cool and unexpected. We fished a few more spots to no avail. No surprise here, but wind was a factor on this day as well. It was tolerable, but definitely made some of the casts more challenging. 
Hernan had a lunch spot in mind, so we motored over. It was a small island in the middle of the delta that he claimed was shared by Argentina and Uruguay. He pulled up to a sandy beach on this island filled with large exotic trees. It was a perfect spot for a break. Lunch was relatively simple with water, beer and soft drinks available, and empanadas stuffed with various fillings. I should also point out that we were both walking around barefoot and wearing shorts, which is a sharp contrast to the days before, where we had multiple layers on, including waders, raincoats, etc. We sat in the shade of some exotic trees that Hernan said were not common or native to the area, but were aesthetically pleasing. While we sat on the beach we watched a large sand dredger motor towards Buenos Aires that obviously had a full load as waves pushed water onto the low, floating deck as it moved quickly across the river delta. 
Hernan wanted to revisit some of the spots we fished earlier. It became obvious to me that these fish hold in very specific locations and it was more important to fish these areas versus covering a lot of water. Location, location, location as they say. The first spot was a bust. Hernan pointed out that our chances were about to improve as the tide was going out. Although we were in a river, we were close enough to the Atlantic Ocean that this lower section of the river was impacted by the tides. Any angler who has spent any time in the salt understands tides are super important to understand and follow. There was a spot that he took me to earlier that he explained had a line of rocks that were submerged. The first time we were there I could kind of see a spot where the water softened a little, but it was hard to tell with the wind making the surface choppy. When we returned it was really obvious. I would compare it to a submerged log sitting in a riffle under the surface of the river where the water downstream of the log was softer and was a place fish would hold and wait for food. 
Hernan positioned me on the downstream side on one end of the rock break, instructed me to cast just to the upstream side, allow the fly to sink a few seconds and then begin stripping the fly. Because the visibility was so low he told me to strip slowly so the dorado had a chance to see and eat my fly. He used the trolling motor to keep me at the same distance from the rocks, but continually moving from one end to the other of the rock break. The rocks were now more exposed and I got my fly hung up on them a couple of times, but there was one time when my fly stopped moving, and it wasn't on a rock. I felt some resistance, but it took me a second to realize I was hooked up. I set the hook hard and the sight I have been imagining for years was finally at the end of my line. My first golden dorado was airborne! 
After several jumps I was able to get the fish close to the boat where Hernan was able to net it. It wasn't a trophy golden dorado and it wasn't caught sight fishing in a clear stream in the middle of the Amazon, but it didn't matter at this moment. I was lucky enough to land one more golden dorado and missed a few more along the rocks, before it was time to head back. We had a long boat ride ahead of us and I had a plane to catch. It was an excellent finish to a wonderful week.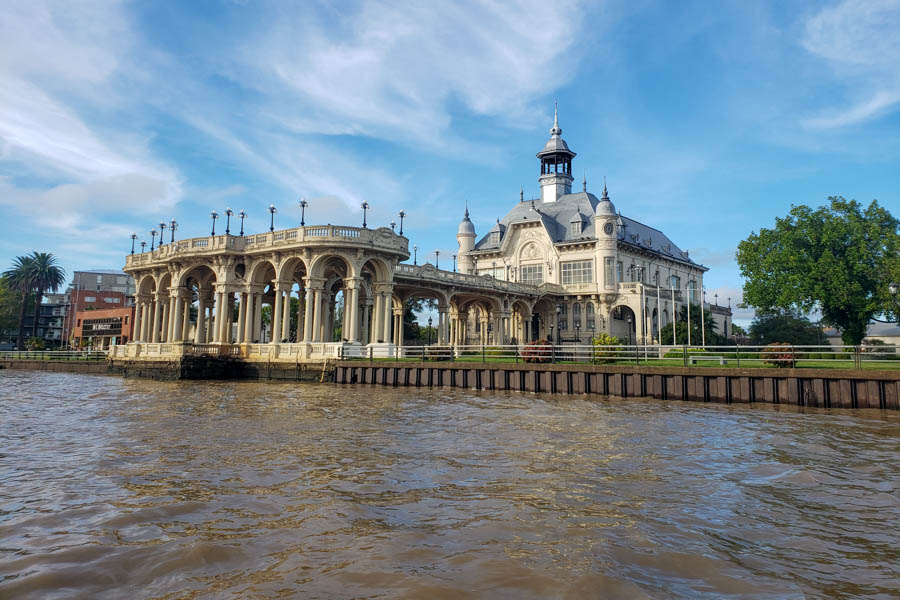 El Fin 
What a memorable trip. I am grateful to everyone who made it possible. I really enjoyed spending time with Chris, Corey and Phil. Although I didn't get to fish with Phil and Chris much, I was very entertained by their sibling-like friendship. I was excited to watch Corey progress in his abilities and catch several memorable fish. The lodge staff were all wonderful and very accommodating. Kudos to the kitchen staff at El Encuentro Lodge and Brook Trout Basecamp. Their food was outstanding and a large part of the success of the trip. Other lodge staff, such as Ceci, the two Josefinas and all of the others that worked behind the curtains to make our stay comfortable also deserve a shout out. And of course the guides and guide helpers who were there every day working their butts off for us. I'm also grateful to Hernan and Ozzy from Urban Dorado Anglers for helping me check another one off the bucket list. 
One of my guide friends once told me that a great guide can turn a bad day of catching into a great day of fishing. Extending that beyond the fishing guides, who were also great, both El Encuentro Lodge and Brook Trout Basecamp have such a wonderful program that no matter how good or bad the fishing, I feel like it would be hard to walk away feeling like the trip wasn't a huge success. I look forward to the day I can return. 
Receive fresh articles via email!