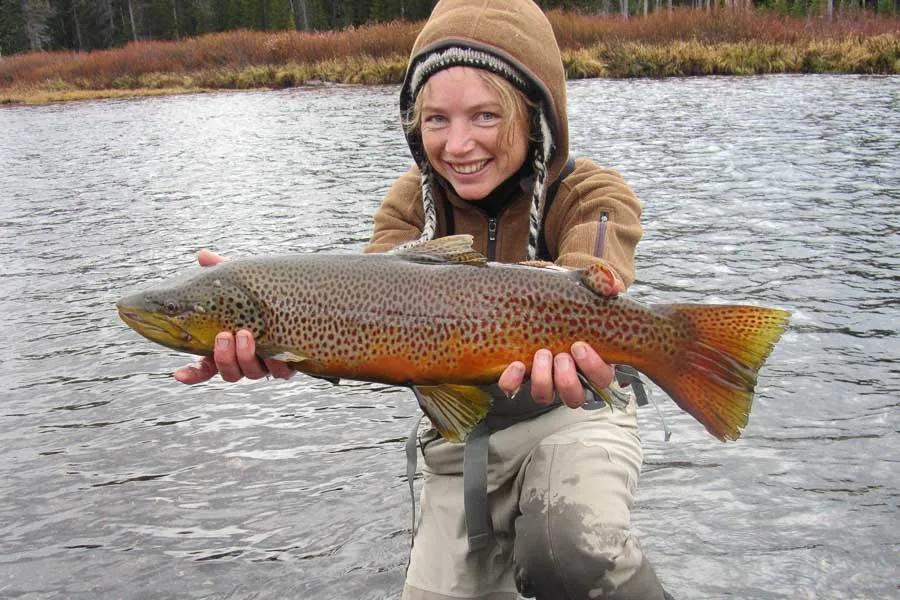 As I mentioned in my last post, fall fishing in Montana is synonymous with huge browns.  Miles, Doug, and I headed out the day after Thanksgiving to target some large browns and weren't disappointed.  After driving through some nasty blizzard conditions in the dark we arrived at the Missouri River to do some wade fishing just after dawn.  The air temps were a balmy 32 degrees and the blizzard temporarily let up.  Doug started laying into the rainbows instantly and landed a few in the 15-18" range.  Miles eventually headed up the river with Sawyer to successfully jump some ducks.  Doug and I eventually hit pay dirt and our quest for 20+" browns paid off.  Doug tightened up on a log that wouldn't budge.  After feeling some head shakes he realized he wasn't snagged.  The fish slowly and methodically moved down the river with Doug chasing after.  The power of these trout is impressive and when they want to move there isn't much you can do to stop them.  Eventually we netted a true monster that we taped at 26".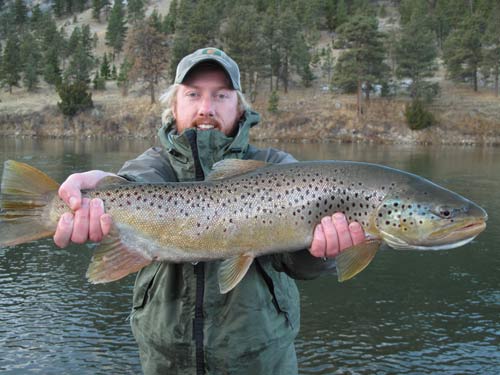 Doug's monster 26" brown
Eventually my luck took a turn for the better when I managed to hook into a nice 22" brown.  On any other day that would have been a trophy to be cherished but after seeing Doug's pig it seemed "small".  Less than 10 minutes later my line tightened again.  I thought for sure I had a snag but after 20 seconds I felt the head shake and knew I was into a monster.  The fish slowly moved down and stopped again.  I thought for sure it must have wrapped around something because I just couldn't imagine a fish holding in strong current against zero x.  Finally the trout took off for a blistering run that nearly ripped the rod out of my hands.  After a few more runs the slab surfaced and Doug netted it - 25" on the tape!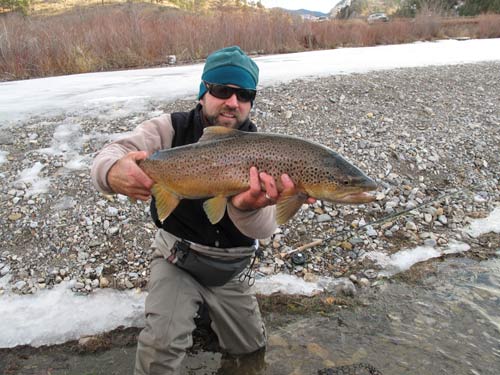 My 25" slab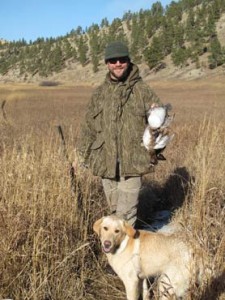 Miles and Sawyer with a few ducks
Miles managed to rope in a few nice rainbows and knocked down a teal and a gadwall to round out the day!  Nothing like a cast and blast on the Thanksgiving weekend.  It is good to be in Montana!
Receive fresh articles via email!