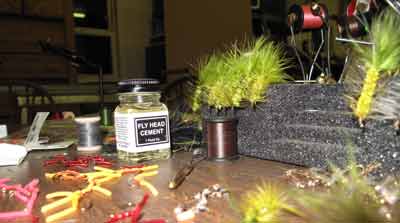 Gear for the coming season!
I find myself doing a lot of day dreaming about fishing equipment over the holidays.  My wife is from Nebraska and I usually end up with a Cabela's gift card or two and contemplating what new gear I "need" is just a normal part of 'tis the season.  With a trip to Argentina and Chile coming up in March I've had a good excuse to aquire some new gear.  With many locations locked in cold weather now is the time to some last minute holiday shopping or burn some of those gift certificates and put some new fishing tools in the arsenal.  Here is a wish list for some essential Montana fly fishing equipment!
Rods 
The best all purpose rod is a good stiff 9' 6wt.  This rod has enough oomph to fight big Montana wind on rivers like the Madison and Yellowstone but is still light enough to enjoy the play of a nice trout.  Some of the faster action rods like a Sage One or Winston BIIIX  are just about perfect. The best smaller river rod is probably a 9' 5wt for fisheries like the Gallatin.  A five weight can still fight some wind but allows for more touch.  My all time favorite five weight is the Sage XP 9' 5wt.  I haven't had a chance to cast the new Sage One in the five weight but they always make a great rod.  The Winston BIIIX is another favorite of locals. The best spring creek rod would be a softer action 3 or 4wt.  A 4wt is nice when the wind kicks up a bit and a 3 is great for ultra light presentation.  I like a bit of a slower action like a Winston LT which allow more time for subtle slack line casts needed on the technical creeks.  A faster 4wt is nice on the small freestone rivers like the Gallatin.  A 9' rod helps control line and shorter rods aren't needed as most spring creeks are meadow rivers.
Other great stocking stuffers 
A nice large arbor reel with a smooth drag - you can't beat Ross or Galvan. Some stout leaders - you can't have enough 7.5 and 9' 2,3 and 4x leaders Flourocarbon tippet - 3 and 4x are great for nymphing but regular nylon is best for dries Attractor foam flies - some Chubby Chernobyls just look cool in your box...oh yeah they also catch fish! Magnetic net holder - these are pretty handy when wade fishing. Rubber landing net - super easy and much better on the trout Simms fanny pack - just more comfortable than a vest on a hot day Simms waders - based in Bozeman, they simply make the worlds best waders - I love the waist high G3s