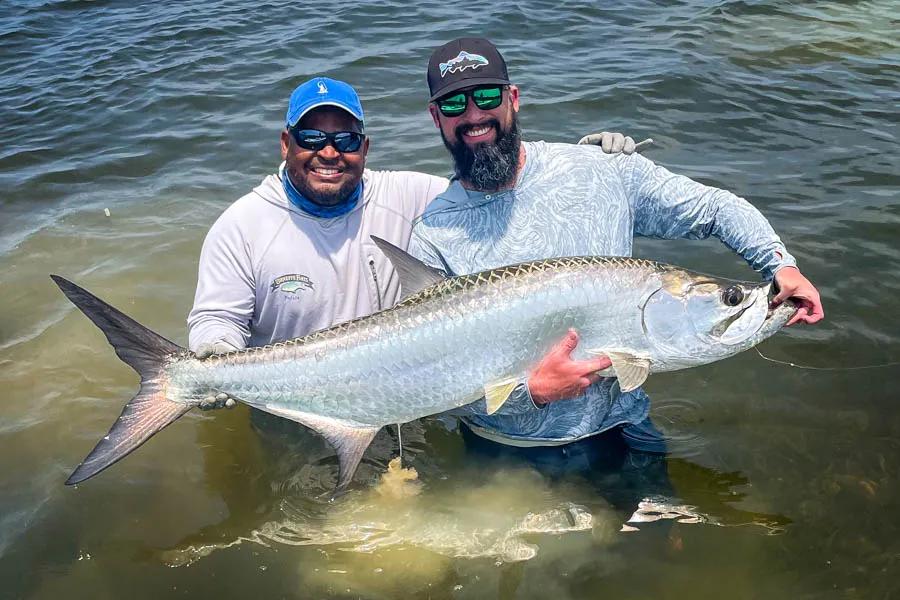 Belize is home to some of the world's most diverse saltwater fisheries. Home to the 2nd longest barrier reef in the world, the interior flats are teaming with bonefish, tarpon, snook and permit. Beyond the reef lies one of the largest atoll systems in the Caribbean: Turneffe Atoll. This island system is home to its own reef system that protects the outer island system and a massive interior lagoon network that is 30 miles long and 10 miles wide. The location of the Atoll beyond the main barrier makes it nearly impossible for smaller skiffs to venture to these flats by the day. As a result of the remote location the fisheries at Turneffe are only accessed by the guides at Turneffe Flats Lodge as well as a handful of guides that occasionally venture from a dive resort on the other side of the island. 
Our recent visit in April coincided with some great tides and an ideal weather forecast. April is one of the prime months for targeting permit and also offers good shots at tarpon. Bonefish are ever present and in copious numbers. After a long winter with limited travel due to the Covid pandemic, we were especially looking forward to a return to international travel. 
Getting To the Lodge
Getting to Turneffe Flats is relatively straightforward. Our group met up in Belize City arriving on morning or early afternoon flights. As each party arrives the Turneffe staff shuttles folks from the airport to the pier where the boat departs. For early arrivals there is a great outdoor bar and grill at the Radisson to enjoy a bite to eat and a cocktail. In the late afternoon the boat departs with all of the guests for the week for the 1.5 hour boat ride to the atoll. Most guests that visit Turneffe make a week long trip although a 4 night option is sometimes possible.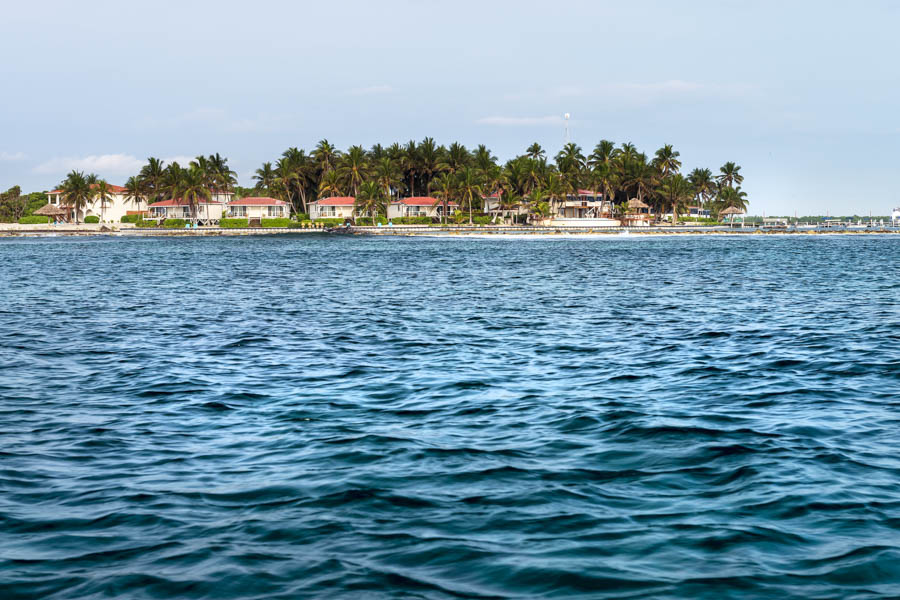 The Lodge
Guests enjoy private beach front cabins that are nicely appointed with 2 queen beds, private baths and a veranda overlooking the ocean. Waves crash a hundred yards from the beach when they hit the reef system. Just inside the reef are the home flats that are filled with tailing bonefish and occasionally permit each morning and evening. 
Guests gather at the main lodge each morning and evening for meals and a full bar. After fishing there is a new outdoor cocktail bar along the infinity pool that makes for the ideal gathering place after a day of fishing. The majority of guests that visit Turneffe Flats Lodge come to fish, but there is also a world class dive program as well as a daily "adventure boat" that focuses on snorkeling and exploring the natural wonders of the marine reserve.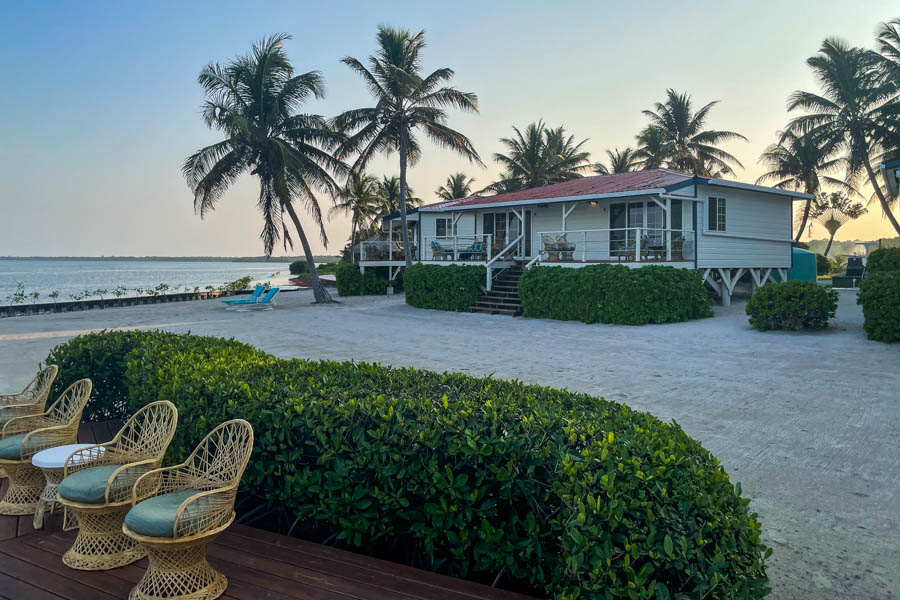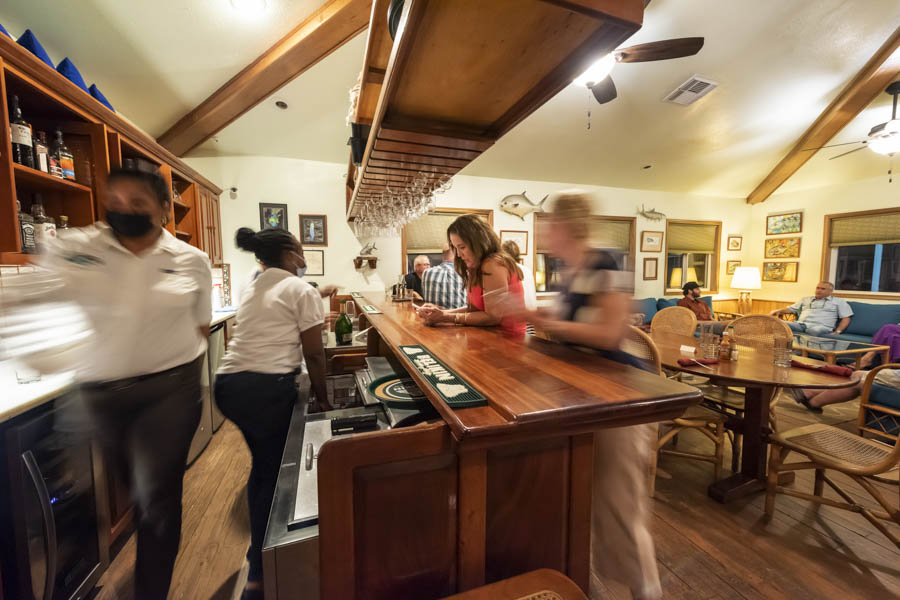 Day 1 - Permit Success!
The first day of fishing always arrives with excitement and anticipation. The fishing guides arrive around 9am on the first day as they transfer in via boat from the mainland and then stay on site for the remainder of the week. The delayed start allows for a fishing orientation and time to prep rods and tackle. When the guides arrived Ann and I teamed up with Dubs for the week. Dubs is in his mid 50s and has a long history with Turneffe Atoll where his dad ran a fishing camp when he was young. Dubs was excited for our prospects with a great stable weather forecast and good tides. He had reported that he had been finding good numbers of permit and tarpon recently on a few flats and we headed in that direction with high hopes. Although Turneffe is a phenomenal mixed species fishery, my personal goal on this trip was to to target permit. The last few seasons I had been on several permit trips but my luck had hit some speedbumps. Each trip seemed to coincide with cold fronts and guide comments "you should have been here last week". Although I've had plenty of good shots in recent years and a few connections I just couldn't seem to seal the deal. 
On the second flat we visited things started to get exciting as we began to spot a few permit tailing. After missing some shots at bigger singles, I was finally able to connect on a smaller permit traveling in a small school...success!!! Getting the proverbial permit monkey off my back was a big relief. High tide on day 1 was in the early afternoon and as the tide was rising activity increased. We also spotted a few tarpon rolling and on a second pass on the same flat I hooked up on a nice 30lb tarpon. After a few jumps and a great run he tossed the hook. Nearly a grand slam on day 1 - not too bad! Upon returning to the lodge everyone seemed to report a great day. Vince and Janice reported over a dozen fish landed while chasing bonefish and Jim and Gary managed to land a nice tarpon.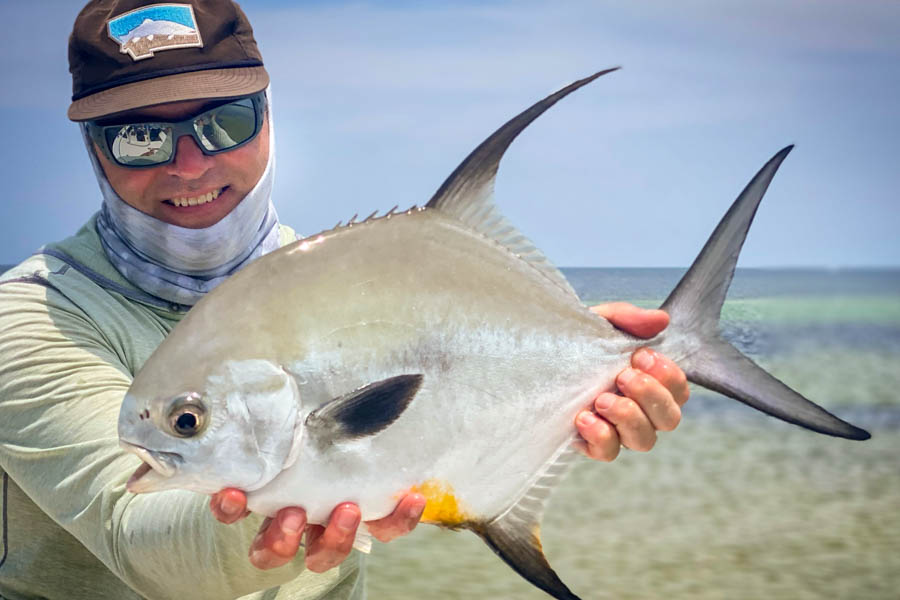 Day 2 - Record Setting Grand Slams
If you spend enough time fishing you come to expect your fair share of tough days, a lot of "solid days" and a handful of days that fall into the special category. Our second day of the trip certainly proved to be one of the best I have ever experienced on the flats. The day started slow as we hit three consecutive flats that seemed devoid of fish. The sun was high and the wind was low and we seemed to be squandering ideal conditions. Midway through the morning Dubs decided to make a run to an oceanside flat where he had encountered some permit and tarpon a week earlier. We had visited the same flat the day before without finding fish. 
As soon as Dubs cut the motor and we polled onto the flat it was clear that there were fish present. Within minutes some nervous water materialized into school of permit on the feed. A bad cast resulted in a squandered opportunity. Shortly after a small pod of tarpon rolled near the boat resulting in a rapid dance of trying to switch out rods. By the time I got my streamer in the water we thought the fished had passed. Just as I was giving up on the tarpon a big fish rolled and inhaled my fly just as I was picking up to recast. No hook set and another missed opportunity. 
Fortunately the fish kept coming in waves. Within minutes another school of permit cruised within casting range and this time I was ready with an accurate cast and patient hook set. Permit in the boat!!! Getting that first permit of the trip is always a massive relief. With some success under my belt I settled down and enjoyed some amazing fishing. By the end of the flurry I had landed 2 permit, 1 tarpon and had a few other tarpon on. Ann also had several great shots at permit as well. When we returned to the lodge we learned that Paul and Sean had also managed a grand slam. This was the first time in lodge history that three grand slams were recorded in one day!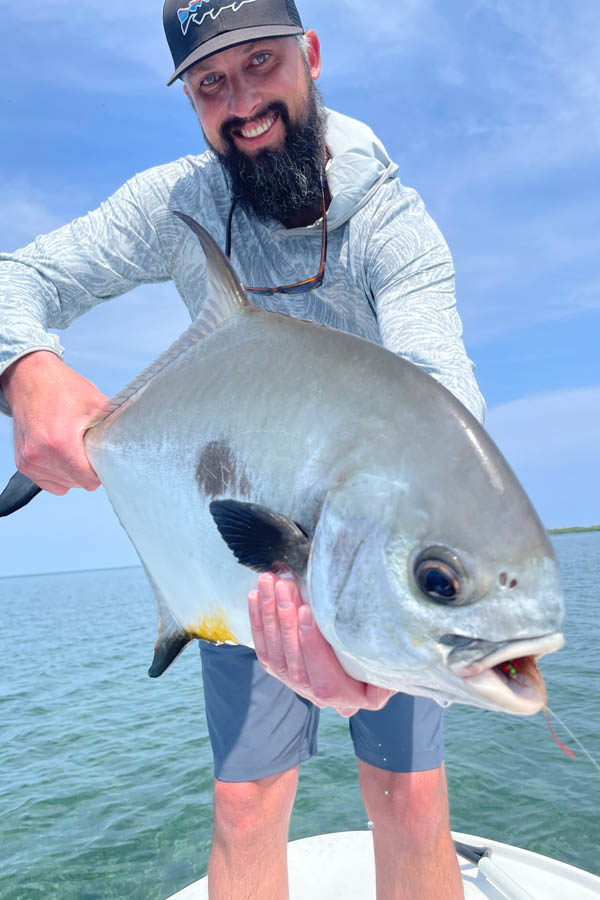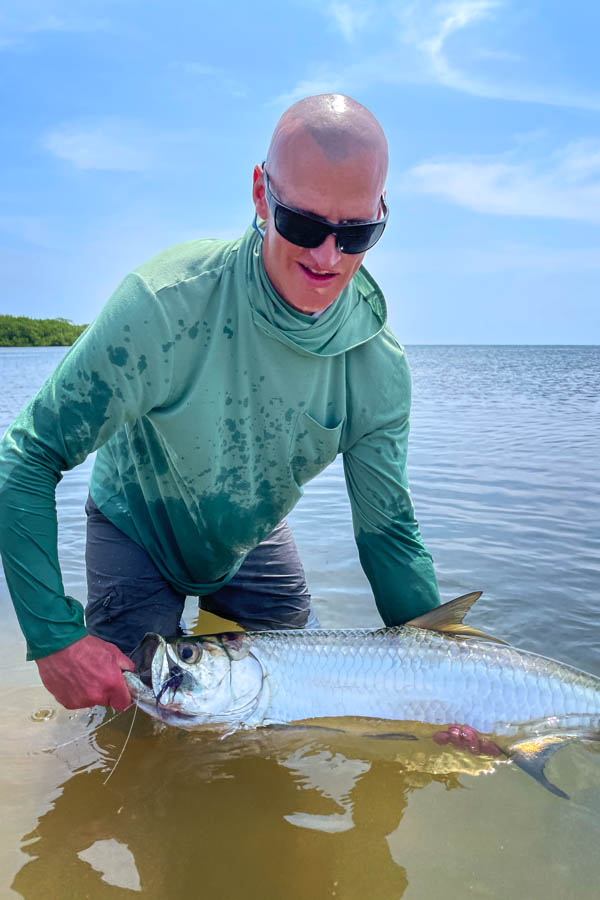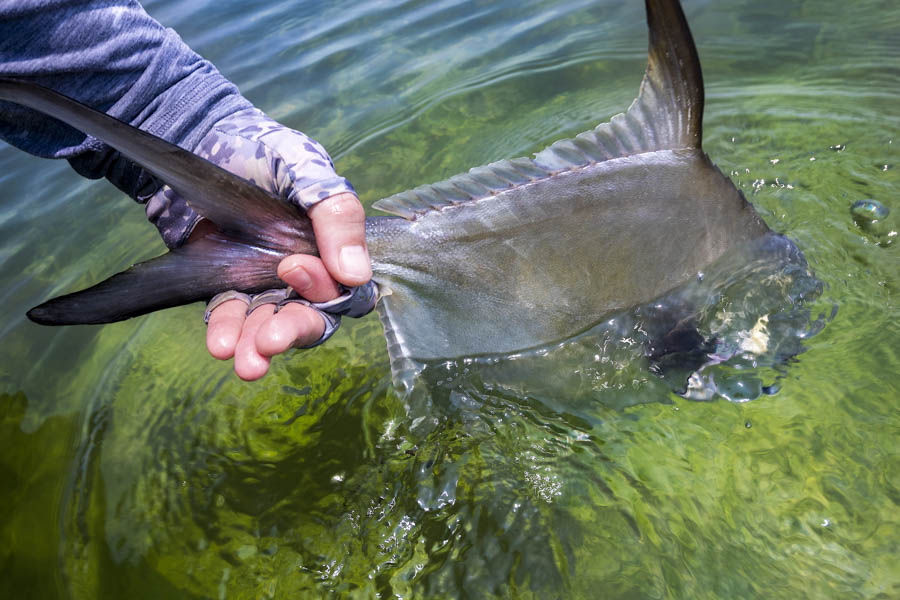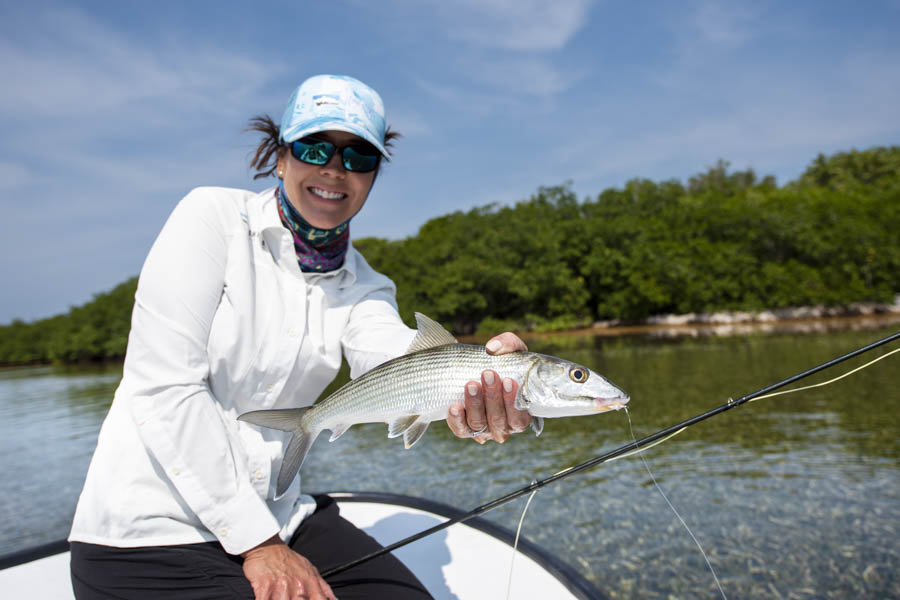 Day 3 - Walk and Stalk Bonefishing
After successfully getting some permit action we opted to explore some other species on our third day. In the morning we hunted for snook at low tide within the lagoon. Snook love to hang out deep in the mangroves where they are hard to reach with a fly. At low tide they are sometimes forced out of hiding and can be found cruising flats near the lagoon edges. We found several very large snook and I had two big fish follow my fly for long distances without connecting. 
In the afternoon we made a long run to the north and visited a series of ocean side flats. This was ideal bonefish water and we enjoyed several hours of high quality wade fishing in calf deep water across hard sand flats. Nothing feels more like a vacation than targeting cruising bonefish in skinny water as ocean waves break over the reef in the distance!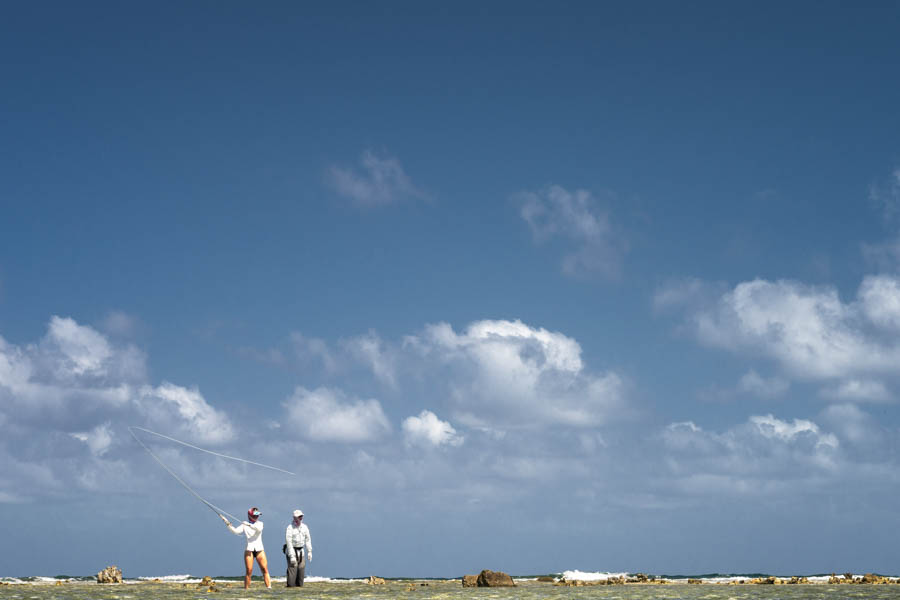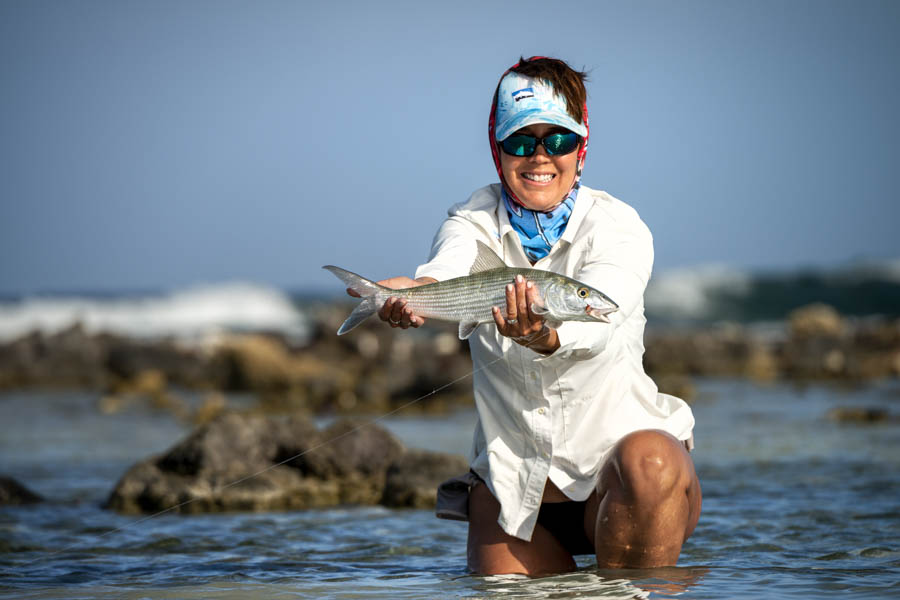 Day 4 - Snorkeling the Reefs and The Hunt for Big Fish
On our 4th day of the trip Ann opted to join the snorkel boat. Since I would be fishing solo Dubs and I decided to hunt for some big permit. We made a long run deep into the center of the lagoon to an area with several small islands and productive permit flats. Although we didn't find the same numbers of permits that we had encountered on the ocean side flats, we spotted some huge fish in the 30lb class. This was some exciting fishing and I had several great shots at some of the largest permit I have ever had the chance to target. Several casts landed right on point and turned fish with tails up but unfortunately no takes. Even though the fish count was a goose egg for the day, the opportunity to have some great chances at really big fish made for an outstanding experience. 
When I returned to the lodge Ann was glowing with her reports of some spectacular snorkeling along the outer reefs. The guide that joined them was exceptional and helped them find a long list of spectacular marine creatures that they would have otherwise swam past. The diving and snorkeling near the atoll is some of the best in the world and may people visit the area simply to enjoy the pristine coral reefs.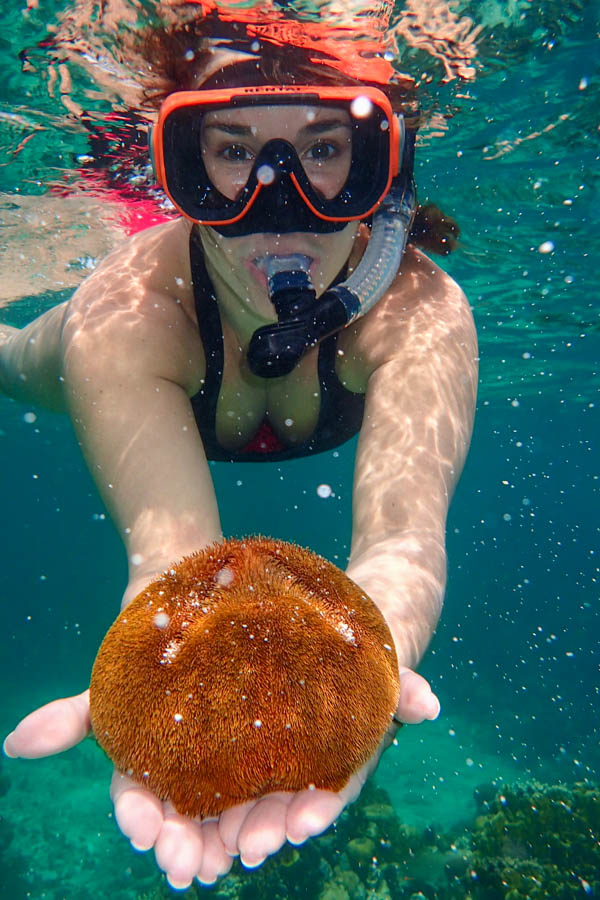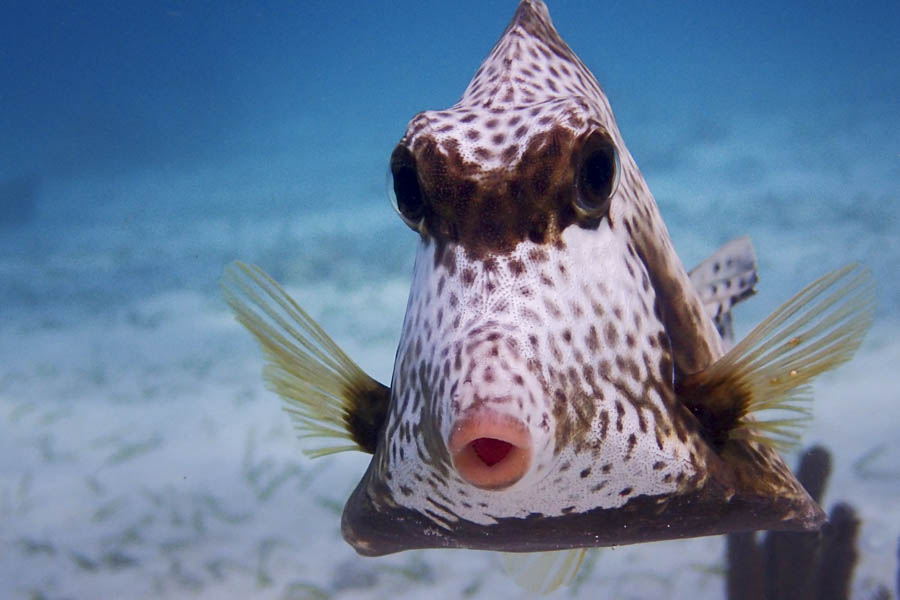 Day 5 - A Mixed Bag of Fishing Adventure
Ann joined me again and we opted to hit the inside of the lagoon to search for more big permit. There was a high overcast and stronger winds than the previous day, but we still managed to find some big fish and had a few decent shots. After paying our dues on permit in the morning we opted for another bonefishing session in the afternoon to round out the day. The resort of the crew had a productive day with Vince hooking his first permit, Jim hooking 2 permit, Chris hooking and landing a permit. Sean and Paul each landed a tarpon as well.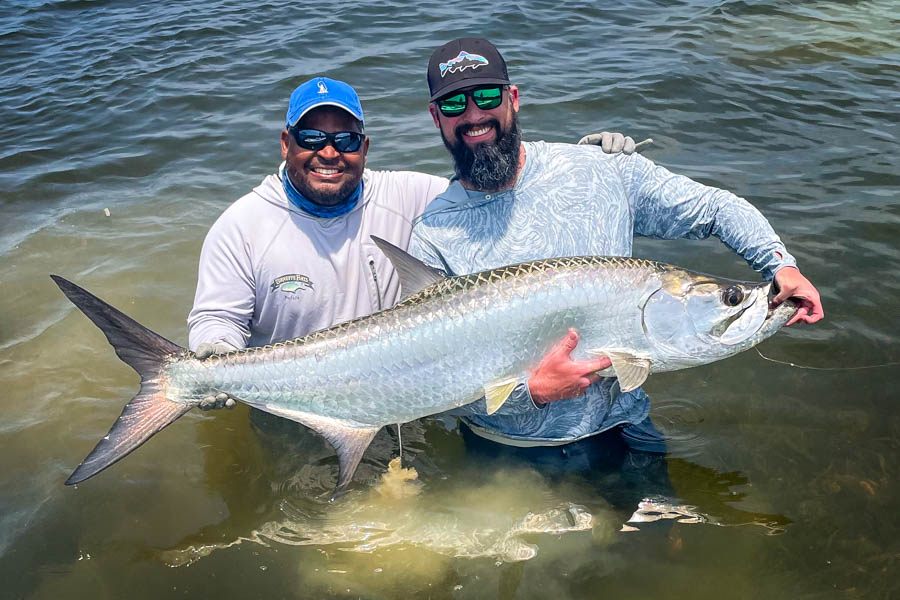 Day 6 - One Last Chance for a 30lb Permit
On our final day Ann opted to head back out with the snorkeling boat. With a variety of options at hand Dubs and I decided to go big and hunt for more big permit. We had another amazing day with about 10 shots at big permit and about 20 fish spotted. I couldn't have asked for better conditions or chances at big fish but luck wasn't in my corner and I failed to connect on permit. At one point I exited the boat to stalk a big fish that was aggressively feeding. I made multiple casts at the big fish as he tailed and had him turn multiple times but couldn't make the connection. The highlight of the day was when a large ray cruised past with a permit following. After a rapid fire cast the line tightened and a big fish tore off for the horizon. For much of the fight we thought we were hooked up with a 30+ pound permit. Eventually the big fish came into sight and we realized it was a big jack that had also been following the ray. Not quite the grand prize but also not a bad runner up!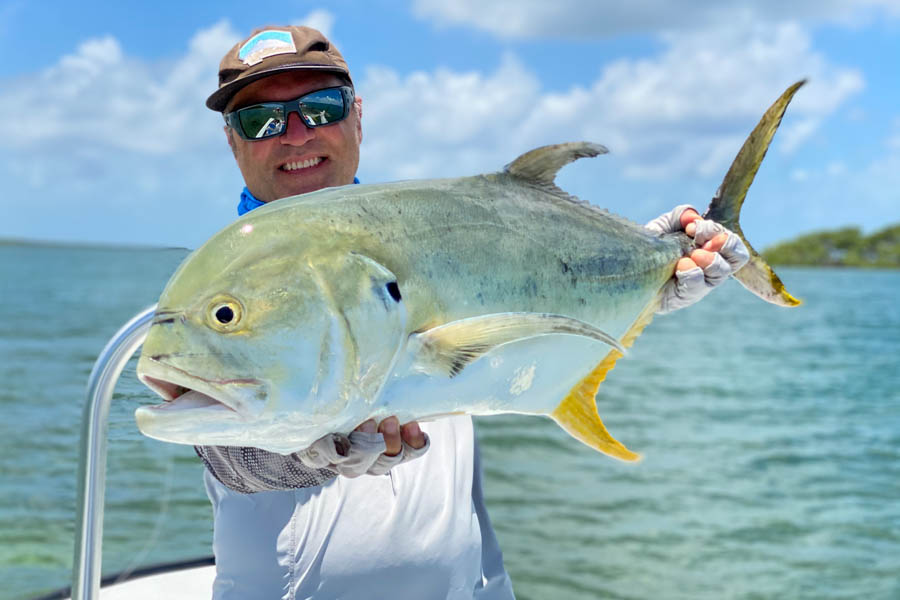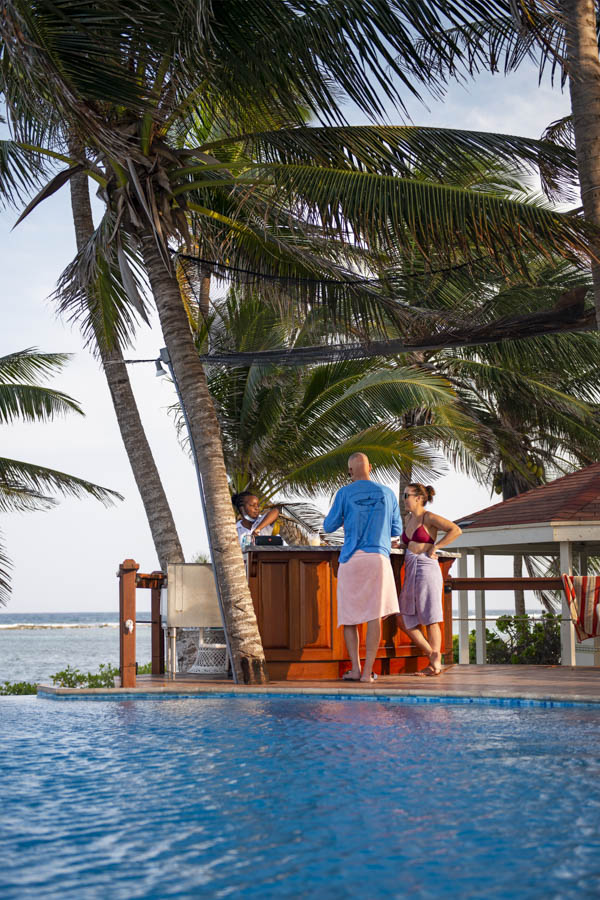 Summary
After a long pause from international travel during the Covid pandemic. It was a true pleasure to venture beyond our borders once again to one of our favorite places. Belize is truly a special location for the saltwater angler. The productive flats are teaming with life and excitement fills the air each morning with the prospects of the day to come. We couldn't have asked for better conditions on this visit and the quality of fishing and number of opportunities was exceptional. If you are looking for a great mixed species saltwater venue, Turneffe Flats Lodge should certainly be on your short list.
Receive fresh articles via email!