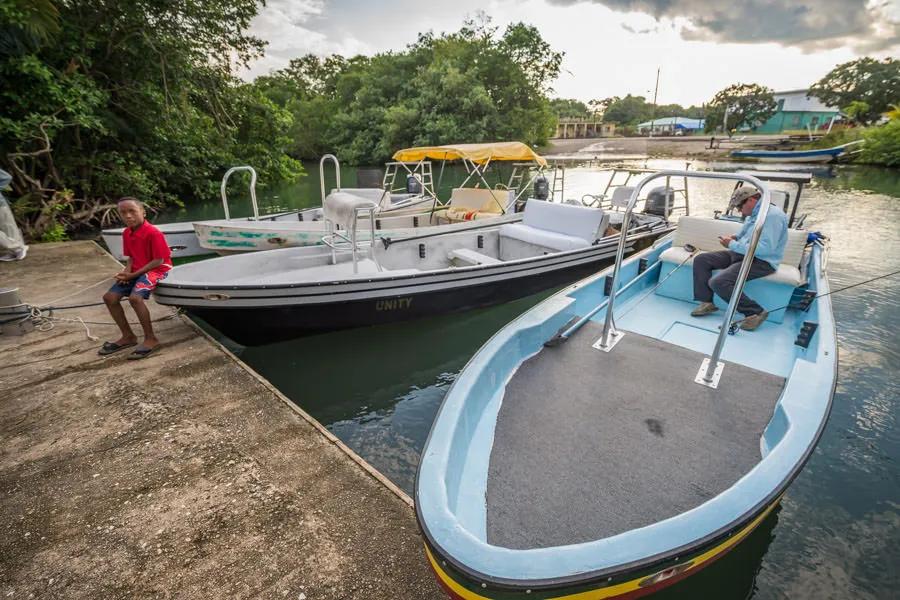 Belize is home to some of the world's best flats fishing on a fly rod. The small country is protected by one of the longest barrier reefs in the world (second only to Australia's Great Barrier Reef). The barrier reef system that runs the length of the country protects a vast interior network of flats, keys, atolls and lagoons that team with the legendary flats fishing grand slam species: bonefish, permit and tarpon. While there are several great fly fishing lodges in Belize, we have been actively looking for a great program that would offer world class flats fishing along with non-angling adventures and activities. Many of our guests over the years have requested a warm weather winter destination that would blend great fishing with activities that also cater to non-fishing guests. After our visit to Copal Tree Lodge we feel like we found the perfect blend of eco-tourism and world class fishing. Copal Tree is located in Southern Belize near the sleepy small coastal town of Punta Gorda. The lodge is located on a vast tract along the Rio Grande River and just minutes from the Puerto Honduras Marine Reserve. Although bonefish, tarpon, snook and permit are all present in the local fisheries, Punta Gorda is best known as the permit capital of the world. These legendary game fish are the marquis draw for fly anglers to Punta Gorda and Copal Tree Lodge. Southern Belize is also a mecca for eco-tourism and offers guests the opportunity to snorkel, dive, explore remote Mayan ruins, hike into vast cave systems, horseback ride, river kayak and explore farm to table agriculture.
In November of 2017 we sampled both the fishing and the numerous other activities at Copal Tree on a couples trip with our friends Dan and Kate Rice. We split our time equally over the course of a week spending three days sampling the local fisheries with a few more days of non-angling activities both on site and in the local region.
The Lodge
Copal Tree Lodge is located just 10 minutes from the coast in a vast tract of remote rain forest. The lodge is on a hill overlooking the Rio Grande River. Guests enjoy large, comfortable air conditioned cabins surrounded by the sounds of the rain forest. One of the most notable local residents are the abundant black howler monkeys. These small but vocal monkeys are the loudest land animal in the world and produce a vocalization that sounds more like an F-16 jet at take off than a pint sized primate. When the howlers are calling you find yourself looking over your shoulder in anticipation of a T-Rex to come bounding through the forest like a scene in Jurassic Park. An electric tram transports guests from the cabins and lodge areas down to the river where a dock complete with a fleet of kayaks and canoes await along the river for guests to enjoy.
The main lodge area offers a well appointed two story open air venue with a full bar on the first floor and the restaurant on the second floor. In addition to the main lodge there are two outdoor swimming pools, a hilltop yoga palapa, a rum distillery and an extensive farm.
The dining options at Copal Tree Lodge are nothing short of spectacular thanks to he large sustainable agriculture program at their fast reserve. Nearly everything on your plate on a meal is either grown on the on sight farm or sourced locally including the coffee, chocolate, chicken, pork, most fruits and vegetables and even the rum in your drinks which is produced at the on sight distillery and sourced from the sugar cane grown on location.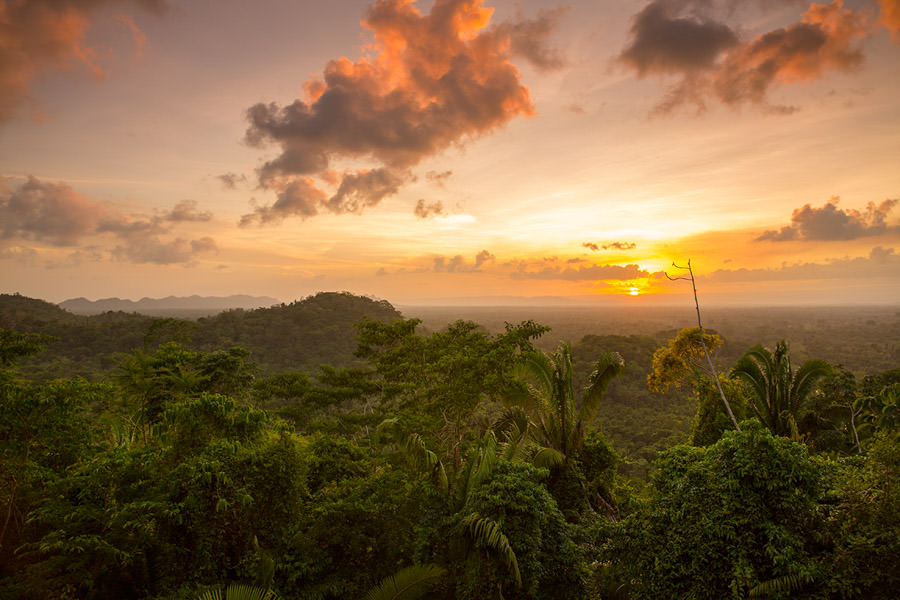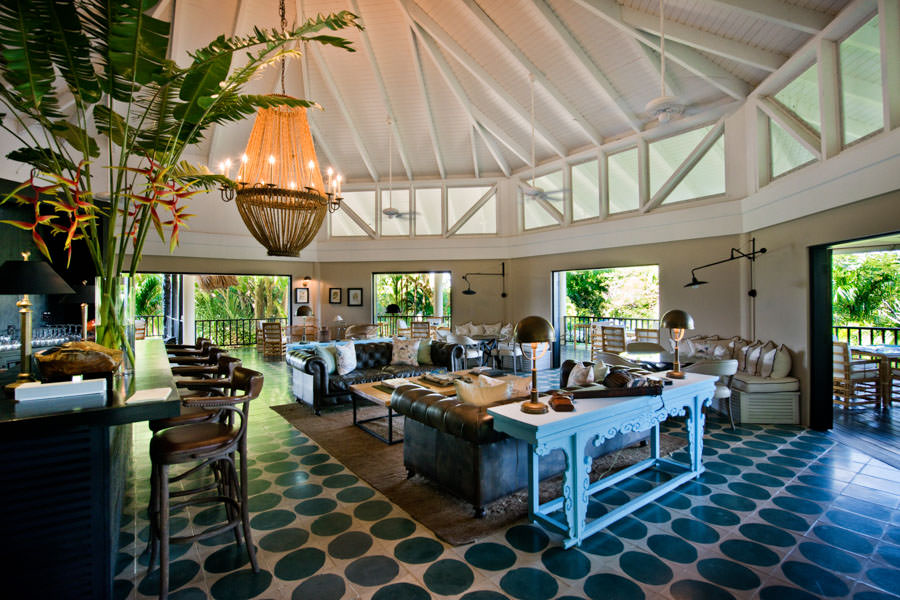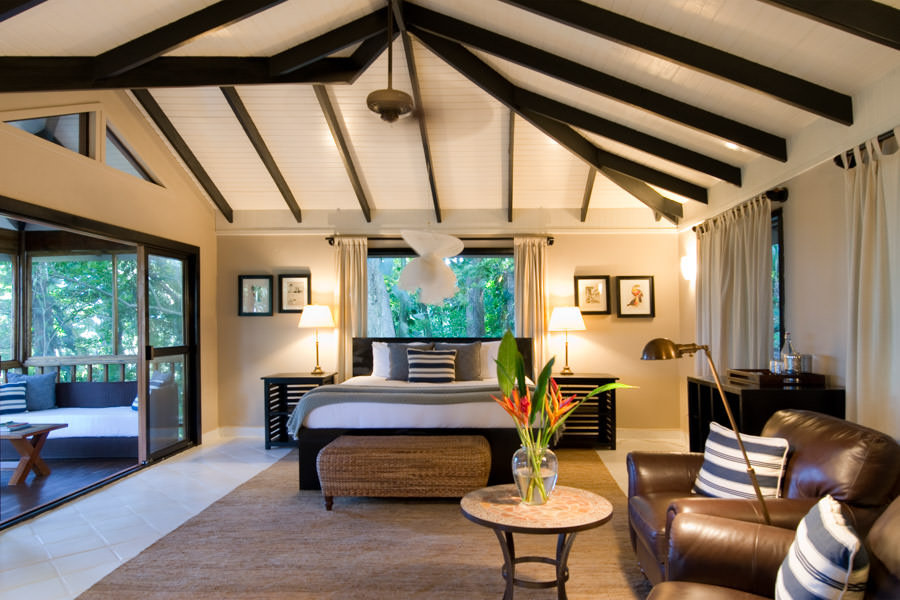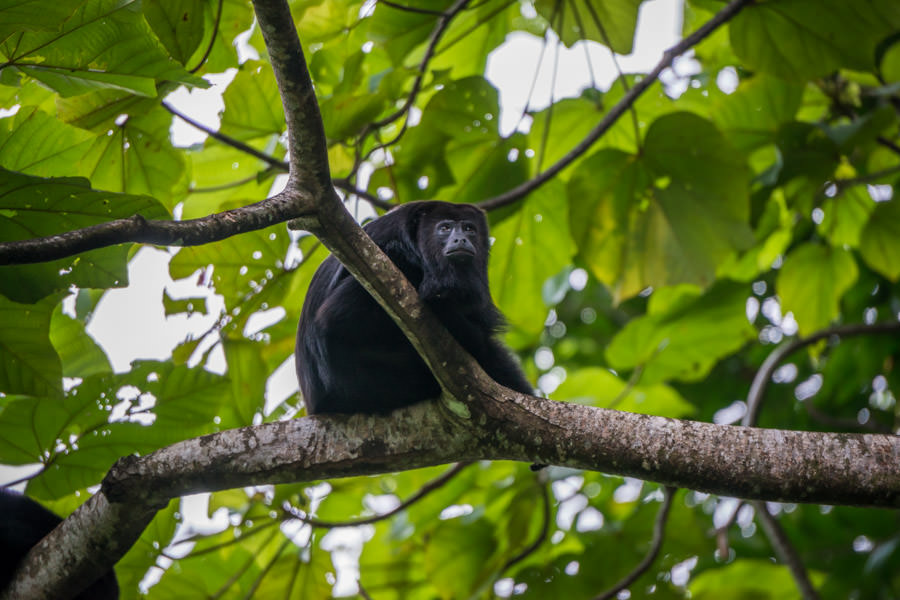 World Class Permit Fishing near Punta Gorda
Permit are widely considered the most difficult game fish in the world to consistently hook on a fly rod. Anglers that seek out permit need to do everything possible to stack the deck in their favor to have the best possible odds to hook up on these legendary flats fish. While permit are abundant throughout the Caribbean from Florida to Venezuela; there are definitely regions that increase your odds of consistently hooking up on this challenging species. One of the challenges of permit fishing is that they are actually more of a deeper water fish vs. a flats fish like bonefish. Permit are not always on the flats and when they are they tend to favor flats with close proximity to deeper water. What makes Punta Gorda so prolific as a permit fishery is that it has just the right blend of deeper water blended with isolated flats. Successful permit fishing on a fly rod means identifying flats that frequently entice permit into feeding in shallow water. The marine reserve near Punta Gorda is home to numerous small keys that are each surrounded by medium sized flats in close proximity to deeper water where permit rest. There is also a vast lagoon system that attracts both permit and bonefish.
Punta Gorda receives light fishing pressure due to the lack of guides in the areas. Copal Tree Lodge partners with the Garbutt brothers for all guide services in the region. The Garbutts have pioneered permit fishing in Belize and their vast knowledge of the flats and estuary systems in the region is unparalleled.
It is important to understand that permit fishing is not a high numbers game, even in a location like Punta Gorda that has some of the highest densities of permit flats in the world. A great day of permit fishing is a single hook up, or just several quality chances in a day. Landing a permit is always cause for celebration but never an expectation. More than any other flats species, permit are the most sensitive to weather changes and turbulent weather, changes in pressure and cooling patterns can quickly chase permit off of the flats. Due to the high density of permit near Punta Gorda when anglers catch the flats during stable weather patterns, fly fisherman can expect to see 30-70 permit per day and enjoy 5-10 quality "chances" per day. Of course, if the weather is unstable, permit can head for deeper water making them hard to find and dramatically reduce your chances. Most anglers visiting Copal Tree Lodge and the Punta Gorda region are attracted by the permit fishery, although other opportunities also exist.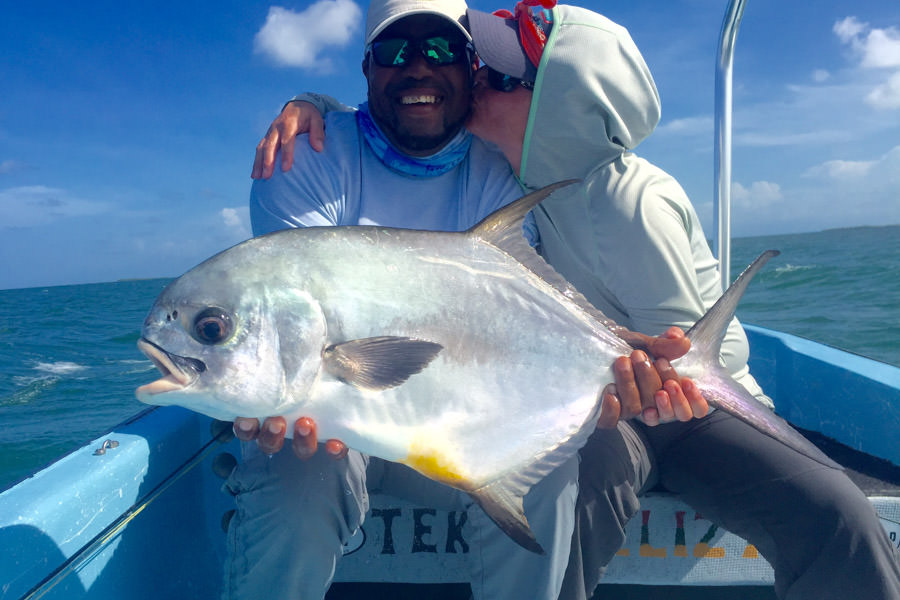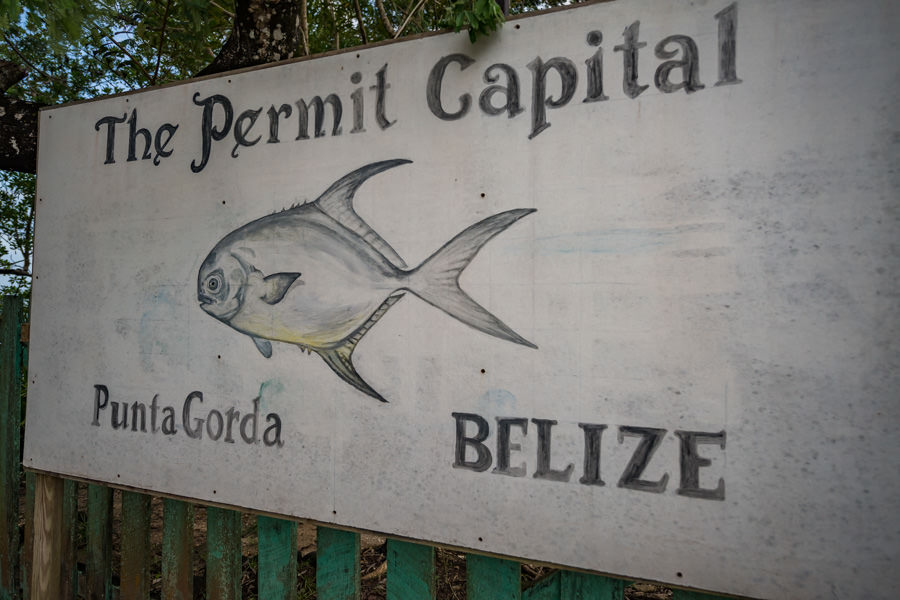 Fly Fishing for Other Species at Kopal Tree Lodge
In addition to permit, the waters near Punta Gorda are also home to tarpon, snook and bonefish. Bonefish are found in the large lagoon north of Punta Gorda as well as the Sopadilla Keys along the barrier reef system. The Sopadillas are an hour boat ride from Punta Gorda and should only be visitied when the wind forecast is relatively calm to avoid a jarring boat ride there and back. Once at the Sopadillas guests can expect to see huge schools of bonefish on hard sand flats that offer both great wading options as well as polling from a boat (there are also some good permit flats at the Sopadillas as well).
Tarpon and Snook fishing is best in the river from the lodge down the estuary mouth. Tarpon can often be seen rolling in the river. Low light times of day are best for targeting the resident tarpon population. Larger migratory tarpon also visit the region in the spring months, although in general the tarpon fishing tends to be more consistent in Northern Belize. Punta Gorda shouldn't be your top location for tarpon fishing but if you are here to chase permit and want your ego needs a boost from the famously fickle fish, it is a great option to carve out some time to chase bonefish, snook or tarpon.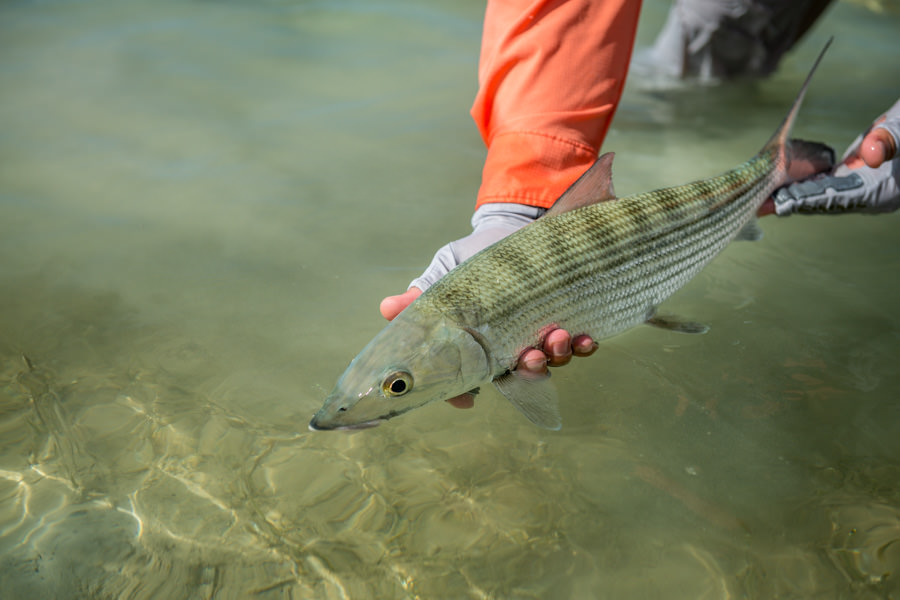 Fishing Report During Our Week
Unfortunately conditions were unusually cool and unsettled during the week of our trip. Permit are warm water loving fish love stable weather (like most flats species). During stable conditions guests can expect to see 60-70 permit in a day actively feeding on the flats. The fish were much less active while we visited and the surface waters were several degrees cooler than normal for early November (normally a great time for permit in Belize). On our first day fishing in the National Preserve north of the lodge we saw less than a dozen permit. Even with fewer fish spotted than normal I was lucky enough to have 2 high quality shots. The first opportunity came at our very first stop on a large flat along a small Key. Our guide Yogi spotted a tailing permit and we slowly poled into position. As luck would have it there was a large driftwood log on the flat that several cormorants were roosting on near the tailing fish. As I made my first cast the birds took flight and spooked the permit. As the day progressed we had a few fleeting sightings of permit in deeper water but no great chances. Late in the day our luck changed and we spotted a small school of 5-6 large fish actively feeding and moving fast across the flats. We spotted the school at a distance and I had plenty of time to plan a cast, when they approached 70 feet I dropped my camo crab at 60 feet and after a few seconds began a slow strip to imitate a natural swimming slowly along the bottom. Quickly one of the permit spotted the fly and changed directions, as the line tightened I strip set but the fly released without hooking the fish. Another permit was also on the fly and he ate it as well – again another strip set with out a hookup; two eats in one cast!
Catch rates were low in terms of permit for our group. Only 2 anglers all week landed permit – by far the toughest week the guides had experienced in a long time. As the week progressed we opted to make some trips out to the outer flats to target bonefish along with a few permit at the Sopadilla Keys. These remote islands are an hour boat ride from the dock and are along the barrier reef. This is a truly unique setting and I enjoyed some high quality wade fishing for bonefish. Even the bones were a bit hard to come by with the conditions and those I found were moving slowly and not aggressively feeding (normally anglers can expect to see hundreds of bones in a day when visiting the Sopadillas). I had the most success walking and wading to get into close range to bones that were milling around and was able to land several nice fish in the 3-5 pound range.
Other Non-Fishing Activities Enjoyed at Copal Tree During Our Trip
Copal Tree Lodge is one of the best locations in the Carribean to blend world class fishing with eco-tourism. During our trip we split time between fishing the flats for permit and bonefish with several great activities both on the property and off. Activities can be scheduled once you arrive at the lodge – often the night before when at dinner. The lodge hosts provide a schedule for activities during the week as well as the added price of each activity. Not all activities are structured or guided (those are free).
Kayaking and Canoeing
A small fleet of sea kayaks and canoes are free to use at your leisure at the lodge. Guests paddling up the river enjoy a unique view into the pristine rain forest while listening to howler monkeys and a vast array of tropical birds. The dock is accessed by a fun tram ride down the hill from the main lodge area. While some guided trips are offered we opted to stroll down one afternoon at our leisure and spent several hours paddling up the lazy river to enjoy the birdlife and Jurrasic Park-like setting.
Horseback riding and hiking
Horseback riding and hiking are daily activities offered on the Copal Tree preserve grounds. Hikes can be either guided or unguided. We took several short hikes around the property directly from the main lodge. One of the couples on the trip also spent a half of a day on a guided horseback trip (also on the property).
Farm Tour
Spending an hour on the daily farm tour on the property is highly recommended. An incredible variety of fruits, vegetables are grown on site in addition to chickens, pigs and goats. In every direction citrus trees, coffee plants, cacoa trees, sugar cane fields, chicken coups, and vast fruit and vegetable gardens surround guests once you leave the hill that the lodge is located on. A large staff travels in from Punta Gorda daily to maintain the program and their rich knowledge of the local agricultural techniques is truly impressive. While you can tour the various areas of the farm at any time, it is definitely worth arriving at the farm center for the hour tour each day (no cost) to learn about the many different techniques used to produce a vast area of produce and livestock.
Bean to Bar Chocolate Class
One of the most popular on-sight activities is the bean to bar chocolate class. Several of the ladies in our group including my wife Ann spent a morning on the farm at the chocolate center participating in every step of the process from harvesting cacoa beans to pouring the chocolate into molds. We flow home with several delicious dark chocolate bars as a result!
Snorkel with the Chef
Another popular activity is the "snorkel with the chef" program. Guests have the option to either spend a half day snorkeling or a full day activity when one of the lodge chef's joins to prepare a delicious lunch on a remote key with conch, fish and lobster that are harvested on the trip. The famous barrier reef is a long boat ride from the dock so snorkeling is done in the interior flats over some corral heads. This was a great activity that we thoroughly enjoyed.
Mayan Ruins and Mayan Culture
Several remote Mayan Ruins can be visited within less than an hour drive from Copal Tree Lodge. Guests learn about the ancient civilization and view large temples and "ball courts" where competitors played a game similar to basketball and the winners earned the right to be sacrificed to the gods. We spent one of our days touring the XXX site and after wards enjoyed a great lunch with a Mayan family.
Punta Gorda Market
Another highlight of our visit was a relaxing morning spent riding mountain bikes provided by the lodge into the town of Punta Gorda to tour the local market. The market is open daily and is a great location to see and sample some of the many exotic fruits, vegetables and spices sources locally. There are also several small restaurants and bars to enjoy a local Belizean meal and Belikin beer. We opted to visit the market on our own using the free loaner bikes at the lodge, but some other guests opted to visit with one of the guides as a structured activity.
Caving Tour and Underground River
Our visit to a cave complete with an underground river was easily the most adventurous activity we enjoyed while visiting Copal Tree Lodge. After a hearty lunch with a local Mayan family we hiked about 30 minutes through a moderately difficult trail through the rain forest to the mouth of a large cave system. A small river travels underground for several miles in the cave system and exits at the mouth of the cave. We spent an hour swimming and pulling ourselves up ropes with our guides to explore deep into the cave system and then floated down in the current in our life jackets on our way out.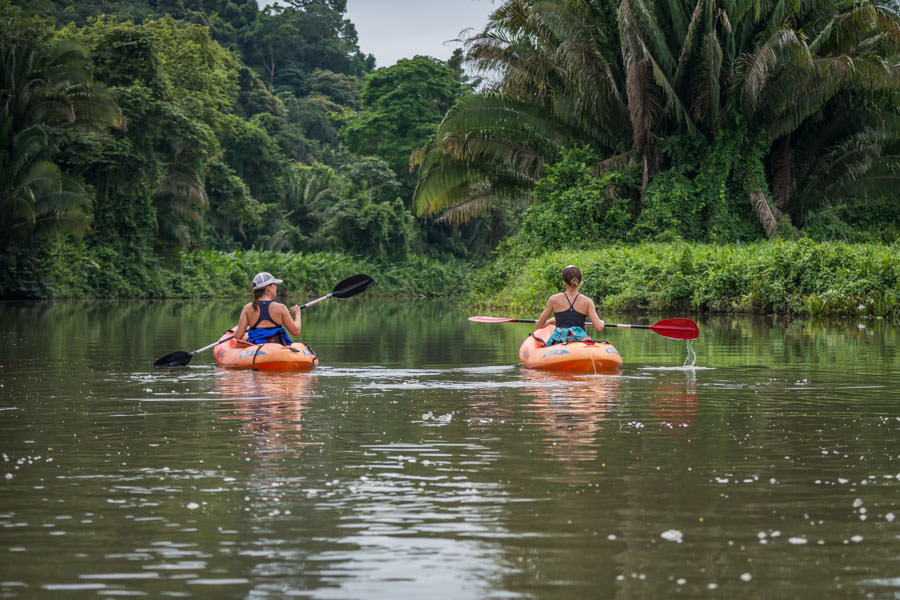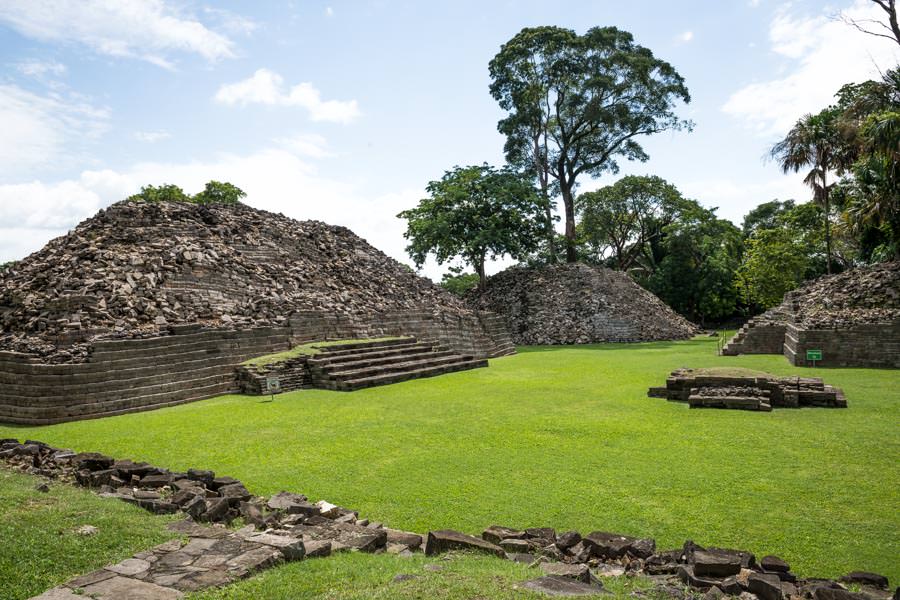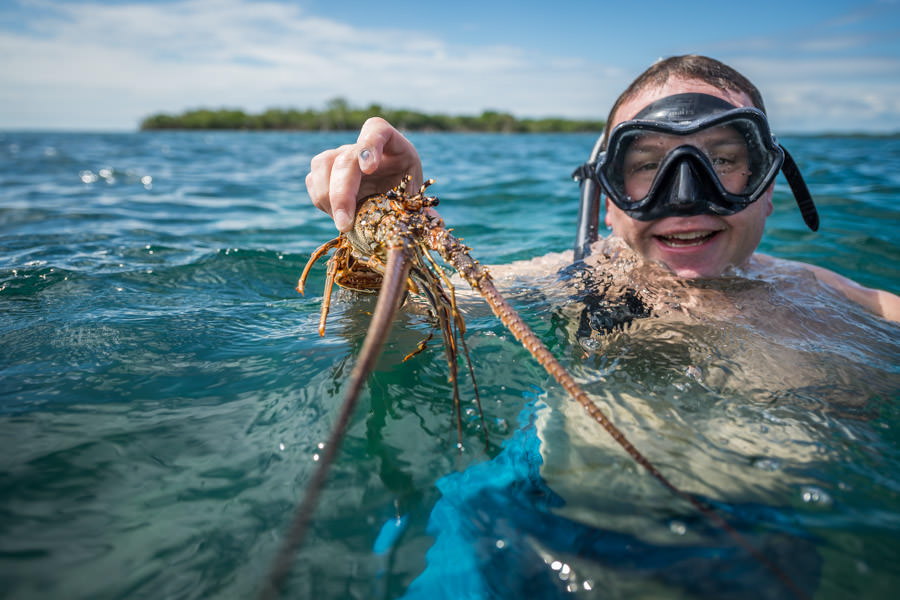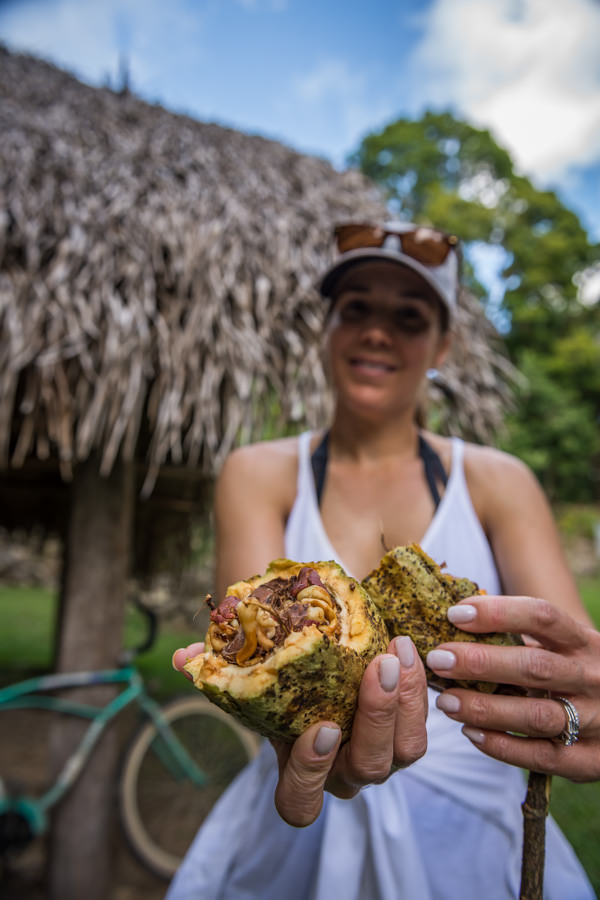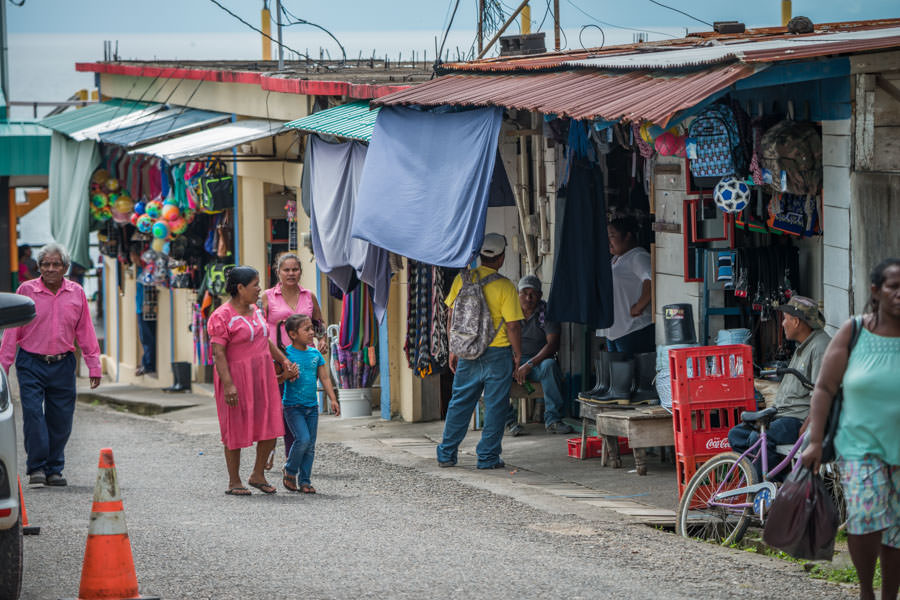 After a great trip at Copal Tree we are excited to go back. This is one of the best "blended trip" lodge options in the Caribbean. The world class permit fishing combined with numerous non-angling activities. The lodge is great for serious anglers targeting permit on the flats but can provide an incredible experience for non anglers looking to explore the amazing culture and biodiversity of Southern Belize. The Punta Gorda region is far from the more developed tourist hubs of Belize further north and offers a relaxed, authentic laid back pace. The lodge is simply spectacular with with large cabins, a pristine setting and an impressive farm to table dining experience.
Receive fresh articles via email!