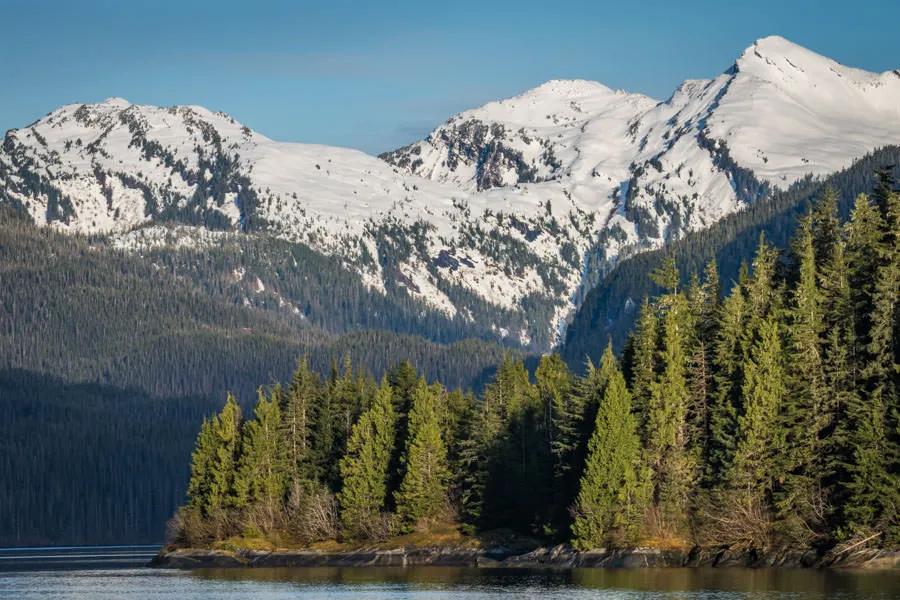 VIAGGIO Steelhead Explorer
Trip Report – Bill Buchbauer
April 26th – May 8th 2017
Petersburg, Alaska
Each Spring I am drawn back to SE Alaska  in search of steelhead and adventure. In April and May thousands of wild steelhead make their spawning runs into the pristine streams and rivers of the Tongass National Forest. These fish are as powerful and as beautiful as the land from which they thrive. The Tongass is the largest and most biologically diverse temperate rain forest in the world. It encompasses over 17 million acres of towering Alpine peaks and sprawling glaciers that drop down into Fjords and islands covered in old growth forests. The streams and rivers support staggering runs of Salmon that set the foundation for an incredible web of life. This is a place of wildness like no other. To find yourself here, staring into a clear pool of a remote rainforest river filled with chrome bright steelhead with a fly rod in your hand is what angling dreams are made of.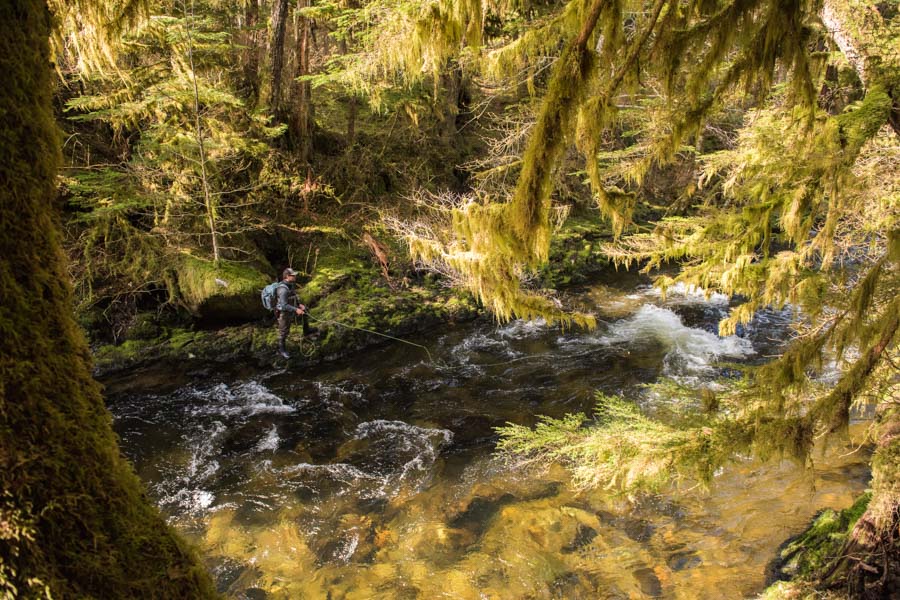 There are over 300 recorded watersheds that host a return of steelhead in SE Alaska. Most streams are small to medium volume and see relatively small runs of fish numbering in the hundreds. Some larger rivers will have runs that see thousands of fish each year. River systems in this region are generally short and most fishing is done within a couple miles from the salt. Nearly all these watersheds are remote and require a boat or plane for access. This is not country club fishing; just getting to these streams takes planning, the right vessels, experience and expertise. Slippery logs, devils club and muskeg guard these hidden gems and only anglers that are willing to put in some hard slogging reap the rewards.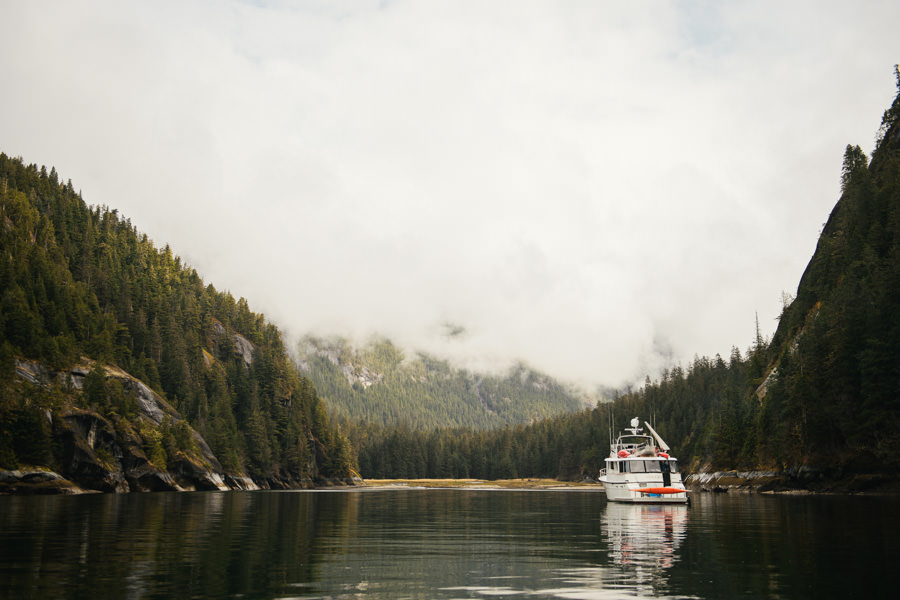 Our team was led by captain Trig Papenfuse. Trig runs the 72 foot luxury yacht the Viaggio. Based in Petersburg Alaska the Viaggio offers the perfect live-aboard platform for a steelhead voyage in SE Alaska. The vessel accommodates 4 anglers, 2 guides and crew in comfort. It is capable of large crossings and comes appointed with both a 23' custom jet boat with a 220 hp motor and a 15 ft jet boat that provide access to limitless exploration. Captain Trig averages 6000 nautical miles per year in Alaska alone. His knowledge of the area, experience and ability to find unique anchorages makes captain Trig an elite captain. His motivation for exploration comes from his deep connection with the region. His enthusiasm is contagious, and he makes sure his guests get the fullest experience possible every day on the Viaggio. Trig works seamlessly with his professional chef and deck hand to insure his guests get to sit back in comfort and enjoy the fine local cuisine and stunning scenery of SE Alaska.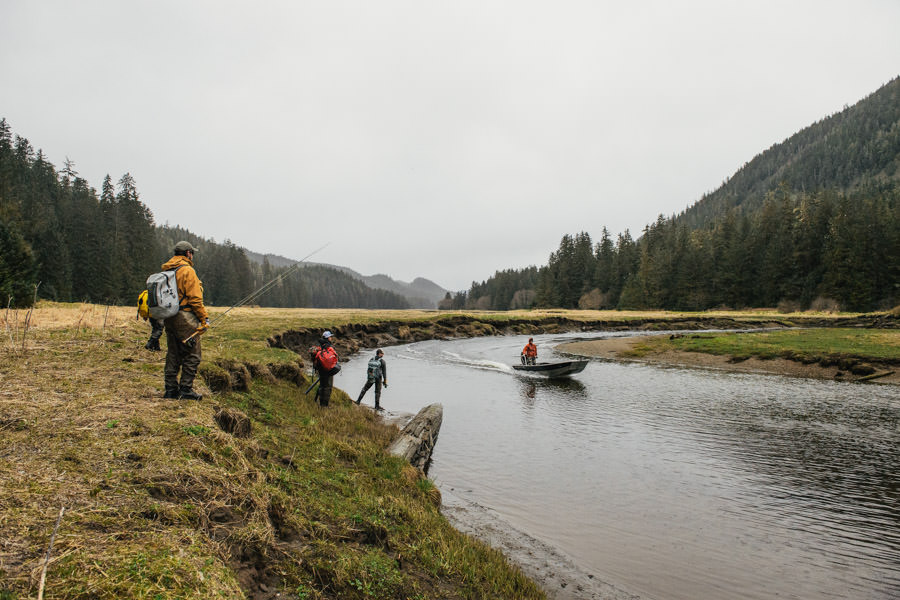 The plan for this trip was to spend 10 days exploring potential steelhead streams with an experienced and adventuresome group of steelhead dreamers. Greg Schlacter would act as lead guide on the trip and myself as the additional guide and host. Greg lives in Haines Alaska where he operates as a fly fishing outfitter. Greg is a certified Alaskan 6 pack captain and has spent two decades exploring and guiding in SE Alaska. Greg specializes in sharing unique Alaskan experiences with people from all over the world. I first met Greg over ten years ago while working in Alaska. He helped open my eyes to the fishing opportunities this part of the world had to offer, and we have formed a friendship through some truly epic fishing adventures. I was excited at the opportunity to work together with Greg and captain Trig and host some derelict fishing guides to help explore the potential of some uncharted and seldom fished waters.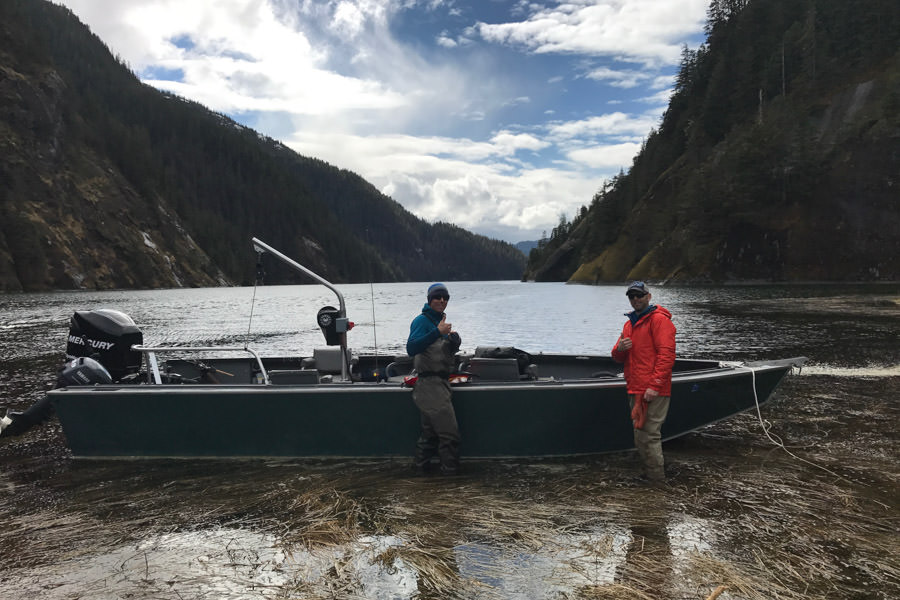 Hank Welles (Montana Angler's GM), Stuart Birdsong, Dominic Arrota and Justin Casey were along to do the fishing, eating and drinking. Hank and Stuart both cut their teeth guiding trout fishing in Wyoming and Montana and have been traveling to chase steelhead in BC every fall for years. They love the big fish and remoteness of the interior of BC's steelhead water and that's where they met Dominic. Dominic works as a steelhead guide in BC and has held more trophy fish in his hands than you and I could ever dream of. His non stop joking and hilarious sense of humor had us laughing the entire trip. Justin is talented photographer and was just as happy holding a lens in his hands as a fly rod. He was also the only steelhead virgin in the group, so he would have to put up with five fishing guides telling him what to do for the entire trip!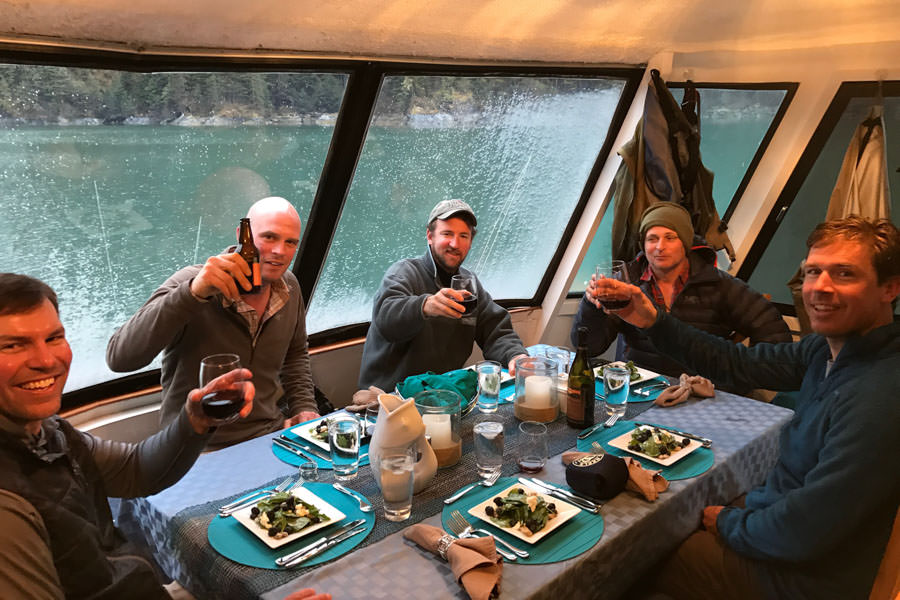 The permit area for the Viaggio  is vast. There is very limited information on most of the streams and river in the area. Fish and game has focused most of their research on a few case study streams spread out throughout SE Alaska. Countless other drainages remain unexplored by anglers and researchers. Those that have explored this area for viable steelhead fly fishing hold their information close and there is no giving away hard-earned secrets. Both the mainland and islands surrounding the Petersburg area offer a multitude of steelhead water. Mainland systems tend to be more rugged and steep then the meandering rainforest streams found on the islands. Some mainland systems are large, glacially influenced and can be prone to flooding during heavy rain. Others are small to medium clear pocket water fisheries that can offer amazing sight fishing opportunities for large powerful fish. These fast, cold rugged streams attract only the strongest, largest and most powerful steelhead in SE Alaska. Island systems offer an entirely different angling experience. Lower gradient and often tannin stained these magical rainforest rivers are a pleasure to wade and offer the angler the opportunity to find fish in a small intimate setting.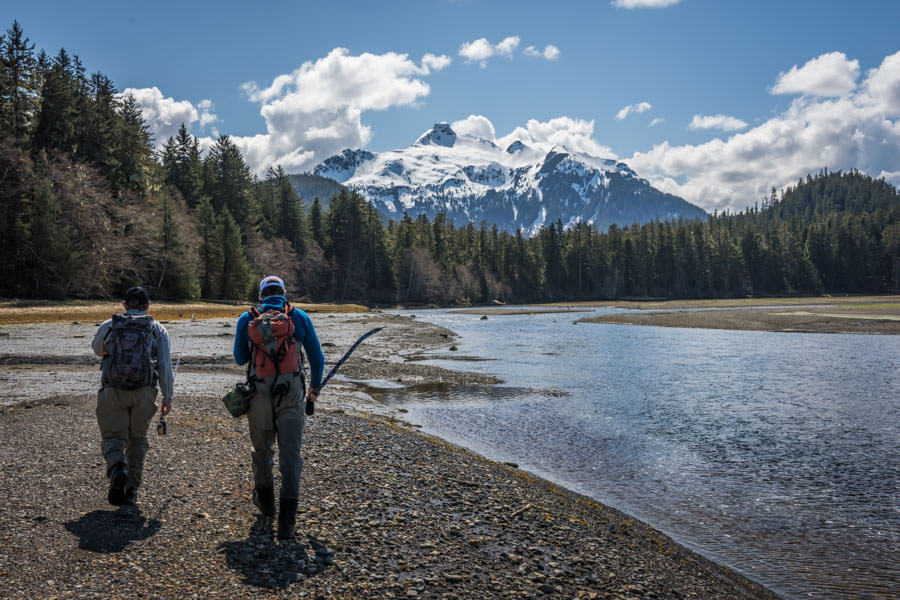 In the 10 days we spent aboard the Viaggio we were able to explore seven different streams and rivers. We found steelhead  in all but one. Landing these fish in steep technical streams, or those filled with downed logs proved to be quite the challenge. On our best day the group hooked 15 fish and landed only three of them. Watching experienced anglers get their butts kicked by these strong hot fish was quite the spectacle. This is the way it goes when exploring and fishing in a place as wild as this. Don't expect to come here and catch 10 fish a day. Landing a fish or two a day is a more realistic expectation. Single hand rods in an 8 or 9 wt are the most practical. Spey casting and swinging flies is possible on the larger systems but most of the time will be spent sight nymphing pockets and runs with a single hand rod. River mouths and estuary fishing can also be productive on certain tides. There is nothing more exciting that hooking into a fish that heads right back into the salt as the tide is coming in. For those interested in some open water salt water fishing the Viaggio comes rigged with jigging rods and trolling rods to try for a variety of species that thrive in the open waters. We enjoyed catching a variety of bottom fish off the deck each evening before dinner or making short runs in the jetboats to fish points and structure before or after a day on the streams. Justin landed our only open water Chinook salmon, but the opportunity was there most days for more. We also did quite well with our shrimp and crab pots.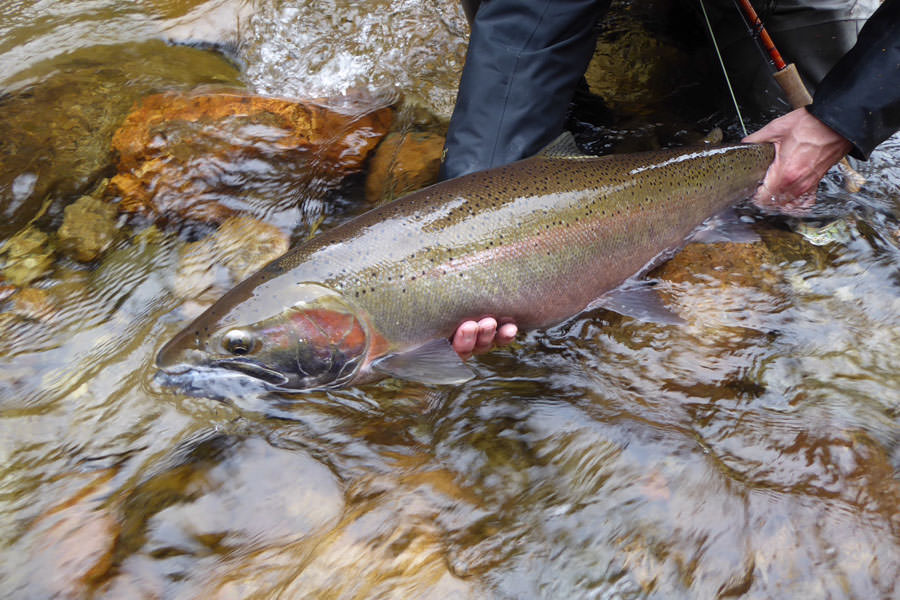 The fishing is truly a bonus on a trip like this. The wildlife and scenery more than make up for a tough days fishing. Whales, dolphins, bears and sea lions are witnessed on a daily basis. It was hard to get through a meal without a trip out onto the deck to view some spectacle of nature. Each hike across the tidal flats and up a new stream revealed beauty and life that is hard to describe and put into words. You begin to feel at peace in this wilderness and your personal schedules and responsibilities evaporate like the morning fog above the rainforest. Congratulations to Justin on landing his first ever steelhead on this trip! Thanks to captain Trig and a great crew for the trip of a lifetime. I look forward to future adventures aboard the Viaggio!
See more photos and addition info on our trip page - VIAGGIO Alaska Steelhead Explorer
Receive fresh articles via email!