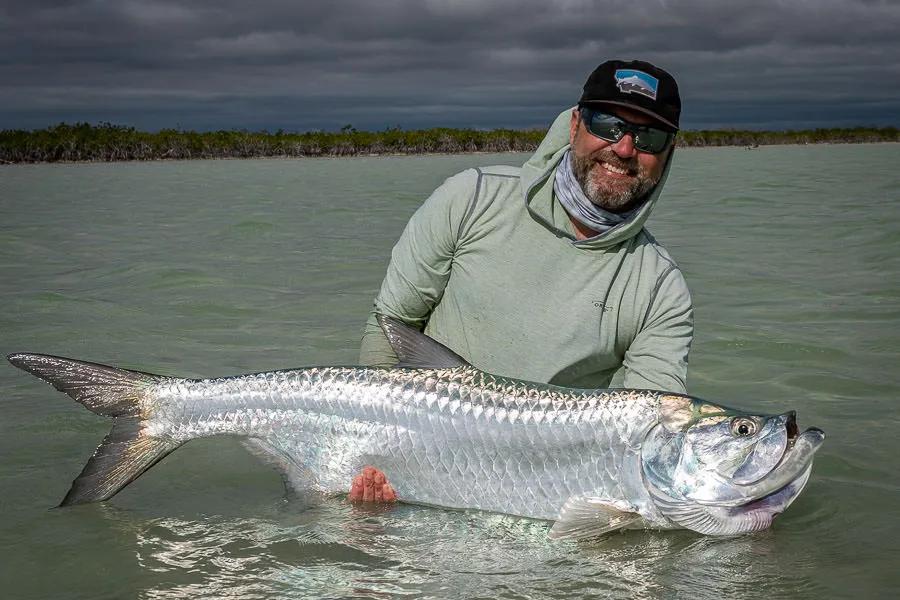 I recently had the opportunity to spend a week targeting the legendary flats of Ascension Bay in southern Mexico. We have been looking to add a new Mexican lodge partner that allowed easy access, mixed species fishing and flexible stay alternatives. The fly fishing community is a tight knit bunch and several colleagues had high praise for Grand Slam Lodge which is located just north of the small village of Punta Allen. After some email exchanges with lodge manager Mike Ledezma we scheduled a trip for early March. The timing was serendipitous, as we were headed south the concerns that the corona virus may turn into a global pandemic where just hitting the news feeds. In hindsight, we were lucky to get the trip in. We were fortunate to enjoy a fantastic week at the lodge and look forward to returning when global concerns related to the pandemic ebb.
Grand Slam Lodge is located on a private stretch of beach about a mile north of the sleepy village of Punta Allen. The spit of land the lodge is located on has access to both the ocean and Ascension Bay. A small fleet of pangas (flats boats) are stationed on the lodge's private dock in a protected lagoon that opens to the large bay. Gand Slam is located in the central part of the bay which allows excellent access to a vast assortment of flats and lagoons. Nearly all of Ascension Bay is protected as part of the Sian Kaan biosphere reserve. The lodge's location allows guides to adjust to different wind conditions allowing anglers to always have a unique set of opportunities regardless of the prevailing wind.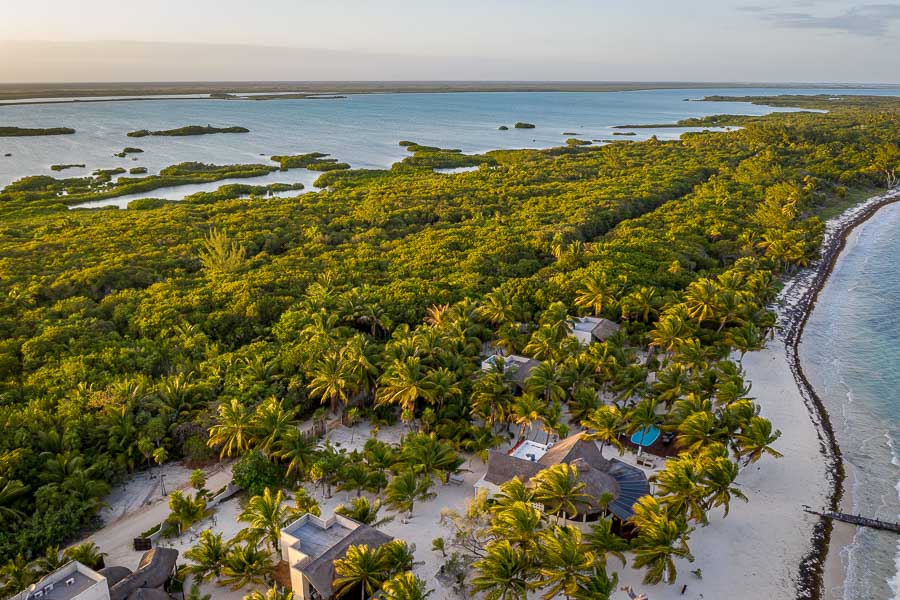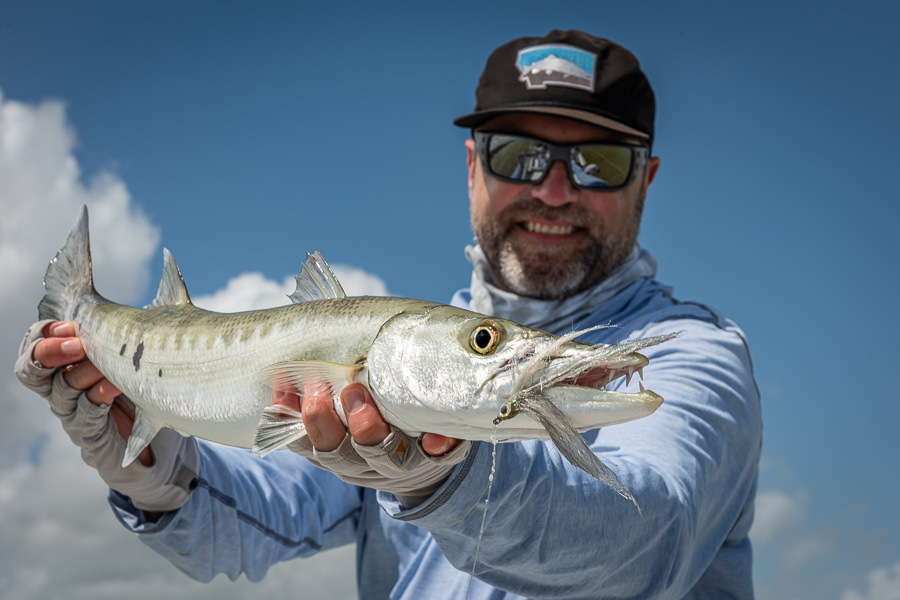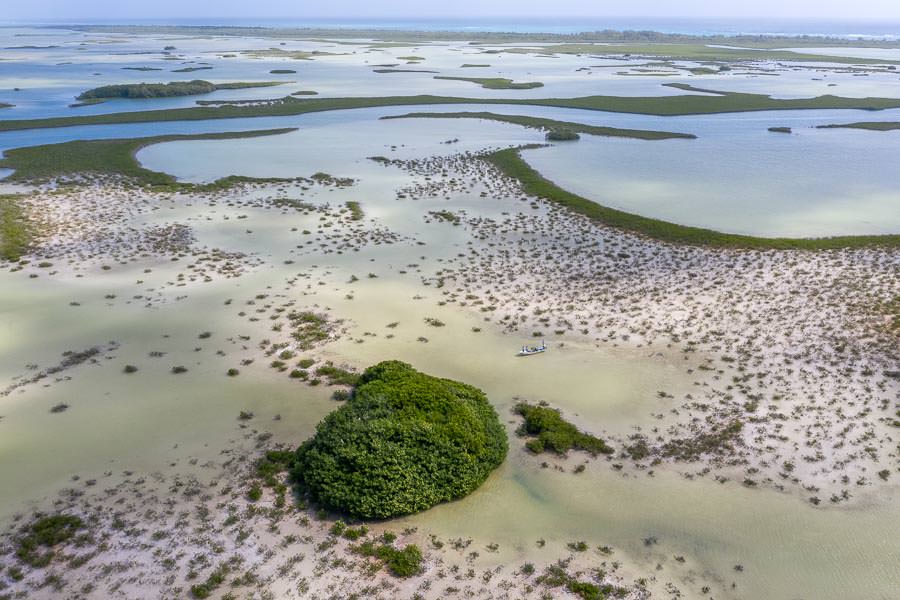 Ascension Bay is famous for its mixed species opportunities. The expansive flats systems, lagoons, and mangrove laden creeks provide incredible habitat for numerous gamefish. Bonefish, tarpon, permit, snook, barracuda and jacks are all found in abundance. With a very healthy population of bonefish, Grand Slam is a perfect "first saltwater trip" location. Ascension Bay is also a favorite of anglers in search of species that require a little more work such as tarpon, permit and snook. One of the very appealing aspects of a trip to Grand Slam Lodge is the option to target so many varieties of flats fish. This not only adds variety to your trip, but it provides a nice sanity break if your main quarry is permit or tarpon and they are not being agreeable. 
Lets face it, permit do not come to the fly easily. If you are a serious permit angler you need to put in a lot of time. Ascension's permit flats are productive and the notoriously fickle fish are common...but they are still tough to hook. Even the most ardent anglers can only handle so many rejections when the permit are not cooperative. At Grand Slam you can pay your dues for part of the day looking for the species that don't always play nice such as tarpon and permit, and then fall back on bones or casting for snook to recover your ego if it doesn't go as planned. Ahh...but when that water finally erupts with an 80 pound tarpon tail-walking across the water the universe instantly returns to alignment!
Travel to Grand Slam Lodge
One of the appealing aspects of fishing out of Grand Slam is the relative ease of access to the lodge from the US. Anglers have numerous flight options into the tourist mecca of Cancun. From Cancun a lodge driver picks you up for a 2 hour drive south to the northern part of the bay to meet one of the fishing guides in a panga for a 1 hour boat transfer to the lodge.
The Lodge
The lodge sits on an idyllic palm laden beach. Guests stay in private cabins, all with ocean views. The main lodge offers a large bar, dining area and gathering area. Anglers can expect delicious local cuisine in a relaxed atmosphere.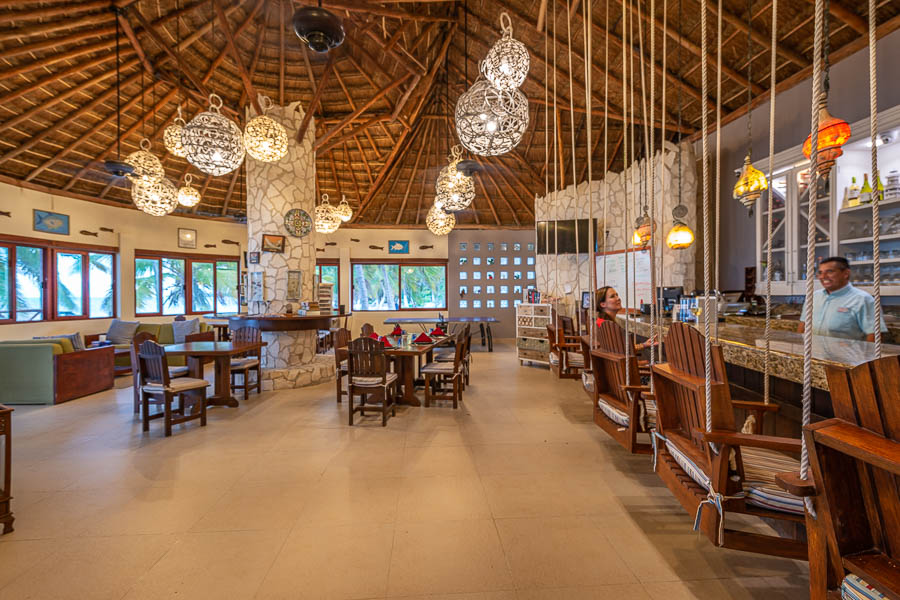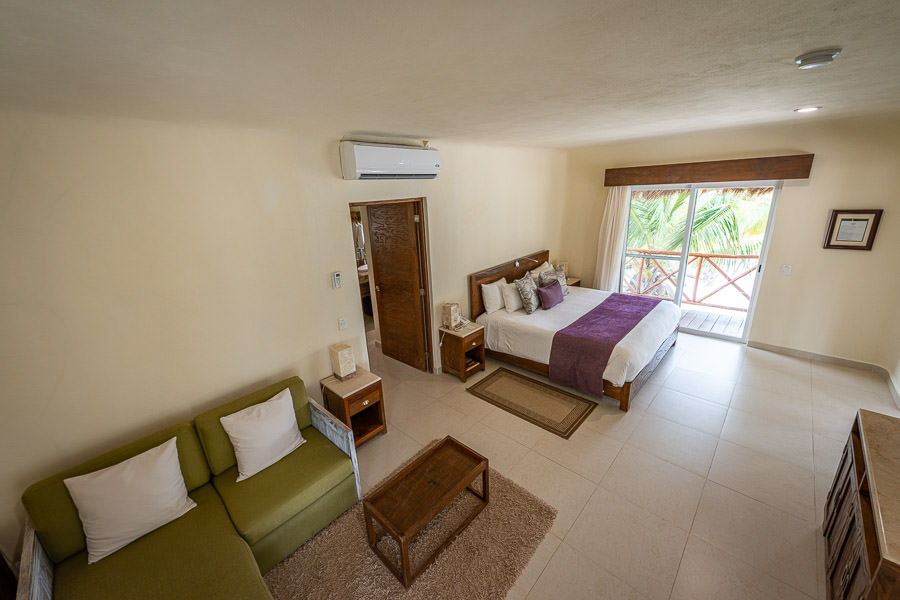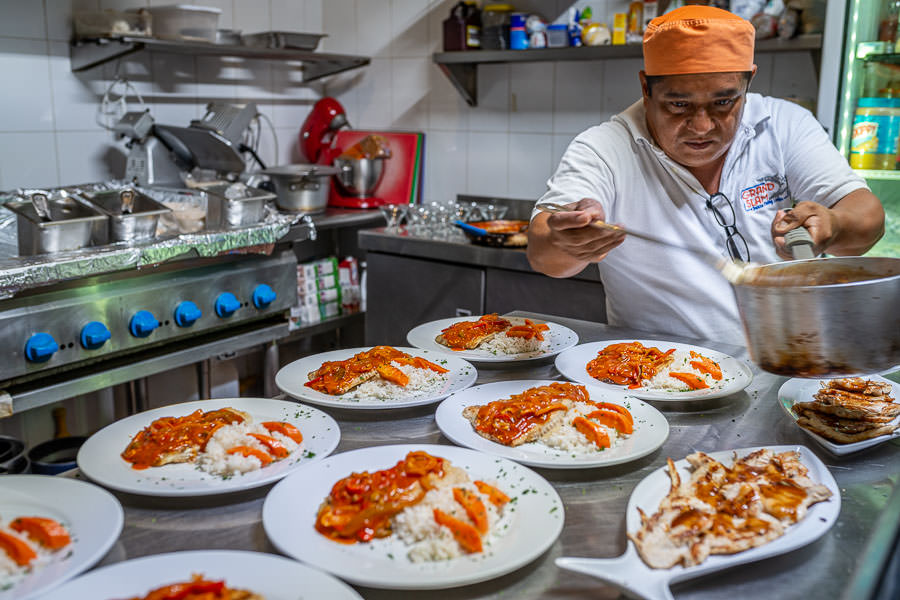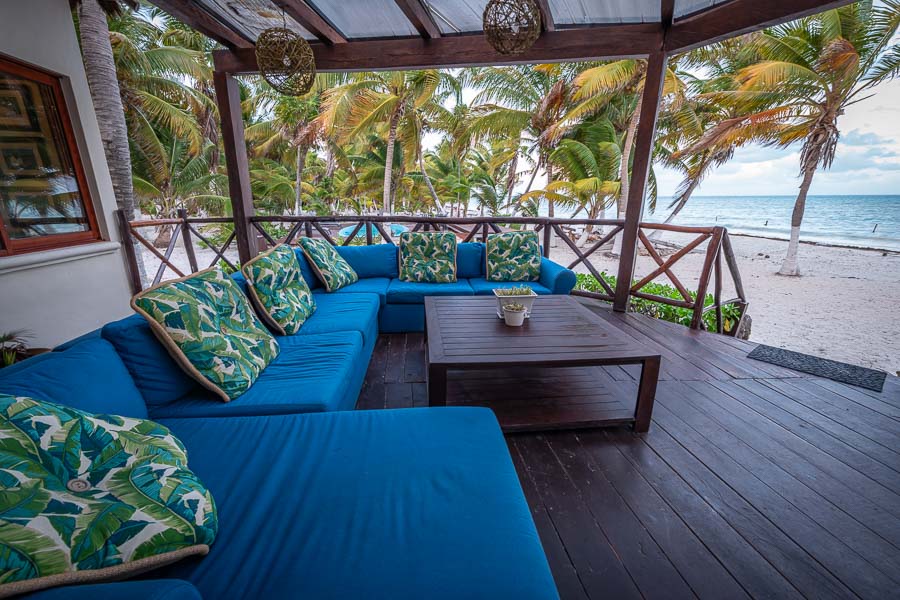 Arrival day fishing
Ann and I opted to fly down 2 days early to unwind in Cancun before heading south. On our arrival day at the lodge we left Cancun early in the morning which provided the opportunity to fish our way to the lodge. After the 2 hour car transfer we met our guide Luis at 10am. There was a north wind blowing and we opted to start fishing in the protected lagoon systems on the Northern side of Ascension Bay. After a 10 minute run we stopped at a bonefish flat and Ann and I both had numerous shots at some bones to get warmed up. After landing a few bonefish we switched to snook fishing.
Snook are a fantastic gamefish: large, strong and always requiring a good cast to target the mangrove pockets they live in. Luis knew of several mangrove clusters that the fish preferred. Snook tend to be cover oriented fish and are especially fond of these root systems. Snook occasionally leave the comfort of mangroves to cruise open water, but most often you will find them slowly cruising or simply resting right in the mangrove system. 
We spent the afternoon slowly polling around large mangrove islands while staring into the root systems. Occasionally we would spot singles or small schools of 3 or 4 snook cruising together. The shots are difficult as you need to make an accurate cast into a tight mangrove pocket and hope to lure the fish out. Sometimes the fish simply ignore the fly. Other times they follow it out of the mangrove just to later reject it. After a few swing and miss opportunities I managed to make a decent cast to a group of three snook and one of the flashed the whites of his gums as he inhaled my streamer. After a hookset and short fight the hook released. 
Later we spotted a truly massive fish. He was about 3 feet back in the mangroves and looked to be close to 20 pounds. There was a small opening in the mangroves but the big fish was still tucked away a few feet into the root system. Luis recommended that I cast anyway. I made about a dozen casts near the edge of the mangroves when the giant fish finally did a lazy 180 turn. We grew more excited and I made a few more casts. With a gentle flick of the tail he slid forward and his head was now peaking out of the mangroves. On three consecutive casts I pulled the streamer right by his snout until he finally inhaled the fly with minimal effort. I set the hook and the huge snook started to roll like a big brown shaking his head. Luis and I both got pretty excited; this was the biggest snook I had ever seen. He began to poll the boat away from the mangroves and it started to look like we had a real chance at landing the big fish. 
Just as everything looked like we were going to land the big fish, I made the mistake of asking Ann to grab the camera. My overconfidence must have sabotaged my mojo and shortly after the big fish made one long method run back to the mangroves. As the fish was just a few feet away from the roots I clamped down on the line and hoped the 40lb leader would hold. Unfortunately the big snook snapped the line and returned to his lie. I doubt I'll ever have a chance to tangle with a snook that big and will always smile when replaying that great fight. Sometimes a great fish like that deserves to go out on his terms.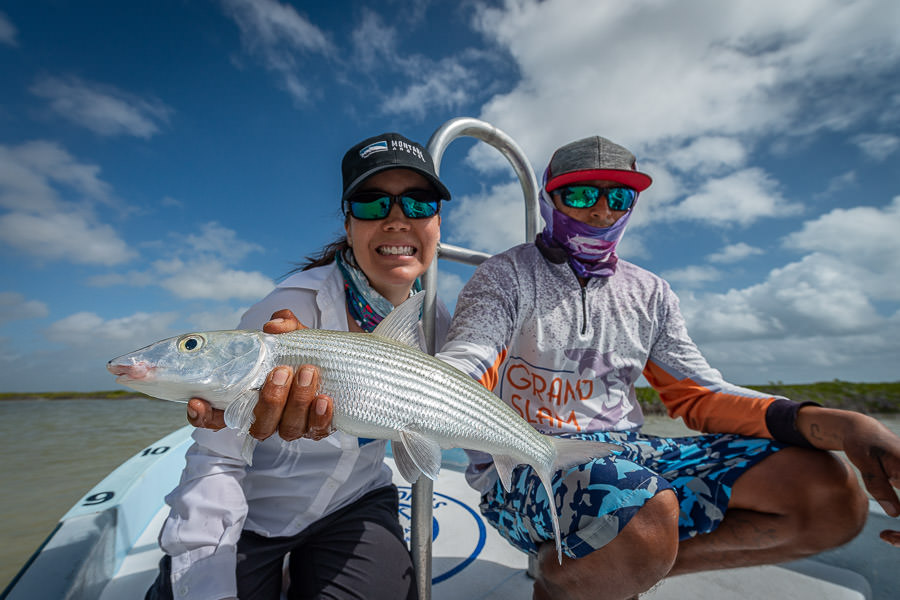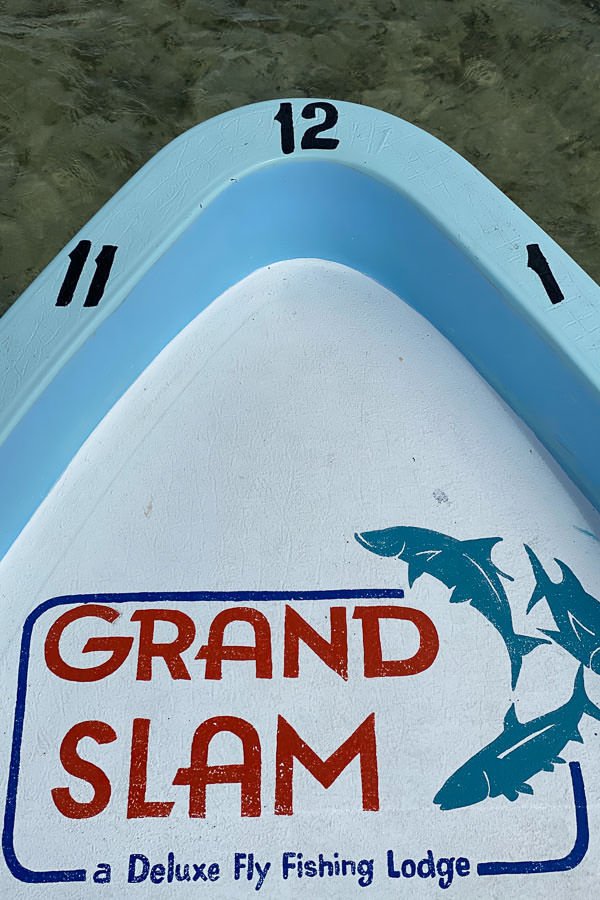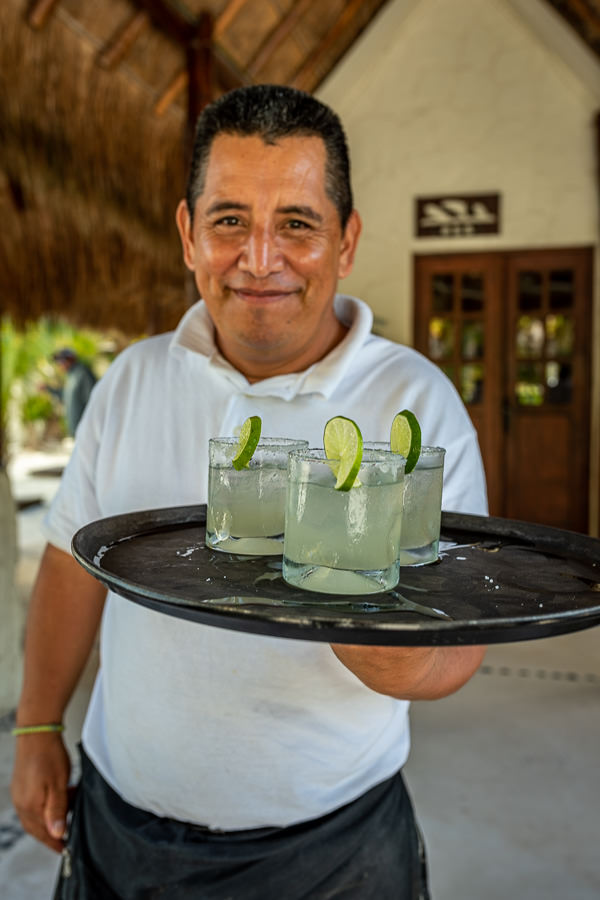 Day 2: The hunt for snook, bonefish and permit
The North wind continued to blow on our second fishing day. Luis opted to run to the North again back to the protected waters that we fished the day before. After the great snook fishing that we enjoyed the day before he didn't need to twist my arm to buy into the plan. The morning coincided with low tide. Often the dropping tide can force the snook out of the mangroves to cruise beaches. We stopped and polled a few long beaches adjacent to mangrove systems in search of snook. The wind on this beach had produced a hint of turbid waters which resulted in more difficult sight casting. After spotting a few fish with mixed results we made a burn to some remote lagoons. 
The lagoon systems offered excellent bonefishing opportunities and Ann and I spent two hours sight casting to numerous small schools of bonefish. The catching was good and we both landed several nice fish. After satisfying our need to bend the rod, we moved back to the mangrove systems in search of more snook. Although we spotted several fish, they were not as active as the day before and the fish ignored all of our offerings.
At the end of one mangrove system Luis's voice rose and the cadence of his instructions changed to a staccato pace. "Permit!, get the crab rod!". I rapidly made the rod change and managed to get one cast in as the fish was cruising away. Although I was late on the draw our excitement level increased several notches.
We instantly switched gears and moved to a flat Luis was confident would hold permit if they were on the feed. As luck would have it, permit began to appear. Over the course of 2 hours we intercepted about 10 fish. These were all larger permit cruising as singles and doubles. Although I cast at several fish, two of the opportunities were about as good as it gets with permit spotted from a long distance allowing plenty of time to accurately place the fly. One of the big fish stopped and moved on the fly, although he tailed on the fly I wasn't able to feel a take. He either grabbed the crab and spit it or simply refused the pattern. Although we weren't able to connect on permit, these were some high quality chances which is about all you can ask for when chasing these challenging fish.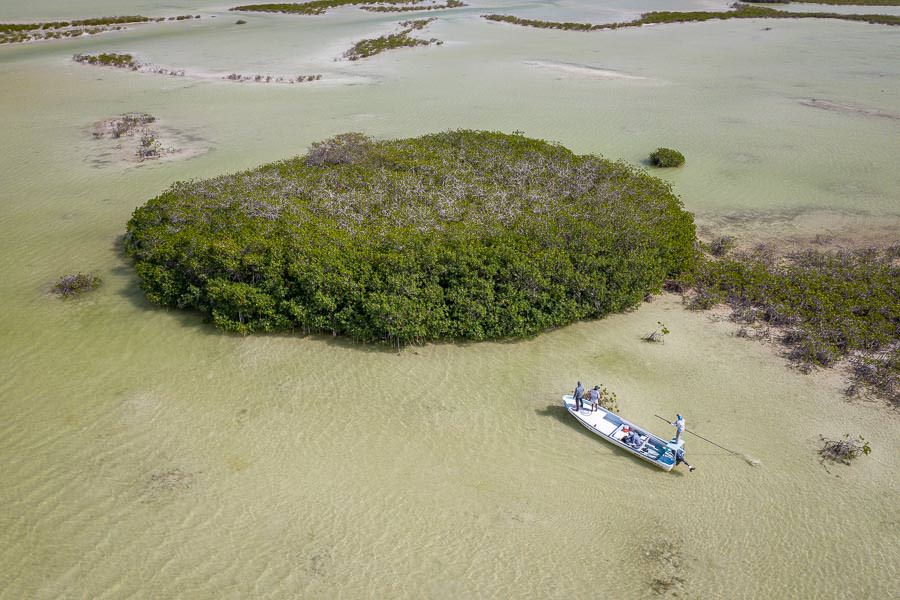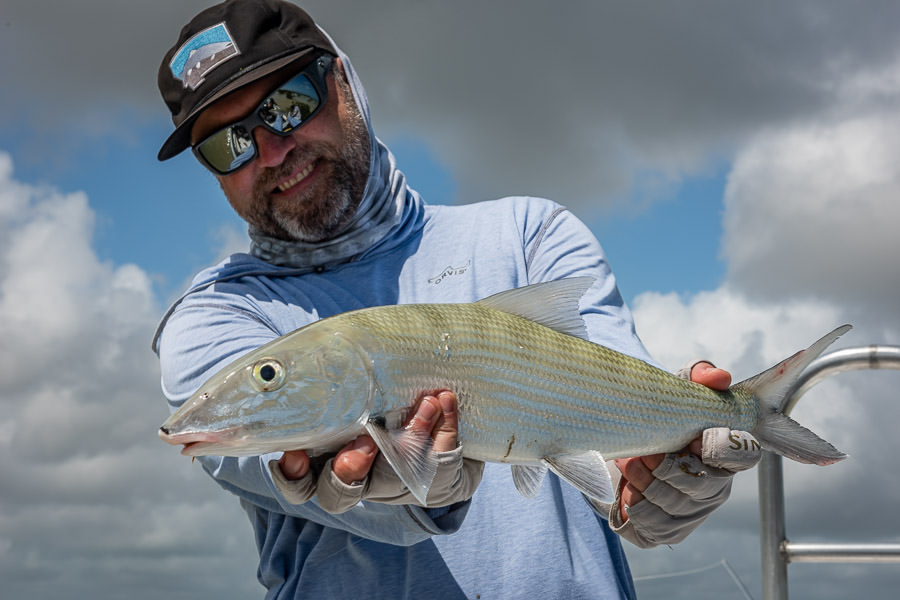 Day 3: permit or bust
The weather had shifted overnight and the forecast looked to provide one of the most stable days of the week. Ann and our friend Kate headed out together with Luis again to chase bonefish while I ventured out solo with veteran guide Tomas. Tomas reinforced that today would provide good weather and asked what I preferred to do. "Lets focus on permit!" was my reply. Permit are never easy to come by but sunny skies and stable weather increase the odds of success.
The low winds allowed us to make a long run and explore the southern reaches of Ascension Bay. Throughout the morning we polled one spectacular flat after another in search of permit without success. The waters looked ideal: flats of medium depth all adjacent to the deeper water that permit enjoy having access to. Our lack of success didn't change our plans and after lunch we continued our search for our elusive quarry.
On the first flat of the afternoon our persistence began to pay off when we spotted the first "palometo" of the day. A slight broken overcast sky began to form which limited some visibility but Tomas had positioned us on a string of white sand flats which helped to spot fish when the sun wasn't ideal. Similar to the day before we enjoyed a 2 hour window of numerous permit interactions. All of the fish were of good size and all were travelling either as singles or pairs which I much prefer over chasing larger schools. In a similar fashion to the previous day I had 2 excellent opportunities to make a good cast but unfortunately the permit either didn't see my fly or weren't interested. Even though our permit or bust strategy resulted in a bust, this was still one of my most memorable days of the trip. The excellent weather and spectacular flats systems we explored made for a high quality day.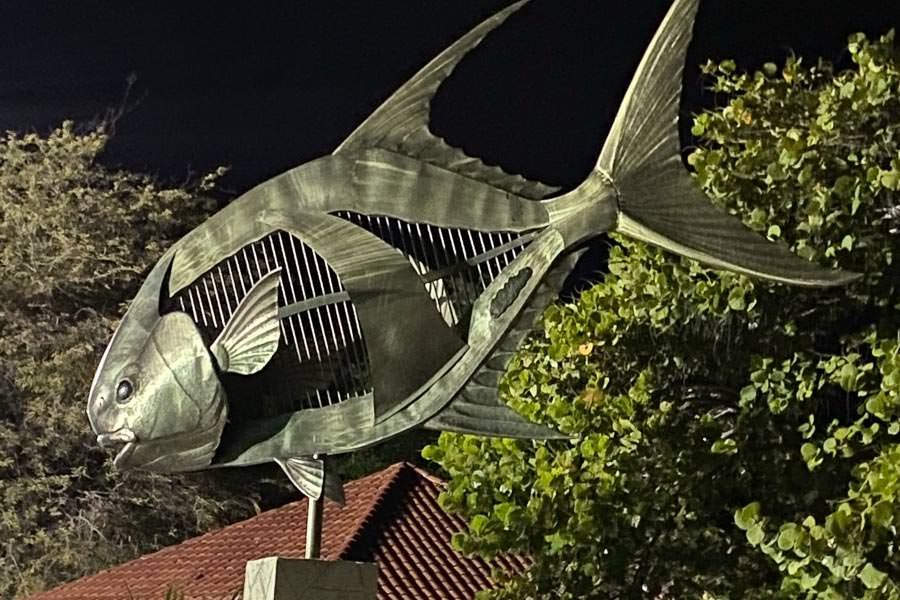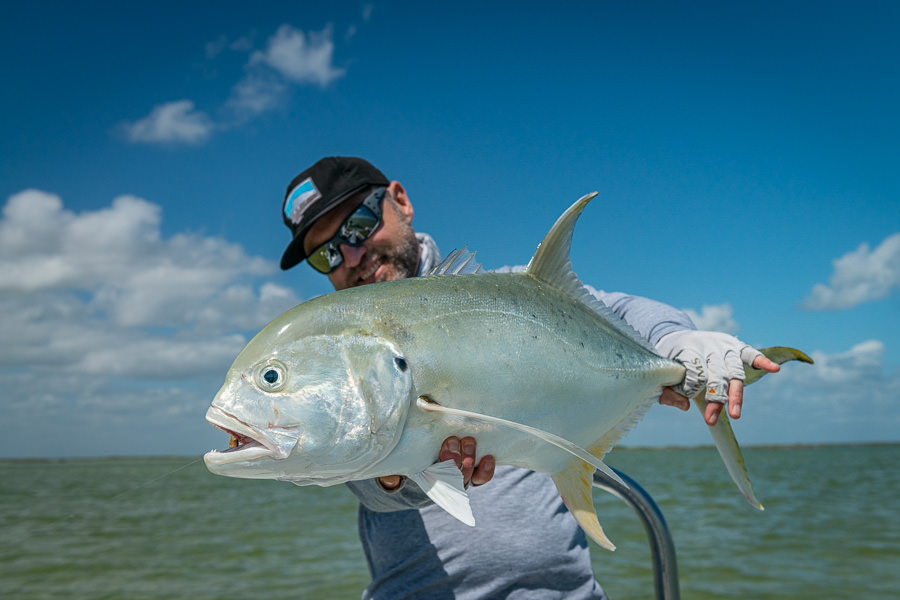 Day 4 - tarpon surprise
The weather turned once again near the end of our week at the lodge. Day 4 was predicted to be gray and possibly wet. I went out solo again with Tomas. Flats fishing is always a challenge when you do not have good sun. The number of fish that you can locate on the flats, regardless of the species, drops dramatically if the sun is not present. Even when you do find a cruising fish they tend to be in short range and often only allow once quick cast before spooking. So rather than try our hand at sight fishing flats under tough conditions we opted to hunt the mangroves for snook and baby tarpon. This is still a sight fishing game but the cover of the mangroves allows snook to remain comfortable even as you approach within close range.
We headed deep into the middle section of Ascension Bay where several small creeks enter the bay. Tomas indicated this would be a good area for both baby tarpon and snook. After a few unsuccessful passes along mangrove laden beaches in search of snook, we noticed a "brightening" in the clouds. Tomas opted to run to a large flat system that was a little deeper than the normal permit or bonefish water to look for tarpon. This flat was home to a few karst sinkholes that held a lot of bait and larger tarpon sometimes cruised the flats. 
About an hour into polling the flat we approached one of these small "blue holes". Tomas shouted "tarpon". We still had modest visibility so I didn't spot the big fish until he was at 20 yards and only had time for one cast before he spooked. Luckily I made the cast and after the first strip the big fish rushed to the surface to inhale the fly. After multiple strip sets the water erupted as a 70lb tarpon launched into the air. As soon as the big fish hooked two other tarpon that were cruising with him spooked, these fish looked to be over 100lbs each. 
This was the biggest tarpon I had ever hooked and he screamed into the distance with amazing speed. On the first blistering run he made 5 jumps, each one launching his entire body out of the water. There are simply no substitutes in the sport of fly fishing that can simulate the adrenalin rush produced when a huge tarpon runs and cartwheels with reckless abandon after a hook set! After a 20 minute fight we were able to poll the boat into a shallow float where both myself and Tomas exited the boat. Tomas was able to hand land the big fish allowing us to snap a few photos before a quick release. 
The rest of the day produced lackluster success in search of snook and permit under poor conditions. It didn't matter, my trip had already been made!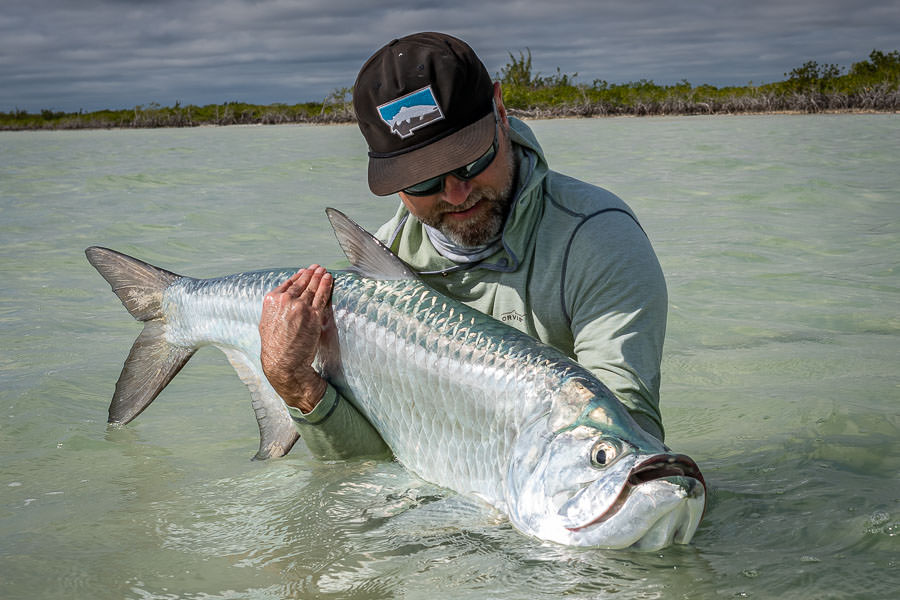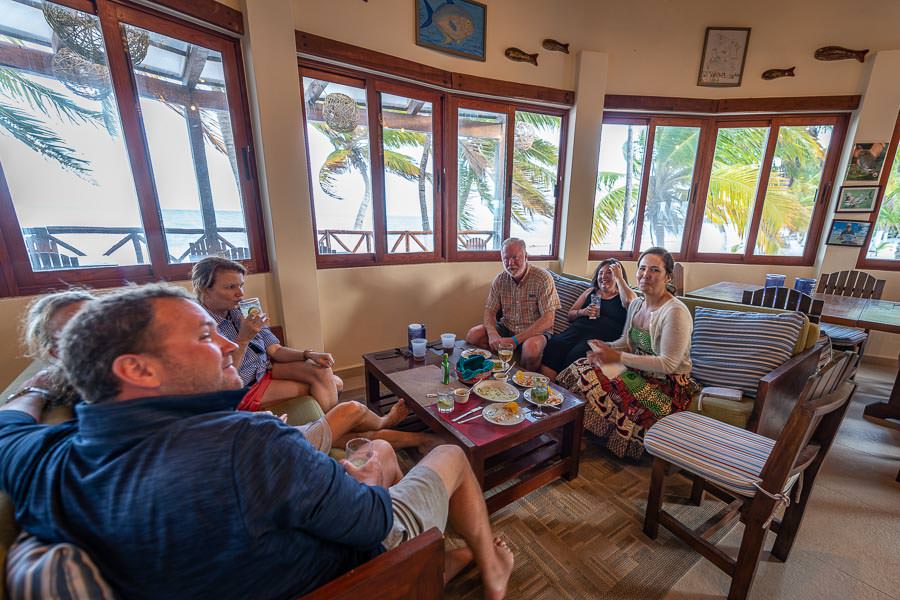 Day 5 - hunting the mangroves
On our final day of fishing I teamed up with good friend Dan Rice. Dan's arrival was delayed due to some work commitments so this would be our only day on the water together. Dan would be spending a few more days with his wife Kate fishing and expected to largely target bonefish with her. To add some variety we gave Tomas the instructions that we wanted to chase tarpon, snook or permit. Tomas indicated with the cooler weather and mixed sun snook would be our best best.
We headed to yet another new mangrove system. I was first up on the casting platform and within a few minutes we found a small school of 6-7 snook milling around some roots. On the first cast a nice fish chased the fly out of the mangroves and hit the fly. Snook have a very quick take and I missed the timing of the hook set. After a few more casts a second fish struck and this time I managed a hook up on a nice 5 pounder. After a good fight he tossed the hook. My luck with snook on this trip was at least consistent.
Later in the morning we discovered a pod of huge tarpon cruising a deep channel that interconnected some lagoon systems. We left the area to rest and returned later in the morning but were unable to find the big fish. Along the way we made some unsuccessful casts at some cruising baby tarpon we found in some creek systems.
After lunch we returned to chasing snook in mangrove clusters. I had a few more hookups without sealing the deal but Dan's luck was better. We spotted a single nice fish cruising in and out of the mangrove roots. Dan was able to tease the fish out of the bushes. The snook casually followed the fly for about 10 feet when it suddenly accelerated on the streamer and ate it. Dan quickly strip set and the fight was on. After a few photos we quickly released the snook. 
At another stop we found a few larger snook cruising deep in the bushes. After waiting patiently for a fish to make a mistake and come into casting range out of the bushes, we finally gave up. We asked Tomas to nudge the front of the panga into the trees and after some strenuous bushwhacking we were able to poke our heads through the dense cover. In the shade of the mangroves we spotted several massive snook cruising within the inner sanctum of the mangroves - very cool; no wonder these big guys are so hard to catch!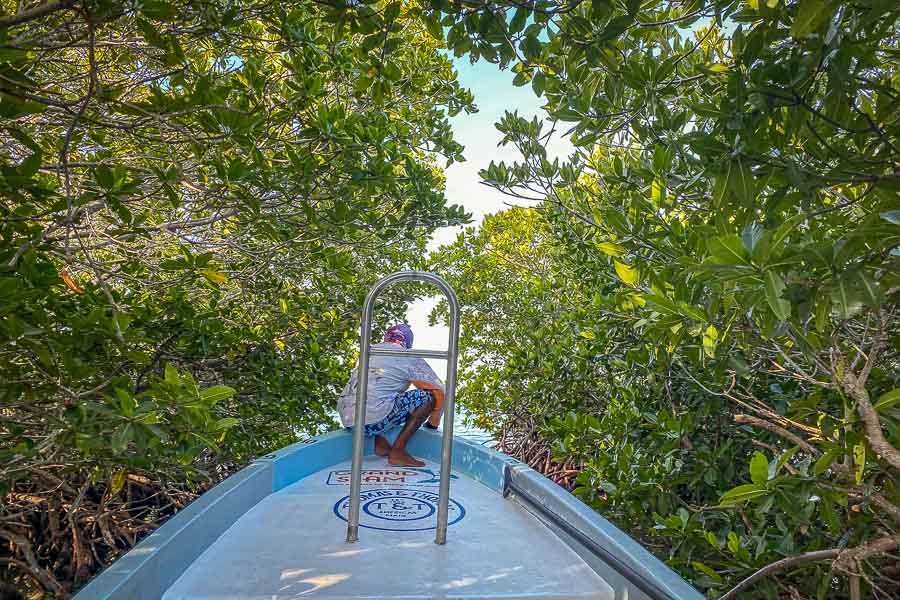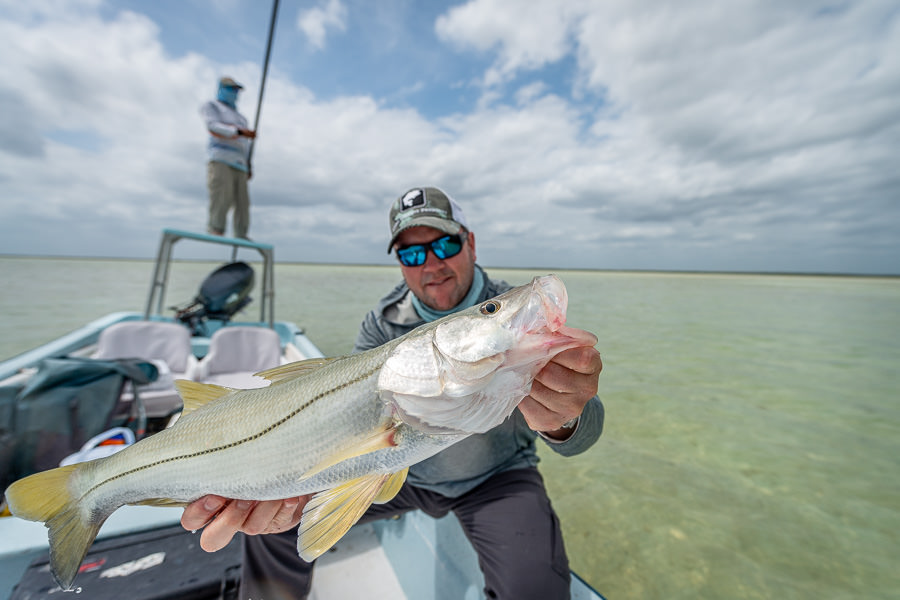 Summary
Although the weather on our trip was a little hit or miss we had plenty of great fishing days. The mixed species opportunities are a fantastic attribute of fishing Ascension Bay. Bonefish are often the staple of many salt water programs and the population in Ascension was healthy and thriving. Although we didn't spend a lot of time targeting bones, when we did the action was always outstanding. Ascension also offered some of the best snook fishing I have had a chance to sample - this is certainly a great gamefish and helped to save the day when we had poor weather. Although we didn't enjoy great permit weather we saw plenty of these "ghosts". I look forward to returning to focus on this great fish in the future. The highlight of my trip was the big tarpon that appeared out of seemingly nowhere. March isn't prime tarpon time so it was special to have a shot at one of the big boys on our trip. I was very impressed with both the guide staff and the lodge grounds at Grand Slam. If you are looking for a great mixed species salt water venue this should be on your list!
Receive fresh articles via email!