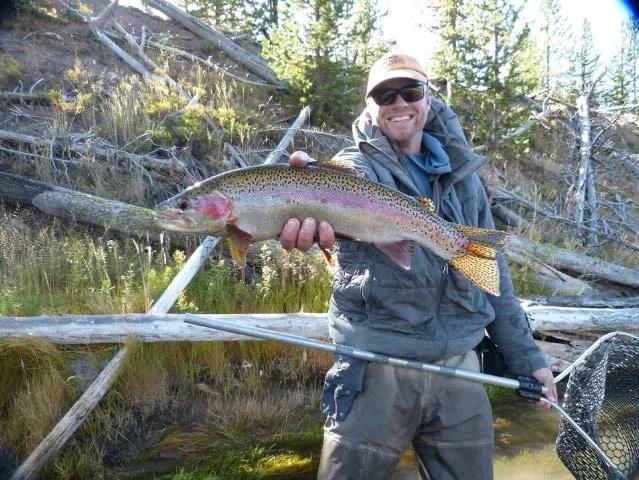 One of the most frequent questions I am asked when visiting anglers are planning their fishing trip to Montana is "when is the best time to come out". That question is impossible to answer so I generally try to feel out what is most important to someone: nice weather, lots of action, dry fly fishing, big trout, etc. If your top priority is catching big brown trout the answer is easier: October. There is no better time to fish Montana for large trout than October (and even November). Brown trout which tend to make up the majority of the trophy size trout that we see each year spawn in November and early December. Browns are notorious for becoming more aggressive prior to the spawn.
The aggressive nature of browns in the fall combined with the fact that they are on the move running up river and sometimes into tributaries can produce some heart stopping action for lucky and persistent anglers. Late fall fishing isn't just about targeting huge trout, there can also be some great dry fly fishing over the baetis hatch. For most of our guides, however, we get caught up in chasing really big fish in the autumn months. Hunting huge browns in the fall isn't for everyone and if you are going to play the game there are a few important guidelines worth considering.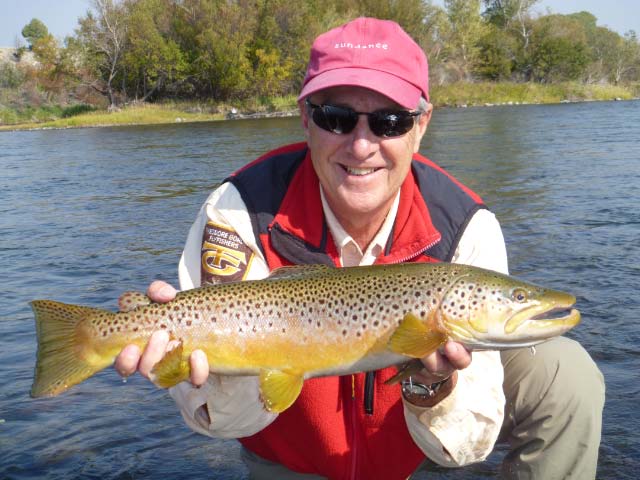 Big Madison River Brown
Dress for Success October and November in the Northern Rockies can be notoriously unpredictable. Days can be warm and sunny or the snow can be blowing sideways. Make sure you prepare for any kind of weather from hot and sunny to cold and wet. If you are travelling all the way to Montana to chase big October browns you don't want to be shut out just because some bad weather blows in. Although October and November are dry months, there will always be some early winter storms that move through and these often produce great conditions for browns that love low light conditions. I still wear gore tex waders but I also have long underwear and fleece pants to layer underneath as well as plenty of layers on top. Don't forget the gloves and winter hat either.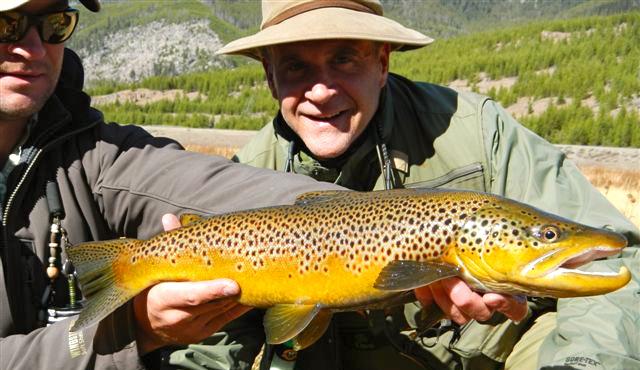 Big Yellowstone Park Brown Trout
Arrive at Peak Times Although big browns begin moving in late September, the best fall run fishing isn't until after the middle of October and sometimes as late as mid November. The peak fishing on the Madison run above Hebgen in Yellowstone is usually the third week of October while monster browns on the Missouri usually don't start showing up until November.
Throw Giant Streamers Most anglers know that big browns are predators and that fishing streamers is a great way to target them. If you are going to throw streamers in the fall don't underestimate how big of a fly a huge brown will eat. I have seen big browns regularly eat relatively big trout in the 15" range - they often can't swallow them all at once and spend a day with a big tail sticking out of their mouth. If you want to move fish over 24" make sure you are stripping the biggest streamers that you can find. I usually have to tie my own tandem hook streamers that are around 10" long. These massive flies are best fished on a seven or eight weight. They won't put you into many small trout but if you throw them long enough you are sure to see some huge fish at some point.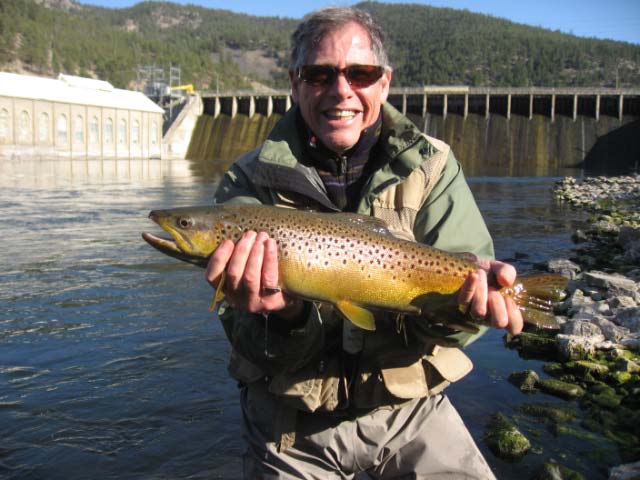 Missouri River October Brown
Try Egg Patterns Whitefish, brown trout and brook trout are all fall spawners which means there are a lot of eggs bouncing around the rivers in October and November. Although huge browns tend to prefer a big meal, eggs are so packed with nutrients that even the largest browns will still eat them. There are days when fishing egg patterns under an indicator will outfish every other method for big browns.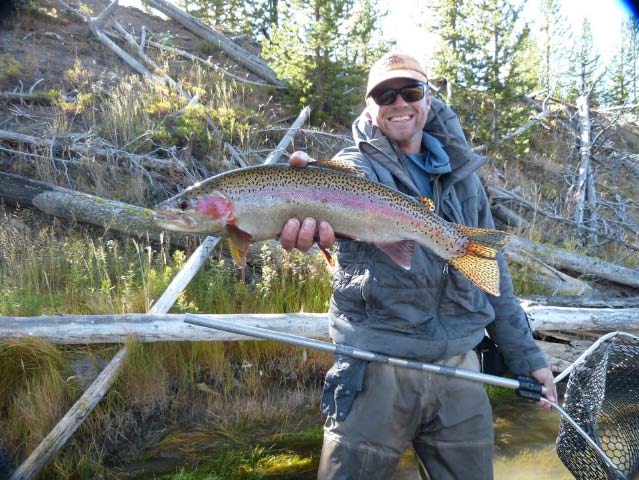 A Big Yellowstone Park Rainbow that Followed the Spawning Browns Up the Madison
Target Spawning Runs Although any large river that holds big browns can produce a monster in the fall, targeting fisheries that receive a spawning run of browns from a lake or larger river downstream is a good option in late October and November. Most of these fall run fisheries are no secret. Expect to see some other anglers if you are chasing browns on these fisheries that include the Madison in Yellowstone Park, The Lewis Channel in Yellowstone and the Missouri between the lakes. There are other locations that aren't as well known that also produce a great run of fall browns if you do some legwork and experimenting. Even on the famous fall run fisheries like the Madison in the park there is always plenty of room and on a weekday with a bit of fall weather you will often see very few other anglers. November fishing is also extremely productive and the fishing pressure dramatically drops off with very few visiting anglers in the state and most of the locals out hunting.
Receive fresh articles via email!