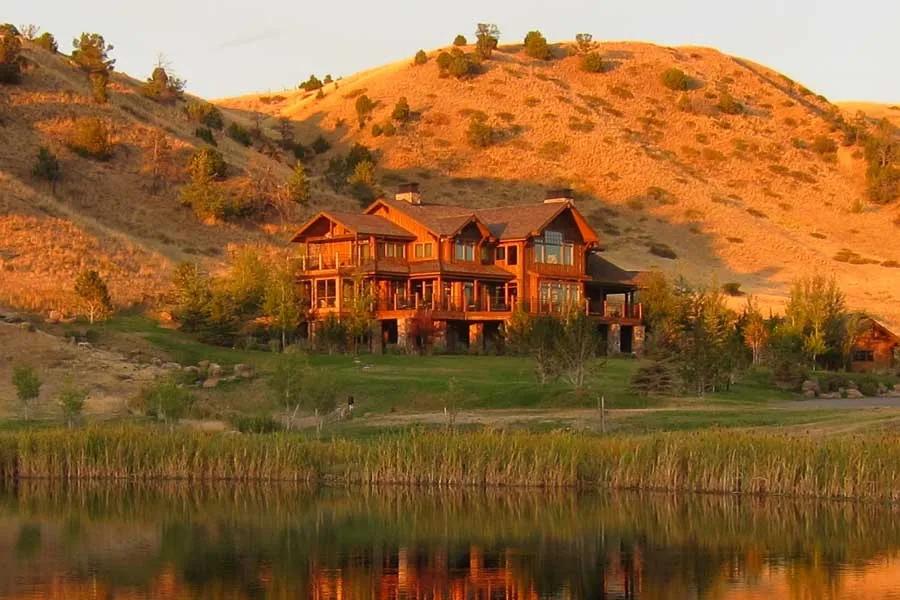 The quality of your fishing experience on your valuable vacation time on a trip to Montana is usually the top priority for most our guests but a close second is the quality of the lodging. Fishing lodges offer a great environment that helps to extend the vacation feel beyond your time on the water. Most lodges offer the following perks that many of our guests greatly enjoy:
1) A local feel and decor with more character than a hotel
2) All meals and sometimes alcohol included
3) Scenic locations along trout streams and rivers
4) A fishing centric social atmosphere where stories of the days fishing can be shared with like minded anglers.
The vast majority of Montana's lodges offer a high quality product – those that don't simply do not survive the test of time. With that being said not every lodge is a perfect match – different people want different experiences from a lodge stay. At Montana Angler we work with a wide variety of different lodges in different regions of the state and we regularly help our guests narrow down choices to help match them up with the lodge that is best for them. The best Montana fly fishing lodge for one angler may not be the best for another so investing the time into finding a lodge that offers the best chance to match your priorities is a wise investment in time when trip planning. Our recipe in the office when folks inquire about which lodge to stay at is to first ask lots of questions that will help us correctly match them including time of year, length of trip, fishing priorities, style of lodge, budget etc. Once we have an idea of what our guests vision of the "perfect trip" is we try to help them narrow down some choices to two or three options that we think would be a good match. Here are some tips we have found very helpful when directing anglers toward the "best lodge" when planning a trip.
Set Your Fishing Priorities First
It doesn't matter how amazing the facilities at the lodge are and how wonderful the food is – it is still a fishing trip and if your time on the water doesn't match your expectations you might still go away disappointed. Fishing is still fishing and there are never guarantees but if you can articulate your goals for fishing you are more likely to get matched up with the right lodge at the right time of year. Montana offers a very diverse set of fishing conditions that change from river to river and from season to season. Some locations offer incredible catch rates for larger than average fish (like the Bighorn River) but little variety and not a lot of solitude. Other locations offer the chance for a different river or stream each day. Some locations are great for wading and others best for float fishing. Certain times of year offer great technical fishing which is highly enjoyable for an experience angler but frustrating for a beginner. So consider what is most important. Is lots of action most important or is dry fly fishing or large fish more important even at the expense of catch rates. Are you OK with colder weather (often good fishing in the offseason) or do you want to play it safe with summer weather? Is floating or wading more important? Do you want lots of solitude on the water or you OK with seeing other anglers if on a tailwater like the Missouri or Bighorn if the fishing is good? Do you want a lot of variety on the fisheries you visit or do you want to target mostly one or two famous rivers like the Yellowstone, Bighorn, Madison, Missouri, etc? Are you a beginner that wants to emphasize learning or an expert that prefers more technical fishing situations?
Decide on the Style of Lodge
Different lodge packages have different styles. There is probably a perfect match for you and your group and there are also some very high quality lodges that may not match the atmosphere you are looking for.
Traditional Fishing Lodges
"Traditional" fishing lodges generally cater exclusively to fisherman so there won't be folks staying at the lodge that are general vacationers. At most traditional lodges like the Madison River Lodge, Madison Valley Ranch,  and The Lodge at Eagle Rock guides will pick you up and return you to the lodge each day. Guests all sit down together each evening and eat at a common meal time to encourage a social atmosphere. If your main focus is fishing on your vacation, you want great food prepared by talented chefs and you enjoy a social atmosphere back at the lodge the lodge then this style of lodge is probably a perfect fit.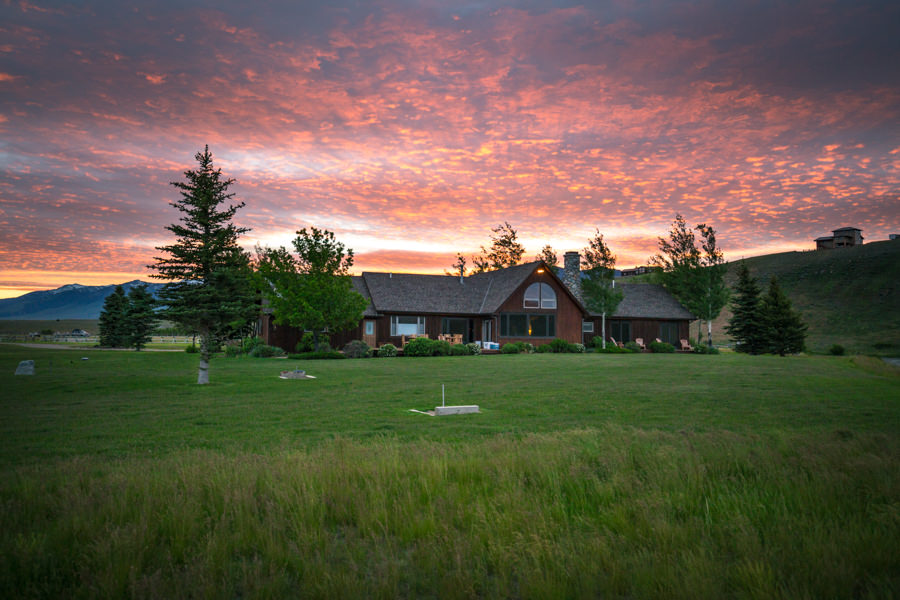 General Lodges
Some lodges market to non fishing guests as well. Not all of the guests at these lodges will be visiting Montana to fish and dinners are run under a different structure structure where you sit down at your own table at the restaurant on site and order off of the menu – sometimes the restaurant is also open to the public. These are great lodges if you want to mix it up and do other activities besides fish or if you have a non fishing spouse or other guests. Lodges like the Gallatin River Lodge, Sage Lodge, and Yellowstone Valley Lodge all have a restaurant style of dining (although your meals are all included in your package with the exception of the Sage Lodge). Some folks also enjoy dining at their own table. These lodges are generally not as social as more traditional fishing lodges since all of the guests do not sit together but if you enjoy sitting with our own group then these can be a great fit.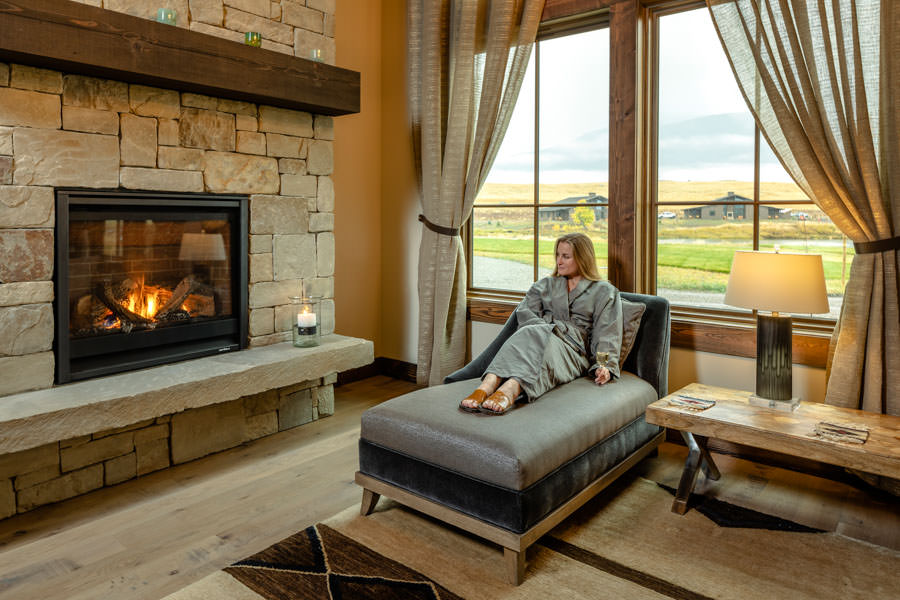 Ranch Stays
Sometimes you can book an entire ranch. If you want an exclusive trip for just your group this can be a fun way to go. Some packages like the 
Boulder River Outpost
 and 
Sweetgrass Basecamp
 are exclusive even if you have just two in your party. These are more remote locations so the camp chef and guides stay on site with you which can be part of the fun. These are ideal ways to find off the beaten path fishing while experience more remote valleys and fisheries. Some larger ranches offer upscale lodging on private ranches where you can still book the entire ranch such as the 
Double T River Ranch 
can also be booked exclusively for medium sized groups of 6-12 guests. Often when you stay on a large ranch you also have exclusive access to private fisheries in addition to the larger blue ribbon rivers which can be a nice perk.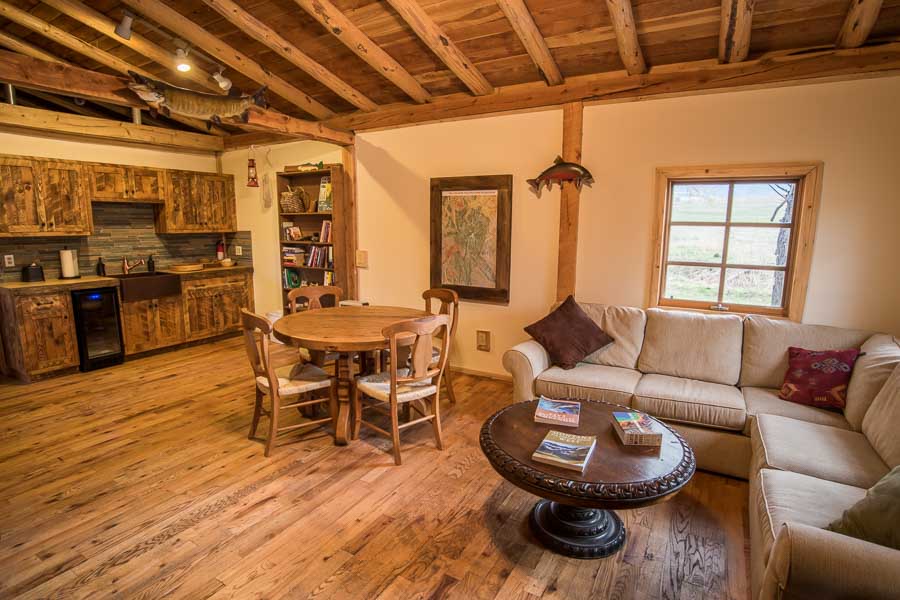 Luxury vs. Rustic
Some lodges offer more of a luxury feel such as the Rainbow Ranch Lodge or Gallatin River Lodge complete with white linen table cloths, jetted jacuzzi tubs and even spas. Other package aim for more of a rustic feel like the fishing camp feel of the Boulder River Outpost or the historic atmosphere of staying on a huge working ranch at Sweetgrass Basecamp. Often good photos of these locations will give you a pretty accurate idea of what to expect.
Ask About Inclusions and Exclusions
Pricing of each lodge package can vary greatly – and so can the inclusions and exclusions. Some lodging packages include all of the extras like taxes, alcohol, private water fees, flies and equipment rental. At other lodges you pay taxes, private water fees, flies, equipment rentals during the stay which can add up to hundreds of dollars. Gratuities for guides and lodge staff are almost always extra. Make sure to ask for an estimate of the "extras" so that you can compare apples to apples. Often you can prepay for extras as well with the exception of bar tabs at lodges where you pay that separately so if you want a truly all inclusive package to include all of the taxes, gratuities, shuttles etc. just ask.
Receive fresh articles via email!