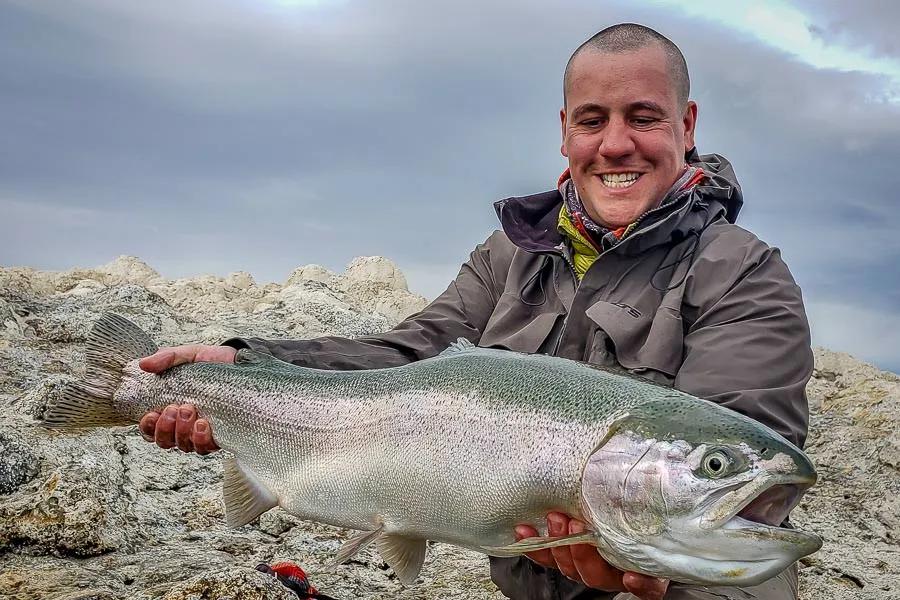 This was it, I was finally going to check off a long-standing bucket list trip: fly fishing in Argentina. I was sure the fishing at Jurassic Lake (aka Lago Strobel) couldn't live up to the hype. Stories of endless numbers of giant rainbows that are eager to eat scuds, leeches and large dry flies. Surely we were going to arrive and we were going to hear guides talk about how we should have been there last week...or next week. I remained optimistic that there was something to these fairy tales, but I also didn't get my hopes up too high for fear of disappointment. The first challenge was to get to the lodge, which is located only 400 miles north of the southernmost tip of South America. It was thousands of miles further than this fishing bum had ever traveled previously and was going to be one of the biggest adventures of my life.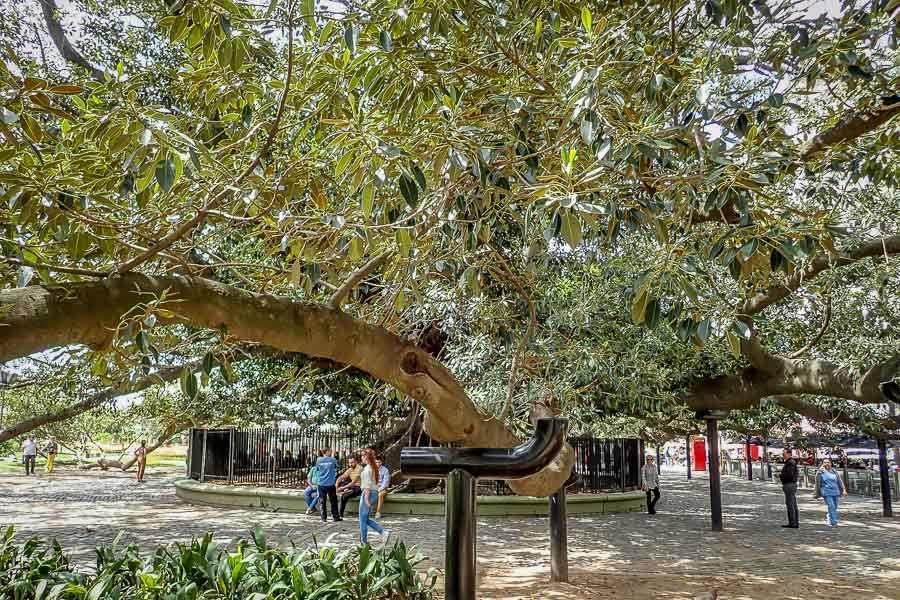 One of the perks of a trip to Argentine Patagonia is the opportunity to spend some time in Buenos Aires on the way down. We chose to layover a night in "Paris of South America" to take in some culture. After checking into our hotel enjoyed lunch at the famed Cafe La Biela and then visited the Recoleta Cemetery. The cemetary is the resting place of notable Argentineans, such as Eva Peron, presidents of the country and is thought to be one of the most beautiful cemeteries in the world. After catching up on rest with a nap at the hotel we made sure to enjoy one of the cities great steak houses to sample the legendary Argentine beef!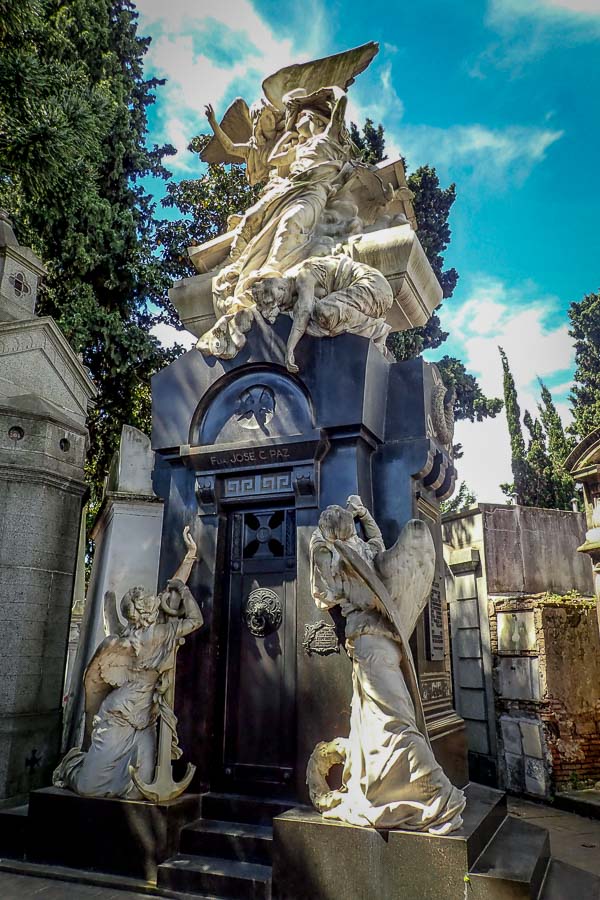 The next morning we organized a shuttle to the domestic airport where we would be flown to Comodoro Rivadavia. There we would spend another night before catching a charter flight Saturday morning that would take us directly to the estancia where Jurassic Lake Lodge is located. Comodoro Rivadavia had a much different feel than Buenos Aires. It is a small oil town that sits on a small gulf of the South Atlantic Ocean. The air was cooler, the landscape was barren and you didn't have the sense that there was much to this town outside of the oil industry. At the baggage claim we were greeted by a nice young man holding a sign for Jurassic Lake. This is where we would meet all of the other anglers for the week and take a shuttle to our hotel. Our group had reservations at Lucania Palazzo Hotel, which was like a pearl seated in a rough, blue collar community. 
Arrival at Jurrasic Lake Lodge
The next morning we boarded our dual prop aircraft that carried us over the coastline for a short distance before turning inland toward the Andes. We landed on a gravel strip and were quickly greeted by our fishing guides who were all in 4x4 pickups. At this point the guests from the previous week were loaded quickly onto the plan and our luggage was loaded into the beds of the trucks. We jumped into their surprisingly comfortable rigs and drove for about 20 minutes down a bumpy, but maintained dirt road. At the lodge we were greeted by the lodge host and directed into the main dining area where they had  some brunch laid out for us. 
After grabbing a quick bite our hostess oriented us a little and discussed the daily schedule. We had a couple of hours to settle in and fish before it was time to come back in for lunch. Most people took that time to unpack their bags and get settled in, but I needed to get on the water. I quickly unloaded my fishing gear and ran out to the courtyard to hook up with a guide. The guides were geared up and ready to roll. We took a quick walk down to where the Rio Barrancoso entered the lake. The number of giant rainbows that were visible both in the lake and the river was absurd. The guide poked through my fly box and selected a smaller scud pattern tied on jig hook and we added a strike indicator about 3-4' above it. I was instructed to wade out a ways about 30 yards to the left of the river and to vary my retrieve rate from a long, slow retrieve to a very short, slow retrieve. After a few minutes of being on the water another angler who had been to the lodge twice before found a spot between myself and the mouth of the river. Almost immediately he was hooked up. His rod was bent as though he was trying to slow down a train, meanwhile an obscenely large silvery rainbow periodically thrashed on the surface.
For me it was a slow start. I occasionally felt a little tug on the end of my line, but I just wasn't sure. After my neighbor hooked and released multiple fish I decided it was time to switch up my tactics. I noticed he was stripping longer and faster than I was, so I followed suit. Before I knew it I was locked into something at the end of my line that could only be compared to the first carp I caught as a teenager. My rod was doubled over and it felt like I was locked up with a submarine. I quickly realized I needed to tighten down on the brakes a little, so I cranked down on my drag to slow the submarine down. When I felt the fish let up a little I would reel in as quickly as I could. I quickly learned that these fish don't give up after a single big run. Once I felt like I was getting close to landing the fish it would take another run. After two or three good runs I was finally able to get the upper hand and bring the fish close to shore where my guide was waiting excitedly with a large net. Once in the bag I remembered a conversation I had with Brian when prepping me for the trip. He predicted that the first fish I landed was going to be the biggest trout of my life. He wasn't wrong. When the guides called us in for lunch I realized I was already satiated. I could have walked away from Jurassic Lake after only a few fish with a smile on my face.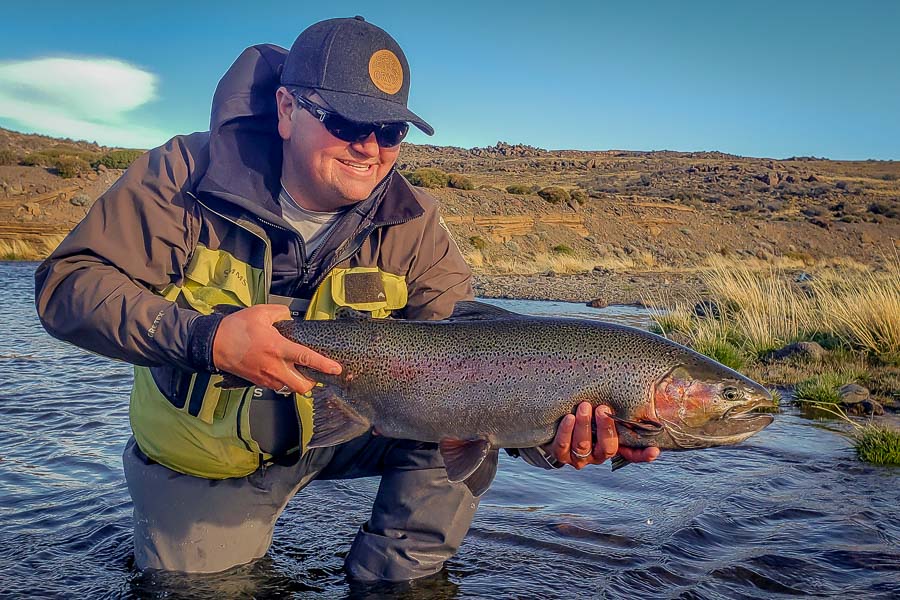 When I returned for lunch I began to realize that the lodge adhered to a strict schedule. This is what kept us on track, gave us time to warm up between sessions and honestly make each fishing day more enjoyable.
8am: breakfast
9am:  half day fishing session
1pm: lunch
4pm: half day fishing session
9pm: dinner
There are 4 main fishing beats at Jurassic Lake Lodge: Cochinos Bay (Bay of Pigs), left of mouth, right of mouth and The Pool located on the river about 200 yards upstream of the lake. In addition to the main beats there is some opportunity to explore some other fisheries, which I'll revisit a little later. They had also recently developed a system to assign beats and guides for every half day session in an attempt to give anglers the opportunity to spend an equal amount of time with every guide and an equal amount of time on each beat, both in the morning and afternoon. It is a great system that equalizes everyone's experience at the lodge as much as possible. Each beat has its own personality and depending on conditions can vary considerably from day to day and even from morning to afternoon. Wind was probably the most important variable for our fishing, but air and water temperatures also seemed to play a role.
Weather
Our week at the lodge fell on the last week of late October/early November, which is somewhat comparable to late April/early May in the northern Rocky Mountains of the US. I would guess that average daytime temps were in the 40s and 50s and nighttime lows dipped below freezing a few nights, but there wasn't a large swing in temperature from morning to afternoon. We had an equal mix of sun and clouds. We woke up to snow one morning and had a little bit of rain/sleet for a short time one day. Wind was variable as well. There was never a time that the wind wasn't a factor, but we did have a few sessions where the wind was relatively calm. Most of the time the wind was probably blowing 15-30 miles per hour and we had a small number of sessions with wind gusts from 40-50 mph existed. The morning we flew out was the windiest of them all, with gusts approaching 60 mph and higher winds predicted for the following week. These conditions may sound a bit harsh, but because the air was so dry the temps were tolerable with the right clothing our time out fishing was very comfortable. Despite the weather most people fished every one of their sessions from beginning to end. More novice casters found some of the windier days challenging, but the guides were good at shaking things up if necessary to make sure everyone was taken care of.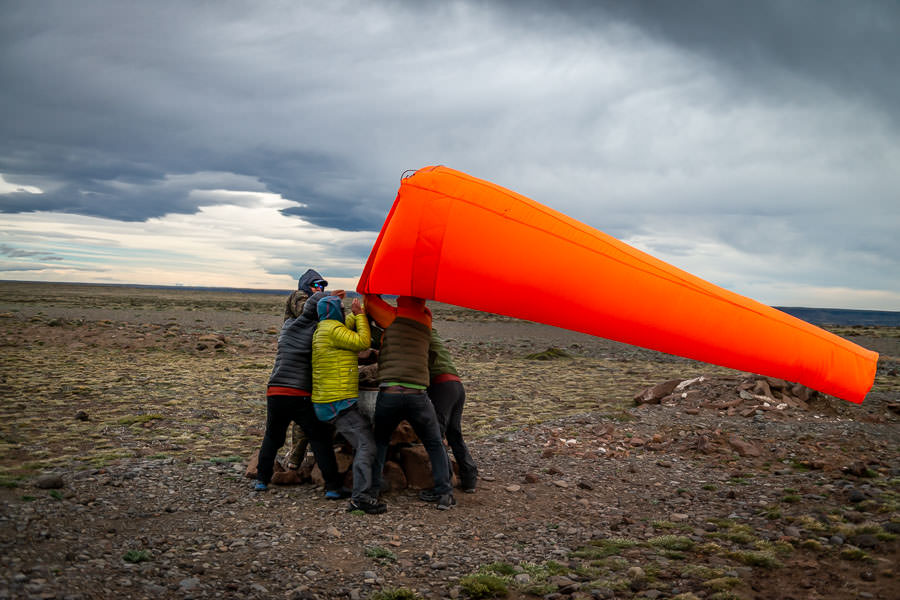 Cochinos Bay (Bay of Pigs)
I would argue that the Bay of Pigs is the most challenging beat to fish and most unpredictable. That being said, for me it was one of the most rewarding when it all came together. The micro landscape surrounding this bay makes you feel like you're fishing on the bay of an ocean. Where you stand you are surrounded by large basalt boulders that are encrusted in a white limestone, which is evidence of an ancient waterline. You must navigate these rocks to get to your casting spot. Standing and walking around this area is a bit hairy as the drop off is abrupt and footing is challenging among the rocks. The wet rocks can be a bit slippery, but I was amazed at how good my traction was while navigating these rocks. The wind here always seemed to hit you on your right hand side. This is a tough angle for right-handed casters, especially given that you have to keep a very high backcast to avoid the hill of rock behind you. In my limited experience fish tended to funnel into the bay when there was enough wind to stir up scuds and other food sources. If there wasn't enough wind the fish moved out and I also didn't notice large numbers of fish when the wind was really cranking. Not sure why that might have been and maybe it was just a coincidence. If given the opportunity to fish there again I will consider an intermediate fly line and a stripping basket. Some of the guests used the intermediate line to cut through the waves and get a smooth retrieve. When the waves were big high floating lines were greatly affected and made for an unnatural retrieve. The waves coupled with the rough limestone covered rocks chewed up our fly lines and made it challenging to shoot line as it was constantly getting tangled in the rocks. 
Our most effective method for catching fish in the bay was to cast as far as we could, let our weighted leeches or scuds sink for a few seconds and retrieve with slow 8-12" strips. Heavier tippet is recommended here as your leader is more likely to get abraded by the rocks during the retrieve and while landing fish. This reminded me of fishing for bonefish among the coral in Belize. Most of my fish were caught about 30 yards out, but some days anglers were catching fish right at their feet. At one point I had a 10 minute window of calm conditions where I witnessed a few fish sipping on the surface. I had enough time to tie on a dry, cast to a few cruisers and pull my fly out of a fish's mouth, not once but twice before the wind kicked up again. 
This was the one beat that likely skunked just about every angler at least once during the week. And there were times where we avoided it completely due to high winds. That being said this was one of the coolest spots to see cruising fish and when it was good it was silly fun. I recall an afternoon session where Richard was fishing off to my left and Sherry was to my right. Richard was hooked up into a fish that took off along the shore towards Sherry along the edge of the rocks. I was in a position to try to pull Richard's line out of the rocks in front of me in the hopes that the fish would eventually move away from the bank and allow Richard to land it. As I'm doing this I feel a tug on my rod and realize I am also hooked up. I ditch Richard's line to play my own fish, which is heading straight out into the lake. Not 30 seconds later and Sherry is also hooked up and her fish decided to go left towards Richard. I couldn't help but laugh hysterically as all of our lines are now overlapping all with massive fish on the end. Randomly, one by one, all of our fish came unbuttoned in the same order they were hooked. We lost all three fish, but that will remain one of the highlights of the week for me. As anglers we tend to feel that we are in control but at the end of the day the fish always have their say as well.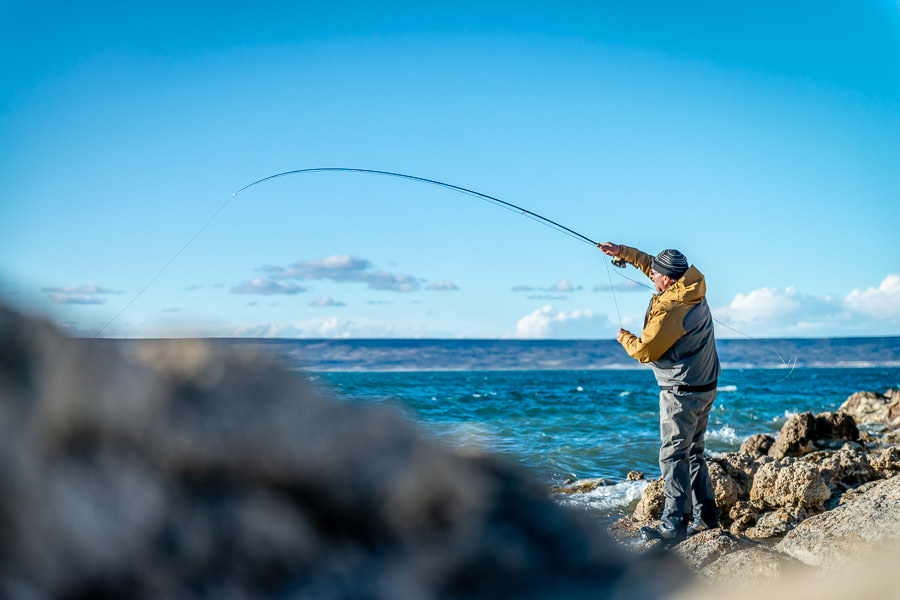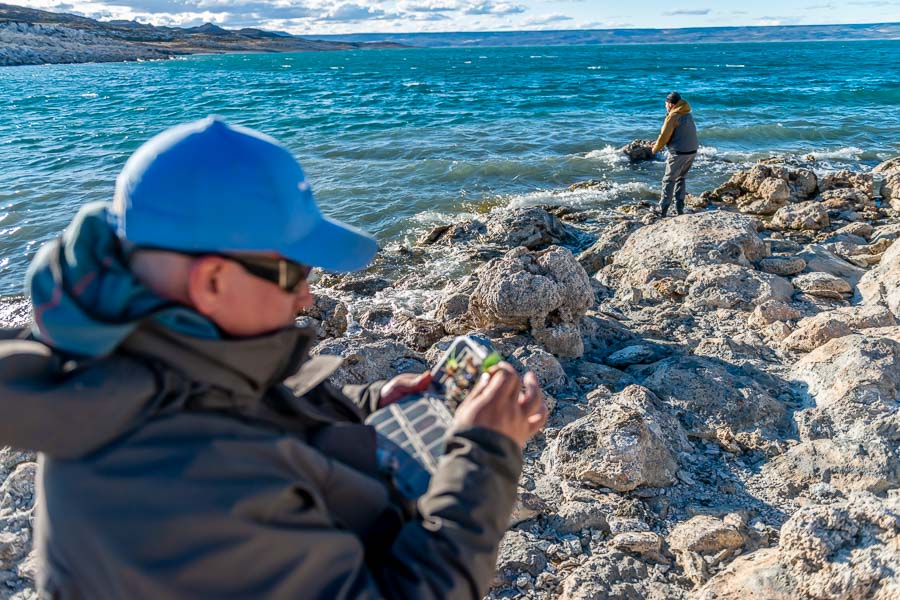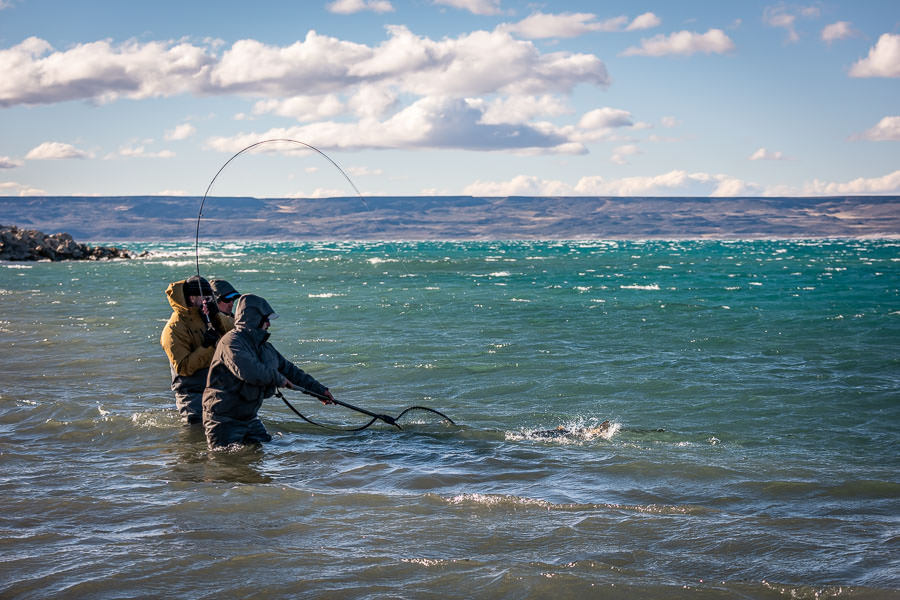 Left of Mouth
The left of the mouth extends from the Rio Barrancoso to a point that separates this beat from from the Bay of Pigs. This was one of the easiest and most productive beats of the trip. Not only can you target fish that are entering the river you can also target fish that are cruising to and from the Bay of Pigs. Casting here for right handed folks is made a bit easier as the wind would mostly be on your left shoulder. The drop-off into the lake is gradual here so there is nothing to worry about in your back cast except for the occasional guide or angler. When fishing in the Bay of Pigs wasn't going well it wasn't uncommon for those anglers to move into this beat to have a better shot of getting into some fish and get out of the sometimes relentless wind and waves. Although the wind blows just as hard at the mouth the waves are much softer due to the gradual nature of the lake bottom. You learn quickly that the highest concentration of fish is generally found in the current of the river, so there were always one to two anglers casting into or towards this current on each side of the mouth. But as you move further from the mouth you had the opportunity to wade into the lake anywhere from 10-30 yards from shore to a drop-off. I learned that long casts into this deeper water increased my odds of hooking up. I found a spot midway between the mouth and the shore where I could wade out in water that was about 3' deep and shoot out casts up to 70' with a 6 weight. This would have been a good spot for a two-handed rod.  I would almost always allow my flies to sink for 10-20 seconds before starting my retrieve. Occasionally I felt a tug as my flies were sinking. My most productive retrieve was 10-12" strip with a short pause in between. As in the Bay of Pigs I preferred some of my more heavily weighted leeches and scuds in this water to get down. This technique also worked well closer to the mouth if casting into the lake. 
For those stationed right at the mouth alternate tactics were more common. Fishing a nymph just a few feet under an indicator was probably the most effective method. And it wasn't always important that the flies were in motion at all, just as long as they were in the water and were suspended off the bottom. This was also a great place to fish dries when the wind was calmer. The only hatch we witnessed during our stay were super small midges likely in the size 30 range. Rest assured that we cast nothing even close to that small. Dry flies ranged from large hopper patterns to smaller dries resembling midges or beetles no smaller than 18. Sometimes larger dries were used as an indicator with a scud or San Juan Worm below. There were times when anglers caught fish after fish for hours in this spot and some of the biggest fish of the trip were landed here as well.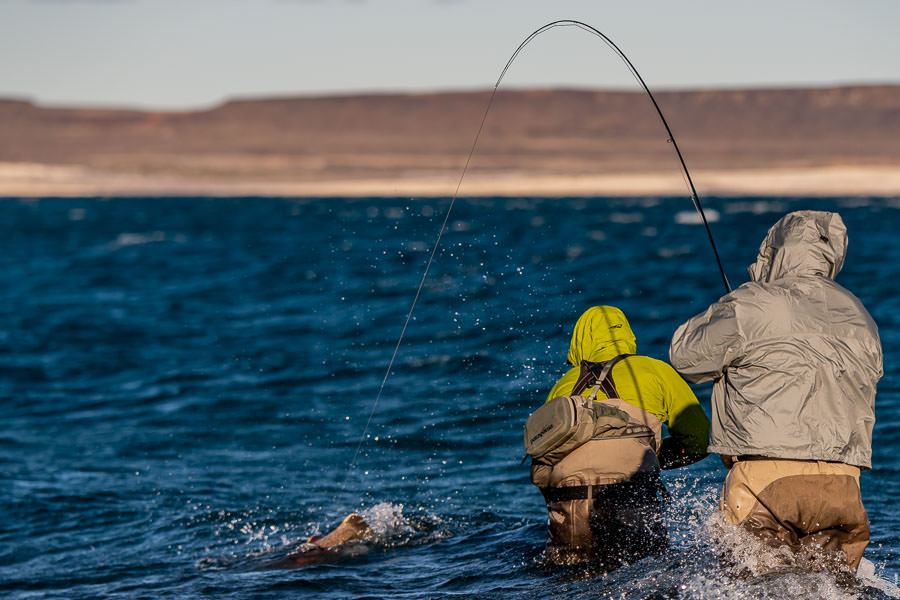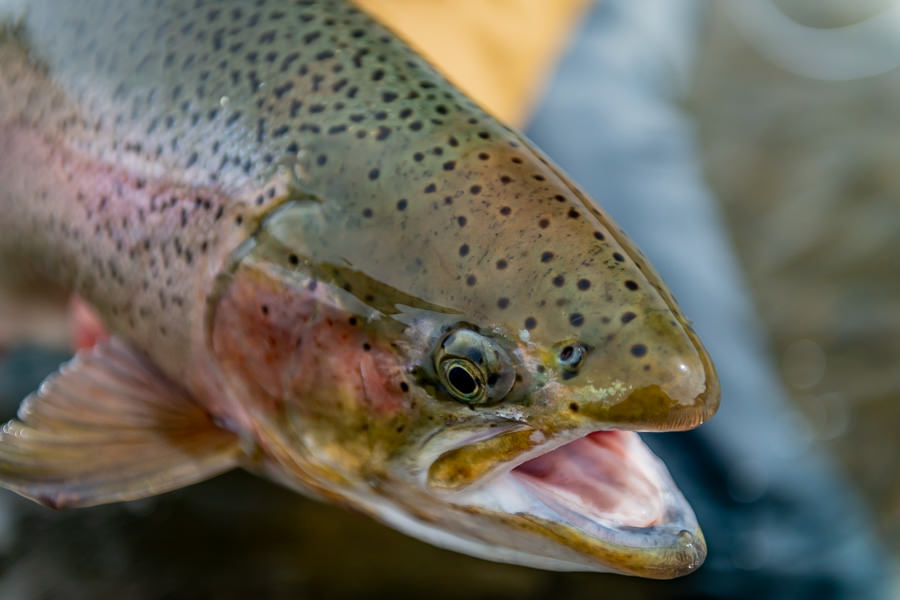 Right of Mouth
This beat was probably the least diverse we fished, but the angler fishing closest to the mouth experienced results comparable to those on the other side of the mouth. But the water as you moved further from the mouth didn't seem to provide consistent results. There was no shortage of fish on that side of the creek, but I got the sense that fish that were hanging there were less focused on eating. Just like fishing the mouth fishing a nymph under an indicator or dry flies produced the best results. Although there was a bit of a drop-off on that side retrieving scuds and leeches just didn't prove as productive most days. 
I recall one evening when I decided to spend more time behind the camera. I took images of fish as they pushed up the river and of Richard and Sherry catching them. Towards the end of the day Sherry had on a larger dry fly that she was skating right at the mouth. She hooked into a fish that she assumed wasn't very big, but after several minutes of fighting it we all decided it was probably a little bigger than originally thought. When the fish finally submitted we realized it was a chromer in the neighborhood of 20lbs. One of the top 10 fish I saw on this entire trip...and on a dry fly.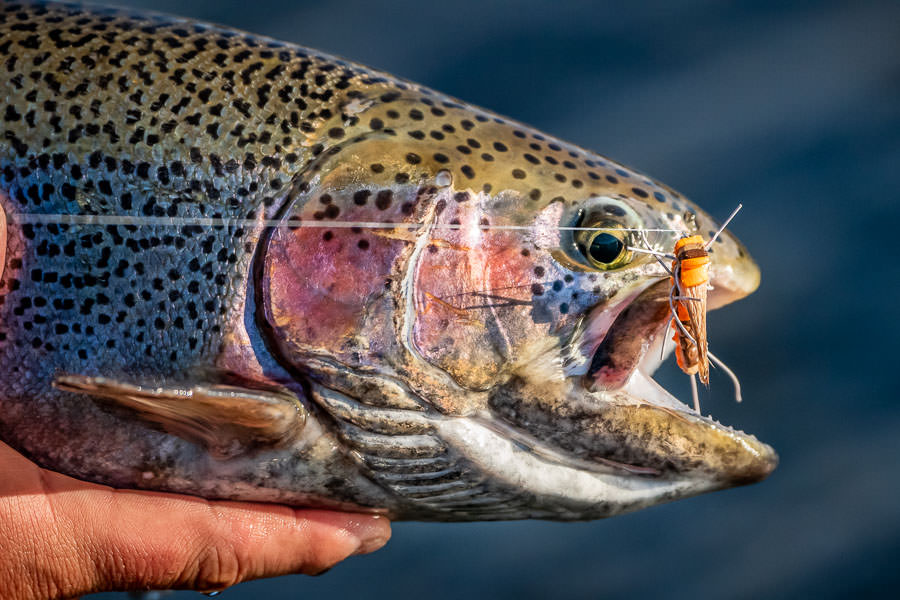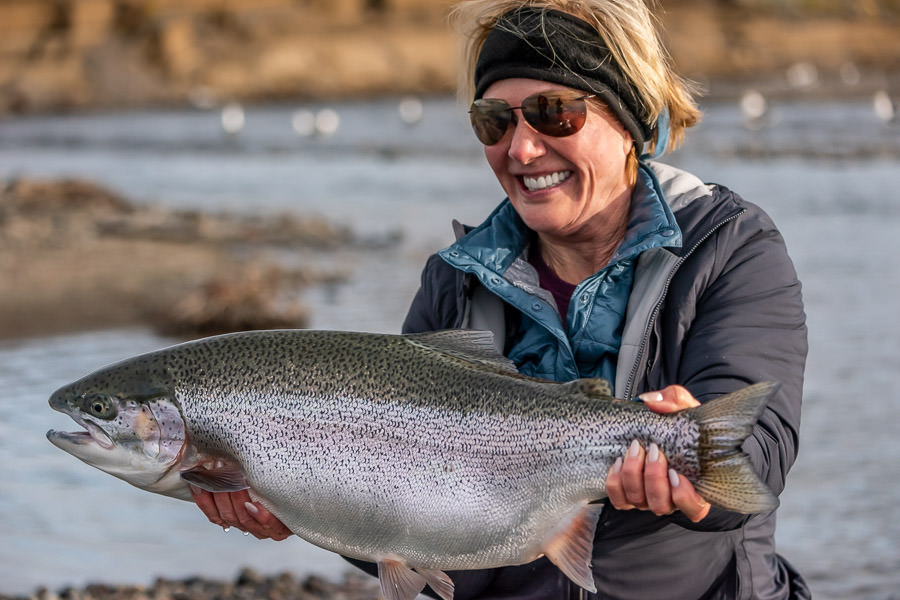 The Pool
Located approximately 200 yards upstream of the lake this pool is nothing short of amazing. It's only a short walk from the lodge. As you approach the pool you can see the river teaming with massive rainbows. What makes this pool special is that it is one of the few large pools along the river that allows multiple anglers to fish at the same time, provides easy wading and is slow enough and large enough to hold hundreds of trophy sized fish. We were fortunate to get to fish The Pool for our first afternoon session. This session was nothing short of mind blowing. Rich and Sherry hooked and landed giant after giant. After spending most of my time spectating and taking photos I decided to take a chance with a dry fly. I tied on a size 6 Fat Albert, cast it into the tailout of the pool where I felt like I could get a nice long drift without getting caught in the re-circulation of the back eddy. In no other world would I assume that casting my line over dozens of fish would be a good idea, but these fish didn't really seem to care. On my first cast the Fat Albert hadn't drifted more than 5 feet when a massive mouth gently opened up to let the dry in. I flailed, surely setting the hook too soon. Just enough to feel some resistance as the rainbow thrashed its head. I don't recall when exactly the next eat took place, but it wasn't more than 2 or 3 casts later I had another eat, but this time I gave the fish until the count of two before I slowly, but firmly set the hook. When I connected it was like watching an alligator thrash its prey in shallow water. After a few minutes I was able to get the fish in the net. At this point I'm still stunned by the size of these fish. I decided I should probably have a picture of my largest fish caught on a dry fly to date. Because of this fish's size and girth I had trouble getting my hands around this fish for a photo. Even with my big hands I had a hard time holding these fish at the base of the tail.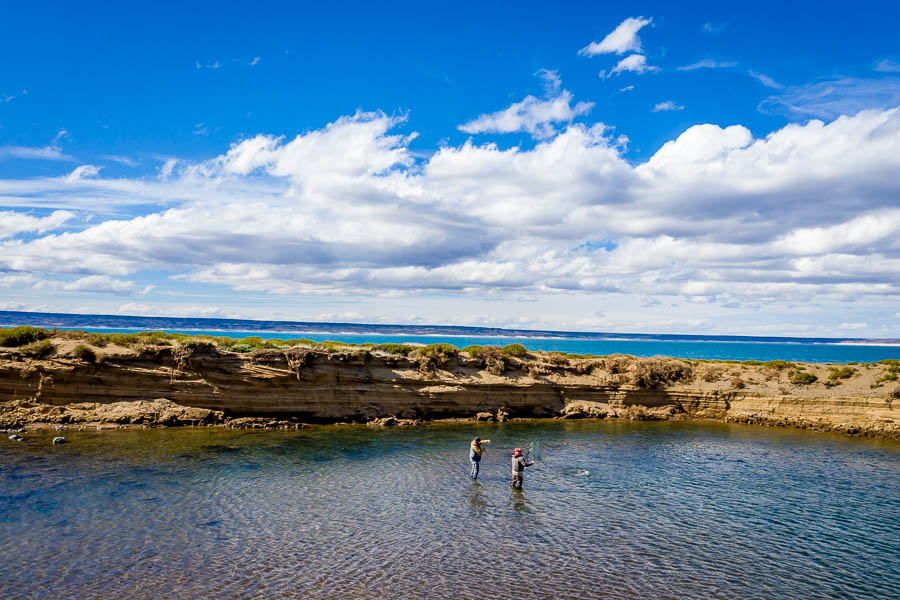 I later reviewed some of the first images of me with these fish and realized I'm grimacing in every single one as I struggled to hold fish. Having photos of fish I've caught has never been a huge priority, but when you catch a fish of a lifetime, on a dry fly, in a bucket list destination you feel the need to record the evidence in some way. After a few more opportunities I was able to get some acceptable images and almost every fish caught was larger than any trout I had ever caught before this trip. 
At the end of this day, our first day at Jurassic Lake Lodge, we couldn't help but share our giddy excitement about our experience at the pool. We fought and landed dozens of fish that individually would have made any day of fishing a huge success. 
On my last day at the lodge I was able to revisit The Pool, but instead took a walk upstream with one of the guides to fish a smaller, sportier section of the river. I shared with the guide that I had attempted fishing with a mouse pattern without success earlier in the trip. He took that as a challenge. It was obvious it wasn't his first rodeo as he placed me in very specific locations and asked that I make very specific casts. It was challenging as I was asked to make accurate downstream casts and the current was nearly still where my mouse was to land, but the current in the middle of the channel was swift. I was supposed to mend aggressively without moving the mouse drastically. It seemed nearly impossible as I tried over and over again. Eventually with the guides instruction I was able to pull it off and drift the mouse slowly through the current. A fish ate it immediately and guess what I did? Pulled it out of the fish's mouth of course. Not only was I forced to set the hook upstream, but I was supposed to watch a giant rainbow eat a skated mouse and not react excitedly. I probably pulled the fly away from five fish before I finally waited the two, very long seconds before setting the hook. After breaking off my second and final mouse on a fish I was done. I decided I had caught my last fish of the trip.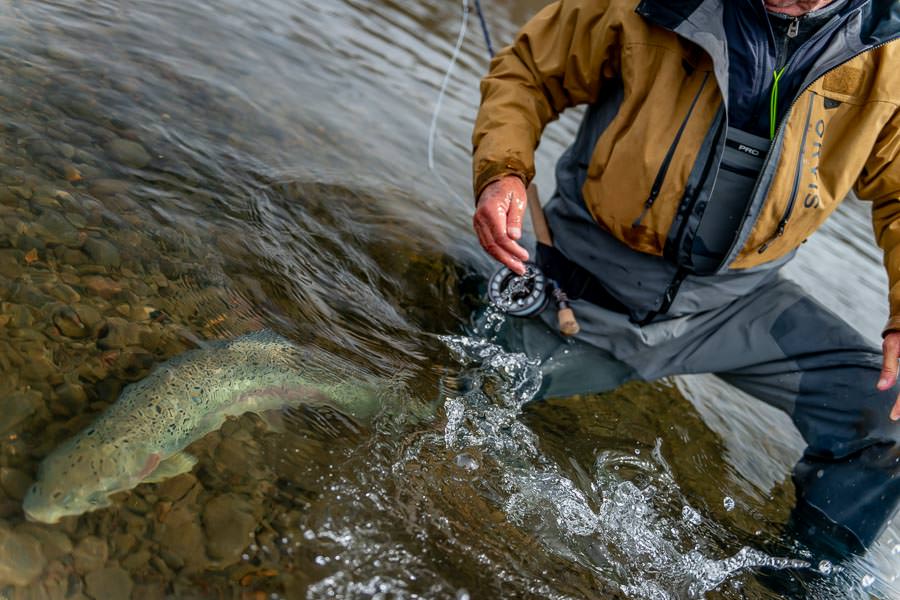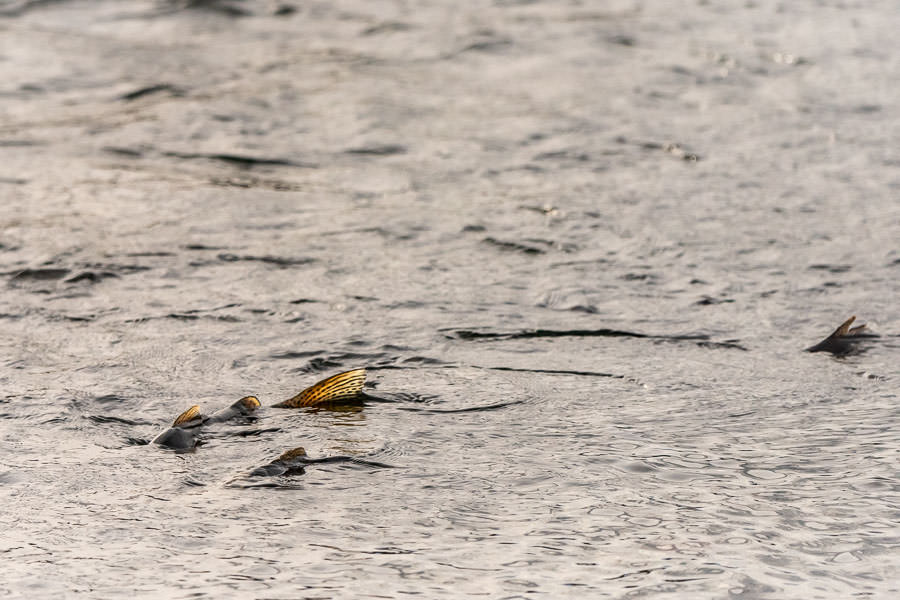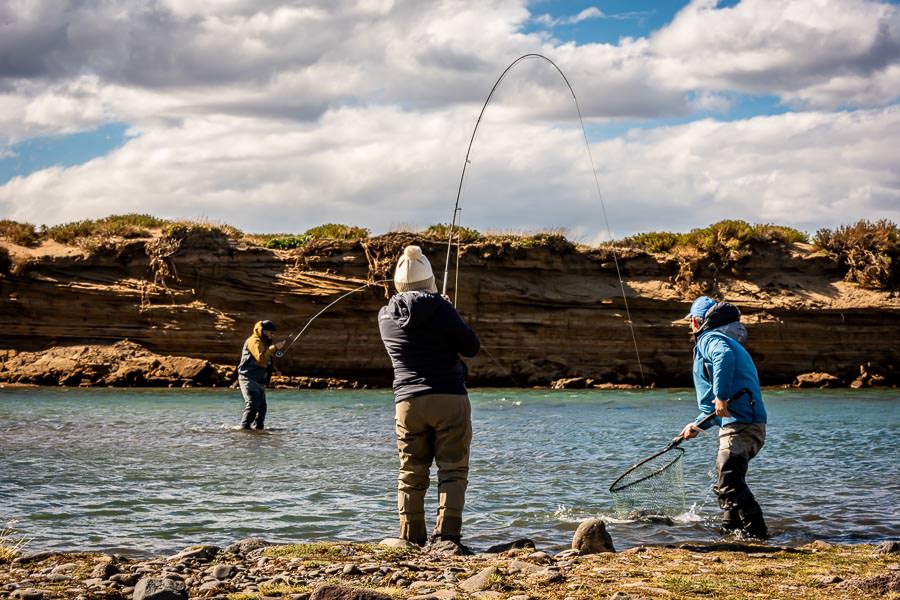 Other water
Previous to visiting the lodge I had been in contact with Carlos, one of the lodge owners. He mentioned that there was an option to adventure off the beaten path a little to waters rarely fished. Not because the fishing on the other beats wasn't good enough, but simply for the sake of variety, I was interested in seeing this water. I brought it up to some of the guides and they decided to offer this to the group as one of our half day options. Only one other person who had visited the lodge a couple times before, rose their hand. They prepared us by explaining that the drive is about 20-30 minutes each way, we could end up walking a fair amount and the need for accuracy was more critical. The next morning the three of us all jumped in the truck and headed off.  Along the drive we saw a couple of the owner's white horses, flamingos, geese and a variety of other waterfowl. We crossed the river a couple of times, each time pausing mid stream to look for fish. We eventually arrived at a humble single room dwelling made of brick that we were told is used by gauchos occasionally as they work cattle across the estancia. This place reminded me of Rio Grande River near Taos in northern New Mexico near where I grew up. It felt like home. 
It was obvious that the water was going to be pretty shallow just about everywhere we fished, so I opted for a dry/dropper rig. The other angler opted for an indicator and a smaller nymph. We walked to the river and I saw several spots that I had a desire to cast to, but the guide walked upstream slowly and looked for fish. After a short walk we all stopped to look closer at a shape we all could see in the shadow of a large boulder. At first it was hard to tell, but we eventually saw that it was indeed a larger trout. My fishing partner decided to give me the first stab at it. Let it be known that the wind was howling already and it was an angle that was not favorable for either a left or right handed angler. I took a cast that immediately seemed a little short. My flies drifted a foot or two short of the fish, but my dry fly paused as soon as I was in line with the fish. I set the hook and was surprised to have a 8-9" fish on my dropper fly. By far the smallest fish of the tri. I quickly landed this little rainbow and took another cast. This time I was in line with the fish, but my dropper didn't have time to sink down to the fish. Despite that my dry fly paused again and sure enough there was another little rainbow on the end of my line. It was at this point I realized there wasn't going to be a shortage of fish caught on this outing. Finally on my third or fourth cast I slightly over shot the fish, but was able to strip my flies in quickly to drift right into the fish. My line went tight, but almost as quickly as I hooked it my flies came shooting back at me. You could see this dark shadow dart upstream and to the opposite bank where it could hide. We all picked up and headed upstream for another shot. 
As we were walking upstream I spotted a bird of prey that was surfing the wind over our heads. Its body looked a bit like a pigeon I would find in my yard and its size was similar to a red-tailed hawk. I also spotted a shy lizard that had a dark body with yellowish spots. Its size was comparable to horny toads that I would catch as a kid. We slowly continued upstream until we arrived at the tailout of a long, deep run. We could see multiple big fish. My partner took several casts, many of which ended with small fish at the end of his line. He set the hook so hard on one of them the trout went flying into the bushes behind him and slid off the hook. I was the only one that saw where it landed so I ran to its rescue and safely returned it to the water. After several more casts the guide decided to switch up his flies and give me a turn. We approached the fish from upstream, which was the only way to get a cast to them without completely lining them. I have never been so frustrated trying to make a 30' cast. After a few casts and a couple more smaller rainbows I finally hooked into another larger fish and managed to get this one to the net. Certainly not the biggest fish of the trip, but a great reward for my efforts. In the end we only hooked and landed a handful of larger fish on this stretch, but were very pleased with the outcome and the variety it offered us. And if you count all the small fish we landed our tally was still pretty good. 
Food and Drink
After eight or so days eating and drinking in Argentine Patagonia I didn't understand how so many of them appeared to be so fit. The day started with a hearty breakfast. We had the option to have eggs cooked to order with bacon every morning, in addition to toast, croissants, cereal, yogurt, granola and fresh fruit. I quickly learned that I should have a lighter breakfast to offset the very generous lunches and dinners. Both lunch and dinner were served with wine and dessert. Lunch and dinner were both big meals. The meals they served for lunch and dinner were typical of Argentine cuisine. The center pieces of most meals were either a meat or a pasta. Their food seemed to be inspired by Italian and Spanish cuisine primarily. Large cuts of meat, lasagna and other pasta dishes were standard fare. We had a more casual evening where they served homemade pizza, empanadas and we shared a meal with the entire lodge staff. Every dessert was different and equally amazing. We had tiramisu, creme brulee, chocolate moose, key lime pie and other desserts that I did not recognize that will forever induce a Pavlovian response when I think of them. One afternoon I saw from the lake that the chef had started a fire in the outdoor cooking pit. This homemade pit was nothing more than a concrete pad surrounded by basalt boulders on 3 sides to keep the wind at bay. She was preparing for lamb asado. For this method of cooking a whole lamb is prepared and placed on a specially designed steel cross that allows you to adjust the angle of the lamb,  moving it closer or further away from the wood fire as needed. The lamb asado, as well as most of the meat dishes were served with chimichurri sauce, which added an authentic touch to the dining experience. 
In addition to the abundance of food at the lodge there was no shortage of drink either. On the non-alcoholic side they had plenty of water and soft drinks. A bottle of wine was always open and there was an open bar that was well stocked with a variety of scotch whisky, vodka, gin and more. For beer they had a local lager and Heineken in the fridge. And for the scotch connoisseur there were several bottles of fine scotch available for purchase.
Aside from my grandmother's cooking this was the best food week of my life and even my grandmother would have learned a thing or two. The only downside was my pants weren't as comfortable for the return flights.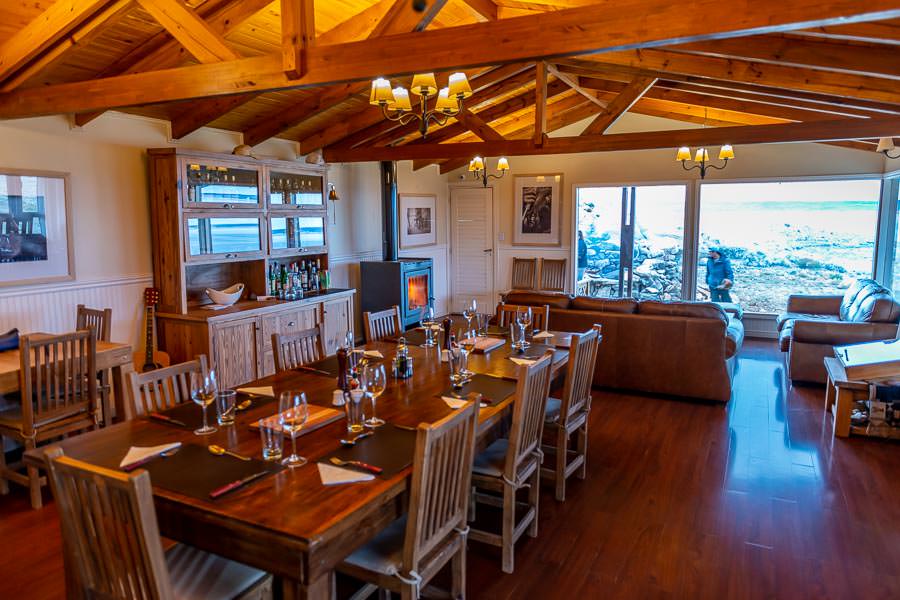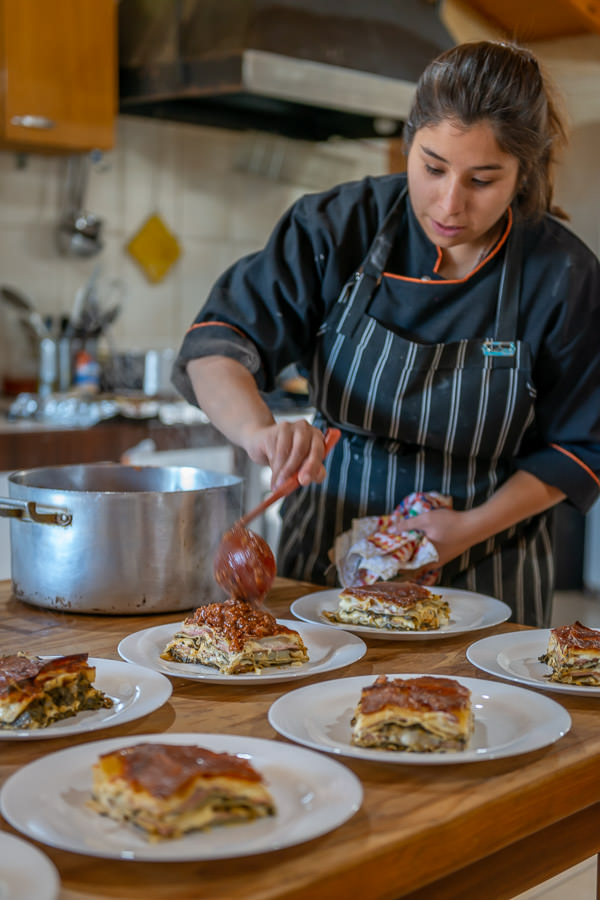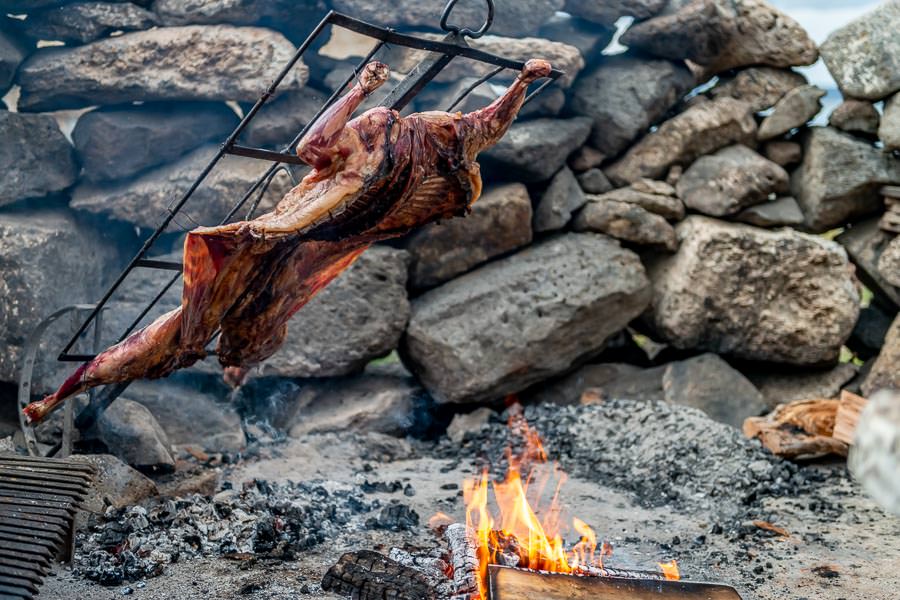 Accommodations
The accommodations were humble, but comfortable. The rooms are just big enough for a couple of beds and storage for clothing and fishing gear. The beds were small, but comfortable. The nights were cold, but the electric heater blasted out plenty of heat to keep us warm and if that wasn't enough there were plenty of down comforters to top you off. It sometimes took a few minutes for the shower to warm up, but once the warm water arrived there was no shortage of it. The room that I stayed in was designed for two single anglers and had single beds. I know that at least one of the rooms is equipped with larger beds for couples. The best part of our room was the large window that faced the lake. Every morning we woke up to a beautiful sunrise overlooking the water and a small flock of upland geese. 
The construction of the main lodge is noticeably nicer than the rest of the lodge. That to me is further evidence that Argentinian people place a great deal of importance on being together. It is fitting that the place where we spent the most time eating, drinking and storytelling together was the most comfortable space at the lodge. If our rooms were as nice or nicer we might have been inclined to spend more time away from each other. 
Another good example of the importance placed on community of  people is when Argentines share mate tea. They steep yerba mate leaves in a special container and drink it from a straw. Each person takes a turn. For each turn a cup packed with tea leaves is filled with hot water, Each person drinks from the special straw that strains the leaves, drinking until the container is empty, which is evidenced by the slurping sound the straw makes. The cup is refilled with hot water and passed onto the next person. I was fortunate to get to share mate with some of the lodge staff. Despite being told I took too long to drink mine I really enjoyed being able to share that experience with them. 
Summary
This was a trip of a lifetime that I will never forget and I know that is also true for the majority of the people that were there with me. The fishing is like no other known place in the world. The people of Argentina and the crew at the lodge were friendly and a joy to spend time with. The food was delicious and well presented. The landscape was rugged and beautiful. Jurassic Lake Lodge is a long way from Bozeman, Montana, but I'd do it again in a heartbeat if given the opportunity. 
 Interested in joining us on a return trip to Jurassic Lake Lodge? Contact us to learn more about this incredible fishery. 
Receive fresh articles via email!